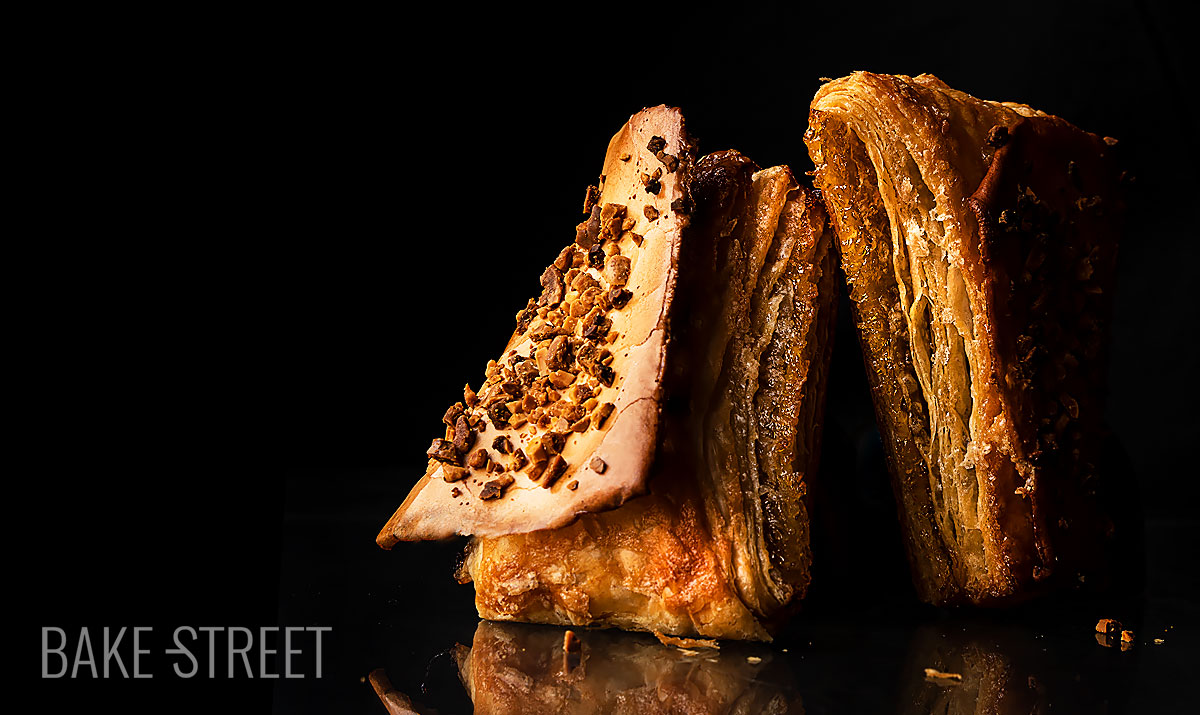 Jesuitas, traditional sweet pastries
Este post también está disponible en Spanish
The recipe that I bring you today is a typical and traditional sweet pastry from Bilbao, but it has a somewhat scattered origin and is spread around the world. In fact, there is a wide range of very similar sweets, but with different names. They are the famous Jesuitas, puff pastry stuffed with spaghetti squash.
It is quite common to find many elaborations that have a certain similarity between them, especially if they are not traditional sweets and with an origin that goes back a few hundred years. But this makes perfect sense. An elaboration is born in a city X, by the hand of a pastry chef who is probably not even from there. Something that makes him bring acquired knowledge from his hometown. This recipe is learned by his fellow bakers and, from there, its expansion is uncontrollable. To this we must add that each person adapts, modifies and personalizes the elaborations to their taste and consideration. For this reason, something that originated so long ago and unless there is written documentation, it is very difficult to know the exact moment and thanks to whom it originated. This is what happens to us with the Jesuitas.
Jesuitas origin.
As I said before, the real origin of the Jesuita pastry is somewhat uncertain and confusing. This sweet pastry can be found in almost all bakeries in Bilbao, but it is also one of the symbolic sweets of the gastronomy of Porto, especially in Santo Tirso.
The Confeitaria Moura, a historical cake store that currently has three stores, was opened by Joaquim Moura in 1892 in Santo Tirso center. It produces a wide variety of traditional sweets, the Jesuitas being its great specialty. They take great care of the raw material they use, as well as the whole process of elaboration of all their products.
Everything that is manufactured in one day is finished that same day. The cult of good taste is practiced, making love and art.
The appearance of the Portuguese and Bilbao Jesuitas is exactly the same, with the particularity that in Bilbao they are always filled with spaghetti squash and, on the contrary, in Portugal it is more usual to fill them with pastry cream.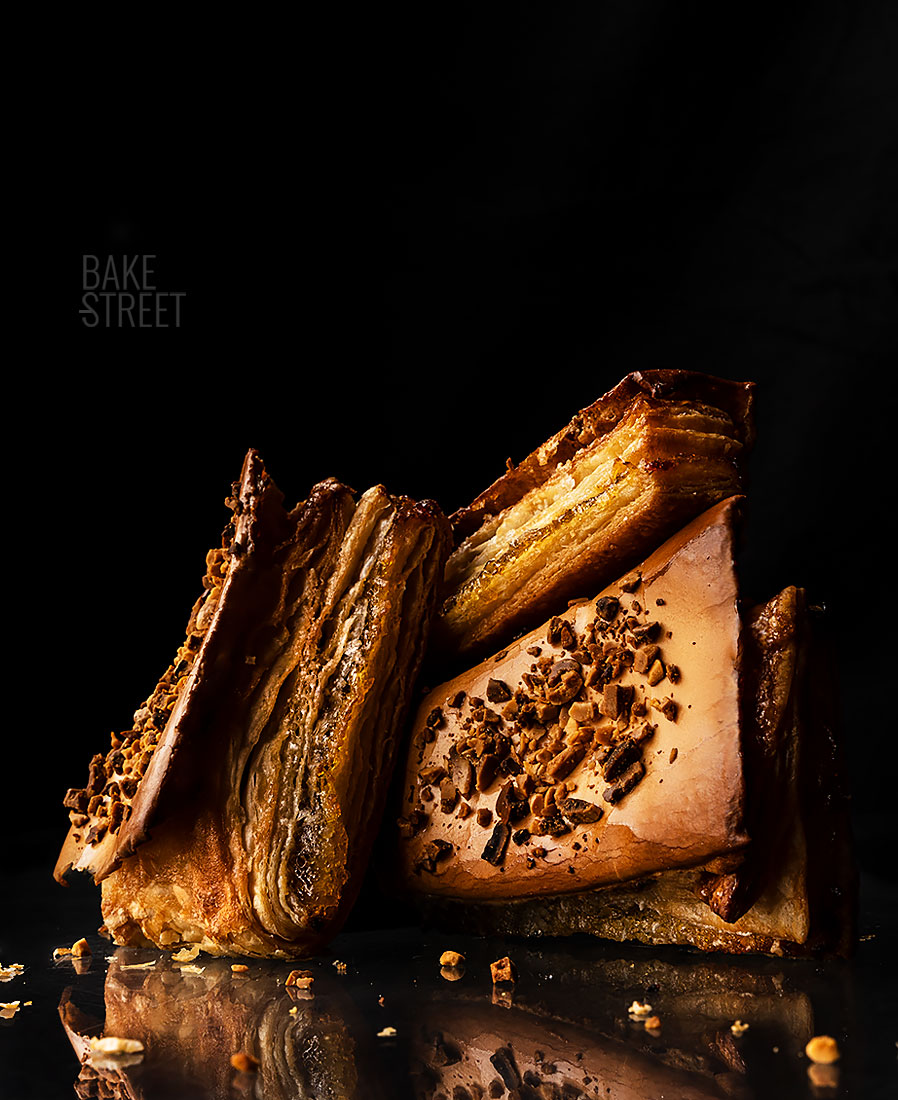 How can there be two identical pastries from different places?
Apparently, Moura hired a Spanish pastry chef who, it seems according to Moura's descendants, was from Bilbao although there is not enough evidence to confirm this. This anonymous pastry chef, was the one who contributed the famous recipe of the Jesuitas. It is believed that this pastry chef, could have worked for the Society of Jesus and from there he took the recipe or baptized it in his honor.
But it doesn't stop there. The recipe of the Jesuitas appears in the cookbook "The Culinary Art" (1902) by Adolphe Solichon, a French cook.
«Jesuitas: This is the name given to cakes made of puff pastry with cream inside, royal icing on top and flaked almonds»
With only 10 years of difference, between the inauguration of the Santo Tirso bakery and the publication of this book, another similar sweet pastry called "jèsuites" emerged in another part of the world. It has become a traditional elaboration in France. They are described in the Universal Dictionary of Practical Cooking (Joseph Favre in 1905) where he explains why they are called Jesuitas.
They acquire this name because of their triangular shape, similar to the ancient black hats worn by the Jesuit fathers.
In the mid-nineteenth century, before any Frenchman had produced Jesuits, in Germany were already produced Jesuitermützen. The cakes are not known much more than that they imitated the shape of the Jesuit headdress.
This leaves us in a somewhat diffuse situation since the creator could well be from Germany, France, Bilbao or Portugal.
There are many more sweet pastries with the same or similar process.
Apart from those mentioned above, which not only share the same elements to carry them out but also a name, there are other sweets that maintain the same or very similar process, only with different names. For example the famous Corbatas de Unquera, Polkas from Torrelavega, Francesitos, Monjitas or Fosforitos with ham and cheese … (yes, these last ones consist of puff pastry and a layer of royal icing that, once baked, are filled with ham and cheese). And I'm sure there are many more that I don't know, but of course I'll be happy to add them if you send them to me.
Carrying out the Jesuitas made with puff pastry and spaghetti squash.
To make them at home we can carry out several processes, from the most laborious to the simplest. Of course, whenever we dare to make the puff pastry at home, we know that the final result will be infinitely better than if we use store-bought puff pastry. There will be no color not only in the final appearance, but also in flavor, aroma and texture.
I have made the recipe thinking of you, so as not to complicate the process too much. I have prepared quick/blitz puff pastry, which I have already left you in other occasions like Carolinas from Bilbao and Carbayones from Oviedo. But, if you want to dare to make a traditional puff pastry, don't hesitate to take a look at this post where I show you how to do it, besides learning how to make puff pastry palmiers with chocolate fondant.
Once we have our puff pastry ready, the rest is really simplee. Promise.
I'm crazy about spaghetti squash, so I've filled them in just like they do in Bilbao. But for those of you who don't love this kind of preparation, you can fill them with pastry cream. The final touch comes with a thin layer of royal icing and almond, laminated or chopped. Little more we have to do to enjoy this wonder during the weekend. But before you get into the dough, read the whole process well and, above all, the section notes where I tell you what to do and what not to do to get a perfect result.
Recipe Jesuitas
Ingredients for 12-14 pieces
FOR QUICK/BLITZ PUFF PASTRY:
Recipe from book "Baking and Pastry"
230 g cake/pastry flour, cold + 20 g for sprinkle
230 g unsalted butter, cold
100 g very cold water, from the fridge
5 g sugar
4 g salt
FILLING:
GLAZE:
1 large egg white
250 g icing sugar
few drops lemon juice
GARNISH:
flaked or chopped almonds
Instructions
Make blitz/quick puff pastry.
To see the detailed process accompanied by a video to make the blitz puff pastry, you can do so by clicking on this link.
Once we have done it we can leave it in the freezer for 30 minutes, covered with film, and proceed to shape the cakes or leave it in the fridge until the next day.
Stretch the dough and stuff itL
Lightly dust a work surface with flour.
Stretch the dough, we will do it until we reach a size of 70 x 20 cm approximately.
Fill half of the pastry, lengthwise, with the spaghetti squash. Spread it trying to create a thin and uniform layer.
Fold half of the puff pastry without covering it over the filling. Gently roll over the surface.
Place the filled puff pastry on a perforated tray lined with Teflon or baking paper. In my case I divided the puff pastry into two parts so that I could place them on the tray.
Refrigerate for 30 minutes.
Make royal icing.
In a bowl mix the egg white together with few drops of lemon juice and icing sugar.
We will add the sugar little by little, at the same time that we mix. We must obtain a dense mixture.
Set aside.
Cover the puff pastry with the glaze and divide the pieces.
Spread a thin layer of royal icing ove puff pastry surface. It is important that it is not thick to prevent it from falling over the sides during baking.
Refrigerate for 15 minutes. This step helps the glaze to harden a little and makes it easier to cut the Jesuitas.
Cut the pieces with the help of a sharp knife. It is very important that the sides of the puff pastry are clean after each cut. To do this, I recommend you clean the knife every time you cut a piece.
The size of the Jesuits will be according to your taste, but it is important that the base is wide, otherwise during the baking they will be bent to one side.
Once we cut all the pieces, decorate the surface with almonds and refrigerate for 15 minutes.
Bake.
Preheat the oven to 375ºF/190ºC.
Distribute Jesuitas on two trays. While we bake the first batch, reserve the other one in the refrigerator.
Place them at medium height and bake them for 25-30 minutes. You will notice that the glaze browns quite quickly. In my case I baked for the first 10 minutes with heat up and down, and from here I finished the baking with heat only down.
Take them out and let cool down completely on a rack.
Notes
To make quick/blitz puff pastry, ideally, all ingredients should be cold. With the mixing the temperature rises and we want to keep the dough cold, as much as possible.
You can do traditional puff pastry following this recipe.
Butter brings a lot of flavor, I recommend you to use a good one quality.
Do not overmix the ingredients more than I detail in the process and show you in the video.
Respect all the rest times to achieve a good result.
In case you don't want to make puff pastry, you can buy it... But the homemade one is very good!
It is very important to keep the puff pastry dough cold during the whole process to prevent the butter from reaching its melting point. Otherwise, we would not obtain a puff pastry result.
The glaze must have a solid consistency, not liquid, to avoid that during the baking it falls down the sides.
I recommend that you refrigerate the dough with the glaze spreaded, so that you can cut it much more easily since the glaze adheres to the knife. Remember to clean the knife with every cut you make.
Another important step is to prevent the sides of the puff pastry from being stained or covered with glaze. If this happens, the puff pastry will not grow well during baking.
The size of each Jesuita can be to your liking, it will not influence the final baking time. But it is important that the base is wide to prevent the pieces from falling apart while baking.
If you don't like spaghetti squash, you can fill it with pastry cream.
Preheat the oven well to help the baking to be done in a correct way.
You will know that the puff pastry is baked when it does not "breathe", that is to say, the layers do not go up and down while it is inside the oven baking. The puff pastry will remain fixed and will look drier, not shiny due to the presence of butter.
They can be kept inside an airtight container or zip-top bag for up 10 days. They will probably last longer but I can't say that from my own experience :D
I assure you that few things are as rewarding to make as puff pastry or laminated dough. Well, yes, bread. But beyond this, it is difficult. Now that temperatures are dropping, it's the ideal time to get with them and try making these Jesuitas.
Imagine a Saturday afternoon, or Sunday, with your coffee (or favorite drink), a delicious Jesuita, a blanket and Netflix/HBO... I must be getting older because this is a great plan for me, hahaha. Oh my God, if I had read myself 10 years ago I wouldn't have believed it! Anyway.
I wish you a wonderful weekend!
Big hugs!
Eva
Sources: El Correo
Archivado en