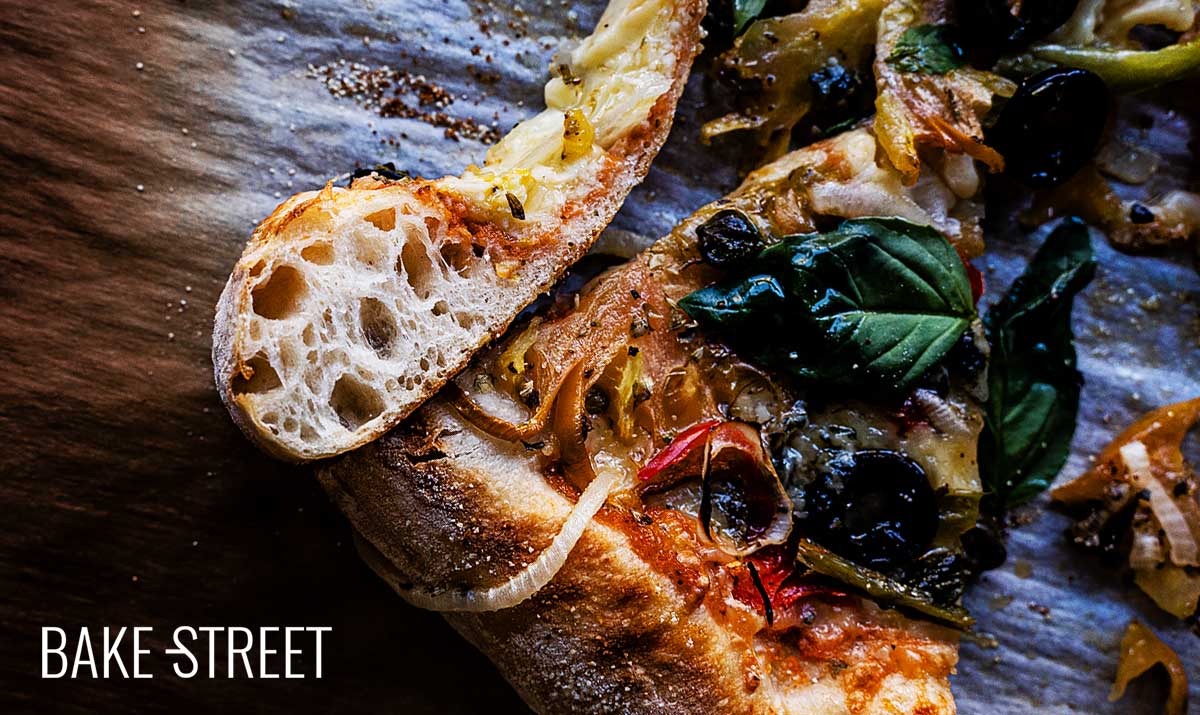 How to make sourdough pizza
Este post también está disponible en Spanish
Today I come with a recipe that you have been asking me for a long time, and finally I leave you with How to make sourdough pizza. In fact, for several weeks I have been trying out various pizza recipes; with sourdough, different preferments, various types of flour, hydration… So you can imagine how they are in my house. So happy! hahaha.
I will leave you other options, but today we will see how to prepare it at home with this natural preferment. By the way, I remind you that in the blog I have several recipes for pizza, all with yeast; this classic one made with very little yeast (only available in Spanish), with beet dough (only available in Spanish), spinach and basil dough and with roasted peppers dough.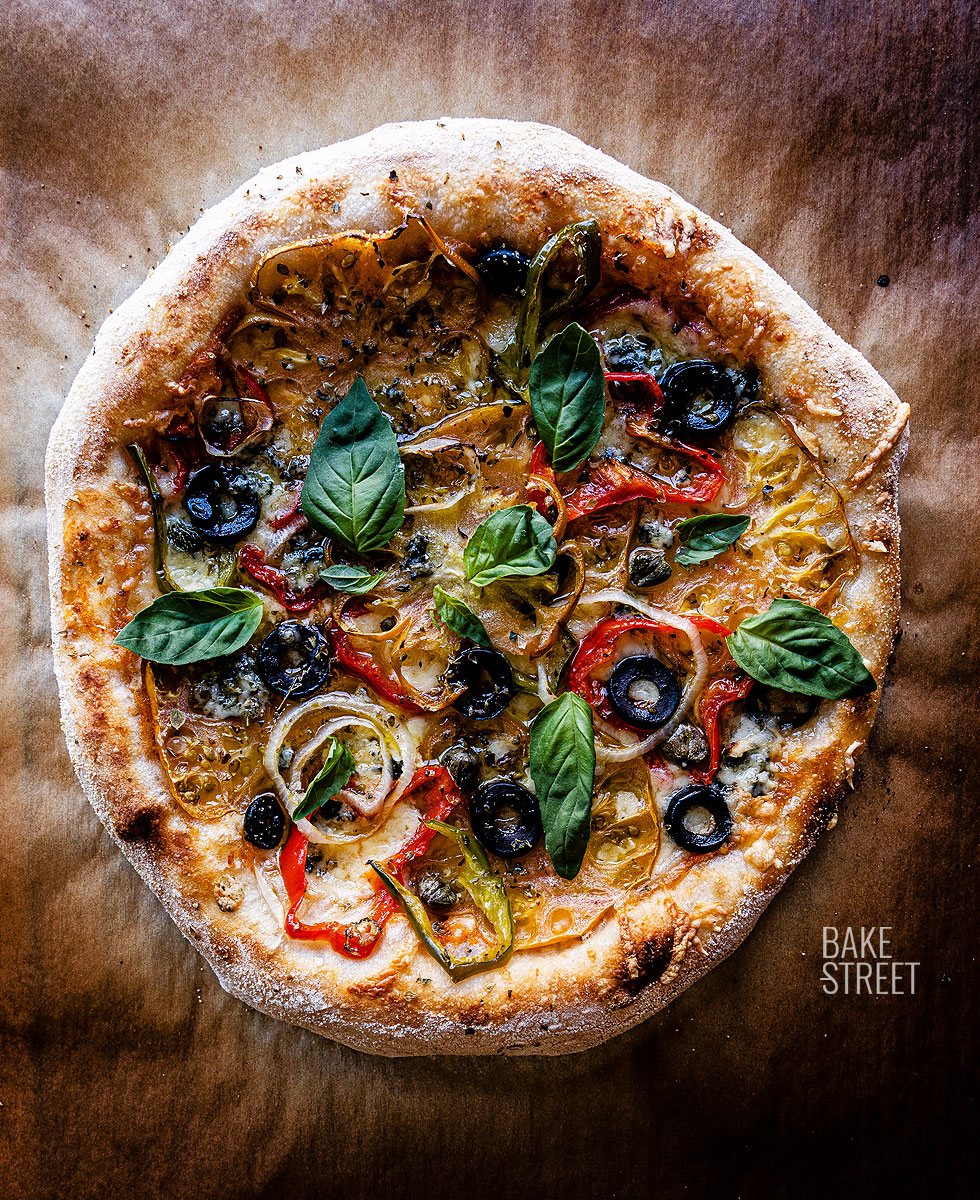 Making sourdough pizza.
To carry out this recipe we will not have to complicate anything, it is very easy to do. We just have to use the right ingredients and be patient. It is a dough that does not require kneading, just mix the ingredients until they are amalgamated. So I'm sure that many of you will encourage you to make it, especially those of you who hate kneading!
There are several things to keep in mind as we prepare to make our pizza dough:
It is very important to use a strong active sourdough. In addition to refreshing it with continuity to ensure that the acidity is kept at bay and does not pass that taste to the dough. In addition to damaging the gluten.
Use a strong flour, in my case I use Manitoba flour. If you use a lower strength flour, you must take this into account for the final hydration of the dough, which will surely have to be reduced, as well as taking into account the final fermentation time since the dough will degrade sooner.
Control bulk fermentation, especially the temperature, to prevent the gluten from degrading.
With these points under control, nothing can go wrong 😉
Shaping sourdough pizza.
One of the things we like best when eating a good pizza, is the quality of the dough, the ingredients and… a swollen edge! I think that's one of the most rewarding things when we make homemade pizza. You'll see there's no greater mystery.
When we get ready to make our pizza, we must stretch the dough, taking care not to touch the outer edge. Otherwise, we'll just degas it… To increase the diameter of our pizza, we will take the dough by holding it on the outside of our hands and sliding it out.
It is important to handle it carefully and avoid touching it for a long time, otherwise it may stick to your hands and you may tear it.
If, at any time, when you are stretching the dough, it puts up resistance and try to get it back into shape, it will be a sign that the gluten has been stretched out. It's okay. We let it rest for 5 minutes before stretching it again.
Personally, I really like the taste and texture of the semolina on the pizza. I use it to sprinkle the paper where I place the dough, once it has been shaped and stretched, as well as the edges of the pizza. This is optional and you don't have to do it, but I'll tell you if you like it as much as I do. It gives it that different point.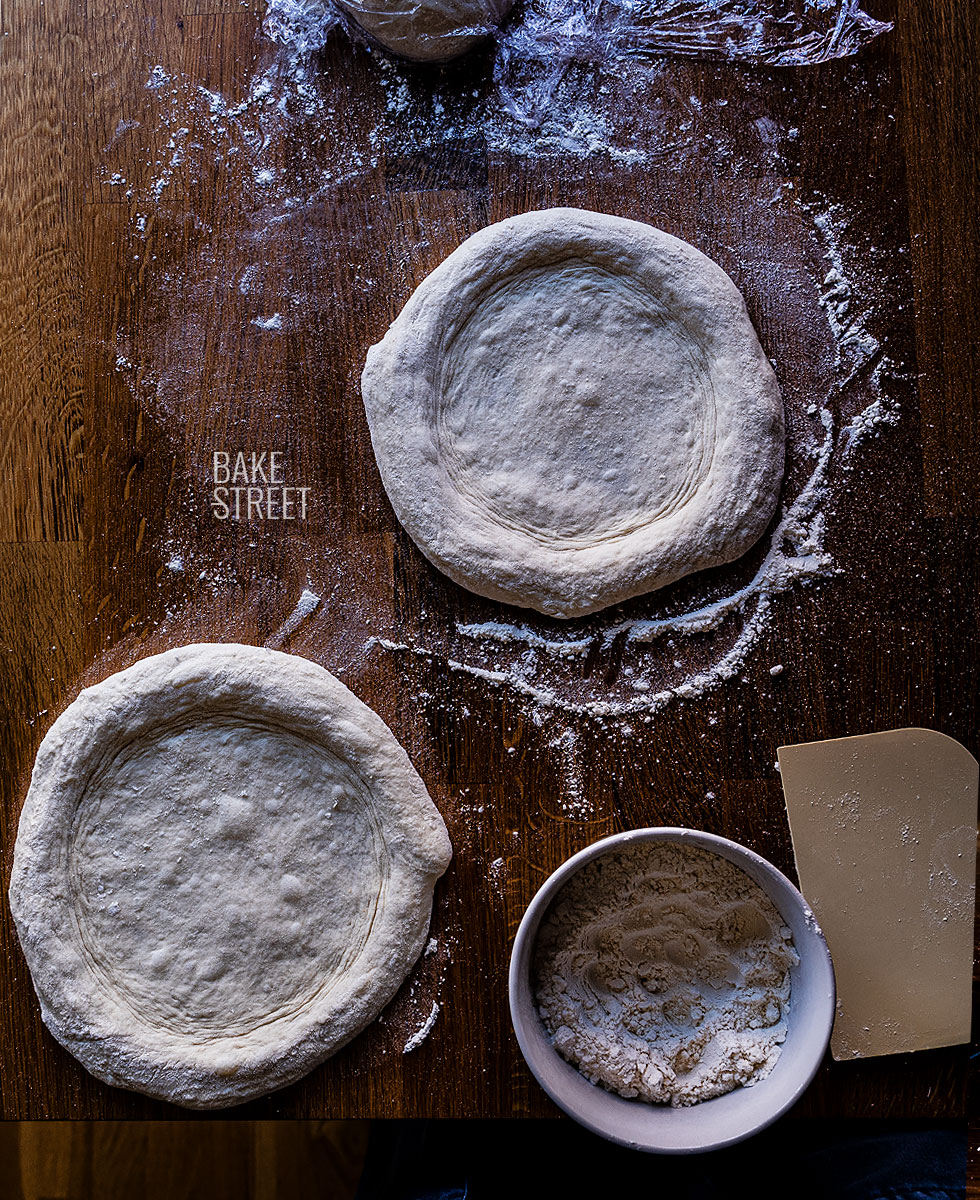 Finishing sourdough pizza.
I like to leave you with options that are different from what we usually prepare at home. This time I thought I'd make an Andalusian-style pizza. To prepare it I have used a traditional recipe from Malaga (Spain), which is usually consumed a lot in summer,  "porra Antequerena".
For those of you who do not know it, it is a recipe made with tomato, garlic, green pepper and bread. Very similar to the traditional salmorejo, only that the first one has more bread and green pepper. Basically that is the difference between both elaborations.
Another difference between both can be the way it is served. Porra Antequerana is usually presented with tuna and hard-boiled egg, although I have always eaten it as I tried it for the first time in Malaga a few years ago; hard-boiled egg and raisins. A real wonder! On the contrary, the salmorejo, is usually served with serranoham and hard-boiled egg.
In the end everyone prepares it the way they like it best at home, which is the important thing. When you make it for the base of the pizza, prepare a little more and you will be able to enjoy a great first course that is perfect for fighting the hot weather we are having.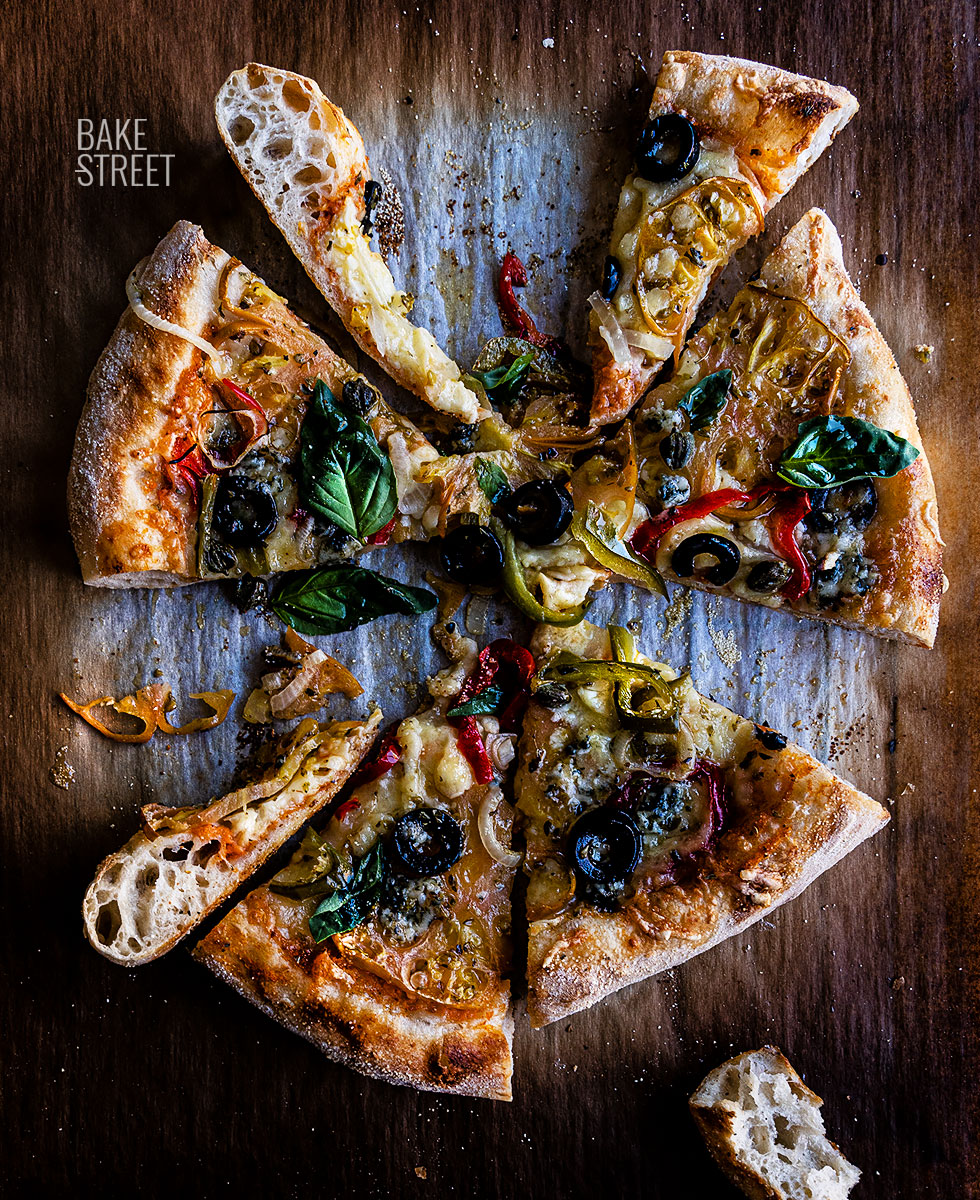 The rest of the ingredients I have used could be used to accompany an porra Antequerana; onion, tomato, black olives, red and green peppers and capers. As I always say, this can be adjusted to your personal taste. I really like pizzas with vegetables… We'll finish it off with some dried oregano and a good dash of olive oil.
If you like cheese, I recommend you put some blue cheese, it gives a wonderful taste. Once we take the pizza out of the oven, decorate it with fresh basil and serve it. If you wonder why I don't put the basil before baking, although I know there are people who do, it's because I prefer to keep its freshness and natural flavor.
The baking process for sourdough pizza, on this occasion, I have modified it.
The reason is that the oven I have now was not working well with the grill option as I show you in the other pizzas I have on the blog. It has too much potency and the result it gave me was not convincing.
But, using the steel plate and heat to the maximum (525ºF/275ºC) gives me very good results. So this is something important to keep in mind, because both methods can work well for you.
Recipe sourdough pizza
Ingredients for 6 individual pizzas (250 g)
FOR THE DOUGH:
750 g Manitoba flour
430 g water
75 g sourdough, 100%
6 g sugar
9 g salt
FOR PORRA ANTEQUERANA:
450 g red pear tomato
2 garlic cloves, small
1 green pepper, small
1-2 Tbsp apple vinegar
40 g olive oil
200 g sourdough bread or common bread
salt to taste
FILLING:
Mozarella to taste
Italian red bell pepper, laminated
Italian green pepper, laminated
sliced onion
black olives, sliced
capers
blue cheese (optional)
dried oregano
fresh basil
olive oil
Instructions
FIRST DAY
Make sourdough pizza.
In a large bowl or in the glass bowl of the KitchenAid with lid, add all the ingredients and mix until a homogeneous mixture is obtained and no dry ingredients remain.
Cover with film or with the bowl's own lid and leave it at room temperature until it almost doubles in size. You must observe it because the time of rising will depend on the outside temperature.
Keep it in the fridge for 48 hours.
This dough does not need to be kneaded to develop gluten, it is enough to integrate the ingredients well and let it rise.
AFTER 48 HOURS
Make porra Antequerana.
Wash the tomatoes very well and add them, cut them into quarters, in the glass of the blender or in a food processor.
Add chopped garlic.
Blend until a perfectly homogeneous tomato mixture is obtained.
Add the chopped bread, mix with the tomato and leave to rest for 10 minutes. In this way we favor to get wet and to process it well.
Add the chopped green pepper and blend again.
Add the vinegar and salt, process until it has a homogeneous texture.
Start adding the oil little by little, at the same time as we blend, so that it emulsifies.
Taste and rectify salt or vinegar if necessary.
Set aside.
Divide and preshape.
Take the dough out of the fridge and temper it for 1 hour.
Sprinkle a work surface with flour. Dump the dough and divide it into 6 pieces of 250 g each. It is a slightly sticky dough, I advise you not to touch or hold it for a long time to avoid it sticking to your hands and causing possible tears in it.
Fold each portion taking each of the four ends towards the center, turn the dough over and bowl gently.
Leave to rest, covered with film, for 35-45 minutes.
Preheat the oven and shape the pizzas.
Preheat the oven 25-30 minutes before to 525ºF/275ºC. If your oven can't reach that temperature, that's okay, just set the maximum temperature that will allow you to work.
To bake it you can use either a steel sheet or a stone, place it in the central part of the oven and remember to preheat with it inside.
Turn out the dough on a floured surface, generously, trying to keep the shape rounded, within our possibilities.
Flour the dough on both sides, depending on the final hydration of our dough we will need to use more or less. It is important that we can manipulate the dough without it sticking to our hands, for this we will have to use this ingredient without fear that we think it is too much.
With the fingertips we will press the surface of the dough without touching the edge to favour that it stays swollen and does not lose its volume. In this way we will obtain an airy and swollen edge after the baking.
Take the dough with both hands and start to turn it over our fists, at the same time we turn the dough, gravity will help us to stretch it. If you are afraid to do it this way or you don't feel safe at all, you can stretch the dough on a work surface using your fingertips. Gently slide your fingers to stretch the dough, remembering not to touch the edges.
If the dough puts up some resistance and shrinks, it is because it has tension. Let it relax for about 5-10 minutes and continue shaping it.
We will stretch it out until it forms a disc of about 25 cm in diameter.
Place the dough on baking paper well sprinkled with semolina and proceed to fill it.
Fill the pizza.
Spread a base of "porra de Antequera".
On this, put mozzarella, onion, tomato, both types of peppers, black olives and capers. If you wish, you can have some blue cheese,
Sprinkle with oregano and drizzle with olive oil.
If you like the texture of the semolina, I like it very much on pizza, you can sprinkle the edges with it.
Bake.
Bake for 7-8 minutes, the final baking time will depend on your oven.
Take out and garnish with fresh basil leaves.
Serve.
Notes
To make this dough I have used Manitoba flour, in case you use a flour with less strength W, you must control the hydration and final and reduce the resting time in the refrigerator to 18-24 hours to avoid the dough to degrade too much.
This pizza dough can be used within 24 hours, if you wish. But I don't recommend exceeding the cold rest time because the dough degrades a lot and it's very easy for it to get over-fermented.
The dough must be tempered before working with it, otherwise it will be more complicated to handle and the levers will not be carried out properly.
You can freeze the dough divided into pieces in individual containers. When you want to use them, just put them in the refrigerator the night before to defrost them.
To make porra antequerana I like to use pear tomatoes, they give very good taste. But you can make it with branch tomatoes if you want or tomatoes that are ripe and give good flavour.
In my case I usually make the porra with bread from sourdough, but you can use other types of bread, if possible of good quality. A few weeks ago I made it with Pain Brié and it was spectacular.
It is not necessary to peel or blanch the tomatoes, but it can be done to remove the skin beforehand. Another option you can do to remove the skin or possible seeds, is to strain the tomato once it has been crushed.
All the ingredients are optional and you can adjust them to your taste.
You now have a new way of making your pizzas at home using a natural ferment/levain instead of yeast. I hope that with this process on how to make pizza with sourdough, you will not only be encouraged, but also lose your fear of sourdough. That many of you still have some respect for it.
It is very easy to carry out this recipe because it does not need kneading, folding or complicated processes. It just requires having our sourdough active and ready to use. The rest is as simple as mixing well and letting it rest.
When shaping the pizza, we must try not to touch the dough too much because manipulating any dough more than necessary can only bring bad results. Less is more.
Avoid touching the edges and let the dough rest whenever required. Remember that when we handle a dough, the gluten becomes tense and as our aim is not to touch much, we must let it rest whenever necessary.
I can't wait to see yours! I wish you a great Sunday.
Big hugs,
Eva
Archivado en