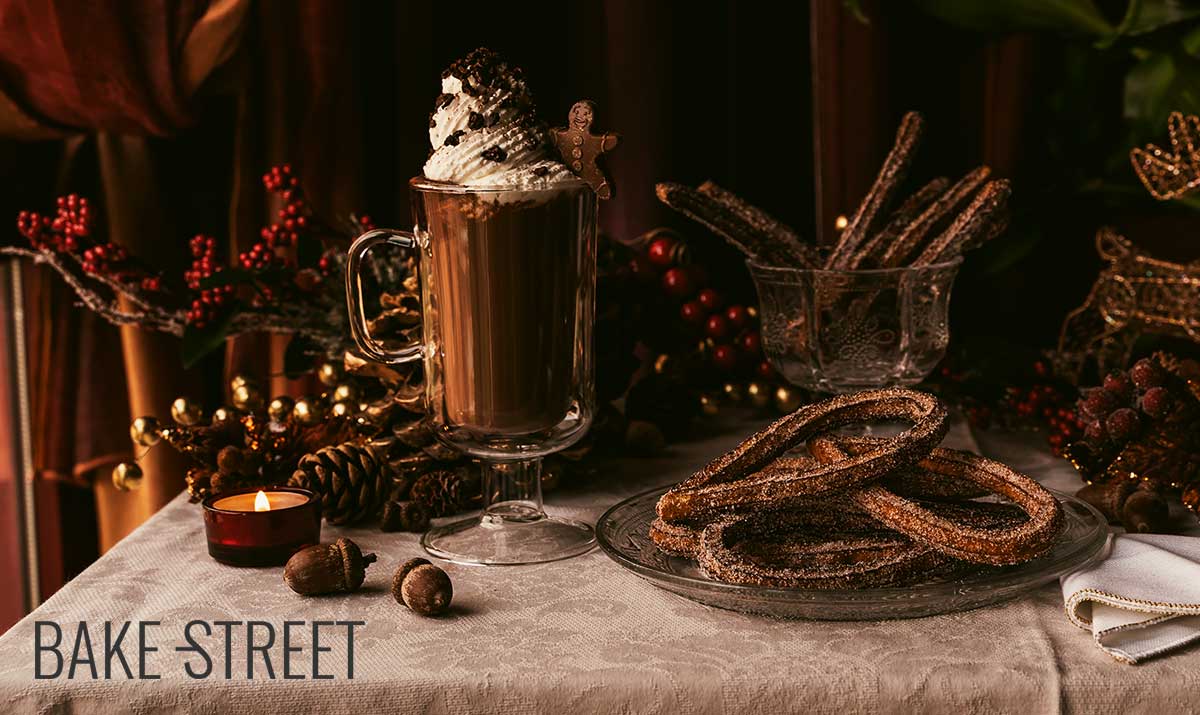 How to make homemade churros with hot chocolate
Este post también está disponible en Spanish
Last year I didn't make it in time to let you know how to make homemade churros and hot chocolate, but this year I did! First of all, I apologize for my absence from the blog. It's not that I didn't want to publish or that I had it abandoned, the reason why I haven't left you recipes during these last weeks is that I have been finishing two new online workshops;Viennoiseries I (soon available in English too) and Roscón de Reyes – Pâtisserie des Rois (available in english). These have taken up all my time and, at one point, I found it almost impossible to combine everything.
But they are now available and so am I! Ready to continue sharing with you a lot of recipes. By the way, you already know that all my courses are available supervised and unsupervised. The supervised Roscón de Reyes course starts next December 15. And, in case the dates do not suit you, you can always take the unsupervised version and do it at your own pace. The content of the courses is the same in both formats, the only difference is that you will have my help and support during the tutoring time established for each course.
Thank you for trusting me and my work, since it is thanks to my courses that everything I share with you on my website, social networks and Youtube channel, is possible 🙂
Back to today's recipe, you can't imagine how much I wanted to share it with you. Because, who doesn't like to enjoy a good cup of hot chocolate accompanied with some freshly made churros? It is one of those things so linked to Christmas, that I almost can't conceive of starting this time of the year and not enjoying them.
For those of you who love this simple recipe that will make your weekend breakfasts so much better, today I will share with you how to make some wonderful homemade churros along with a hot chocolate with an unbeatable flavor and texture.
Churros origin.
We are surrounded by countless recipes that are very difficult to know what their real origin is, as it may be in this case with churros.
I'm sure many of you know Mandy Lee from Lady and Pups, according to her, nowadays it is very difficult to find an authentic flavor since almost everything we eat is a "fusion" of other recipes. Mandy has an anecdote about our famous churros:
"I arrived in Madrid and ate a porra. I was surprised that the taste was very similar to that of a youtiao".
The youtiaois a preparation that could perfectly be a churro: fried bread very typical of Chinese cuisine, salty and usually eaten for breakfast with rice or soy milk.
The churro as we know it is not so different from a recipe for fritters found in a Roman book from the 1st century BC.
Does this mean that our famous churros are an evolution of a recipe from China?
Perhaps it was the Portuguese who introduced it to the Iberian Peninsula. According to the gastronomic historian Michael Krondl:
"It seems that people like to be very possessive when it comes to food. It's pretty hard for the churro to come from China," he notes, "However, the idea of the fritter already dates back to the Arabs. And, in a way, the churro as we know it today is not so different from a recipe for fritters made of flour and water that is already found in a Roman cookbook from the 1st century BC. In the Mediterranean basin, this type of food has basically always existed".
In Madrid, San Ginés opened its doors in 1894.
They share that:
"In 19th century Madrid there were buñolerías (places where they made buñuelos, fritters) everywhere, as it was a much sought after snack by the people of Madrid. Valle Inclán noticed this establishment and named it 'buñolería modernista' in 'Luces de Bohemia'. The custom of drinking chocolate in Madrid is as old as the discovery of America, which was when the Spaniards marveled at this product. In fact, chocolate was the favorite drink of our people until coffee was imposed in the 20th century".
It is true that the most common is to see the churros accompanied by a cup of hot chocolate, but it is not surprising to accompany them with a good coffee or even enjoy them alone, with a little sugar sprinkled on top.
Its shape.
Traditionally we usually see them with a "teardrop" shape, as I show you in the video, which, quite possibly, was given this shape to be able to transport them in the famous "junco churrero" junco – reed. But it is also common to see them straight, with one of the ends slightly curved.
I remember when I was little and we went to summer in Chiclana, my parents with my uncles and cousins, we used to make a stop in Ecija to visit some relatives of my uncle. They took good care of us, especially when it was time to eat. For breakfast they brought what for me were churros, but they called them "jeringos", straight churros sprinkled with sugar.
This plant, the rushes, have a circular stem without leaves and are widely spread throughout the Iberian Peninsula. It is known as junco churrero because it was used, and still is in some places, to transport or bind churros or fritters. Like esparto grass, its stalks have also been used to make chair seats, baskets, etc.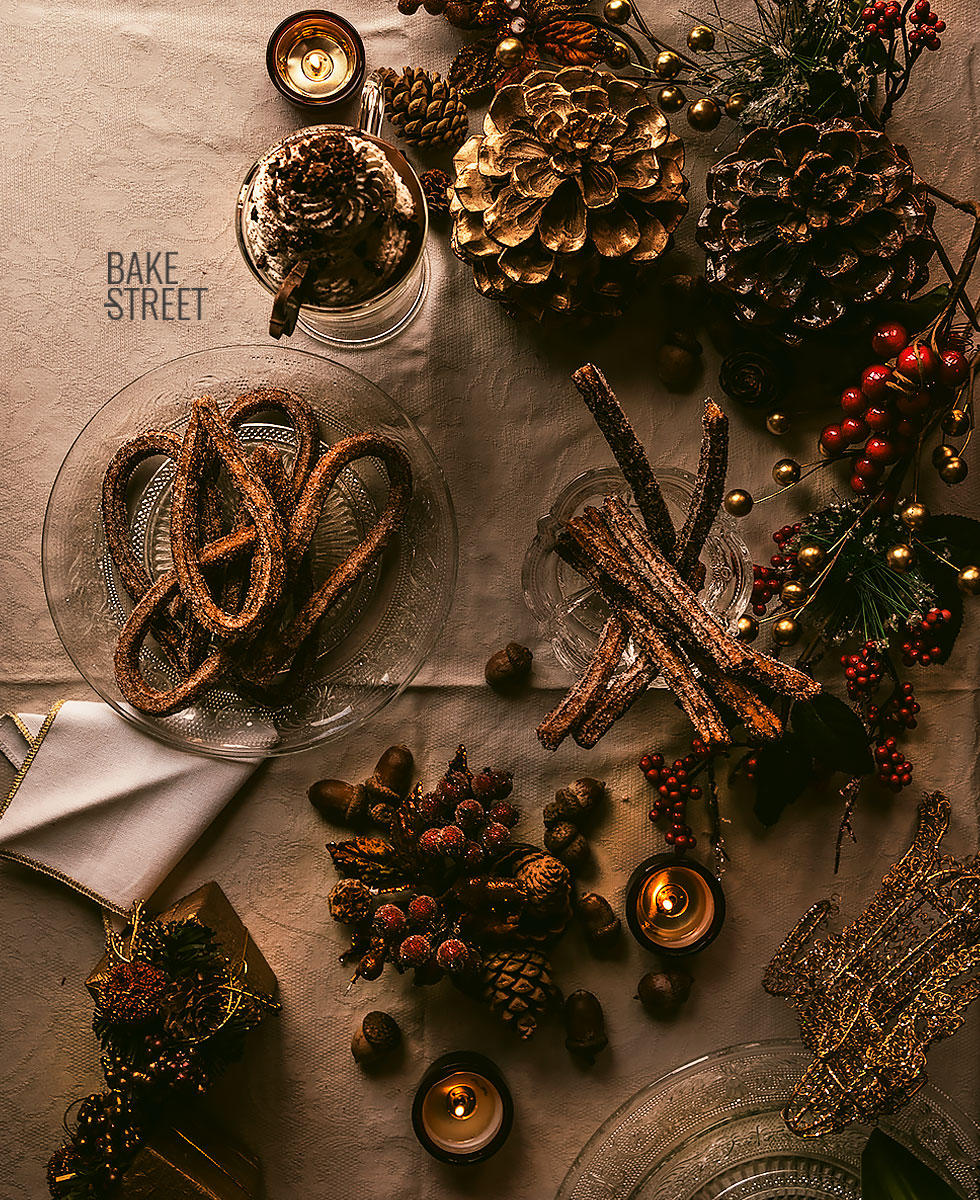 But, what about hot chocolate? How did this wonderfully comforting drink become popular?
On April 3, 1502, Christopher Columbus set sail once again from the port of Seville to find a sea passage from Central America that would finally take him to Asia. It was his fourth voyage to the New World, and the route had its difficulties.
One day, in the middle of a storm, the navigator and his men were forced to disembark. Apparently, they intercepted a Mayan vessel carrying a cargo of almonds, to which Columbus did not attach any importance. Without knowing it, the Admiral had had the first contact with the seeds of the cacao tree.
The Mayas left the first written references in history to its consumption in the so-called Madrid Codex, preserved in the Museum of America. On the other hand, the Aztecs thought that the seeds from which they obtained chocolate were nothing more than the materialization of Quetzalcoatl, god of wisdom. Cocoa was so important to the Aztecs that they used almonds as currency.
Pedro Mártir de Anglería, chronicler of the Indies, said in this regard: "They used currency, not of metal, but of small nuts of certain trees, similar to almonds".
In order to understand the exchanges made in the Aztec world, the Spaniards elaborated tables of equivalence. Thanks to them, we know that a hare paid in cocoa cost the same as the services of a prostitute.
At first, the Spaniards showed a rejection of chocolate.
According to the chronicler Gonzalo Fernández de Oviedo, the lips were stained with blood after drinking it. In addition, its bitter and spicy taste did not convince them.
It seems that it was the monks who spread the consumption of chocolate in the monasteries. In time, it would be the Cistercians who achieved greater fame as chocolatiers. But not all religious were in favor of its consumption; the Jesuits, for example, believed that chocolate was contrary to the precepts of mortification and poverty.
In the 17th century, serving hot chocolate as a beverage became an essential part of the "gift", a ritual followed in the snacks that the nobles offered to their visitors. It was usually accompanied by biscuits and other sweets for dipping.
Chocolate consumption in Spain spread throughout the 17th century and was advertised in confectioneries as the "drink that comes from the Indies".
Chocolate drinking was so widespread that even the ladies of the nobility had it served to them in the middle of long and boring ecclesiastical sermons. The bishops, offended, forbade this form of consumption.
One of those responsible was Anne of Austria, daughter of Philip III, who exported the custom of snacking and eating chocolate for breakfast after her marriage to Louis XIII.
When the Bourbons arrived in Spain, they were very fond of chocolate. Above all, Philip V and his son Charles III, who used to have breakfast with this drink. It was precisely Charles III who allowed the exclusive and monopolistic exchange between Madrid and the Royal Captaincy General of Venezuela. The monarch created an institution in charge of managing the trade, the so-called Real Compañía Guipuzcoana de Caracas. In this way, the product reached the Spanish tables through the grocery stores.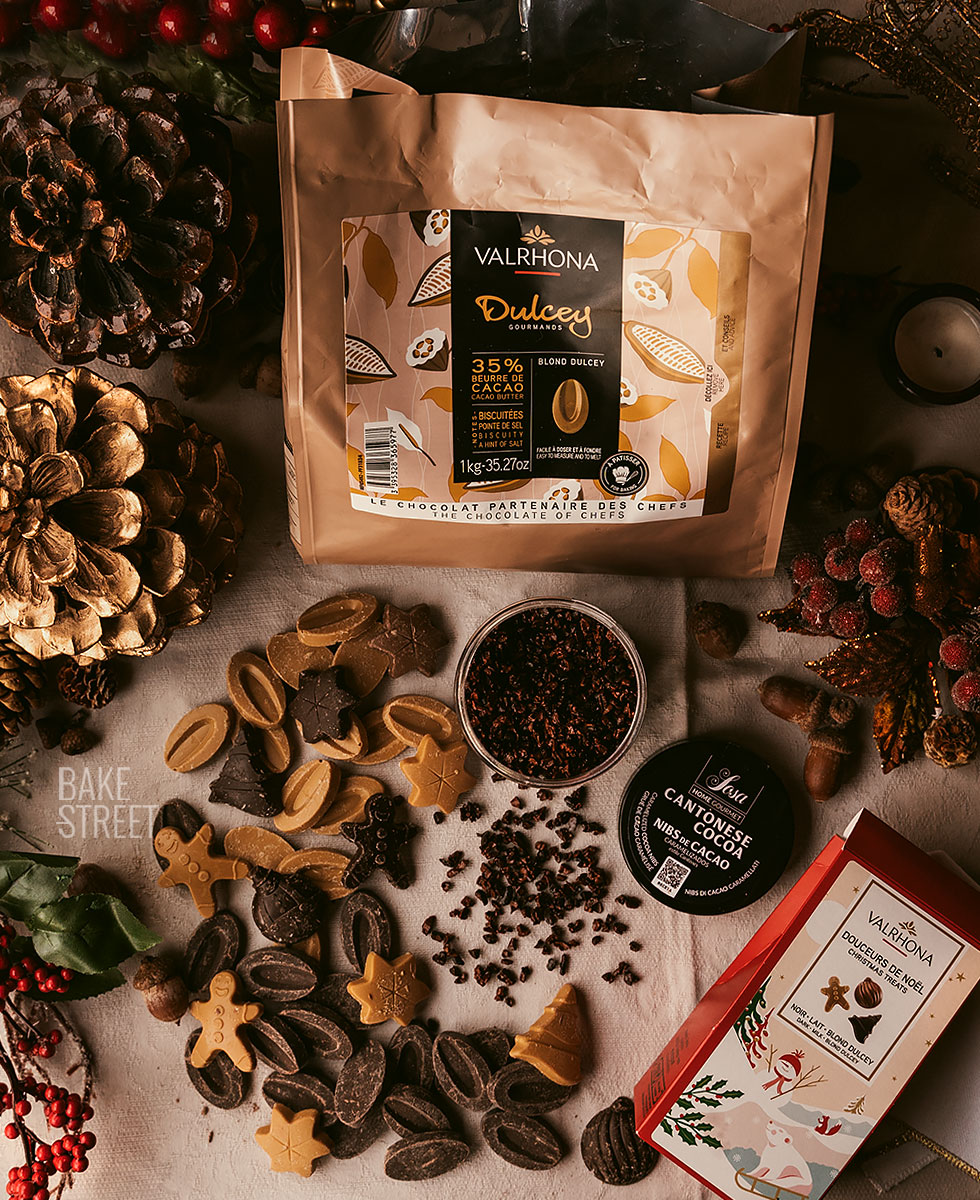 Today we will enjoy this wonderful fusion of elements, cultures, customs and ingredients. Some homemade churros accompanied by an incredible hot chocolate. Some time ago I left you a recipe for Gingerbread hot chocolate, which is also spectacular, in case you want to spice it up a bit.
To make it we will combine two types of chocolate; Guanaja 70% and Blond Dulcey from Valrhona. We will obtain a very creamy chocolate with the exact point of bitterness accompanied by sweet notes, a subtle flavor of cookies, butter and a touch of salt. To serve it, we will prepare a Chantilly with natural vanilla from Madagascar Norohy and sprinkle with caramelized cocoa nibs and cocoa powder.
Recipe homemade churros and hot chocolate
FOR CHURROS:
Ingredients for 12 churros
150 g AP flour (10,5% proteína)
255 g water
1 Tbsp olive oil
2,5 g salt
sunflower oil for frying
sugar with vanilla for coating (optional)
FOR HOT CHOCOLATE:
Ingredients for 3 serves
525 g whole milk
115 g dark chocolate Guanaja 70% Valrhona 
75 g chocolate Blond Dulcey Valrhona
1 tablespoon, generous, unsweetened cocoa powder Valrhona
10 g cornstarch, sifted
26 g dark muscovado sugar
pinch of salt
FOR DECORATING CHOCOLATE:
Chantilly (whipped cream with natural vanilla from Madagascar Norohy)
caramelized cocoa nibs Valrhona
unsweetened cocoa powder Valrhona
Valrhona Christmas chocolates (optional)
MATERIAL WE WILL NEED:
Churro maker
Saucepan
wide saucepan or frying pan
wooden spoon or spatula
digital cooking thermometer
slotted spoon
scissors
manual rods/whisk
mat for placing the churros
cups for the chocolate
Instructions
Prepare hot chocolate.
In a saucepan add the milk and place over medium high heat.
Once it comes to a gentle boil, reduce to medium low heat and add the Valrhona chocolate beans (Guanaja and Dulcey) along with the muscovado sugar and salt.
Mix with the help of a whisk until completely melted.
Add the cocoa powder and mix again until homogenized.
Finally, add the sifted cornstarch and cook, stirring constantly, for 5-10 minutes. The chocolate should thicken slightly.
Set aside.
Prepare churros' dough.
In a saucepan add the water and salt. Place over medium-high heat and bring to a boil.
Once it comes to a boil, turn off the heat and add the flour all at once.
Mix with the help of a spoon or wooden spatula.
Once we have a more or less amalgamated dough, we turn it out onto a clean work surface. Wait to be able to manipulate it with our hands so as not to burn ourselves, it will not take us more than 2 minutes of waiting.
Knead until the dough is soft, smooth and homogeneous.
Once at this point, pour half a tablespoon of olive oil and knead to integrate.
Add the other half tablespoon and knead again. The dough will be very pleasant to the touch.
Prepare churro maker.
Prepare churro maker with a star-shaped nozzle or plate. In my case I used a small one, the one I show you in the video.
Place the dough into the churro maker and press a little to adjust it.
Close it and lower the plunger.
Prepare churros.
Form churros by pressing the lever of the churro maker, we will have to exert a little force. In my case I have taken as a reference the width of the tray to give them the same length, then I have joined both ends to give the classic and traditional shape of the churros. If you wish, you can also make them elongated or straight.
As we form them, we can place them on the countertop, baking paper or on a silicone mat.
While heating the oil, heat the chocolate.
Return the chocolate to medium-low heat and stir from time to time. We must be careful to heat it at a low or mild temperature to prevent the chocolate from burning.
We will also have the whipped cream ready, in my case I have prepared 100 g of cream per person, that is, I used 300 g of whipping cream + 3 tablespoons of powdered sugar + half a natural vanilla pod. In this post you can see how to whip cream at home.
Once whipped, introduce it in a piping bag with curly nozzle (in my case SF Decora 18) and keep in the refrigerator until serving time.
When we have the churros ready, serve the hot chocolate in cups or tall glasses, decorate with the Chantilly, cocoa powder, Valrhona caramelized cocoa nibs (this is totally crazy!), cocoa powder and a Christmas bonbon if we wish.
Fry churros.
Fill a medium saucepan or casserole with sunflower oil, place over medium high heat and let it reach 355ºF/180ºC. To do this we will use a digital cooking thermometer.
Once this temperature is reached, add the churros (2-3 units per batch) and move them slightly, especially at the beginning, to prevent them from sticking.
When we notice that they acquire a golden color, we turn them over and fry on the other side. Once they have a nice golden brown, remove and place on a tray lined with paper towels or on a rack to drain any excess oil.
Fry the rest of the pieces.
A couple of minutes after removing them from the oil, if desired, coat them with vanilla sugar.
Serve with a hot chocolate and enjoy!
Notes
The chocolate should be prepared with whole milk or a variety of vegetable milk with a high fat content, so we get a good texture.
I have made many homemade chocolates at home and I assure you that the flavor and texture that we get with Valrhona chocolate is spectacular. In addition to a wonderful flavor and aroma. The Blond Dulcey chocolate provides creaminess and a subtle taste of cookies, butter and a touch of salt. Combined with the slightly bitter Guanaja chocolate, it makes an absolutely perfect combination.
I advise you to add cocoa powder to achieve a more intense shade, typical and characteristic of hot chocolate.
The cornstarch will help us to give density to the chocolate, it will not add flavor or floury texture, in addition we will gain a wonderful consistency. It should be sieved beforehand to prevent lumps from forming in the chocolate.
Chantilly is optional, but it certainly makes hot chocolate absolutely perfect. If you prefer plain whipped cream, just omit the vanilla.
Never heat the chocolate in the microwave or at high heat, it is very easy to burn it and this would lead to a bad tasting hot chocolate. Besides spoiling its properties and characteristics.
The decoration of the hot chocolate is optional.
To make the churros I used flour with 10.5% protein. I made several tests and this is the result I liked the most. If we use normal or common wheat flour with 9% protein, we must reduce the amount of water to 190-200 g maximum. This will always depend on the quality of the protein and its absorption capacity.
It is important to knead churro dough well to avoid small air pockets that may remain in the churro and explode during cooking.
Churros can NOT be made with a piping bag. The reason is that air bubbles can be created and the dough will explode while you fry them. This is very dangerous. In addition, churro dough is dense and requires pressure to pipe it, a churro maker withstands that pressure very well, a piping bag does not.
To fry churros, we can use soft olive oil or sunflower oil. In my case I have used the latter option.
The oil temperature should be to 355ºF/180ºC. I know that in many places they advise it to be to 392ºF/200ºC or very, very hot. I have done many, many, many tests and.... At such high temperatures they brown/burn very quickly and the inside is uncooked. At the temperature I specify, we get them to cook well inside, in addition to preventing them from burning. We achieve a crunchy texture on the outside and tender on the inside, without being uncooked.
I make the vanilla sugar as follows: Whenever I use natural vanilla pods, once I take out the seeds, I keep them in the sugar jar. As the days go by, the sugar acquires a spectacular aroma. I promise you won't want to use it any other way.
If we have leftover churro dough, we can wrap it in cling film, but I advise you to use it the same day. I did a test by refrigerating the dough from one day to another and it does not give good results. It becomes very sticky and impossible to handle. As it is blanched, it absorbs moisture and changes its consistency.
We can freeze the churros once they are shaped. We will arrange them on a tray or large rectangular container, cover very well in film and let them freeze. Once frozen, store in a zip bag and consume within a maximum period of 1 month.
Undoubtedly one of the favorite breakfasts during these dates, homemade churros with hot chocolate. Although it is also true that they are equally enjoyed throughout the year, but no one can deny that Christmas or even New Year's Day are the undisputed time when the vast majority of us have consumed and enjoyed them.
Take a walk through the center of Madrid, see the lights and end up in a chocolate shop snacking on some churros with hot chocolate .... It is one of my perfect and ideal plans during this time of the year. Although if I tell you the truth, everything that takes place around a table and with food, for me, is an ideal environment.
When we go to visit a new place, my main interest is what I will be able to eat. Whether it's something typical and artisan from the area, in a restaurant, pastry shop... For me the most important thing, always, is the gastronomy. The rest is in the background, hahaha. That also interests me, but at another level.
I send you a big hug and I'm looking forward to see how it went preparing them at home!
Eva
Sources: Centro Campillo, Historia, El Confidencial
Archivado en