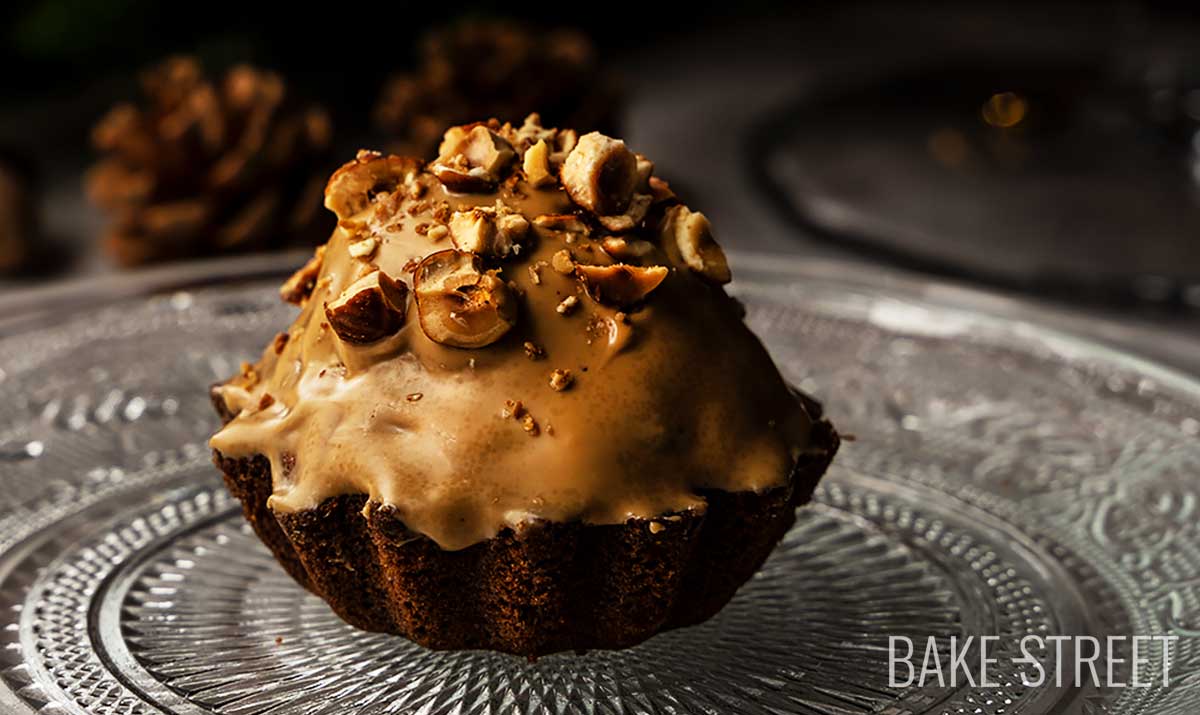 Hazelnut and Dulcey chocolate madeleines
Este post también está disponible en Spanish
Few things are more satisfying than enjoying a good breakfast. By far, it is my favorite meal of the day, especially when there is no need to watch the clock. For the same reason that I like to enjoy this time of day, whenever possible, I try to diversify what I eat for breakfast. Today I share a table with you to enjoy some Hazelnut and Dulcey chocolate madeleines, along with a freshly brewed coffee. It can be another hot or cold beverage, your choice.
Some time ago I left you another recipe for madeleines and, since then, I have not made them again. It may seem unbelievable, but it is true. Many times the reason why I don't repeat recipes at home, is because I prepare many new recipes and I don't have time. In fact at home, when I like something a lot, they usually tell me – "This one repeat it, please!" – hahaha. In savory versions or bread, if I usually repeat many things. But it is true that in sweet treats, it is something that is more difficult for me. With some exceptions, of course.
This time the presentation is different. Instead of using the classic madeleine mold, I used brioche molds. I saw the idea from Ettore and I thought it was great! They are beautiful. Of course, we can always make them in their mold if we prefer.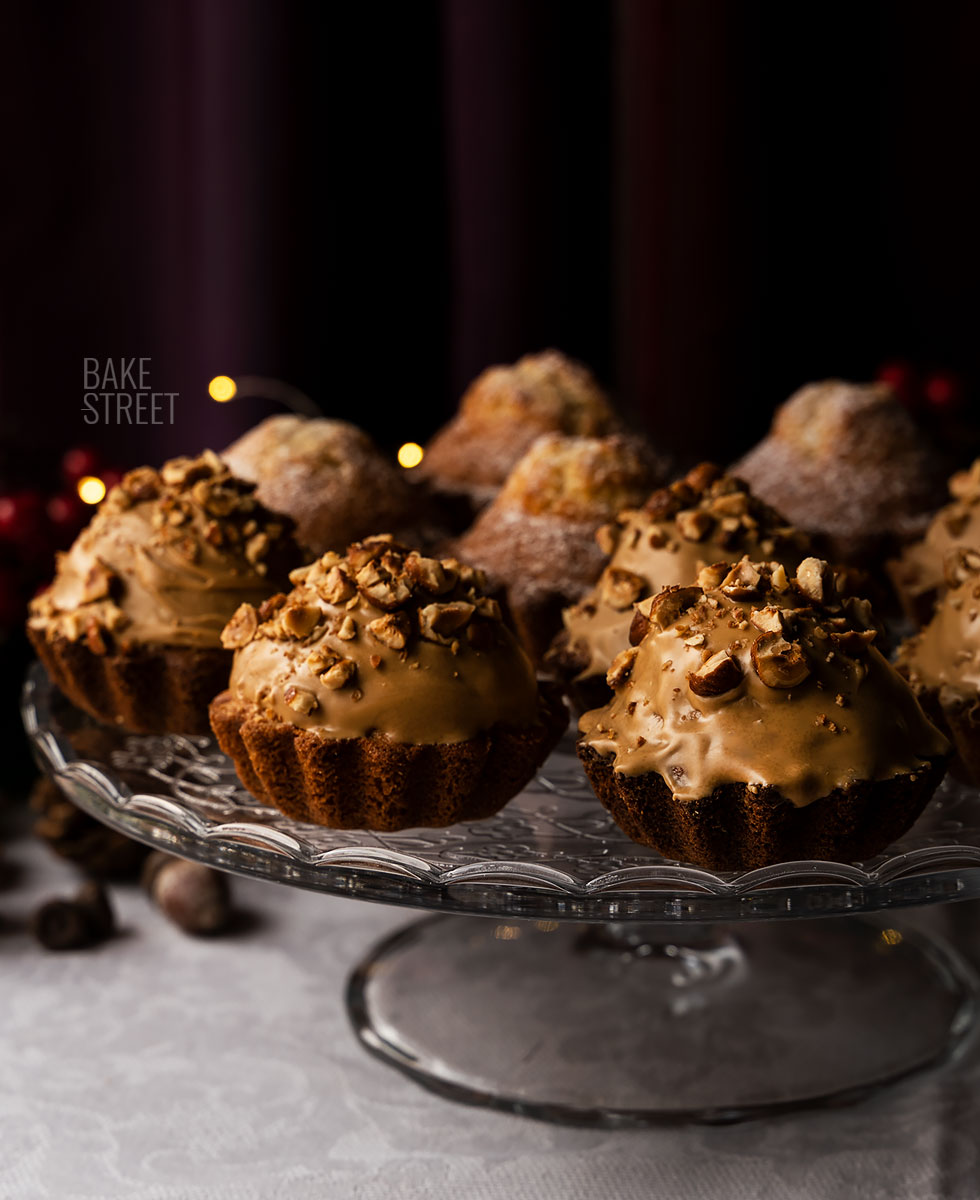 Origin of madeleines.
Madeleines in French, are a small traditional French pastry, which bear some similarity to the traditional ones in Spain. French madeleines have the appearance of a small shell, which is obtained by baking them in the oven on a tray that has this shape. Spanish madeleines are baked in small curled paper molds and their appearance is simpler.
The main difference between both elaborations, since they share the same ingredients, is that to make madeleines, the eggs are whitened together with the sugar. In this way we achieve a lighter dough.
The madeleine has a somewhat confusing origin. The most widespread story tells that a young girl named Madeleine Paulmier, servant of the Marquise Perrotin de Baumont, invented this recipe for the dethroned king of Poland Stanislaus I Leszczynski in 1755. He had a summer residence there, the castle of Commercy.
Other sources trace its origin to the time of the pilgrimages to Santiago de Compostela, Spain. A young woman named Magdalena served the pilgrims shell-shaped pastries, made by herself and baked on scallop shells, symbol of this pilgrimage.  "Magdalenas" spread along the roads to Santiago de Compostela, which would explain their traditional implantation in Spain.
The term "madeleine", used to refer to a small cake, first appeared in France in the 18th century. In 1758, a French servant of the Jacobite refugee Thomas Southwell, prepared "cakes à la Madeleine and other small desserts".
But the madeleines probably became known outside France thanks to their appearance in Marcel Proust's novel In Search of Lost Time ("On the Road to Swann"), in which the narrator recovers the memory of his childhood after smelling and eating a madeleine dipped in tea.
10.10.14 "And very soon, overwhelmed by the sad day that had passed and by the prospect of another sad day so melancholy to come, I lifted to my lips a spoonful of tea into which I had dropped a piece of madeleine. But at the very instant that drink, with the crumbs of the madeleine, touched my palate, I shuddered, my attention fixed on something extraordinary happening within me. A delicious pleasure invaded me, isolated me, without any notion of what it was causing. And he turned the vicissitudes of life into indifference, its disasters into harmlessness and its brevity into illusion, all in the same way that love operates, filling itself with a precious essence; but, better said, that essence was not in me, it was myself. I stopped feeling mediocre, contingent and mortal. Where could such a strong joy come from? I realized that it was linked to the taste of the tea and the scone, but it exceeded it by far, and it must not be of the same nature. Where did it come from and what did it mean? How could I come to apprehend it? I drink a second drink, which tells me no more than the first; then a third, which already tells me a little less."
However, Proust was referring to the specific variety of Commercy, in Lorraine, which he called "petite madeleine", which does not fall apart when wet.
Making hazelnut and Dulcey chocolate madeleines.
I assure you that if there is an easy recipe to carry out, without a doubt it is this one. Okay, it is true that I tell you this many times, but there is a wide range of recipes that are very easy to make and that allow us to enjoy a lot.
The only thing we must do to achieve good results with this preparation is to follow to the letter each and every one of the steps that I detail. As simple as mixing the ingredients, letting them rest and baking.
But then, where is the trick to achieve a madeleines with bump?
After several tests that I have carried out, I can assure you that the success comes from baking a very cold dough, using very cold molds (frozen) and starting the baking with a very high temperature. These three steps are of vital importance if what you want to achieve are "exploding" pieces.
To make the batter we must first whiten the eggs with the sugar and the liquid ingredients. In the video I did it with the flat beater, but then I did more tests with the whisk (in the KitchenAid) and I advise you to do it the latter way. The result is much better in terms of the texture of the eggs, they gain a lot of air. Then add the beurre noisette little by little.
What is beurre noisette? It is the culinary expression for "hazelnut butter" that is not made with nuts, don't get confused.
You may find it laborious to make… But it won't take you more than 15 minutes. We only have to put it on the fire, let the water evaporate and toast the milk solids to achieve that special aroma. And that will make your madeleines are from another world. But, for those of you who are too lazy, in that case you should substitute the beurre noisette with melted and tempered butter.
Finally, add the vanilla, salt, flour (pastry flour, I have seen many recipes that use all-purpose flour, flours with more strength … no, we must use flour with low protein) and baking powder. Mix just enough so that there are no traces of dry ingredients and store in an airtight container in the refrigerator until the next day.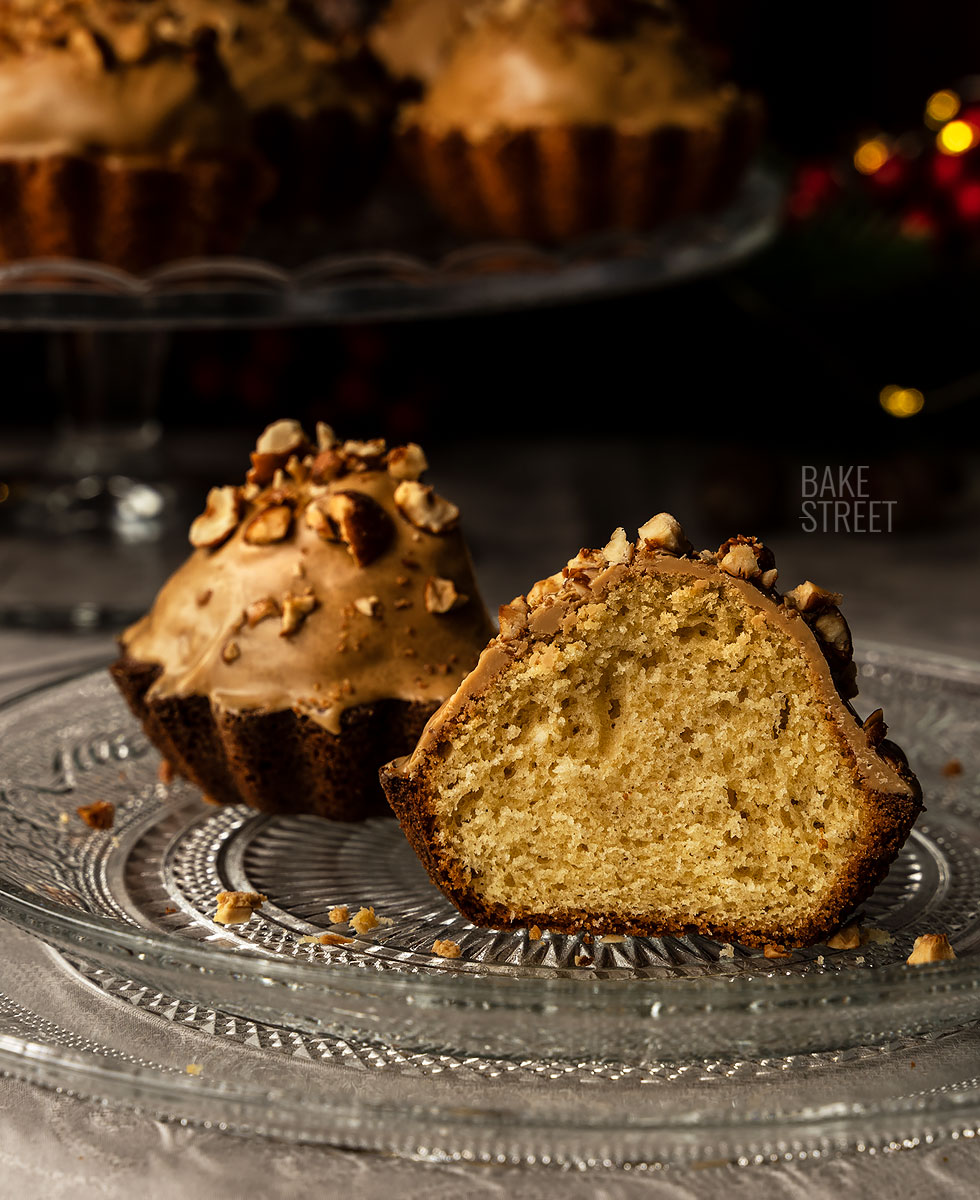 Contrast of hot and cold is the key to our bump.
To make the batter "explode", not literally but in appearance, during baking, we must create a contrast of temperatures, a thermal shock that causes such an aesthetic result. Very cold dough, rested overnight in the refrigerator, very cold molds, if possible from the freezer and oven preheated to 428ºF/220ºC. A strong initial heat to help the batter rise. From here, we just have to bake the pieces, unmold them as we take them out of the oven and let them warm or cool before tasting.
In my case I did 4 tests for these hazelnut and chocolate Dulcey Madeleines and each one had its pros, cons and details. In the process I detail temperatures and times.
The first ones I baked to 428ºF/220ºC for 6 minutes and 10 minutes to 355ºF/180ºC. The result was a madeleine with a lot of bump, but with a very golden base and a surface that seemed sealed by the excess heat or excessive baking time at a high temperature.
The second and third batches were quite similar in terms of results. Less toasted than the first ones, the surface was not sealed, but the top was also reduced a little bit compared to the first one. But very little.
The last batch, for me, had the best baking point. Oven preheated to 428ºF/220ºC, as I placed the madeleines, I reduced to 347ºF/175ºC and baked for 16 minutes. The color was perfect, the base with just the right golden brown, the top much more rounded because it was not sealed by the excess heat, besides being very moist. It is true that the top was a little less prominent than the first one, but nothing to envy in texture and moistness.
I also show you how to decorate them, in case you are up for it. Otherwise, just as they come out of the oven or with a little powdered sugar on top, they will be perfect.
Recipe Hazelnut and Dulcey chocolate madeleines
Ingredients for 10 madeleines
FOR MADELEINES:
170 g beurre noisette (you will need about 200-210 g unsalted butter at room temperature)
170 g egg (about 3 large eggs)
130 g sugar
20 g whole milk
15 g Frangelico
170 g cake flour
1 teaspoon natural vanilla extract
8 g baking powder or baking powder
pinch of salt
FOR DECORATING:
180 g Dulcey chocolate
caramelized hazelnuts, lightly crushed
MATERIAL WE WILL NEED:
dough mixer
bowls
silicone spatulas
strainer
piping bag (optional)
digital scale
10 cm diameter brioche molds, 10 pieces
cooling rack
pastry spatula
Instructions
Prepare beurre noisette.
In a saucepan add the butter and place over medium heat and let it melt completely.
We will observe that the water begins to evaporate and the milk solids will begin to disintegrate (we will see that they settle to the bottom of the saucepan).
Once the butter begins to boil, reduce the heat a little and stir occasionally to prevent the solids from sticking to the bottom. We will observe that these acquire a brown, not black, tone, be careful with this. We will also be able to appreciate an intense hazelnut or nutty aroma.
When the butter acquires an amber tone, taking care not to burn the solids at the bottom, remove from the heat.
Allow to cool completely and strain.
Prepare batter madeleines.
In the bowl of the mixer add the eggs, sugar and liquid ingredients, mix with the whisk at medium speed until they whip and take a whitish color. It will take about 6-7 minutes.
In a medium bowl, sift the flour together with the baking powder.
Add the vanilla and mix.
Begin to integrate, little by little, the beurre noisette while mixing on low speed.
Once it is integrated, begin to incorporate the flour in batches along with the salt. We will not add more until the first one is integrated. It is important to mix only until the dry ingredients are integrated.
Pour into an airtight container, cover the skin with plastic wrap and refrigerate for at least 3 hours, ideally overnight. In my case I left them overnight.
Bake madeleines.
One hour before baking the madeleines, prepare the molds. Brush the inside with melted butter, sprinkle with flour, remove the excess and store in the freezer for 1 hour. We need the molds to be very cold.
Fill the molds with 60 g of the mixture and refrigerate while preheating the oven.

Preheat the oven to 428ºF/220ºC with heat up and down.
Place in the oven at medium height and the molds on the rack, bake.
I did several tests; 3 minutes to 428ºF/220ºC and 20 minutes to 355ºF/180ºC, 4 minutes to 428ºF/220ºC and 13 minutes to 355ºF/180ºC, preheat to 428ºF/220ºC and bake to 355ºF for 16 minutes, preheat to 428ºF/220ºC and bake to 347ºF/175ºC for 16 minutes. In terms of texture and moistness, my favorites were the last ones. But it is true that the first ones are the ones that got the most beautiful bump, only that the base was much more toasted. I leave these guidelines for you to try them in your oven and adjust them to your needs and tastes.
Remove from the oven, unmold immediately and let cool on a wire rack.
Decorate madeleines.
Melt Dulcey chocolate in a water-bath.
Cover the top surface of the madeleine with the chocolate, drain the excess. Sprinkle with chopped caramelized hazelnuts and leave on a wire rack to solidify the chocolate.
Serve.
Notes
Always using good quality ingredients will guarantee an extraordinary result.
I advise you to use beurre noisette instead of melted butter, the aroma and flavor will be incredible.
We must always use cake flour without added baking powder.
White the eggs and mix just enough to incorporate the flour, these are two very important steps to follow if we want the madeleines to be very fluffy and light.
The batter must rest in cold, ideally 12 hours or even 24 hours.
The molds must be very cold before baking the madeleines.
We must refrigerate the molds with the batter while preheating the oven, do not leave them at room temperature.
Madeleine molds or tray should be placed on a rack inside the oven, not on a tray, and always at medium height. This allows the heat to circulate evenly.
It is important to control the baking time to avoid over-browning or over-drying.
Never open the oven door during the first few minutes of baking, otherwise the batter may not rise properly due to cold air entering the oven.
If we are going to decorate the madeleines, we must let them cool completely.
If you do not have Dulcey chocolate, you can use another variety of chocolate of your choice.
They can be kept in an airtight container for 5-7 days.
I encourage you to try these wonderful Hazelnut and Dulcey chocolate madeleines, because not only are they extraordinarily good, but they are also very rewarding to make. It is so incredible to see how the top of the madeleine rises, almost, almost, like enjoying baking a loaf of bread. I must admit that I did a lot of tests and the first ones, not at all, were as I expected.
But modifying small details of the recipe and testing temperatures and time, in the end, I reached the result I was looking for. Keep in mind that each oven is different, test to see if your temperatures are in accordance with the ones I leave you. There will be little variation, but you have to find the exact point for the way your oven works.
I wish you a wonderful Sunday!
Lots of love,
Eva
Archivado en