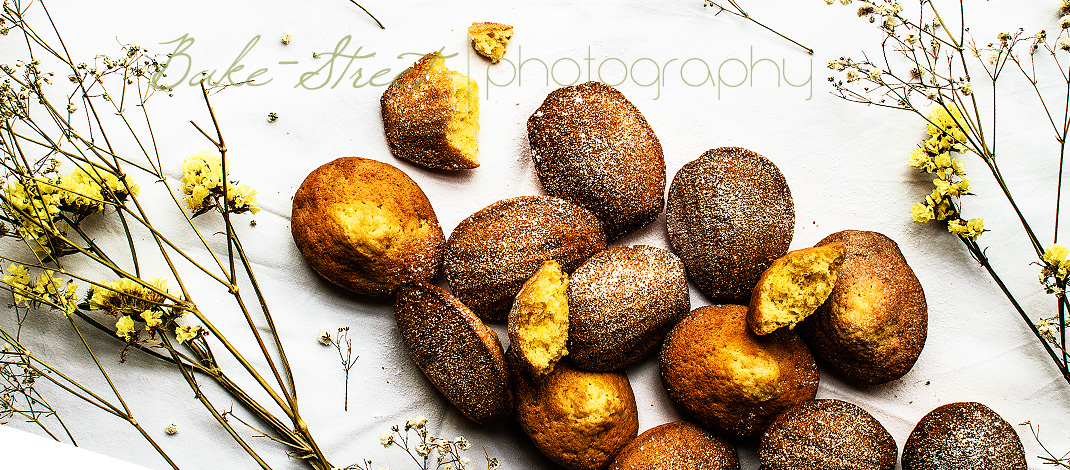 Beurre noisette and orange madeleines
Este post también está disponible en Spanish
If someone asked me for an easy and successful recipe, without doubt I would answer madeleines. These little, sweet and fragant shells are really a temptation which you could not resist with a warm coffee. Besides, they are really versatile, we can make a basic and traditional recipe or change it like these beurre noisette and orange madeleines.
Before continuing with the recipe, I have though it will be nice to share with you one song which inspire me this day. Not always, only somedays, because I usually wake up extremely musical. This way I can share with you more from me and, maybe, I can make your day!
Getting back to the recipe… These littles cakes have several versions of its history.
One of them says that in 1755 a Polish King, Stanisław Leszczyński, who was in exile in Commercy, after had dinner asked for a dessert. A young servant gave him a little cakes without name at this moment. The King decided to called them like the cook, Madeleine.
The second version says that Madeleine was the name from a young girl who gave cakes in shell shape to pilgrims from Santiago de Compostela, which is their emblem. And the last says that Jean Avice, pastry chef from Talleygrand Prince (1754-1838) made these sweets in aspic molds.
Marcel Proust, french writter (1871-1922), was who gave its popularity with his most famous work "Ã la recherce du temps perdu", in which he writes in several pages.
Are there any tips to get perfect madeleines?
They are easy to make but we must considered several steps:
The batter must be cold (I let sit in the fridge overnight) when we bake it, as well as the madeleine pan. A high oven temperature with the cold batter will create a beautiful hump.
To fill the pan, how much batter must I put on the pan? do not put more than 3/4 full. Batter will be stiff so you can transfer with spoons.

If you wish to make it with a piping bag, batter must rest at room temperature and after cool again…

Don't worry if the batter doesn´t spread, this will happen in due course as the madeleines bake.
Can we chill batter and madeleine pan together? May be, but I have never make it neither read it. I think there must be a reason…
Don´t bake them too much time or the will get dry.
When you remove them from the oven, it will be great if you have a kitchen cloth on a work surface to tap the pan, lightly, unmold madeleines and let cool on a rack.
To decorate madeleines you can dust with icing sugar or make a glaze, chocolate, caramel… At your choice!
BEURRE NOISETTE AND ORANGE MADELEINES:
Recipe inspired from Simmer and Boyle.
Serves 16
2.82 oz (80 g) pastry flour
2.82 oz (80 g) roasted hazelnuts
5.46 oz (155 g) sugar
5.46 oz (155 g) unsalted butter at room temperature to make beurre noisette
2 large eggs
1 Tbsp Cointreau
3/4 tsp baking powder
2 slice candied oranges*, only peel
icing sugar for dusting
*  Here you can see how to make them at home.
INSTRUCTIONS:
Make beurre noisette.
In a medium saucepan add unsalted butter medium heat, never higher. When butter melts, it will create a foam coat on its surface. Remove it with a spoon.
Water will begin to evaporate and milk solids will dissolve (we can see them in the saucepan floor). Once boil, reduce to low heat and stir to prevent milk solids burned. They will become golden brown, not black!, and will smell like hazelnut or nut.
Remove from the heat and let cool completely.
Make batter madeleines.
In a food processor add hazelnuts and process until finely ground. Set aside.
Put the eggs and the sugar in a large bowl and, using an electric mixer, beat until thick and pale. About 6-7 minutes.
In a medium bowl add the flour, process hazelnuts and baking powder, whisk together to combine.
Sift 1/3 of the flour mixture over the egg mixture, carefully folding to combine using a spatula, then add the remaining mixture in 2 additions in the same way.
Pour Cointreau, chopped candied orange and beurre noisette, mix until combined.
Put the mixture in an airtight container or bowl, cover with plastic film and put in the fridge at least for 3 hours. I let sit in the fridge overnight..
Bake madeleines.
About an hour before baking, butter a full-size madeleine pan well and dust with a little flour, tapping out the excess. Transfer the pan to the freezer or fridge to chill. We need it very cold.
Preheat oven 425ºF with a baking pan or stone inside, if it possible.
Fill madeleine pan with the batter, no more than 3/4 full or batter will overflow during baking.
Bake for 8-10 minutes, until edges are lightly brown.
Remove and unmold immediately, let cool on a wire rack.

To bake the next, if we have only one mold, we have to let cool and chill again before use it.
Once they are cool, dust with icing sugar and serve.
PRESERVING: These are best served as close as possible to coming out of the oven and the same day they are baked. But if we don´t eat all, keep them in a airtight container or glass bell jar.

I think there is nothing to enjoy simple things like these madeleines. Mix, let sit in the fridge and bake for a few minutes to have a perfect breakfast or snack.
This week will be better if you have a couple of these.
Have a nice week!
Eva
Sources: Madeleine-Commercy, Wikipedia.