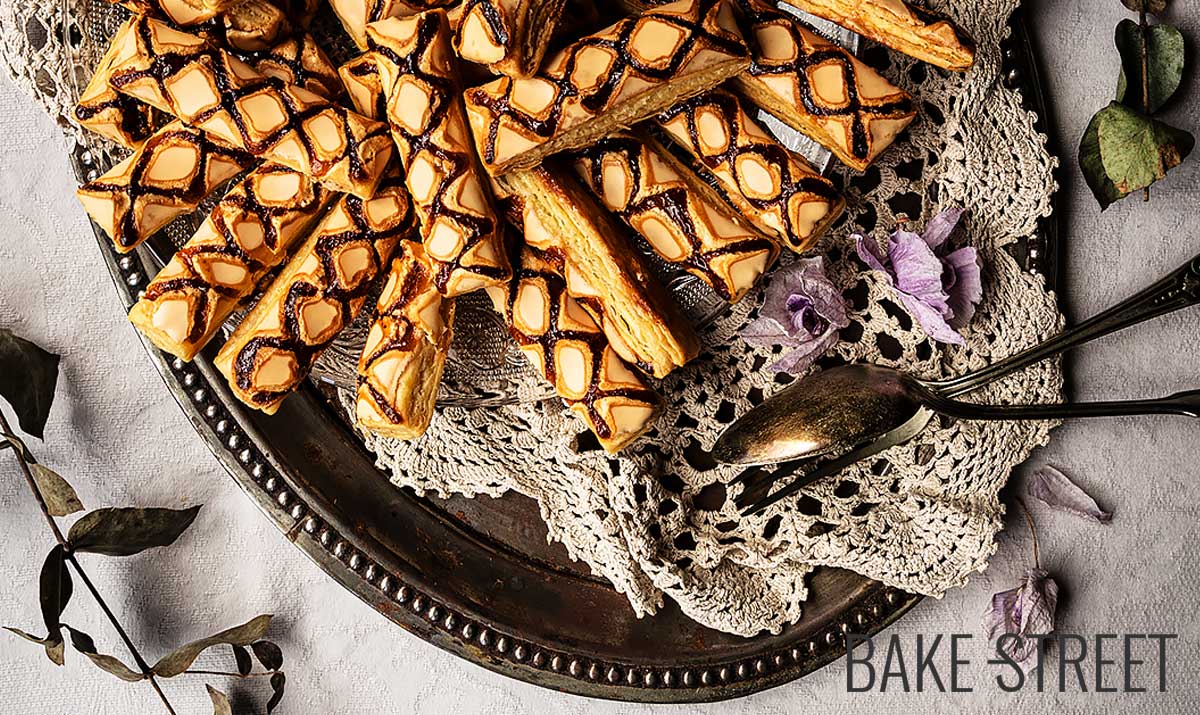 Glazed Puff Pastry – Sfogliatine Glassate
Este post también está disponible en Spanish
It never hurts to have on hand easy and delicious recipes to prepare at the last minute or when you have a craving for something sweet. Whenever I can, I like to give you ideas of this type that, in addition, require little time in the kitchen. Today we are going to Italy to enjoy this marvel, Glazed Puff Pastry – Sfogliatine Glassate.
Surely when you read puff pastry you will think, it has little or nothing easy. This is not entirely true. The recipe that I leave you will be carried out with a quick/blitz puff pastry. This type of puff pastry does not require rolling with butter, but starting from a dough in which we will have previously incorporated all the ingredients (with a brief kneading), we will carry out 4 simple folds.
The result is a very nice homemade puff pastry, with its layers perfectly differentiated, without leaving aside its flavor and fascinating texture. This blitz puff pastry is a dough that works very well and allows us to enjoy a homemade puff pastry without having to spend much time in its preparation process. Of course, it is essential to respect both the temperature and the kneading process. If you do it in hot weather, I advise you to do it first thing in the morning and on a very cold surface.
To make this delicate pastry, we will start with a puff pastry dough.
In this post, I tell you all about its origin (although it is not entirely clear), as well as a lot of information to keep in mind to make it with very good results; ingredients, temperature, lamination / folding, handling, baking …. Without forgetting the problems that we can encounter when making a dough of this type.
In our case, we are going to reduce all this because we will be working with a dough that is very easy to make. We only have to take into account the ingredients that must be very cold and well weighed, kneading/mixing time, temperature, rest between folding and handling. It seems a lot, but once you get started with it, you will see that it is very simple.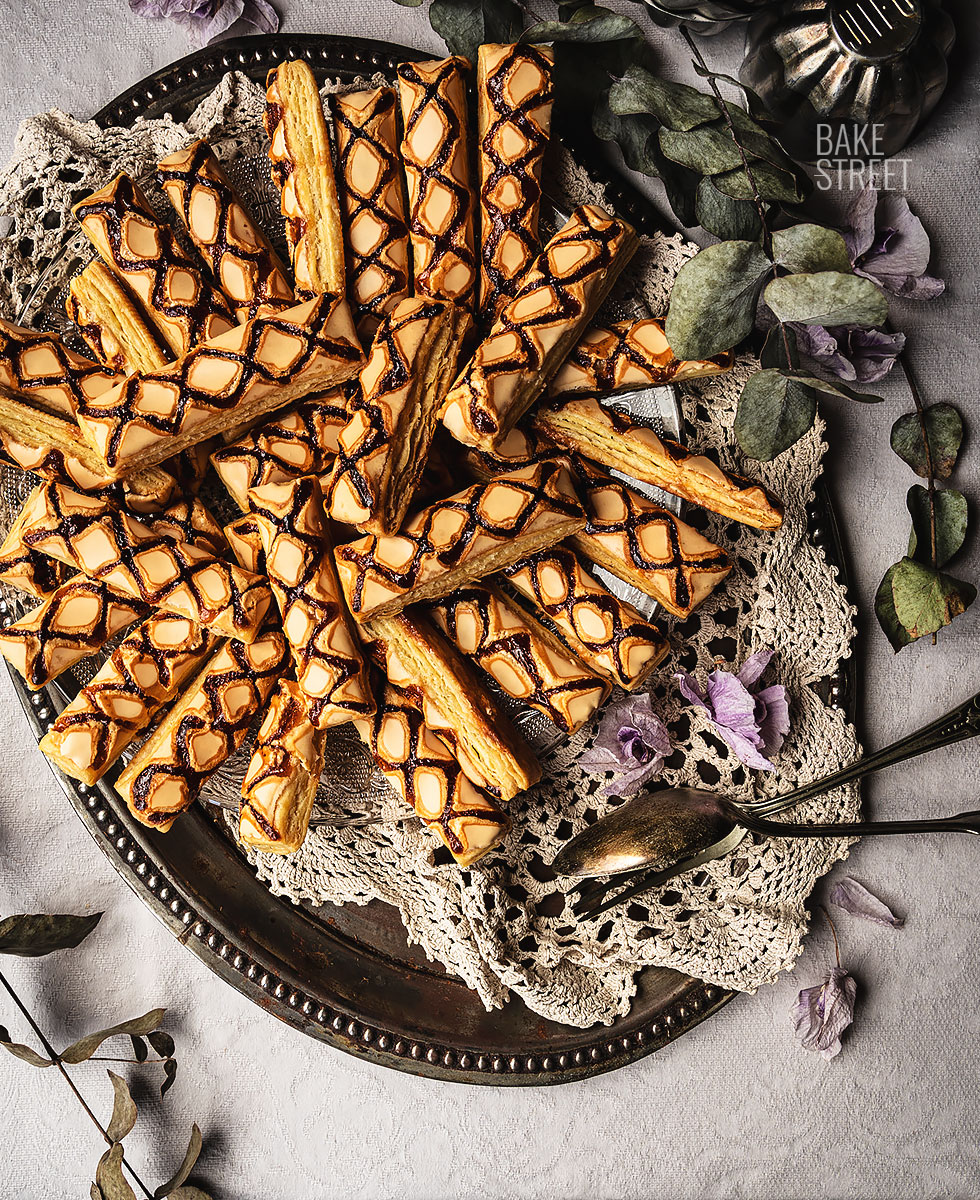 Sfogliatine Glassate – Glazed Puff Pastry.
These small pastries or light cookies made with puff pastry, covered with a thin layer of icing and decorated with apricot jam, originated in Venice.
Puff pastry arrived in Europe during the time of the Crusades, thrilling French gourmets in particular. But its fate was different in Italy since this "foreign pastry" was initially viewed with suspicion. This is attested to by a decree of 1525.
This decree was issued by the Council of Venice to prevent the consumption of certain luxury items on the occasion of weddings and family celebrations. Incredible as it may seem, puff pastry was also included in that list. This prohibition was undone, years later, thanks to the marriage of Catherine de Medici and Henry of Orleans, future king of France.
When the young Catherine moved to Paris after her marriage, she did so on one condition. She would not leave without her Florentine chefs.
This is revealed by Florent Nelleerand Pascal Briost.
In their book "La table de la Renaissance. Le mythe italien" (2018).
In her wedding basket, the young teenager took with her the excellences of the Italian table: new vegetables, new recipes and talented chefs. The palates of French aristocrats were about to change their gastronomy forever. This encounter, between the table and history, would give rise to the famous French cuisine. The anecdote is well known and has been repeated incessantly since the 18th century.
But the reality is that it is hard to find any trace in the archives of these famous chefs and the undeniable proof of Italian cuisine in France.
Between myths and realities of the table, the book deconstructs the history of the Italian origins of French cuisine, invented in the 18th century and enriched in the following century with imaginary characters such as Pastilla, Frangipani and Popelini. What emerges are much older and more complex relationships than a simple imitation of Renaissance Italy or even a possible French influence on the table of the Italian elite.
Among all these exchanges, puff pastry came to stay in Italy, finding its place in Italian gastronomy. It was in this way that, among many other elaborations, these glazed puff pastries or Sfogliatine Glassate originated.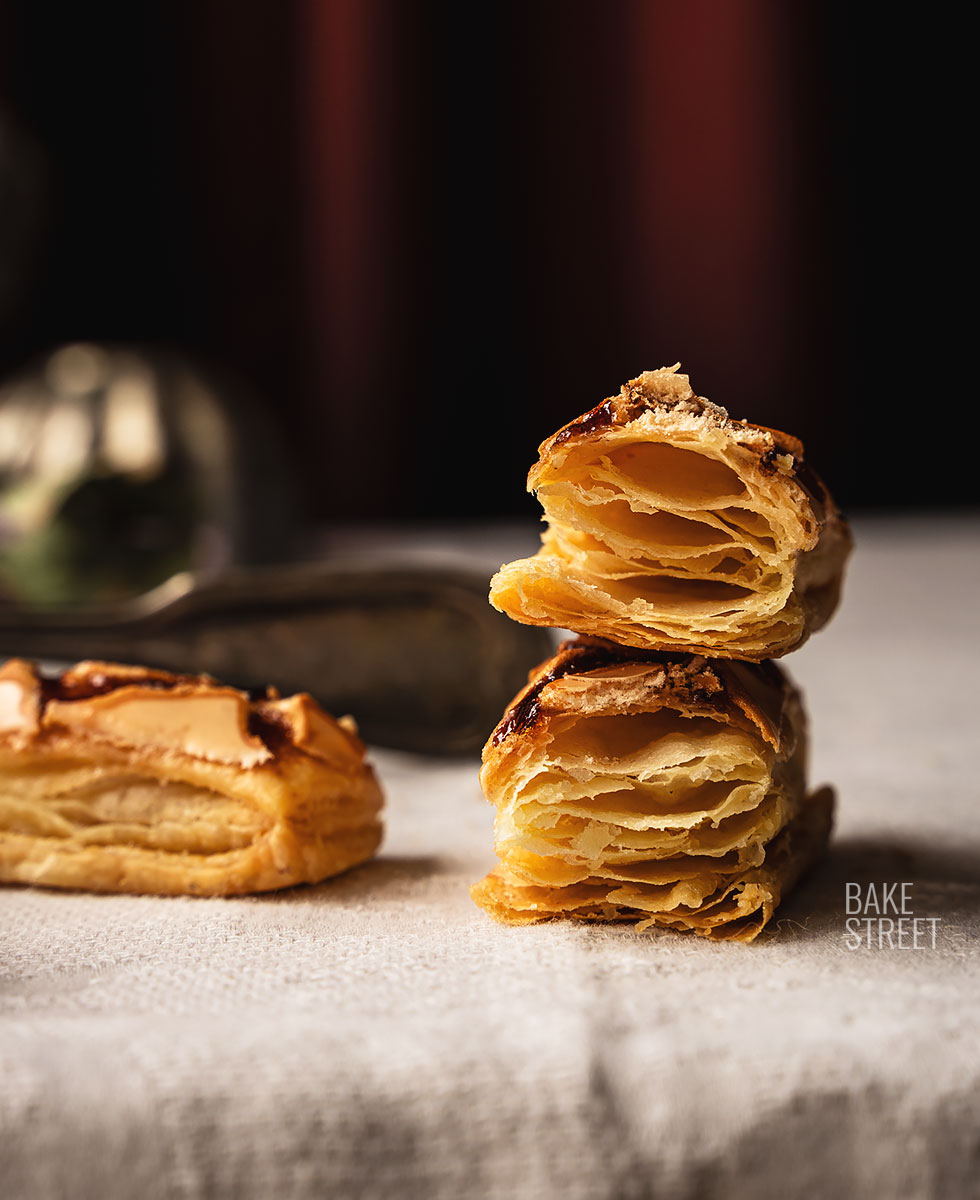 Making at home Sfogliatine Glassate – Glazed Puff Pastry.
As I mentioned before, this type of puff pastry is very easy to make. It requires less attention and work than the traditional one. But, of course, we can always simplify things more if we want to. How? By buying the puff pastry already made.
Certainly, it is not the same, but if one day we get the supreme craving and we need these light, crunchy and delicious cookies in our homes, it is good to keep in mind that this is a possibility. In that case, we will only have to prepare the top glaze (as simple as mixing 2 ingredients), cover the puff pastry rectangles and decorate with the jam. In little more than 30 minutes we will have ready this marvel to accompany the coffee.
Recipe Glazed Puff Pastry - Sfogliatine Glassate
Ingredients for 36 pieces
BLITZ PUFF PASTRY:
230 g cake/pastry flour, cold + 20 g for sprinkle
230 g unsalted butter, cold
100 g very cold water, from the fridge
5 g sugar
4 g salt
GLAZED:
25 g egg whites, room temperature
115 g powdered sugar
DECORATION:
MATERIAL WE WILL NEED AND SHOWN IN THE VIDEO:
metallic rolling pin
pizza cutter or sharp knife
pastry spatula
perforated mat DeBuyer* or silpat or teflon sheets
pastry bag + JEM 2 noozle
cooling rack
*You have a 5% discount on the website Claudia&Julia using this code BAKESTREET. Delivers throughout Europe.
Instructions
Make the dough for blitz puff pastry.
In the KitchenAid bowl add the flour along with the salt, sugar and butter cut into cubes.
Mix with the flat beater at speed 1 until you get a sandy mixture. It will take about 30-40 seconds.
Pour the cold water and mix again until it integrates, it will take about 30-40 seconds. We don't have to work too much on the mix, just until we get the consistency I show you in the video. As you can see, sandy.
Transfer the mixture to a work surface and compact until forming a square.
Cover with film and store in the freezer for 30 minutes.
Work the dough and make the first and second fold.
Lightly sprinkle a work surface with flour.
Roll out the dough with a metal rolling pin. At the beginning you will notice that it is a dough that cracks easily, that´s ok. As we make the folds, its consistency will improve.
Make the first simple fold.
Sprinkle the working table with flour and stretch the dough again.
Before beginning to stretch it, we will press with the rolling pin by all the surface of the dough creating a perpendicular pattern (I show it to you in the video). This step facilitates that when stretching the dough the form is maintained without creating different proportions in both ends.
From time to time we will check that the dough does not adhere to the work surface. For it we will raise the dough with care. If it adheres, sprinkle lightly with flour and continue working.
Make the second simple fold.
Cover the dough with film, put it in a bag and keep it in the freezer for 30 minutes.
Make the third and fourth fold.
Lightly sprinkle a work surface with flour.
Stretch the dough in the same way as before.
Make the third simple fold.
Cover with film, place in a bag and store in the freezer for 30 minutes.
Finally, make the fourth and last fold of the dough.
We will proceed to do it the same as the previous times. At the end, store in the freezer wrapped in film and in a bag for 30 minutes or we can keep it refrigerated if we use it during the next hours. Ideally no more than 24 hours, otherwise the dough will darken. If we are going to do it this way, I recommend adding a few drops of lemon juice to the water. This will prevent it from darkening (oxidizing).
Roll out the dough to form the sfogliatine glassate.
Roll out the dough with the help of a rolling pin, ideally metallic or marble. This time we will give it dimensions of approximately 45 x 20 cm.
Mmake a longitudinal cut to divide the piece into two equal parts. Do not worry if they are not perfect.
Cut pieces of 2.5 cm thick, approximately, to create individual rectangles. We can use a ruler to make the cut straight and uniform.
Place the rectangles on a perforated tray lined with a mat, silpat or Teflon sheet. We will need two trays for all the pieces.
Refrigerate the puff pastry while preparing the glaze.
Prepare glaze.
In a bowl mix the egg white with the powdered sugar until a homogeneous mixture is obtained.
I advise you to prepare the icing just before using it, otherwise it will start to dry and become thicker.
Glaze, decorate and bake.
Preheat the oven to 355ºF/180ºC with heat up and down.
Put the apricot jam in a piping bag with a nozzle, in my case I used the JEM 2 nozzle. If the apricot jam has pieces of fruit, pass it through a fine sieve.
With the help of a pastry spatula or a round-tipped knife, glaze the rectangles of puff pastry. Place a layer, neither too thin nor too thick, on each piece, trying to reach the ends.
Pipe the apricot jam over the glaze. We will create a lattice as I show you in the video. I show you two ways to do it, do it in the way that is easier for you.
Put the tray in the oven at medium height and bake for 23-25 minutes.
Remove from the oven and let cool completely on a wire rack.
Serve.
NOTE: I advise you, whenever possible, to let them cool and dry overnight in a cool, dry place. That way the puff pastry will dry very well and will remain perfect when stored in an airtight container.
Notes
To make quick/blitz puff pastry, ideally, all ingredients should be cold. With the mixing the temperature rises and we want to keep the dough cold, as much as possible.
Butter brings a lot of flavor, I recommend you to use a good one quality.
Do not overmix the ingredients more than I detail in the process and show you in the video.
Respect all the rest times to achieve a good result.
In case you don't want to make puff pastry, you can buy it... But the homemade one is very good!
The rectangles do not have to be perfect. Do not worry if they are not.

Whenever possible, I advise you to use good quality baking trays. In my case I always use perforated trays that favor uniform cooking and do not burn the base of the pieces.
Do not exceed baking time, otherwise the puff pastry will burn (the base) and will taste very bad. Do not overcook the puff pastry, or the central part will be raw.
The consistency of the glaze that I leave you is the one that, for me, is perfect. But you can always vary it by adding a little more egg white, to lighten it, or more sugar, to thicken it, if you wish.
They are usually made with apricot jam, but if you wish, you can vary the type of jam; peach, strawberry, figs, orange...
They can be kept in an airtight container at room temperature for 15 days.
I can only tell you that you have to cheer up with this recipe for Glazed Puff Pastry - Sfogliatine Glassate. They are extraordinary and it is one of those things that you have in a container in the kitchen and make your day every time you take one. Because that's how these things are.
In the kitchen, always, there should be a pot or container with things like this so that when we prepare a coffee, we have something to accompany it. One of those handy things that change our lives and make us happy ;)
I can't wait for you to try them and tell me what you think of them!
I wish you a wonderful Sunday.
Lots of love,
Eva
Sources: A Modo Mio
Archivado en