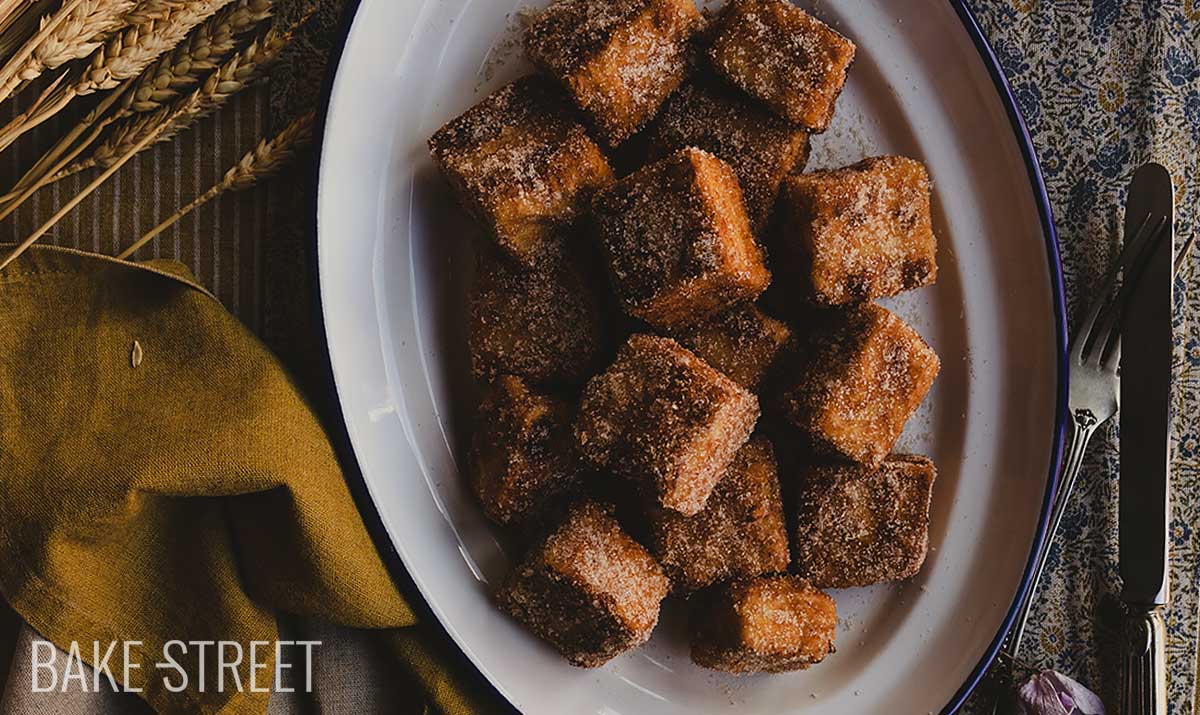 Fried milk, traditional Spanish recipe
Este post también está disponible en Spanish
Today I come with another classic that can not miss in our Easter repertoire. Here is how to make Leche Frita or Fried milk traditional Spanish recipe. Well, you will surely find some variation in the process, but the basis of the elaboration follows the guidelines of the classic recipe.
The first time I tasted this dessert was at school. It may seem surprising, but it certainly was. When I was little, I stayed in the school cafeteria because my parents worked in the morning and in the afternoon, having very little time in the middle of the day to eat. The thing is that in our school, they used to always serve desserts and somewhat classic or traditional elaborations. At that time it sometimes seemed like a drag, because we only wanted pizza, breaded chicken fillets, French fries and ice cream. But nowadays, I really appreciate it.
I remember when the lunchroom monitor came with a tray full of, what looked to me like little San Jacobo, and told us it was homemade fried milk. Of course, we all freaked out because it was a totally new concept for us. Milk… it's liquid. And this woman was telling us that was "fried milk". The fact is that none of us said no to try it and, as you can imagine, we all loved it. To the point of wanting to repeat.
That was my first contact with this traditional dessert and, I assure you, since that day I have never forgotten it. I liked it very much.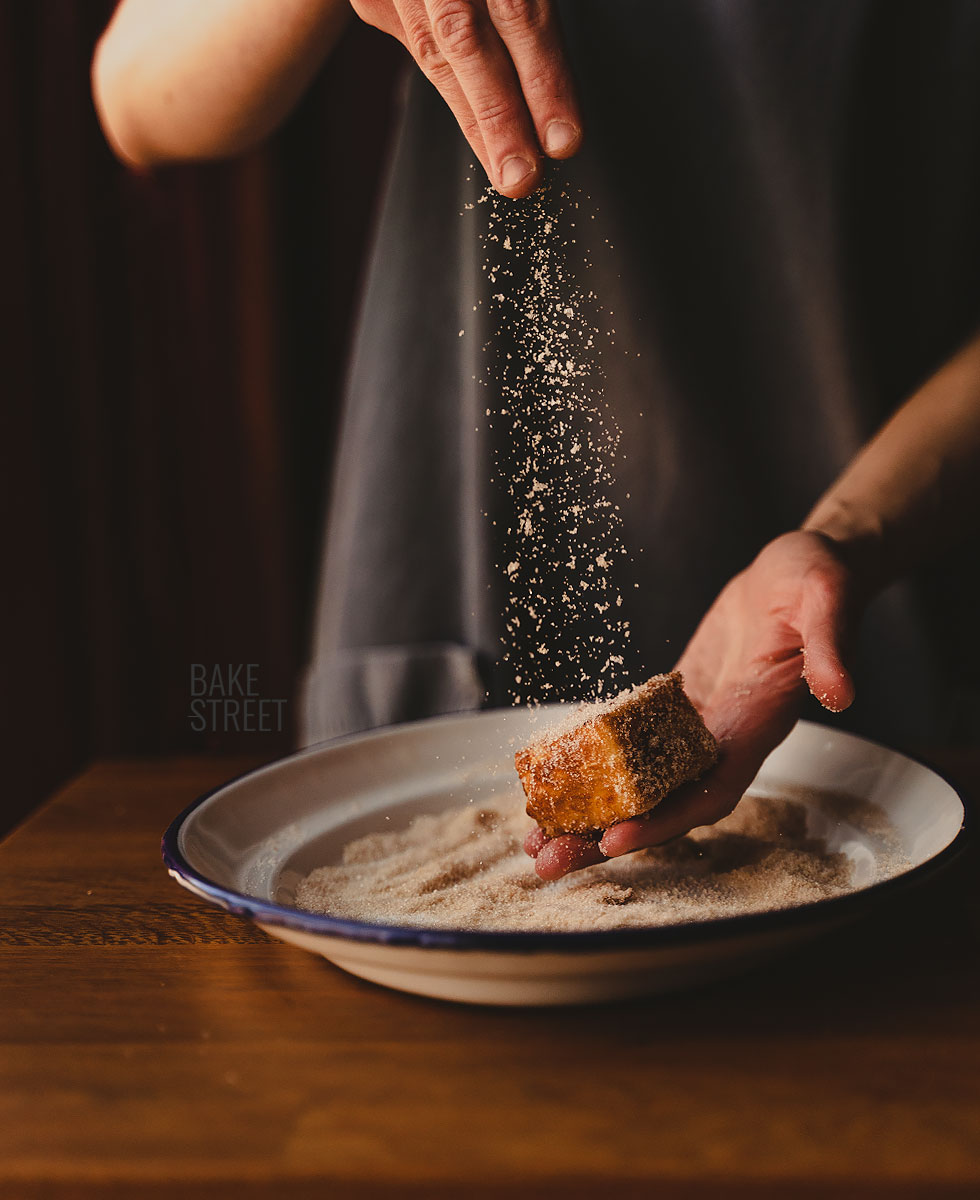 The funny thing about all this is that, believe it or not, many years have passed until I have made them at home. I'm not going to say how many because it will sound like nonsense, but yes, imagine 34 years or something like that. Crazy, huh. I haven't gone that long without eating it, but it's funny how sometimes we need time to pass to do it with our hands. I'm glad to know that time has come and it has been to share it with all of you.
Fried Milk origin.
The origin of the fried milk recipe, as is the case with many other recipes in Spanish gastronomy, is of Arab origin. This recipe, like many others that are traditionally consumed during Easter, such as torrija for example, are known as "frutas de sartén" – pan fruits. Remember that some time ago I told you what they are in this post.
This type of recipes are usually simple elaborations with a fairly easy method of preparation and used to be eaten hot or warm during the festivities of Carnival or Lent.
There are many regions that claim their creationand authorship, such as Palencia, Valladolid or the Basque Country, among others. There are times when it is really difficult to know the origin of an elaboration and to find reliable data that assure us that they originated there. The reason is that they are recipes that spread easily thanks to word of mouth between generations. Without forgetting that, surely, many of these learned recipes traveled with people from one part of the country to another.
We will always keep the good part and that is that, thanks to this word of mouth, the recipe has reached our days and we can continue to enjoy it.
Making the recipe.
If there is something unquestionable in this and all the recipes that come, almost, from the same time or place is the link in terms of flavors and aromas. Torrijas, rice pudding, fried milk, leche merengada…. They are desserts that share ingredients and that, almost unintentionally, seem to share the same birth. All these recipes, for me, taste like Easter. The same thing happens to me with recipes that share certain spices and that are more traditional from other times of the year. There are recipes that taste like "Christmas" and others that taste like "Easter".
The process to make homemade fried milk is very easy, in fact it is very similar to making a custard. What's more, if you remember the recipe I left you recently for Egyptian milk cream pie, you will see that the filling is practically the same as the fried milk. Only, in our case, we finish presenting it or elaborate it in another way.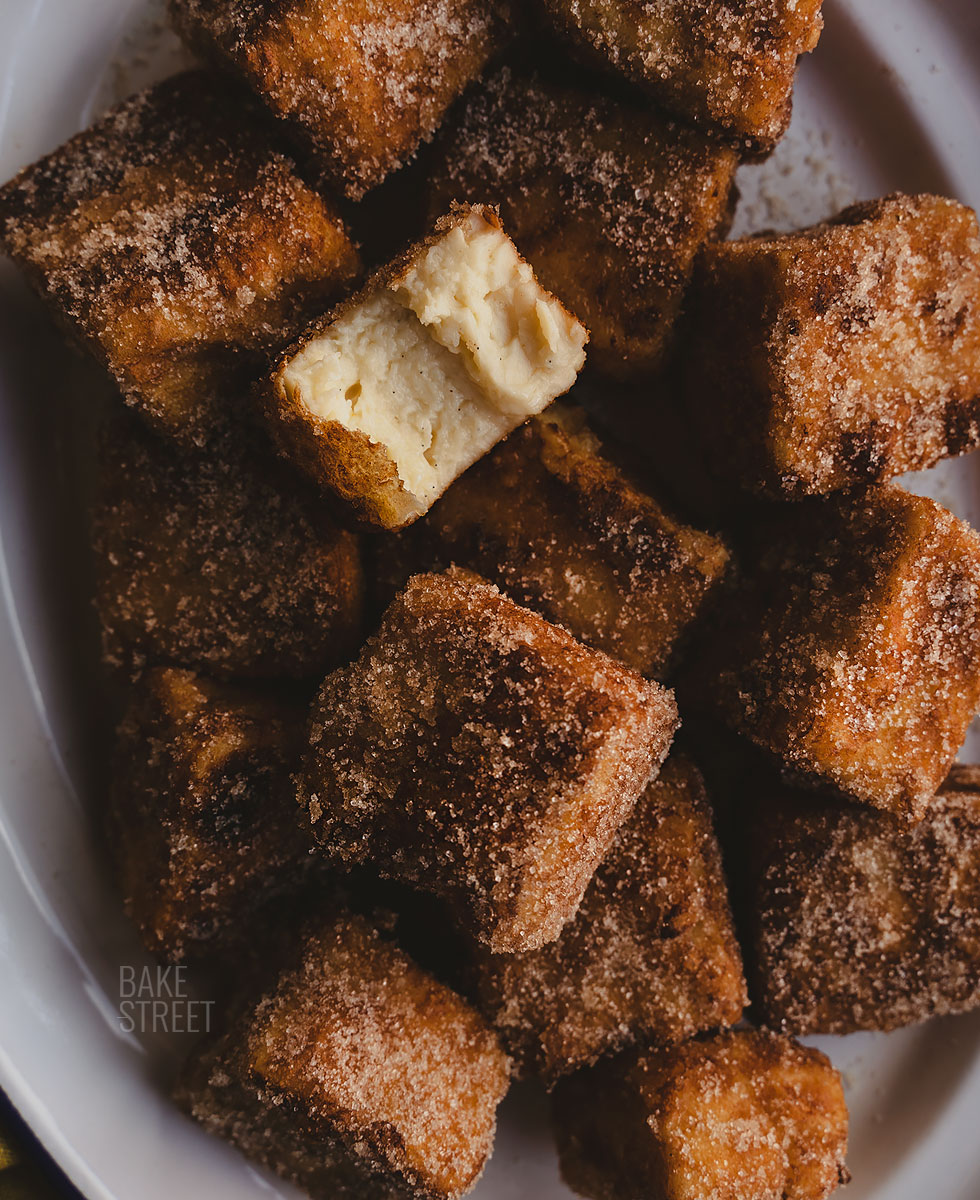 In my case I show you how to make homemade fried milk with cornstarch, egg yolk and a little butter. It can be made with a mixture of flour and cornstarch if you wish or even omit the egg yolks. To make gluten-free fried milk, when it comes to the batter, you only need to replace the flour in the batter with a gluten-free variety or even corn flour.
Once the milk cream has set, all we have to do is cut, batter and fry. It is a perfect dessert to leave prepared in advance in the absence of frying and coating with sugar and cinnamon. Ideally, it should be eaten warm, but if we do not have enough time, we can leave it fried in the morning and serve it as a dessert after a meal (in the absence of sugar coating just before serving).
Recipe Fried milk, traditional Spanish recipe
Ingredients for 20-24 pieces
1 liter whole milk
165 g sugar
100 g cornstarch
2 egg yolks (about 32 g)
peel of one lemon and one orange (in my case, blood orange)
2 g de anise seeds
1 cinnamon stick
2 tsp natural vanilla extract
30 g unsalted butter, room temperature
FOR COATING:
2 beaten eggs
flour
sugar and cinnamon, for decorating
mild olive oil for frying, we can use sunflower oil if preferred
MATERIAL WE WILL NEED AND SHOWN IN THE VIDEO:
*For products marked with an asterisk you have a 5% discount on the website Claudia&Julia using this code BAKESTREET. Delivers throughout Europe.
Instructions
FIRST DAY
Prepare the cream for the fried milk.
In a bowl, mix the sugar with the cornstarch. Integrating both ingredients well will prevent the cornstarch from forming lumps when incorporating liquid ingredients.
Add the egg yolks along with a little milk, do it by eye. Whisk until a homogeneous mixture is obtained. Set aside.
Wash one lemon and one orange very well. Cut the peel of both, making sure that it has no "white part", otherwise it will give us a bitter taste. If we use a good peeler, we will not have problems at this point.
Add the rest of the milk in a large saucepan along with the citrus peels, cinnamon stick, aniseed and vanilla.
Place over medium low heat and bring to a gentle boil, it should not come to a hard boil.
Once at this point, reduce the heat to a minimum and cook for 30 minutes.
Strain the milk mixture to remove the citrus peels, seeds and cinnamon.
Pour the milk back into the large skillet or saucepan and add the egg yolk mixture we prepared at the beginning.
Cook over low heat, stirring constantly, until the mixture thickens. It will take a little while, so be patient and don't be tempted to turn up the heat to finish sooner.
Once it has thickened, turn off the heat and add the butter. Stir very well until it is completely incorporated. You will obtain a smooth, creamy and homogeneous cream.
Pour the cream into a dish, previously lined with film, and smooth the surface.
Cover the top of the cream with cling film, that is to say, touching the surface. This prevents it from drying out or crusting.
Let cool to room temperature and refrigerate until the next day.
SECOND DAY
Cut into portions and batter.
Pour the solidified cream on a clean work surface and remove the film.
With the help of a knife, cut portions in the size and shape of your choice.
Be careful when cutting the pieces because the cream is delicate.
Once cut, take a portion and coat in flour on all sides. Remove the excess.
Cover with beaten egg and place on a rack to drain the excess egg. This will help us to avoid long egg strands when frying (I saw this trick from Ettore, thanks!).
Once you have all the pieces in batter, prepare the oil for frying.
Fry.
Add enough oil in a saucepan to almost cover the fried milk pieces.
Place over medium high heat and let it reach 355ºF/180ºC. To do this, we will use a digital cooking thermometer.
Add 1-2 pieces in the oil and fry on all sides. It will take us few seconds to have them ready. If the oil has the right temperature, they will immediately get a nice golden color.
In case you do not manage well with several at the same time, I recommend frying them 1 by 1.
Remove and place them on a tray lined with paper towels to remove the excess oil.
Coat with sugar and cinnamon.
Once we have fried all the pieces, proceed to cover with sugar and cinnamon.
In a large dish, add sugar and cinnamon to taste. Mix very well.
Coat all sides of the fried milk with the mixture. Remove the excess and place on a plate or dish.
Serve.
NOTE: I advise you to coat them with the sugar mixture together before serving. Otherwise, the fried milk will "absorb" the sugar and its appearance will be the same as when we take it out of the oil. And if we coat them again, they will be too sweet.
Notes
If you want to avoid lumps, remember to mix the sugar with the cornstarch beforehand.
If you wish, you can use 50 g of flour and 50 g of cornstarch, instead of the full amount of cornstarch. The result will be a fried milk a little softer in consistency.
It is important to flavor the milk so that the final result is full of aromas and flavors. If you have time and desire, once you have finished cooking the milk after 30 minutes, you can let it cool at room temperature and refrigerate (without removing the skins, anise and cinnamon) until the next day. After this step, strain, put it back on medium-low heat and let it come to temperature (a light boiling, very light) before integrating the yolk mixture.
If you wish, you can replace 200 g of milk with 200 g of heavy cream. The extra fat content will give an even creamier result.
You can use a star anise instead of seeds if you prefer.
It is important to cook and curdle the cream at low temperature to achieve a good texture and final consistency, softer and more delicate.
I recommend letting the cream rest, once it has set, for a minimum of 12 hours in the refrigerator. It will make it much easier to handle, in addition to enhancing aromas and flavors with the rest.
Do not forget to remove the excess flour and egg before frying. This way we will achieve a very fine and delicate batter.
I always advise you to coat the fried milk with sugar and cinnamon just before serving.
The ideal is to consume it warm, it is the moment when it is best.
We can keep them refrigerated for 4 days in an airtight container.
Surely you already have prepared a lot of recipes to prepare during Easter. But, don't forget to make room for homemade Leche Frita or Fried Milk. This will always make us smile, I promise you.
Its flavor, texture, aromas... It is a perfect snack to end a meal and accompany a good coffee. I can't think of a better dessert than this to enjoy during these days of Easter that await us. I hope you dare to prepare it at home and let me know what you think!
I wish you a wonderful Sunday!
Lots of love,
Eva
Sources: Murcia Guía
This post contains affiliated links.
Archivado en