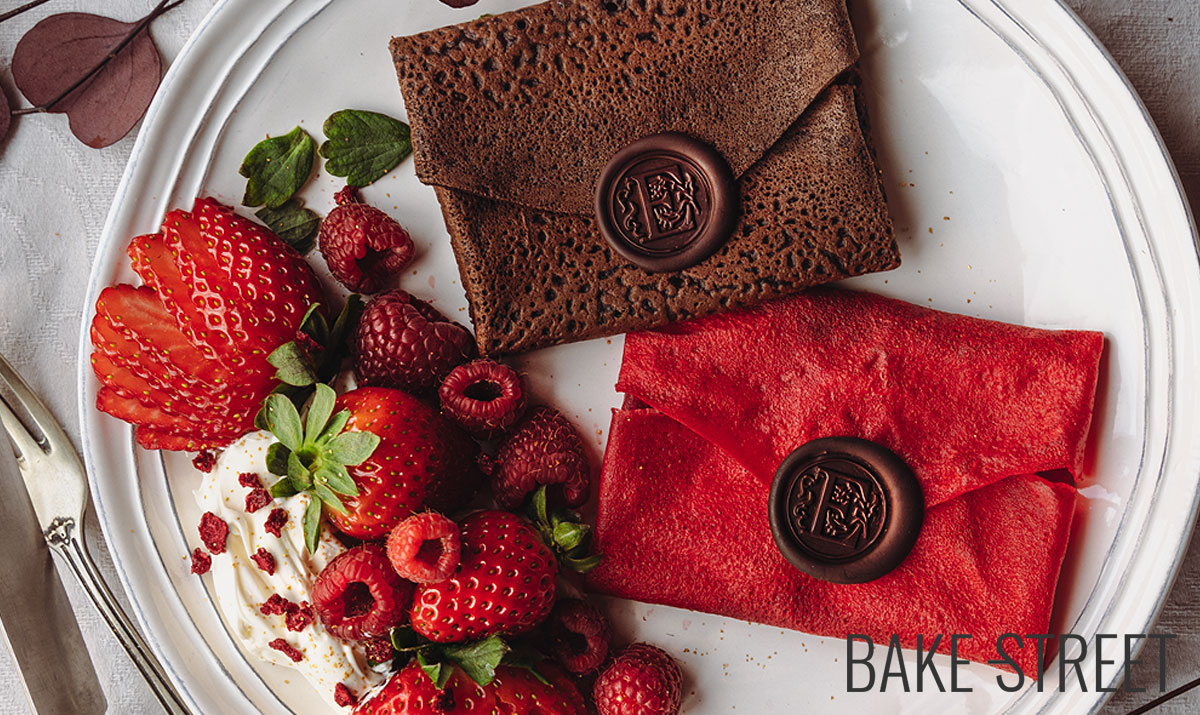 Crepe love letter
Este post también está disponible en Spanish
It's the second year this has happened to me… every time Valentine's Day comes around I think, this year I'm not going to prepare anything for that day. But for some strange reason, wham, I see something I really like and I have to change all my plans. That happened to me when I saw this Crepe Love Letter, which actually what I saw was this beautiful envelope made with a Galettoria crepe. The first video I saw was this one, which is from a customer in that bakery/shop. I found it so simple to make, so attractive and such a wonderful way to surprise whoever we want with a super nice breakfast, that I had no choice but to make them and share them with all of you.
In my case I decided to give it a little extra and make a small inner letter with the words "I <3 U" (I love You). If you feel like it, you can do it too. You can even fill it with sprinkles in the shape of a heart! Anyway, you're in for a treat.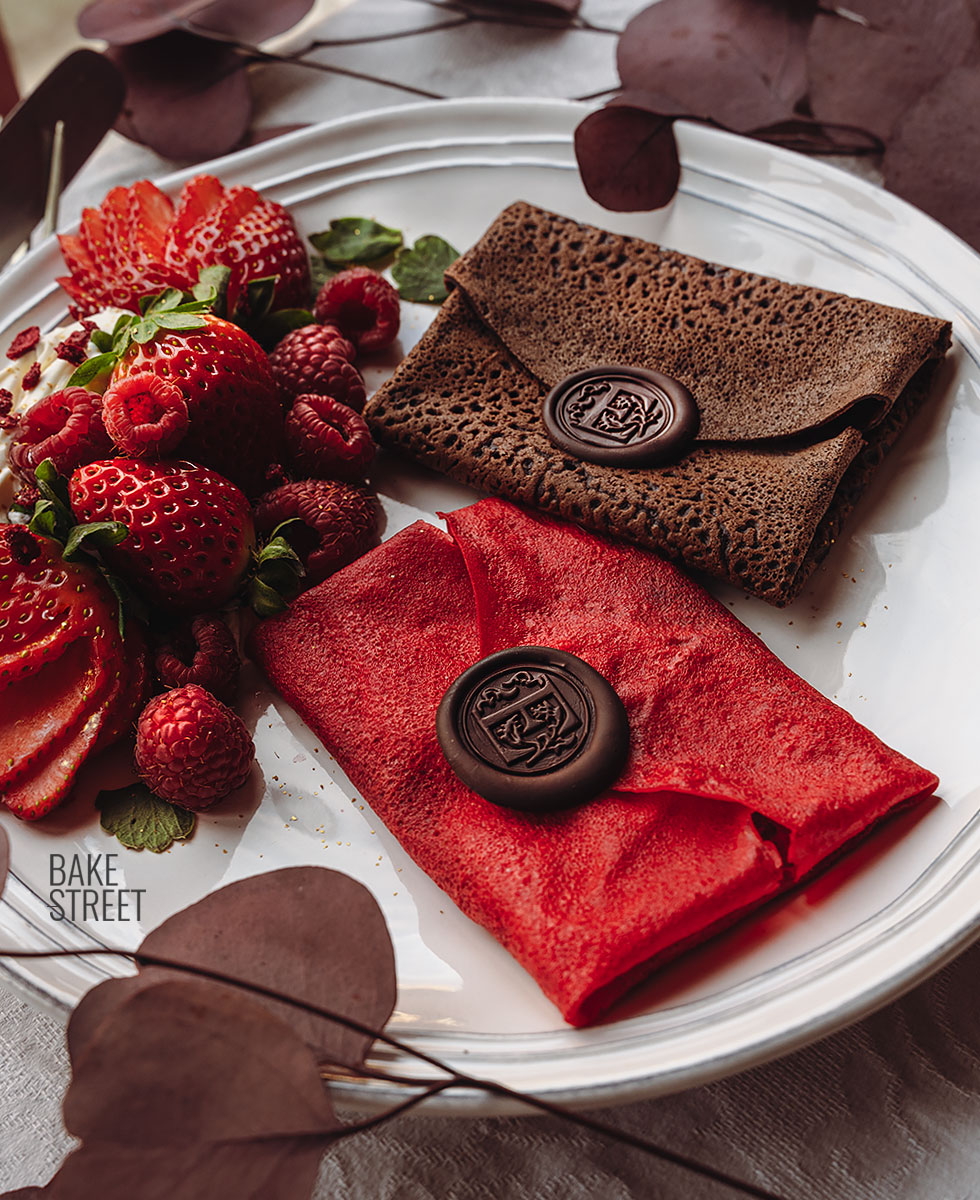 Who wrote the first love letter in history?
We will probably never know about this event, since it is quite possible that there were love letters before the ones I am about to share with you. But we will never know. Many of these letters may never reached their recipients because they were a way to express their unrequited love or their impossible love, either because of class differences, marriages of convenience or any number of reasons. Or maybe many of them were read and burned later in order not to reveal this secret because of the catastrophic consequences they could bring, or they were kept in some secret place… And they are still there, hidden. Someone may even have them in their possession, as a memory of their family line, but never shared it until now.
It is possible that even those love letters were in another format, as a gift. A brooch with initials that only they knew what it meant, a watch, a piece of clothing, a book… Because love has always been there, in all its versions, and this means that this feeling, reciprocated or not, was expressed and shared with the loved one.
But, on a historical level, we have knowledge that the oldest documented love letter in English, dating from the year 1477.
The letter was written between Margery Brews and her fiancé John Paston. She wrote him the letter begging him not to leave her, even though her parents refused to increase her dowry. It is written in an informal style, with several personal embellishments and no particular concern for orthographic consistency. John did not abandon her, they married and Margery died 20 years later. You can read the full article here.
The world's oldest love poem dates back to the 8th century BC, in the Babylonian era. According to Sumerian belief, it was a sacred duty for the king to marry a princess to Inanna, the goddess of sex, fertility and love, so that the land and women would be fertile. It is believed that this poem was written by a princess to the king to be sung at the New Year Feast and would have been accompanied by music and dance. The poem is written on a cuneiform tablet and is entitled Love Song to Shu-Sin.
Carrying out the Love Letter made with crepes.
The truth is that the title is super cheesy, I know. But no matter how many times I thought about it, it's still a love letter, short, let's not deny it, but made with crepes. That has a great value. We write with the dough and we carry out all the elements with crepes. We cannot deny that in this elaboration there is affection, love and illusion.
The recipe I used to make these crepes, is the same that I left you to make the Towel Roll Cake. It is a very easy batter to make and gives very good results. The process is simple, mix ingredients, let stand a little and cook the crepes. In this last step it is true that having a good pan will help us a lot, in addition to facilitating the work. They will come out great and will not stick.
The most "laborious" part can come at the time of writing with the batter. But you will see that it is not very complicated since we are not going to make big designs, just express our feelings in a simple way.
Then we only have to choose the filling we like and form the letters. Serve with the garnish of your choice (fruit, whipped cream, cheese, ice cream…) and enjoy.
Recipe Crepe love letter
Ingredients for 6 crepes, 3 of each color + inner card with message
CREPES (red and cocoa):
2 large eggs
200 g whole milk
65 g cake/pastry flour
15 g sugar
15 g unsalted butter, melted and cooled
1 g salt
12 g unsweetened cocoa powder (optional)
red food coloring paste Extra Red
CREPES (white, for inside letter):
1 large egg
100 g whole milk
33 g cake/pastry flour
7 g sugar
7 g unsalted butter, melted and cooled
0,5 g salt (pinch of salt)
15 g cocoa batter crepes + 7 g cake flour (for writting the letter)
20 g red batter crepes+ 11 g cake flour (for drawing hearts)
In the notes section I leave you options to make them gluten-free
FILLING:
whipped cream
fresh fruits
caramelized nuts
freeze-dried raspberry
chocolate cream, ganache...
any ingredient of your choice
CHOCOLATE STAMP:
30 g dark chocolate negro or another variety
MATERIAL WE WILL NEED:
bowls
whisk
colander
crepes pan, mine is 24 cm diameter
small pot or saucepan
piping bags
writting nozzle
pastry spatula
wax seal stamp, this is mine with E word
Instructions
Prepare crepes batter.
In a large bowl, add the eggs, sugar and salt. Mix with a whisk until homogenized.
Pour melted butter and mix again until it is completely integrated. Incorporate sifted flour and mix.
Add the milk and whisk until a homogeneous mixture is obtained. If desired, we can strain the mixture again to ensure that it will be fine and without lumps.
Divide the batter in two parts, and add the sifted cocoa powder to one of them. Mix until homogenized.
For the red crepes, separate a small amount of the mixture and dissolve the red coloring paste in it. Pour this colored mixture into the crepe batter and beat with a whisk until completely homogenized.
Repeat the same process with the white crepe batter.
Cover with plastic wrap and let stand for 20-30 minutes.
Cook crepes.
Take 15 g of cocoa mass and add 7 g of flour, mix well until homogeneous. Put in a piping bag with a piping nozzle and set aside. I advise you to put a clamp on the nozzle part as well as on the final part to prevent the batter from coming out.
Repeat the same process with the red batter, take 20 g of the mixture and add 11 g of flour. Mix very well until homogenized. Put in a piping bag with a piping nozzle and set aside.
Place a crepe pan over medium heat and let it warm up.
Spread a thin layer of olive oil over the entire surface of the pan.
Once the pan is hot, with the help of a ladle, pour the mixture. We will turn the frying pan while we pour the batter, that way we will be able to spread it all over the surface as well as to obtain thin crepes.
Cook until the surface of the crepe is cooked.
Turn the crepe over and finish cooking.
Remove and place on a plate.
Repeat the same process until the batter is finished. As we take them out, we will pile them up. In this way we will achieve that they acquire a soft and manageable consistency.
We will get about 3 crepes of each color.
Cook the crepe in the form of a letter.
Place a crepe pan over medium heat, let it warm up.
Spread a thin layer of olive oil over the entire surface of the pan.
Once the pan is hot, pipe an I and a U with the cocoa batter. In between them, pipe a heart with the red batter.
Then, with the help of a ladle, pour a little of the white batter, it is not necessary to make a whole crepe since we only need a rectangle in the shape of a small sheet. We will turn the pan while we pour the batter, in this way we will be able to spread it all over the surface as well as to obtain thin crepes.
Cook until the surface of the crepe is cooked.
Turn the crepe over and finish cooking.
Remove and place on a plate.
Once we have cooked all the crepes in the form of a letter, shape them. With the help of a knife, cut the ends trying to give a rectangular shape.
Set aside.
Make the chocolate stamps.
At least 30 minutes before forming the stamps, we will keep the stamp in the freezer. Mine has a letter E referring to my name.
Melt 30 g of chocolate, we can do it in a bain-marie or in small batches in the microwave.
Prepare a silpat or Teflon sheet to create the stamps.
Place a small amount of melted chocolate on the Teflon, in the same way as if we were going to create a seal with sealing wax.
Then place the seal (which must be very cold) on the chocolate. Hold it carefully for a few seconds to keep it in place.
After 10-12 seconds, carefully remove the seal.
Repeat the same process to create more stamps.
NOTE: In my case, I was able to make 4 stamps in a row. In the fifth one, it gained temperature and the stamp did not come out well. Remember that it must be frozen to give good results.
Shape crepe love letters.
Spread a layer of the filling of your choice in the central part of a crepe. We can use whipped cream, chocolate cream, cheese spread.... The filling should protrude a little from the crepe rectangle to make it easier to fold when folded.
On top of the filling, place the crepe in the shape of a written letter.
Close the crepe in the shape of an envelope, as shown in the video. Fold the sides first, then the bottom and then the top. To shape the upper part into a beak, we can fold the ends of the crepe or cut it with a knife.
Once formed, put the chocolate stamp on the crepe, being careful not to leave marks or handprints.
Repeat the same process with the rest of the crepes.
Serve.
At this point, feel free to accompany the crepes with whatever you like. In my case I have accompanied them with mascarpone cheese along with strawberries, raspberries, freeze-dried raspberries and a touch of edible golden glitter.
They will be perfect with whatever you decide to use to accompany them.
Notes
Crepes can be made with other flavors if you prefer. In my case I have made them with cocoa powder, but they can be made with matcha tea, beet powder, strawberry.... We can use any ingredient that adds flavor and color.
Crepes batter can be made without gluten and, thus, adapt it. On the blog I have two recipes for gluten-free crepes (they are savory, of course) that maybe you can use to adapt them. This is one recipe and this is another.
Crepes batter should rest for a while to eliminate possible bubbles in it.
It is important that the pan where we cook them is hot, but not too hot, to prevent the batter from sticking.
The batter for the heart and letters should be thicker. The reason is to facilitate the process of piping, since if it is too liquid, it will be very difficult to do it.
When piping the letters and heart, if they are too far apart, nothing happens. As soon as the batter sets, which it will do very quickly, you can move them a little and adjust them before pouring the white batter over them to make the letter.
Filling can be made with whipped cream or a mixture of cream and mascarpone cream. In this post you can see how to do it.
You can also use jams, ganache, pastry cream or other types of pastry creams such as chocolate,  pumpkin spice cream... Nutella, dulce de leche or combine some of them.
When forming the envelope with the crepe, it is important that the central filling protrudes a little so that it "holds" the folded crepe. Be careful not to overdo it, otherwise when forming the envelope, part of the spreadable filling will remain on the crepe card and will stain it. When opening the envelope, it will not be so attractive.
If you find it too complicated to fold the top to form a peak in the envelope, you can cut it with a knife and shape it directly.
I recommend you to accompany them with fruit to add a fresh touch, besides being an ideal accompaniment.
To make the chocolate stamps I used a wax seal stamp. Remember that it is very important that it is frozen to get good results when creating it.
We can keep it refrigerated for 24-48 hours, depending mainly on the filling.
You already know that these things do not have to be done on Valentine's Day, in fact this Crepe Love Letter can be made at any time to surprise that person who gives meaning to your life. These things, made by ourselves and where illusion and affection are the most important, are always received with open arms.
I hope I can help you to brighten up breakfast for that person who makes your days better. I wish you a wonderful Sunday!
Lots of love,
Eva
Archivado en