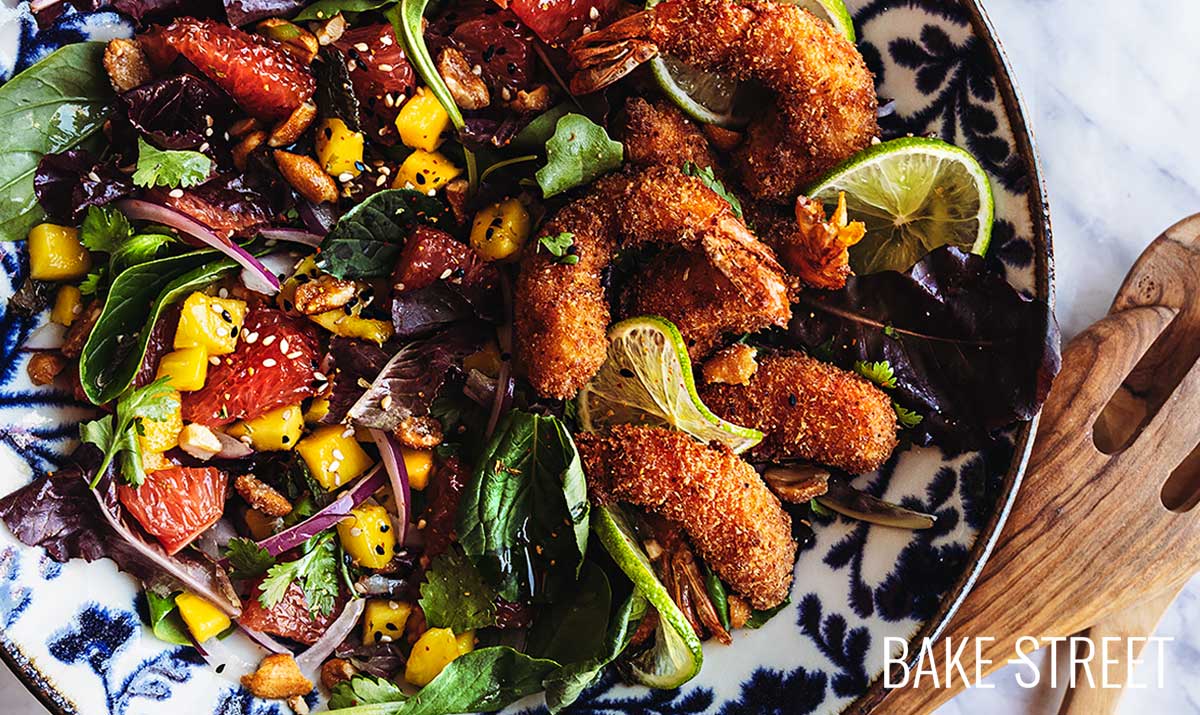 Coconut battered prawns with grapefruit salad
Este post también está disponible en Spanish
When I look at the last date of publication, it seems incredible that so much time has passed… Since I started my website, I have never had such a long break in posting. I even feel a bit of a guilty conscience. But we can't always control everything. In fact, we can't. I have gone through a period in which I have needed to stop and catch my breath to be able to come back as I did before. Or, at least, to get back on track so that I can pick up the pace and get back on track little by little, without rushing. I want to thank you for having followed me here these last 3 months, despite my absence, for having written to me, for making my recipes and for the love and support that you have given me. Thank you. The recipe I bring you today is a very simple dish, as well as being a great option for the hottest days. Although we can also enjoy it at any time of the year because it is a complete marvel. Coconut battered prawns with grapefruit salad.
What I like most in summer are salads, cold soups and ice creams. That's why I always try to prepare a wide variety of all of them so that people at home don't get "bored" when it's time to eat. We can prepare an incredible assortment beyond lettuce, tomato and cucumber salad. Today's recipe is a real explosion of flavour and textures, very different from other types of salads we usually eat.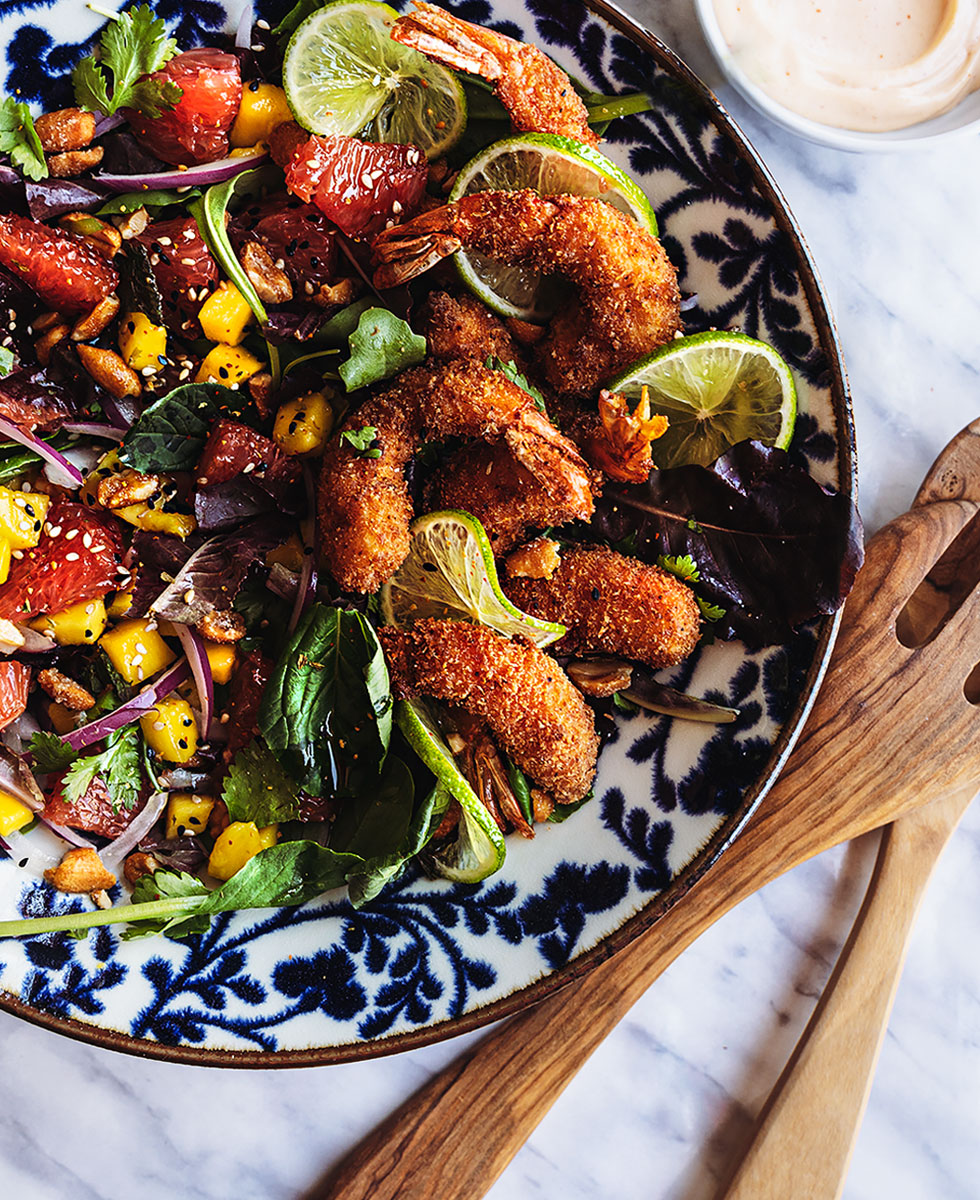 I am well aware that grapefruit is a rather difficult fruit to eat because of its particular taste, but this recipe has a trick.
I must admit that it is very bitter in its natural state. Although it is a very attractive fruit in terms of appearance and colour, it is true that when it comes to eating it, it is not very appetising. That is why I decided to follow a recipe from a great chef I admire very much, Ottolengui. He is known to all of us worldwide, so there is no need to introduce him.
This man has the ability to combine flavours in an amazing way, he is an alchemist in the kitchen. I have seen this a thousand and one times in many of his recipes. This grapefruit salad is one of his creations, except that I have changed a few insignificant details.
To accompany the salad, we will prepare prawns in batter with grated coconut. Very similar to other fried prawn recipes, but not the classic "prawns in batter – gambas en gabardina" made with the classic "Orly batter". On this occasion, the outer batter is very crunchy and has a very particular flavour thanks to the grated coconut and coconut cream. I saw the recipe on the African Bites website, and I promise you that you will love it!
To accompany the prawns, in addition to the grapefruit salad, we can make Sriracha mayonnaise, sesame mayonnaise, tamarind mayonnaise, lime and chilli mayonnaise, chutney such as this tomato and tamarind chutney. Or with a sauce of your choice: soy, Hoisin, peanut sauce…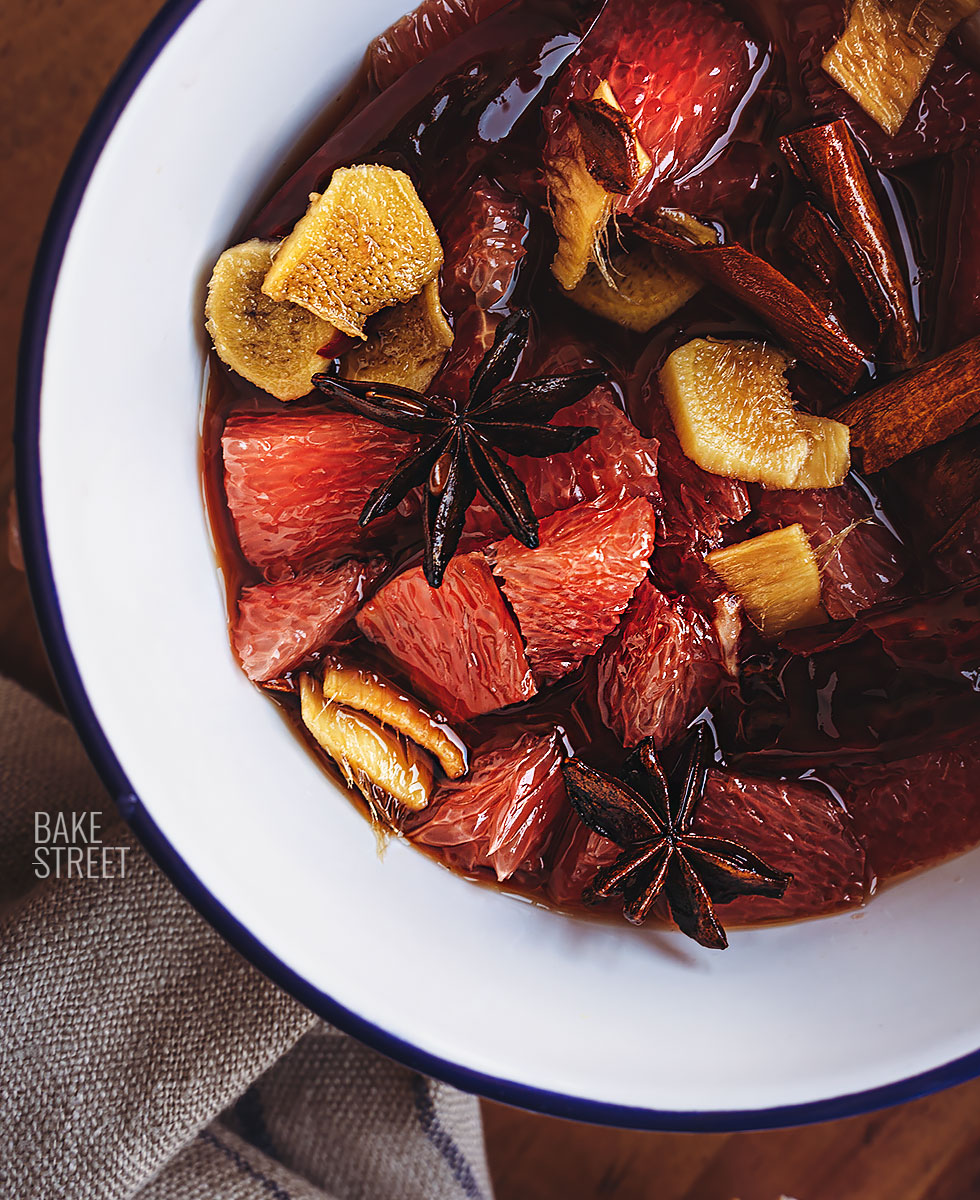 Coconut battered prawns with grapefruit salad recipe
Ingredients for 2 serves
COCONUT BATTERED PRAWNS:
20 large shrimps or prawns, raw
30 g breadcrumbs
30 g grated coconut
25 g wheat flour
1 teaspoon hot paprika
1/2 tsp garlic powder
3/4 tsp salt
1 large egg + 80 g coconut cream
GRAPEFRUIT AND MANGO SALAD
2 grapefruit
1/2 mango, about 150 g (peeled)
mix of salad leaves; watercress, lamb's lettuce, oak leaf, baby spinach leaves...
1/2 red onion, finely sliced
5 g fresh coriander leaves, chopped
5 g fresh mint leaves, chopped
35-40 g honey peanuts, lightly crushed
white sesame seeds to taste
nigella seeds to taste
olive oil 
3-4 tablespoons grapefruit marinade
a squeeze of lime juice
salt to taste
MARINADE (for the grapefruit):
70 g rice vinegar
40 g light muscovado sugar, can be replaced with brown sugar
1 tablespoon orange blossom water
2 stars of aniseed
1 cinnamon stick broken in half
10 g fresh ginger, peeled and finely sliced
1 dried red chilli, halved and seeded
SRIRACHA MAYONNAISE:
2 Tbsp mayonnaise
Sriracha sauce to taste
Instructions
Prepare marinade.
In a saucepan, add the rice vinegar and sugar. Place over low heat and stir constantly until the sugar is completely dissolved.
Remove from the heat and add the orange blossom water, aniseed, cinnamon, ginger and red chilli.
Set aside.
Prepare grapefruit for marinating.
Peel grapefruit, remove all the white peel and cut the segments, making sure that there is no membrane at the ends.
Cut each slice into 2-3 portions, depending on the size of the grapefruit, and place in a deep dish.
Pour the marinade over the grapefruit and leave to stand for 2 hours. If it is very hot, it can be refrigerated.
Prepare prawns.
Remove the heads, peel, keeping the end of the tail and remove the gut (black thread at the top of the back).
In a bowl, beat the egg with the coconut cream and set aside.
In a bowl or dish, mix the flour with the breadcrumbs, grated coconut, paprika and salt. Mix well to obtain a homogeneous mixture. Set aside.
Batter and fry the prawns.
Dip the prawns in the egg and coconut cream mixture, drain slightly and coat in the breadcrumb and coconut mixture.
Place on a plate and repeat the same process with the rest of the prawns.
Pour olive oil into a frying pan, enough to fry them.
Once it reaches 347ºF/175ºC, add 4-5 pieces to the oil. Fry until golden brown, about 1 minute or 1 1/2 minutes. Remember to do this on both sides. I recommend not overcooking them so that when you bite into them they are juicy and not hard and dry.
Remove from the oil and set aside.
Assemble the salad.
Drain the grapefruit, reserving the marinade liquid. Remove the cinnamon, aniseed, ginger and chilli.
In a bowl or individual plate, arrange a base of sprouts and salad leaves together with the chopped coriander and mint leaves.
Place the mango, cut into small squares, together with the macerated grapefruit.
Add 2-3 spoonfuls of the maceration liquid over the salad, if served individually, or 3-4 if the salad is to be shared.
Drizzle the salad with olive oil, a splash of lime juice and sprinkle with salt flakes. Toss lightly to distribute all the elements evenly.
Sprinkle with the sesame seeds, nigella and lightly crushed peanuts.
Serve with the coconut battered prawns and a bowl of Sriracha mayonnaise.
Notes
The ideal is to use shrimps or prawns of a good calibre. This will make for an exquisite, juicy and delicious snack.
If you don't like coconut, you can omit it and just use the flour together with the breadcrumbs, although I recommend using it because the flavour and texture is formidable.
We can use panko instead of breadcrumbs if we wish, the result is very good.
To cover the prawns we will use coconut cream, which is thick, not coconut milk from the ones we find in bricks (vegetable drink).

Do not overcook the prawns, otherwise they will be too dry. Correct cooking leaves us with C-shaped prawns. If, on the other hand, we overcook the prawns, as they lose a lot of water, their appearance will be very similar to an O-shape.
The prawns can be prepared in batter in advance and kept refrigerated until they are ready to be fried.
To make the Sriracha mayonnaise, simply mix the two elements together. The amount of Sriracha is up to you so that you can adjust it to your taste.
The sprouts for the salad are entirely up to you, use the ones you like the most and, if possible, in a different colour range to make it more attractive.
The longer the grapefruit macerates, the more flavour it acquires and the better the result.
The seeds are optional, but recommended. You can always omit them or vary them if you wish.
Honey peanuts can be substituted with another nut of your choice. Ideally roasted or fried to add more flavour.
To season the salad we can use olive oil or, if you prefer, sesame oil, avocado...
Once the salad is dressed, the leaves remain fresh/firm for a short time. I advise you to dress it just when you are going to serve it.
The prawns can be served in the same bowl as the salad or, if you prefer, in a separate dish.
I can't wait for you to try these coconut battered prawns and grapefruit salad and let me know what you think. I'm sure that from now on, you'll look at grapefruit with different eyes... At home, I have never liked this fruit and, for my part, I have to say that I find it difficult to enjoy. But I found this way of incorporating it into a recipe fascinating.
And the prawns... surprising, both in flavour and texture! I hope you enjoy it very much, I wish you a wonderful day.
Lots of love,
Eva
Archivado en