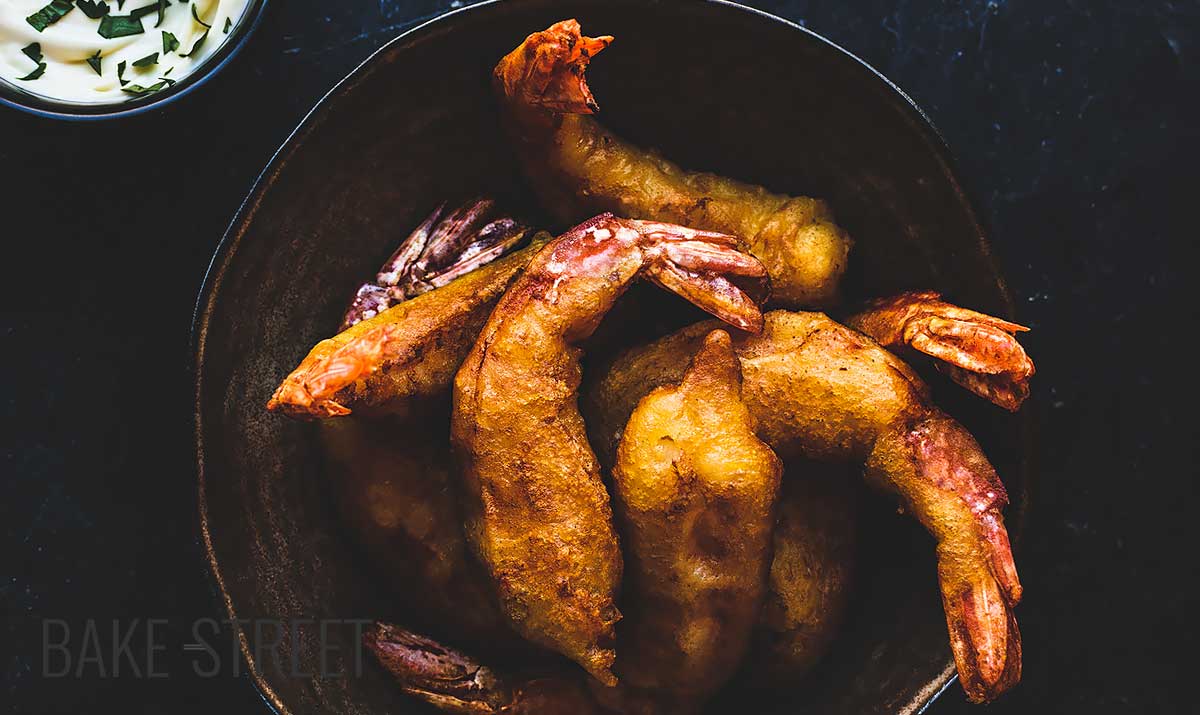 Gambas en gabardina, battered shrimps
Este post también está disponible en Spanish
Now that we have here the good weather, summer, vacations, beach, swimming pool… Well, we also need to have a good recipe book with elaborations that allow us to enjoy all those good conditions and circumstances. And what better way than around a table… I enjoy a lot more of a situation if you put me some Gambas en gabardina, battered shrimps and a cold beer, right? That way you see everything from a different perspective.
In summer it is very common to prepare meals in which we enjoy with friends and family, as well as outdoor environments. This environment requires simple preparations and, if possible, tapas or dishes to share. Now, I'm not going to lie if I tell you that I was going to refuse to enjoy a good paella or arroz caldoso (brothy rice), this I adore to the maximum power.
It's more. Whenever we went to Huelva, to Punta del Moral, we ate the best arroz caldoso (brothy rice) I have ever eaten in my life. In addition to countless other things, of course. But that rice, that rice! Wow, marvelous! The fact is that in summer I always prepare other types of simple, easy and shared preparations.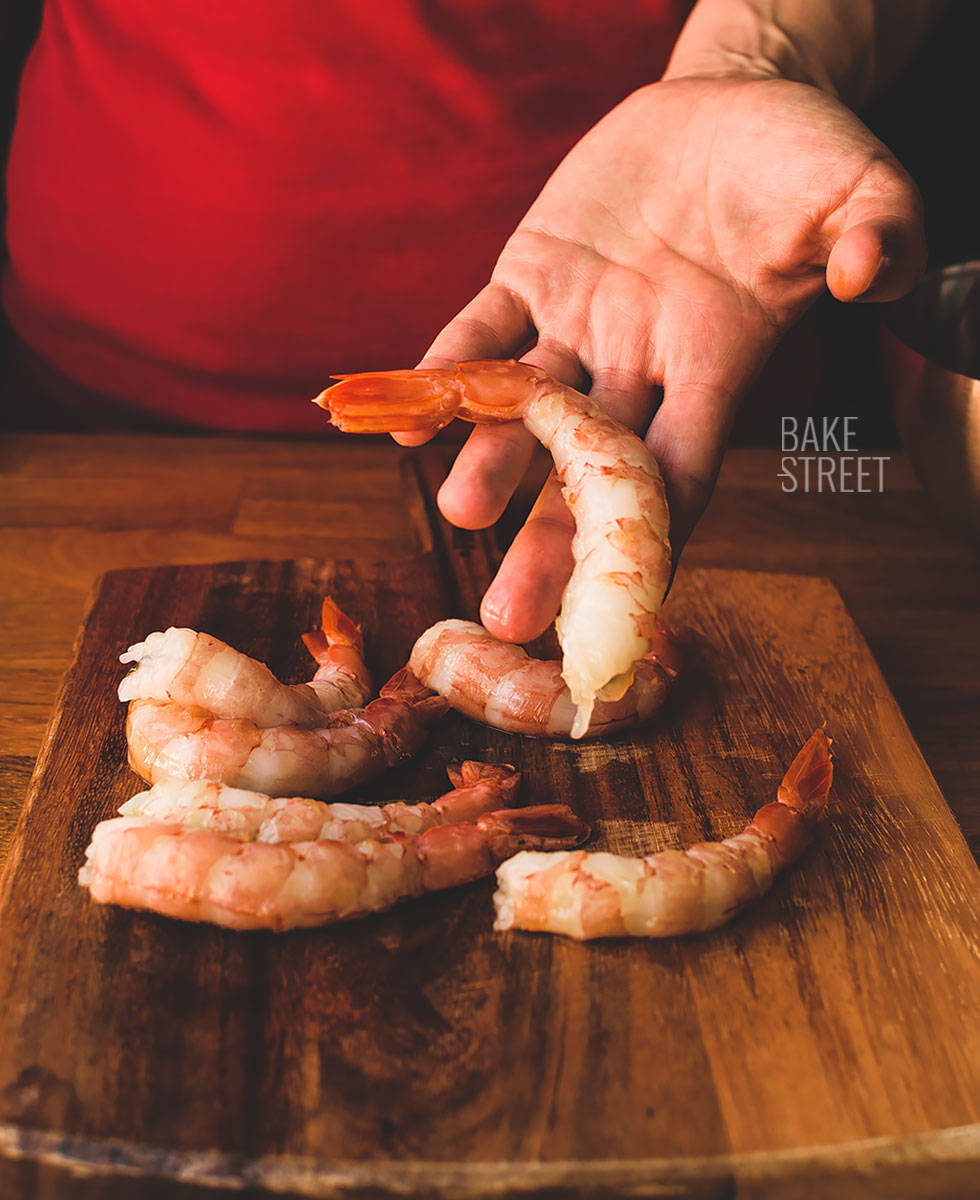 Gambas en gabardina.
Gambas en gabardina or battered shrimps are a preparation that could also be classified as "old-fashioned food". They are prawns or, in my case, shrimps battered in an Orly batter and fried. The result is a batter with a soft and creamy texture inside, accompanied by a juicy shrimp that is as it should be, with a golden and very crunchy exterior tone.
As you will suppose, it is an elaboration that does not have any mystery to carry out, but like all elaboration, it has certain steps that if they are fulfilled, promise an incredible result. Traditional cuisine that is always enjoyed.
The batter receives a somewhat particular name "gabardine/raincoat", of course we can not deny that it is somewhat creative and ingenious. If they had simply called it battered, it would have lost 80% of its charm. Battered shrimp… That way it says nothing, nothing. Now, with a raincoat… It´s different.
I remember when I was a child, really little with 4-5 years old, and we were at a wedding and I was asked if I wanted to try a battered shrimp. Inevitably I imagined a shrimp, Rodolfo Langostino style, with a gabardine/raincoat detective type. I said yes, super excited, and when they gave it to me I said… But he's not wearing a raincoat, hahahaha. Of course, how it was going to wear it! Even so, I ate it, of course.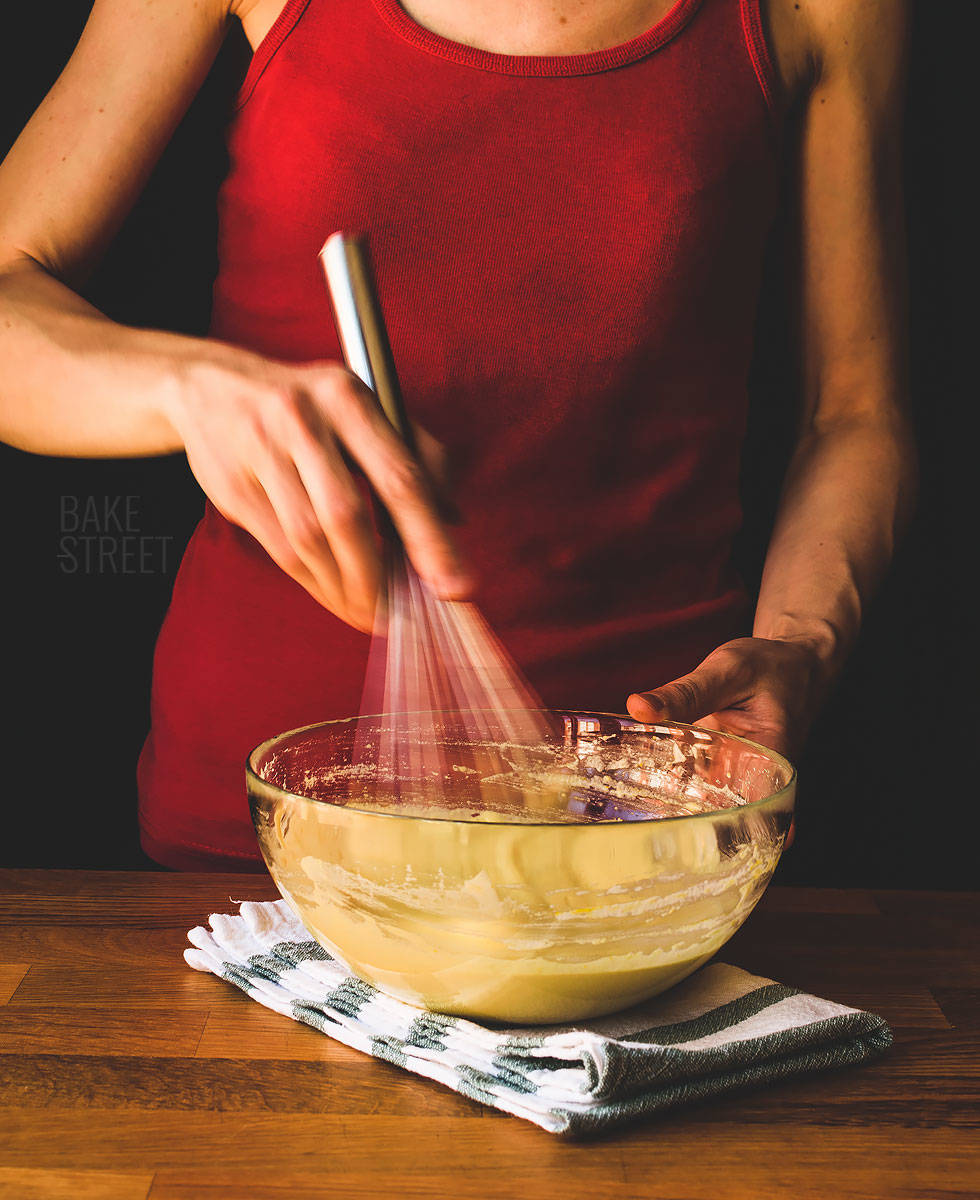 Orly Batter.
So, what's that raincoat/batter the shrimp serve with? It's an Orly batter. This type of batter is used to cover ingredients, which have a high water content (mostly fish and seafood), and then fry them. Result is a very crunchy batter.
The recipe for this Orly batter varies a little from hand to hand. The most common is a mixture made with flour, beer or sparkling water, baking powder, salt, saffron (to color the mixture) or food colouring and eggs or egg white. In my case I use all the ingredients except the egg.
Why don't I add egg to the mixture?
The use of egg or egg white in this type of batter prevents the exit of juices because they seal it. So they are cooked inside and tend to crystallize, resulting in a more moist and less crunchy batter. It also slightly masks the final taste of what we are making.
I learned this tip from Miguel Ángel Velasco, chef at Casa Juanico.
When you prepare these battered shrimps, you can use pieces of the size that you want, although I would recommend you to use ones with a bigger size. Remove the head and shell, with the exception of the final part that will allow us to hold the shrimp, cover, fry and enjoy 😉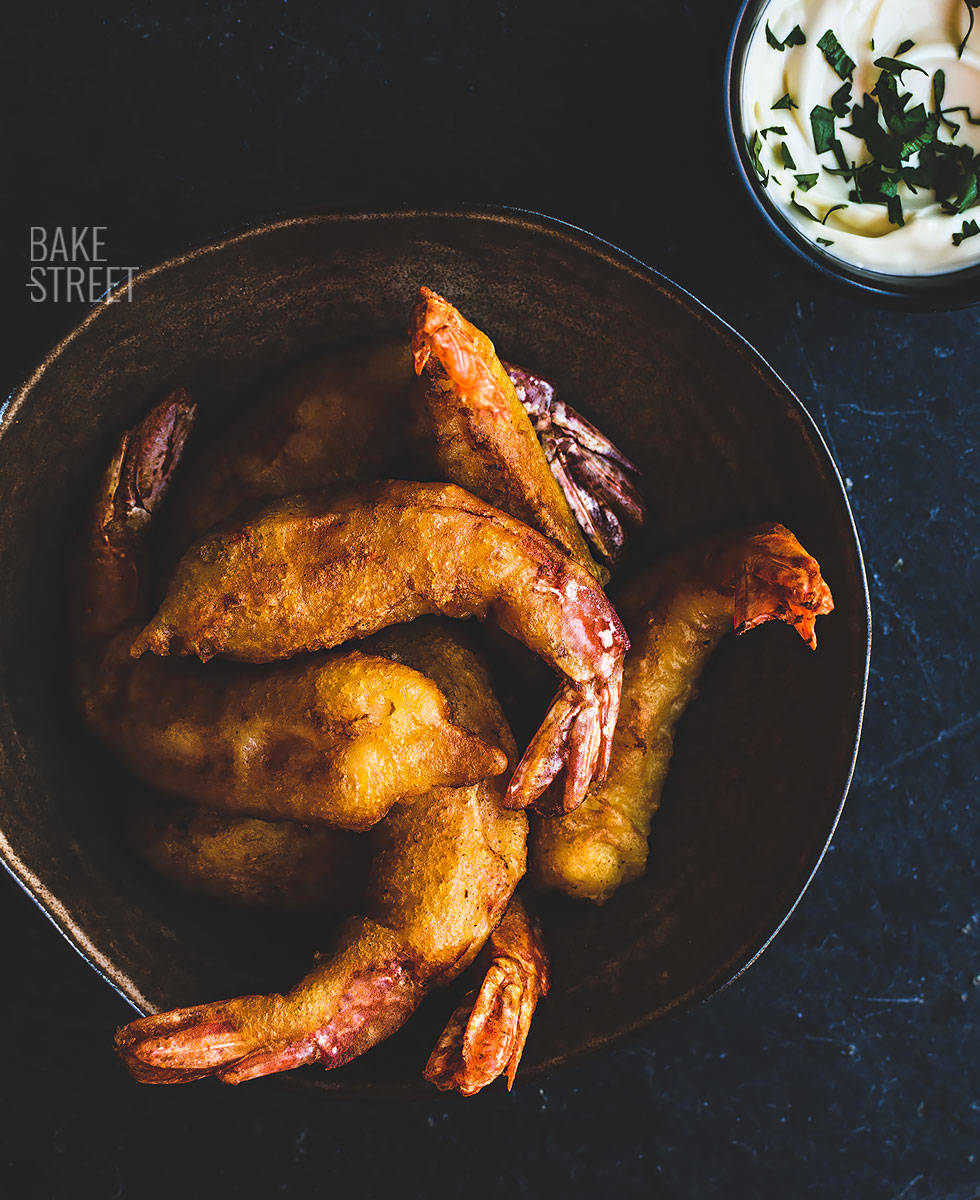 Ingredients for 4 serves
500 g fresh shrimps
120 g AP/plain flour
100 g beer
1 tsp baking powder
pinch of saffron
salt to taste
soft olive oil for frying
Instructions
Prepare the batter to cover the shrimps.
Add all the ingredients in a medium bowl and mix until no lumps of flour are visible.
Cover with film and let stand for 30 minutes. The final consistency should be similar to pancake batter.
Cover the shrimps and fry.
Remove the heads and shells from the shrimp except the tails. Set aside.
Add olive oil in a medium frying pan, enough to cover them completely, and place at medium heat. The temperature that it must reach to fry, must be of 355ºF/180ºC, the ideal thing is to use a digital thermometer. Remember that it is important that the oil does not burn, that is to say, that it does not smoke.
Cover the shrimps in the mixture that we have prepared previously, we will do it one by one. Add to the frying pan.

Fry the shrimps in batches, 4-5 at a time, until golden and crisp. It will take about 1 1/2 minutes.

Remove from the frying pan using a slotted spoon and place on kitchen paper to remove excess oil.
Serve immediately while still hot.
Notes
If you don't like it or can't drink beer, you can use carbonated water instead. It is important to use such an ingredient in the batter for a crunchy result.
We can replace saffron with food coloring if you wish or if you do not have the first one at home.
Depending on the type of flour you use, the amount of beer or sparkling water may vary. If we use a AP/plain flour we will need a lower amount of hydration than if we use a bread flour with more protein. This is due to the flour's absorption capacity. For this reason it is ideal to add, mix and observe the consistency.

The cooking time of the shrimp will depend on the size of the shrimp. The smaller the size, the shorter the cooking time compared to the ones I leave in the post. Be careful not to over fry the prawns because we would get a drier result and they would not be so good. Ideally they should be cooked, but juicy.
The ideal is to consume the battered shrimps freshly made, while the outside remains crisp and the inside juicy.
Well, I hope you'll soon prepare these Gambas en gabardina or battered shrimps and tell me what you thought of them. And how can you accompany them? Ok, they go great with an alioli sauce  (garlic mayonnaise). And I won't tell you if we serve them with a very cold vermouth or beer.
Other elaborations that you can serve together with these shrimps, for example, stuffed tuna eggs, country salad, seafood salad, croquettes or even a Sunrise, pumpkin cream and cherry gazpacho.
As you can see we have many options to prepare a meal/tapas outdoors and enjoy these days of good weather that await us.
I wish you a wonderful start to the week!
Big hugs,
Eva
Archivado en