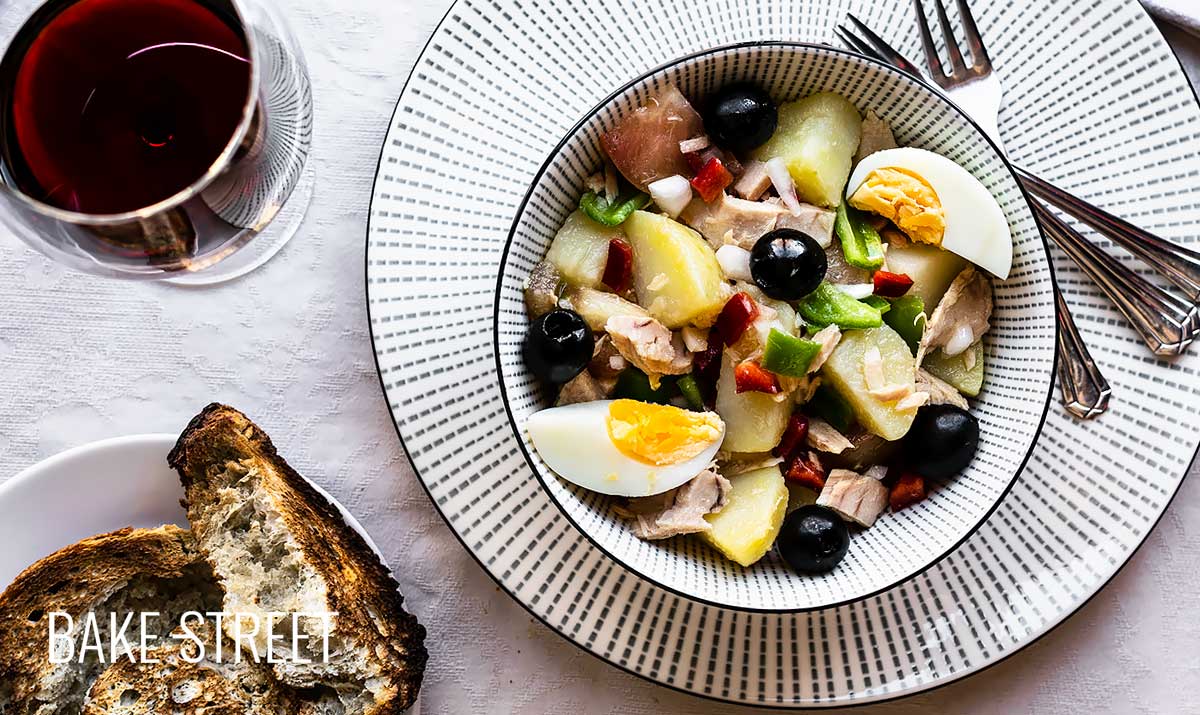 Ensalada Campera – Country Salad
Este post también está disponible en Spanish
Summer means time for salads and cold creams, ok, and barbecues too (oh, how much I like them!…) And if there's a salad that's never missing at home during these hot months, it's Ensalada Campera or Country Salad. I think it is a variety of salad that has been and is part of many of our homes and our childhood. My mother made it every week in summer, always.
I remember that, at that time, it was not one of my favourites. I guess when we were younger, everything that had vegetables on it attracted us less. In other words, you said to me – "Eva, would you prefer a steak with French fries or a plate of country salad?" -. Well, obviously my answer. Always first.
I give that example that could be any other; lasagna, paella… Anything with vegetables attracted me less. With time, I began to like them, I remember that I started with fried green peppers (hahaha, but it's true!), and from then on everything was rolled. Today I can't conceive of my life without them, as a daily vegetable.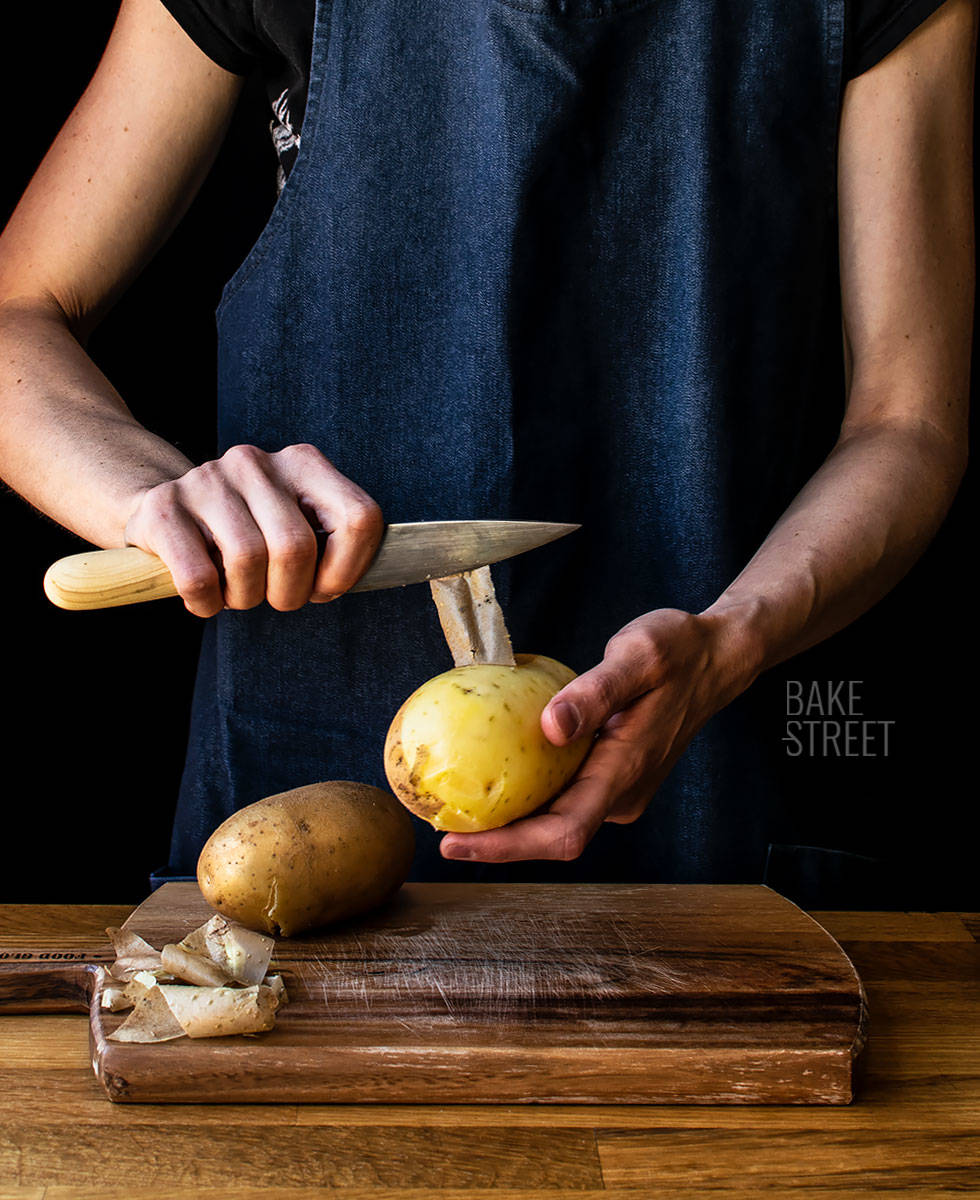 Ensalada campera or Country Salad.
It is a classic of Spanish cuisine and, moreover, it is very common to find it even served as a tapa. The main ingredient is the potato, which is usually served with different vegetables. Always to the taste of the person who makes it. The most common are tomato, green and red pepper, spring onion or sweet onion, boiled egg and tuna or bonito. All this is seasoned with a classic vinaigrette of oil, vinegar and salt.
From here you can add all the ingredients you want or like; olives, prawns, peas, corn … This is left to our choice and taste.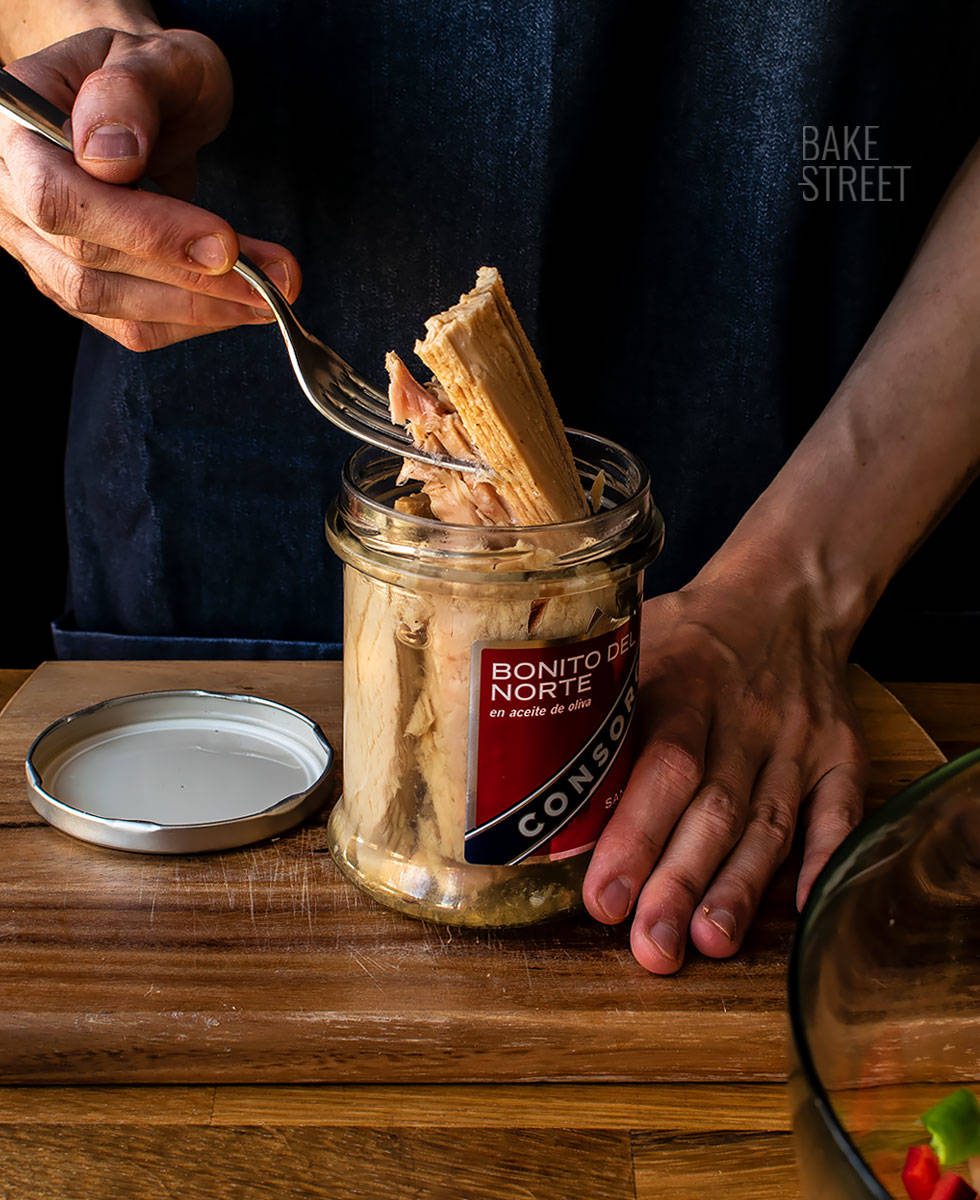 The simplicity of an elaboration.
When we prepare very simple, humble and simple recipes, their success lies in always using good quality ingredients. Added to good cooking times for each ingredient that requires it and a lot of love. All the ingredients that we will need to elaborate the ensalada campera are quite economic with the exception of the white tuna or long finned tuna. But, we can always replace it with a cheaper one like tuna if we want.
To finish it we only need to enhance its flavors accompanied by a good vinaigrette, olive oil, white wine vinegar and salt. Simple and easy with a magnificent result. I remind you that to emulsify the vinaigrette well we can beat the ingredients in the bowl itself or add them in a glass jar and shake them just as I told you in the salpicón de marisco.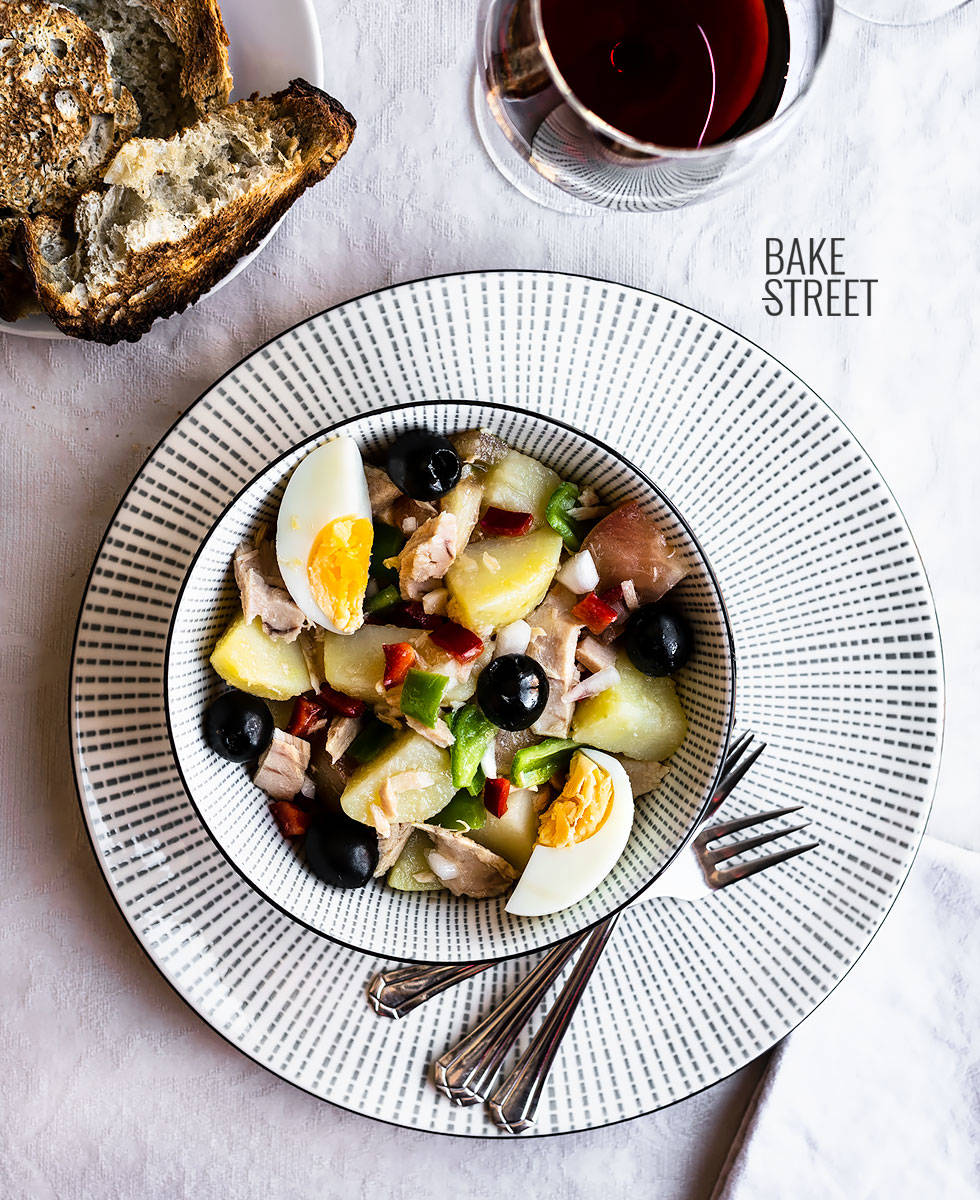 Ingredients for 4-6 serves
FOR THE SALAD:
3 large new potatoes
1 large tomato
½ large spring onion
1 green pepper
1 red pepper
Olives to taste, black or green
150 g canned long finned tuna
2 large eggs
FOR VINAIGRETTE:
95 g olive oil
30 g white wine vinegar
Salt to taste
Elaboración
Boil the potatoes.
Wash the potatoes thoroughly. Set aside.
Fill a medium pot with water and place over medium high heat. Once the water boils, add the salt along with the potatoes.
Boil for 25-30 minutes, depending on the size of the potatoes. To check the potatoes doneness pierce them with a fork; it must find hardly any resistance to piercing.
Remove from the heat, strain the potatoes and let cool.
Boil the eggs.
Fill a small pot with water.
Place over medium heat, once the water is boiling add the eggs cook for 10 minutes.
Remove from the heat, drain and place in a stream of cold water to stop the cooking.
Let cool.
Make Country Salad.
Prepare a bowl large enough for all the ingredients.
Peel the potatoes, cut into thick slices and then in quarters. Place into the bowl.

Cut the tomato into wedges and then in halves. Finely dice the spring onion and the peppers. Add to the bowl.
Lightly crumble the long finned tuna over the salad.
Peel the eggs and wash under cold water to make sure there are no remains of shells.
Mix the olive oil, vinegar and salt in a bowl and pour over the salad ingredients, reserving a couple of tablespoons.
Mix very carefully not to break the potato.
Transfer the salad to a serving plate and decorate with the egg cut in wedges and the olives.
Pour the remaining vinaigrette, cover with film and refrigerate until served.
Notes
Of the various potato varieties in the market some are more fit to be boiled and some to be fried. Regardless of the potato variety, for boiling it is always better to use new potatoes instead of old potatoes.
The perfect doneness of the eggs is important for a good result. We do not want either runny nor overdone egg yolks. When overdone yolks tend to form a gray-greenish halo on the surface that looks very unattractive. With 10-12 minutes of boiling are more than enough to set the yolk.

A quality product will yield the best result.
A tip to deseed the red and green pepper: push the top of the pepper inwards and once it is inside, pull it out. The seeds can be removed then all at the same time.

In case of adding cucumber, peel it to avoid the bitter skin. Unless you use Dutch cucumber. In this case its taste is softer and it does not need to be peeled.
In Spain canned tuna can be found either as whole large bonito pieces or as shreds. Both varieties can be used in this salad; the result is better though with the first option but the second is much cheaper. In both cases always canned in olive oil, the flavor will be much better.
Add the olives at your choice, black or green, both will be perfect. But ideally pitted.
It's best to add the boiled egg once the salad has been seasoned and tossed to prevent the egg yolk from crumbling.
It's best to refrigerate the salad for at least 2-3 hours before serving.
If the salad is to be kept several days in the refrigerator, the potato will gradually lose flavor and texture. It should always be stored in an airtight container.
Undoubtedly one of the most simple and spectacular dishes or tapas that we can prepare this summer, is this Ensalada Campera or Country Salad. In my house it is one of the elaborations that I prepare every week in the summer months. It is a fixed yes or yes together with gazpacho and salmorejo.
My son, as you can imagine, is one of those things he "loves" when he comes home and asks what there is for lunch, hahaha. But well, we've all gone through it and you have to educate the palate as soon as possible.
I wish you a wonderful start to the week!
Big hugs,
Eva
Archivado en