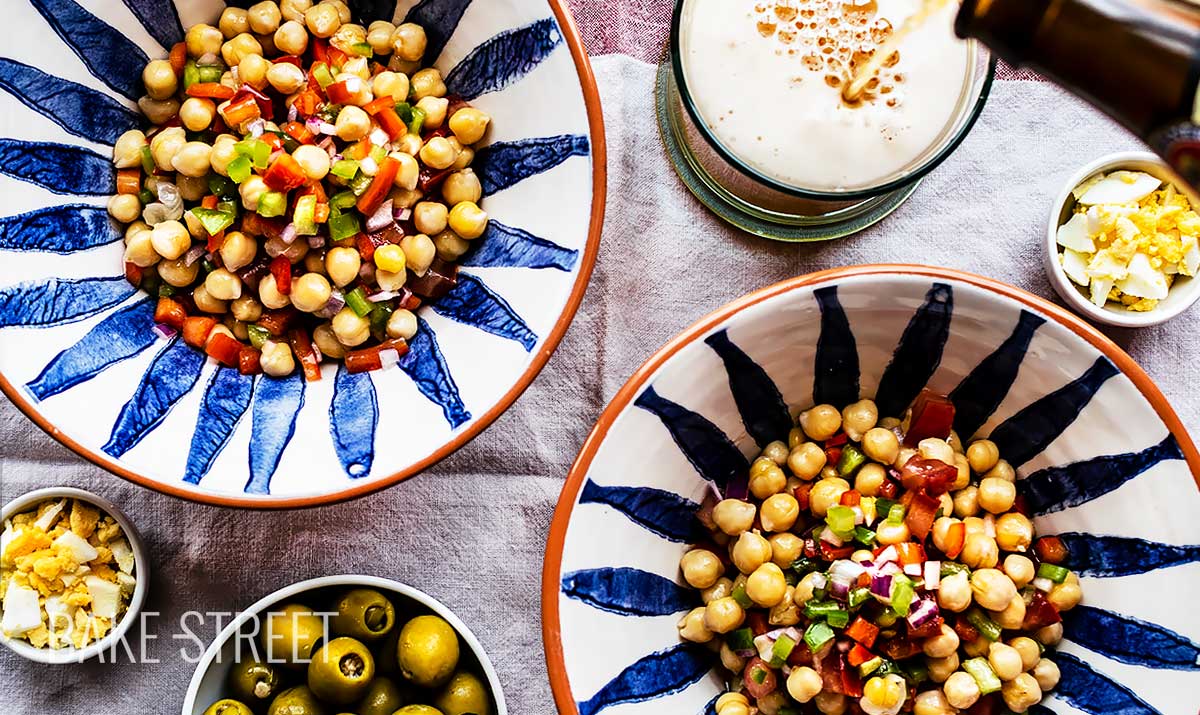 Chickpea salad
Este post también está disponible en Spanish
When the warm weather arrives, fresh and light recipes are what you most want to eat. In fact, anything we can make in a salad or cream format is always welcome. To tell you the truth, I couldn't wait for the spring/summer to come and enjoy things like that. I have always loved warm and good weather. Today I'm going to leave you a recipe super simple and sure many of you already prepare at home, Chickpea Salad.
I remember that my mother, when the summer came, always prepared legume salads at home. At that time, as a good complaining teenager, I didn't like them very much. Well, in fact I didn't like them at all, but there was nothing left but to eat them. I've never been delicate enough to eat, I've almost always eaten everything (although now my palate is better). But legumes… I didn´t like it. And now I love them, hahaha. I suppose that time educates us and we learn to value things better.
Pedrosillanos chickpeas.
In Spain there is a wide variety of chickpeas to be found at the markets; one of the preferred types is called Pedrosillano, name deriving from the municipality of Pedrosillo el Ralo, region La Armuña, Salamanca, where it's grown.. To make this recipe I have used this variety that I like the most by far. Of course, to prepare this recipe you can use the chickpea variety you prefer.
The Pedrosillano chickpea is one of the most appreciated for its fine skin, high nutritional value, great taste and buttery texture. It also has a lower calibre, which makes it perfect for use in salads, although it is also a real delicacy in hot dishes such as chickpea stews like cocido madrileño. In fact, there is no other type of chickpea at home.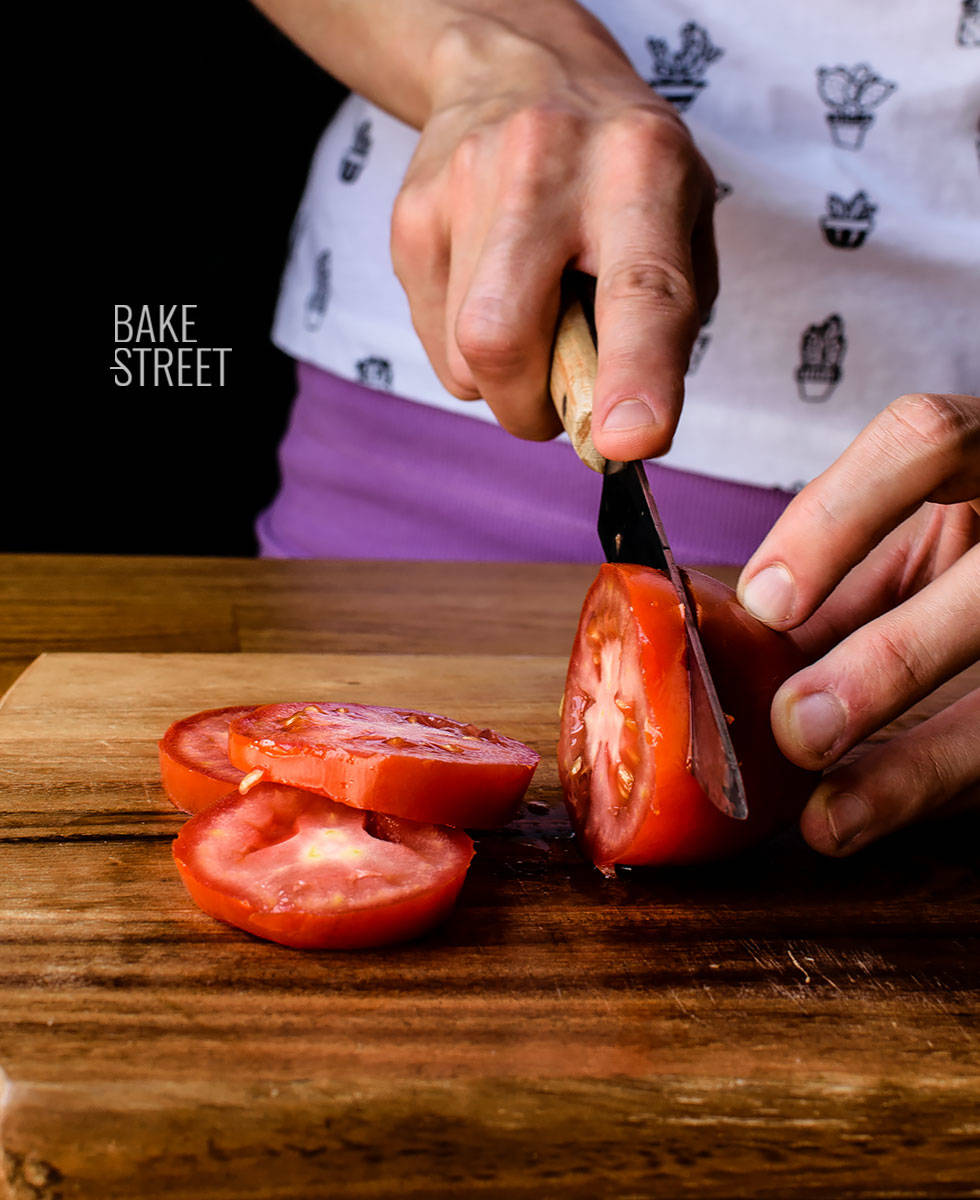 Another outstanding aspect of this variety is that after cooking the skin does not loosen the grain of the chickpea, which makes it much tastier. When the warm weather arrives it is difficult to continue enjoying spoon recipes (the way Spaniards call the ever popular warm stews prepared with legumes or soups) for that reason it is good to have present some recipes in which we can continue enjoying the legumes in a more refreshing format. That, by the way, I remind you that in the blog you also have vegetable burgers made with legumes. They are very good and are also ideal for enjoying the hot months.
Making chickpea salad.
This recipe is, without a doubt, a very simple elaboration. It has no major complication to carry it out, but it does allow us to learn how to cook our vegetables at home. I know it's much more convenient to buy a jar of cooked vegetables, drain them, rinse them and that's it.
But it really has nothing to do with the result when you cook the chickpeas at home. The result is simply fantastic. It's also true that there are a lot of vegetable cookers where, as is evident, the result is fabulous. But you know that I always encourage you to learn to do things at home, because knowledge does not occupy place 😉
The rest of the elaboration is as simple as cutting and mixing. A super easy recipe that we can prepare in advance and have it just ready to serve.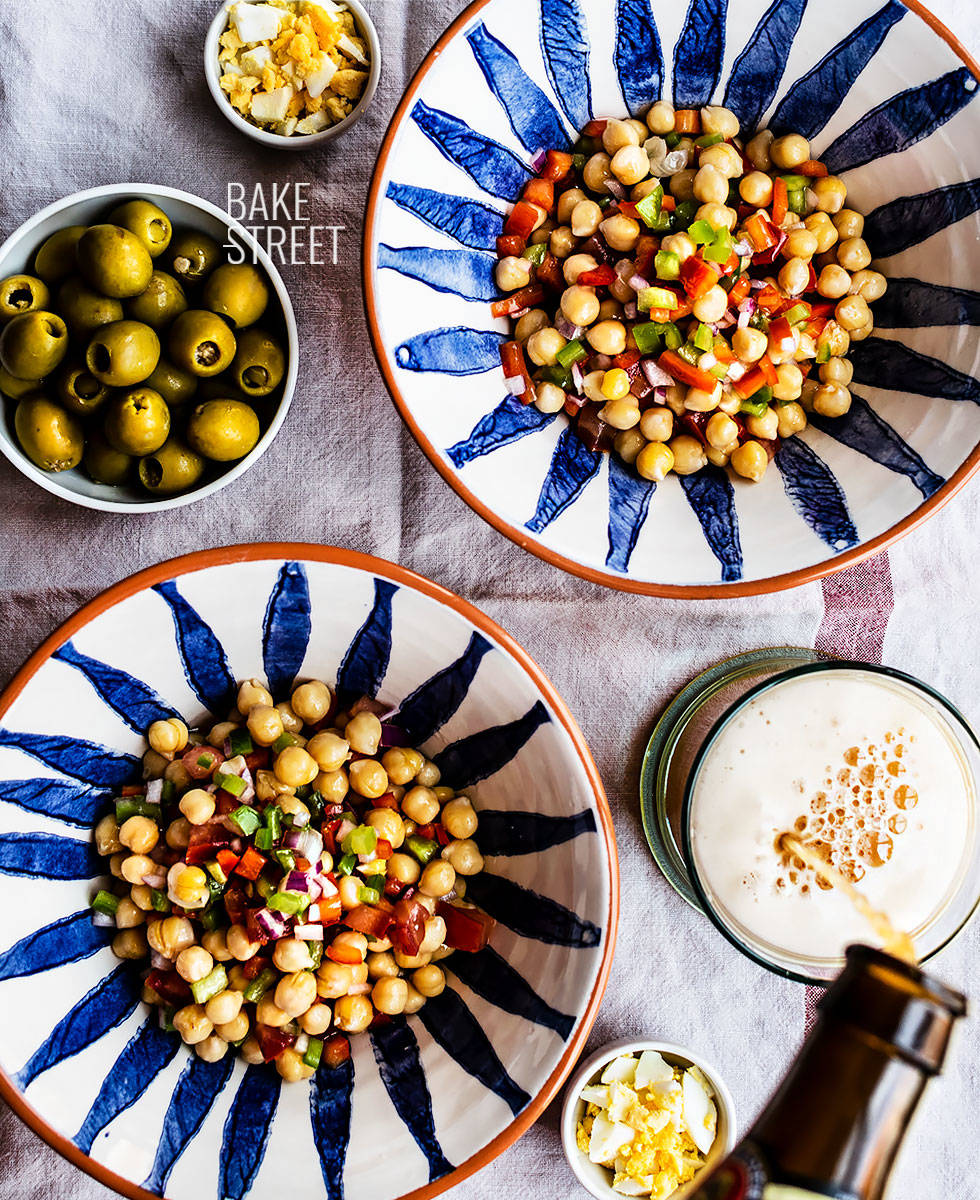 Ingredients for 2 serves
FOR SALAD:
100g dried chikpeas (raw)
1 Italian green pepper
1 Italian red pepper
½ small red onion
1 large tomato
1 boiled egg
FOR DRESSING:
50 g olive oil
20 g white wine vinegar
salt to taste
Instructions
Cook chickpeas.
Fill a large bowl with water and put the chickpeas inside with a pinch of salt. Soak overnight, the ideal time would be 8-10 hours.
The next day, drain very well and wash with plenty of cold water. Set aside.
In a medium saucepan, boil the chickpeas with enough water to cover them for 1 hour or until they are tender.You might have to add some water to compensate for evaporation and soaking, always add it hot.
Remove from heat, drain and rinse with cold water to stop cooking.
Set aside.
Make dressing.
Finely chop the peppers, onion and tomato.
In a bowl mix the vinegar with salt until it is completely integrated. Pour the olive oil and beat until a homogeneous mixture is obtained. We can also prepare the vinaigrette by adding all the ingredients in a glass bowl and shaking it, as I showed you in this post.
In a medium bowl, mix the chopped vegetables with the vinaigrette.
Finishing chickpea salad.
Pour the dressing over the boiled chickpeas and mix to cover them with it.
Serve chickpea salad in individual bowls and garnish with chopped hard-boiled egg.
Serve.
Notes
To make this salad with chickpeas, the ideal is to use dried chickpeas and cook them at home. But you can also use canned cooked chickpeas, if you wish. In my case, I always recommend the first option because the taste, texture and final result, in my humble opinion, is better.
In my case I have used the Pedrosillano chickpea variety, which has a smaller caliber. But feel free to use the variety you like the most.
It is important and necessary to soak the chickpeas overnight to soften them and reduce cooking time. In addition, it allows the enzyme activity to be activated, making them much easier to digest.

Calculating the exact cooking time of legumes is complicated because it depends on many factors: variety, freshness, soaking time, hardness of the water.... The best way to know if they are already cooked is to taste them. The time can be between 60-90 minutes and, in pressure cooker, around 20-25 minutes.
You can accompany the salad with the ingredients you like the most. In my case I have left you the way in which I usually prepare it at home, but you can add what you consider: tuna, cucumber, anchovies, sweet corn....
The ideal is to serve it cold.
This Chickpea salad is a wonderful, simple and super healthy option for this time of year that awaits us. Its ingredients are quite simple, but that doesn't mean the result has to be less attractive.
In fact, not only can we prepare it as a main dish, but it is also perfect to serve as a tapa with some olives and a cold beer. Come on, what better way to take a mid-morning break, right?
I wish you a wonderful beginning of the week!
Big hugs,
Eva
Archivado en