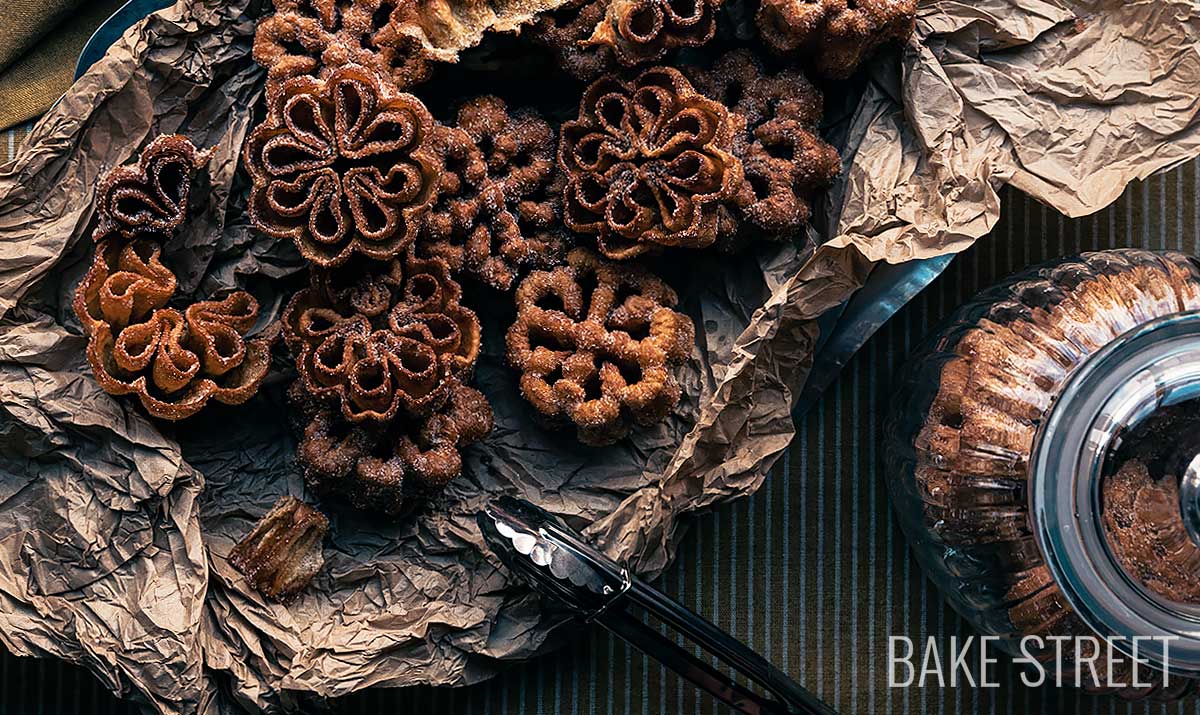 Carnival Fried Flowers
Este post también está disponible en Spanish
Carnival is coming soon and, in addition to the parties and costumes, we have a lot of great recipes to make at home and enjoy. Like these Carnival fried flowers. I don't know how many years I've been wanting to buy a fried flower mold (florón) and, what's even worse, to try these wonderful homemade flowers. I was very curious to cook them, I know they have no great mystery, but it is one of those recipes that I wanted to live in first person following the whole process.
And, finally, I got that little thorn out of my side. In case any of you are in a similar situation to mine, I hope this publication will give you the final push to encourage you with them.
Carnival fried flowers are one of the recipes that can be classified as "pan fruits".
I already told you about them, and about how much I like this denomination, in the post of Les Casadielles. It is difficult to know for sure when these sweets originated and thanks to whom we can still enjoy them today; Andalusian, Sephardic and Christian religious orders, even chivalrous military orders such as the Calatravos or Templars. We cannot affirm that none of them were the inventors, although we do know that they were assiduous consumers of wonderful pastries.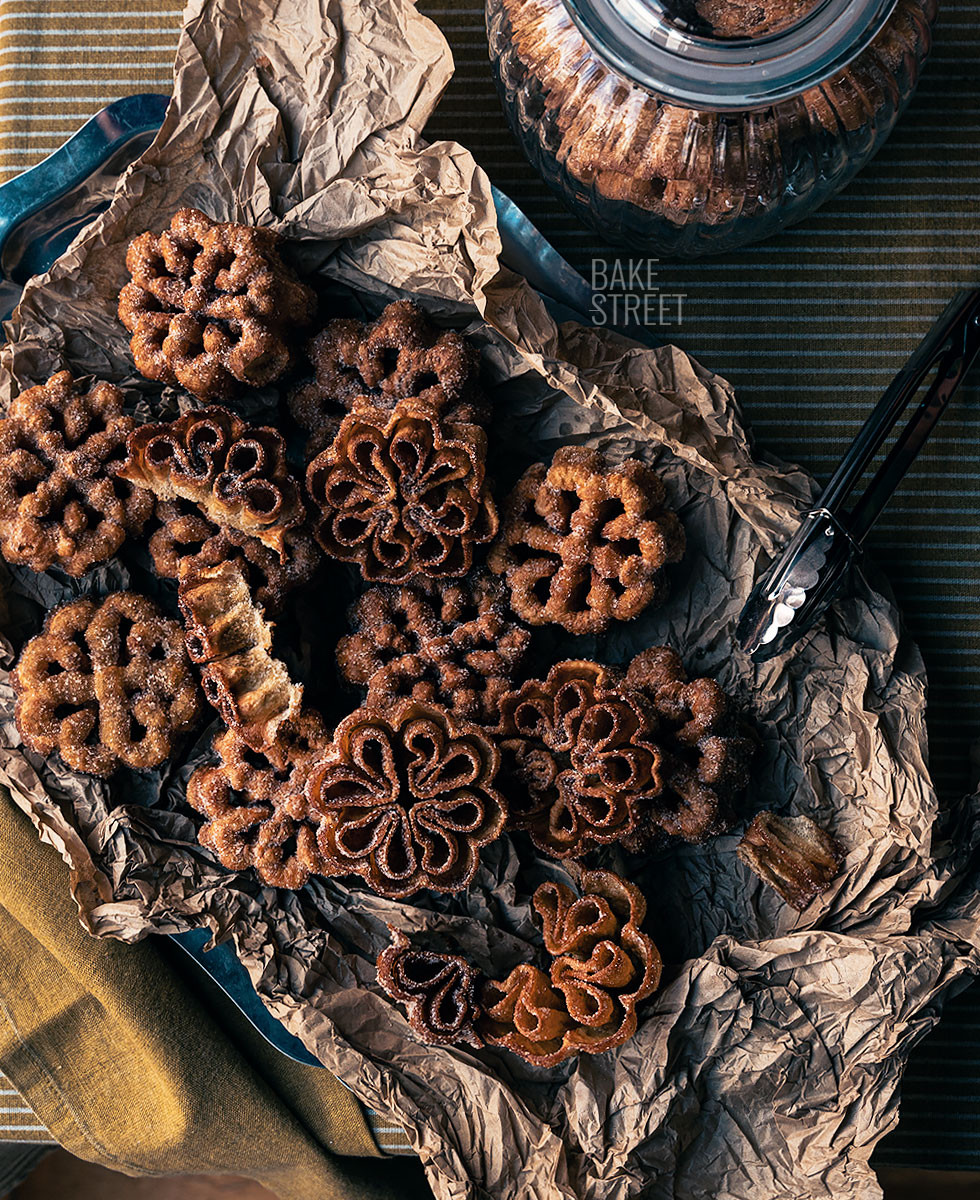 This type of fried dessert can be sweet or salty, like the almojábanas. These are a kind of fritters of Muslim origin that are filled with cheese. They appear in two books: The anonymous Almohad manuscript of the XIIII century, translated by Ambrosio Huici and La Fudalaof the Murcian Ibn Razin -S.XIII-).
Within this type of elaborations, the best known in Spain and Latin America are churros and porras. It seems that, according to Egyptian engravings and frescoes such as those in the tomb of Ramses III, they have a Pharaonic origin. Very possibly it was the slaves of Judea (Jews freed by Moses) who brought the recipe to the Iberian Peninsula in one of their diasporas. It is also possible that it was the Greeks who created this preparation and the Romans who plagiarized it and later brought it as part of the diet of the conquerors of Hispania. Both cultures had large olive oil farms.
Fried flowers.
Fried flowers is a preparation made with a batter of runny consistency that is fried and then sweetened with either honey or sugar. To give it its characteristic shape, molds are used (the oldest ones forged in iron, the modern ones in stainless steel) which are immersed in very hot olive oil for a long time. This step favors the cooking of the batter so that it is suitable and favors that the flower comes off easily. After frying them and letting them cool, they are coated with sugar and cinnamon or honey.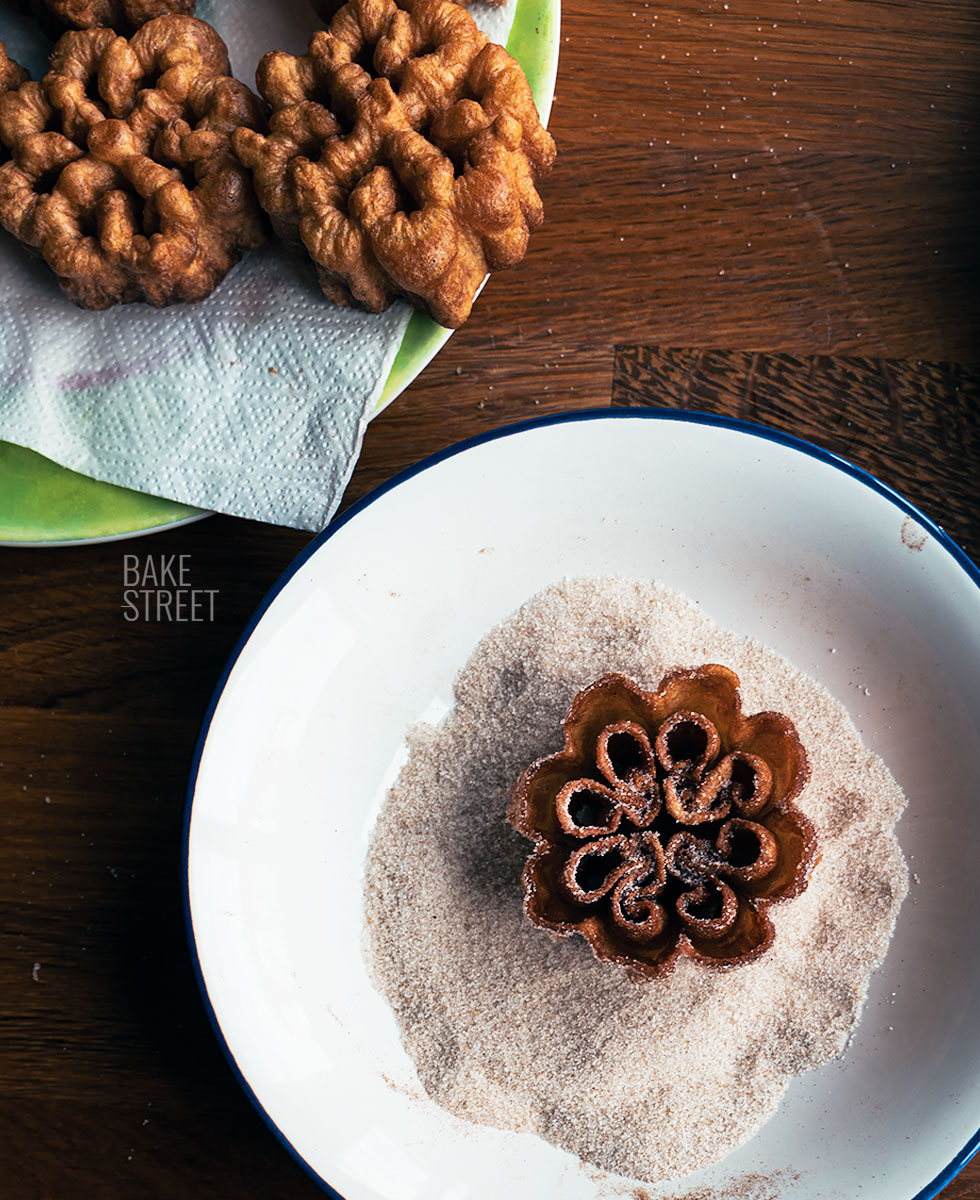 This preparation is known as fried flowers, flowers of La Mancha, flor de Lis, floretas, florines, flowers of Carnival, flowers of Calatrava, nardos (in Jaén) or flowers of Entroido (Galicia and Portugal).
There is even a variant of flowers from La Mancha also known as hojuelasand orejetes, but unlike the flowers, these are not made with an iron mold, but with a cane.
In Indonesia and Malaysia you can also find a variety of fried flowers, these are called Kue Jembang Goyang, a specialty of the Betawi cuisine. Unlike the recipe we are going to prepare, these are made with rice flour, coconut milk and fried in palm oil. The mold used to make them is a 7-shaft wheel, very similar to the one we use.
What is the significance of the flower mold?
The most widespread belief is that the wrought iron molds represent insignia of religious and military orders, but after analyzing some of them, it is not so clear. It is possible that these forms served to distinguish the product, the sweet elaboration, in the street markets or were a way to represent a family lineage. As it happens, for example, with the irons-marks of the cattle currencies with which the cattle are marked.
These molds used to be inherited from generation to generation, they were part of the family legacy and memory.
There is a great diversity of forms that have evolved over the centuries, but the common denominator of all of them is that they are forged in iron and hammered on an anvil, tempered in forges. It is possible that each village, each family, ordered their own iron to make flowers according to some symbolism that was close to them, possibly religious, since these flowers were made and consumed during Lent, Easter and Carnival.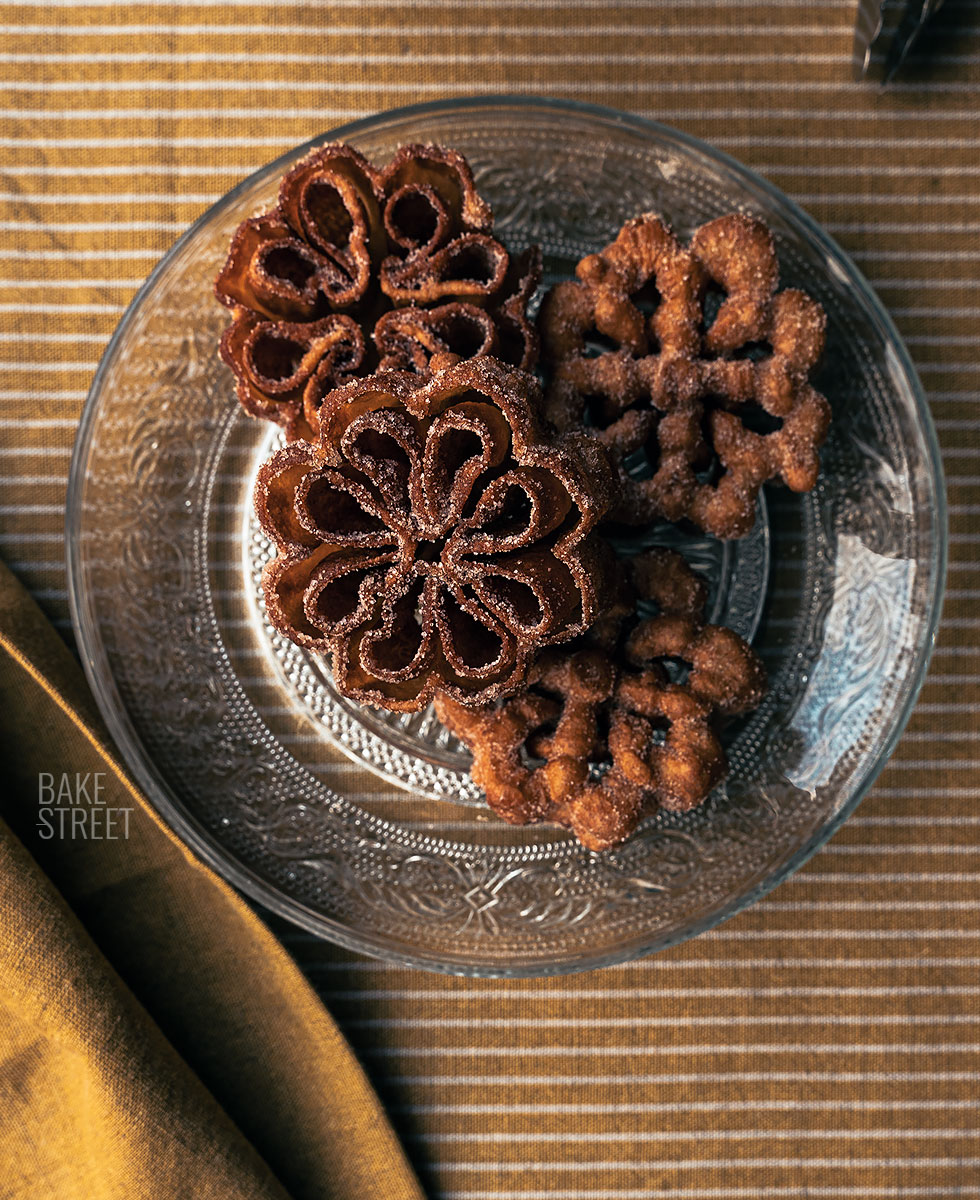 In the case of the Jews, this type of fried sweets were typical of the festival of Chanukah (festival of the lamps) and Purim (festival of Queen Esther).
In my case, I do not have such a precious or striking history with the mold…. It is a pity that this kind of utensils and customs are being lost. The good thing is that we do have many facilities to be able to acquire them and enjoy these recipes, with so much history, in our homes.
Recipe Carnival Fried Flowers
Ingredients for 16-18 flores
BATTER:
3 large eggs (about 160-165 g)
110 g pastry/cake flour
80 g water or whole milk, gives very good results with both ingredients
20 g aniseed liqueur (mine is also flavored with lemon)
FOR FRYING AND COVERING:
1 liter of sunflower oil for frying
sugar + cinnamon powder, for covering
MATERIAL WE WILL NEED:
saucepan or medium pot
digital kitchen thermometer
Instructions
Prepare the batter for the fried flowers.
In a bowl add the eggs together with  water and aniseed liqueur. Whisk very well until the mixture is homogeneous.
Add the flour, sifted, and mix again until we obtain a uniform and homogeneous batter.
Set aside and let stand while heating the oil.
Prepare the oil for frying the flowers.
Incorporate the oil in a pan or pot not too big, it is ideal to not have to use a lot of oil. It is important that it fits the flower mold and the fried flower (when we remove it from the mold). The oil should completely cover the florón.
Place over medium-high heat, with the floret in the oil from the beginning so that it reaches 365ºF/185ºC.
Once it has reached temperature, remove the mold from the oil and drain in a quick motion over the pan (be careful not to splash with it and burn yourself). Put the mold in the batter and leave it for 2-3 seconds. It is VERY IMPORTANT not to cover the mold with the batter to the edge, we must leave a few millimeters without reaching the top (otherwise, we will not be able to remove the flower when frying).
Remove from the bowl, drain slightly and place in the pan of hot oil. Hold the mold without it touching the base of the pan while frying the flower. At the beginning, there will be a big boil in the oil, after about 12-15 seconds, raise the mold and see if the flower comes off. It will do it almost with total security, in case it does not do it, we can help the flower with a wooden utensil to detach it.
While the flower is frying, leave the mold in the oil to keep it warm.
When it acquires a golden color, turn it over and leave it for a few seconds, turn it over again, drain the excess oil and remove it.
Place the flower on a dish with absorbent kitchen paper.
Repeat the same process with the rest of the batter. When we have little quantity left, we will have to transfer it to a container with another format, glass type, to be able to submerge the mold and to take advantage of the batter to the maximum.
Let the flowers cool completely.
Coat and serve.
Once the flowers have cooled, coat them in cinnamon sugar.
Put 100-120 g of sugar together with 1-2 teaspoons of cinnamon powder, mix with your hands to distribute evenly.
Coat the fried flowers with the sugar mixture, making sure to cover them perfectly.
Place on a tray, platter or container where we want to serve or keep them.
Notes
The batter for the flowers can be made with water or milk, in both cases we will obtain good results. Personally, I like them better with milk (although in the video you can see them with water).
If we do not have or want to use aniseed liqueur, we can infuse the milk/water with 2 teaspoons of anise seeds and the peel of a lemon, and replace the amount of liqueur with water/milk. Place over medium heat and let it come to a gentle boil, remove from heat, let it cool and refrigerate until the next day to infuse. Before use, strain to remove the skin and seeds.
Depending on the size of our mold, we will obtain a greater or lesser amount of fried flowers.
We can use sunflower oil or mild olive oil to fry the flowers, the ideal is to use a variety of oil that does not transfer flavor.
If the mold is not hot enough, the batter will slide out of the mold instead of sticking to it. It is very important to fry with hot oil, without smoking, so that the batter fries well and the flowers are not greasy once they have cooled. In addition, they will be much crispier and their texture will be maintained with the passing of the hours/days.
If shortly after frying they become soft, it is because we have not fried them long enough and the batter has been undercooked.
In my case I have coated them with sugar and cinnamon, but they can also be sprinkled with powdered sugar or covered with honey. Your choice ;)
They can be kept for several days in an airtight container.
As you may already guess, I am going to encourage you to prepare these Carnival fried flowers. It is a very simple recipe to carry out, we only have to mix the ingredients (easily available in every house) and fry them. It is true that in order to make them we need the mold.... But nowadays it is very easy to get and at a very affordable price.
I can't wait to see yours and to hear how much you liked them!
Lots of love,
Eva
Sources: Sabores de Sefarad
Archivado en