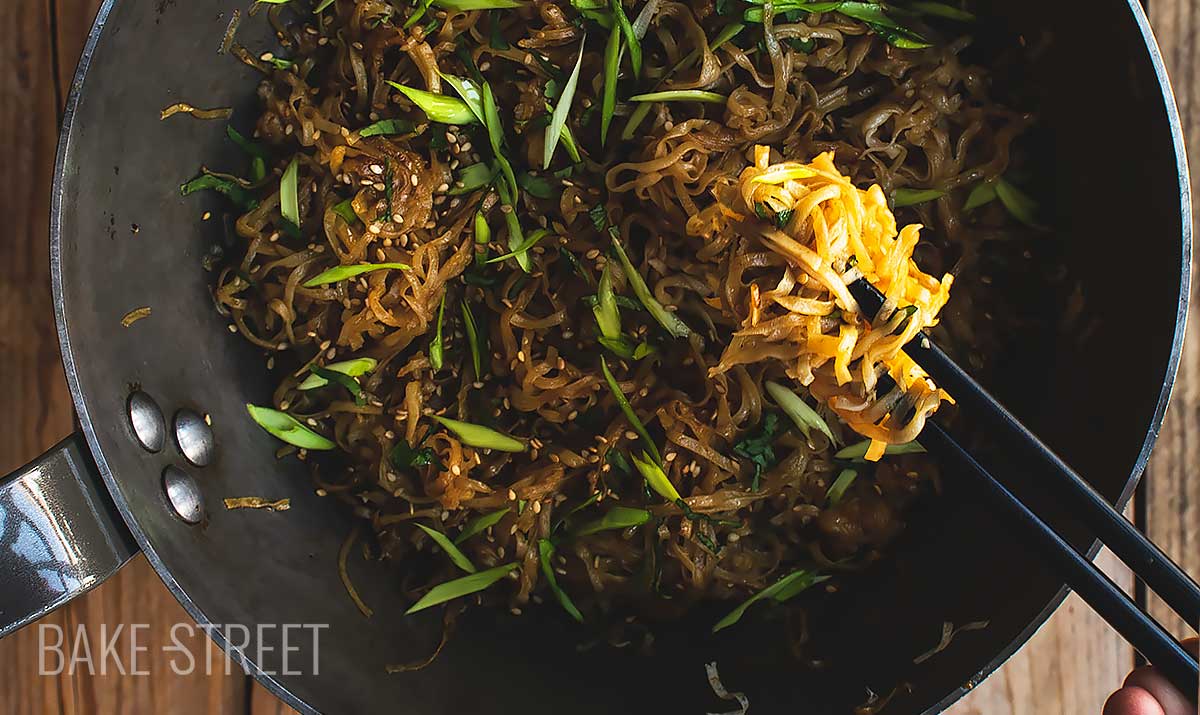 Pan-fried hoisin honey noodles
Este post también está disponible en Spanish
How many days we go without time, but we want to eat something delicious. Many, many, I'm sure. It is true that it is not bad to eat a good sandwich of Serrano ham from time to time, or tuna with red peppers … Oh, that's good! But with this cold, at least in my case, I almost prefer to eat hot dishes. Today I'm going to leave you a solution to solve a delicious meal in 20 minutes, Pan-fried hoisin honey noodles.
At home we love noodles, we consume them a lot. Whether mixed with vegetables, meat or seafood, in soups, ramen or the way I leave you today, fried. In fact, in my pantry there are always several types of dried noodles. Some time ago I also make homemade noodlesand keep them in individual packages in the freezer. That way whoever wants to prepare them, just take them out and cook them as you prefer. Well, it's always my turn to make them, I'm not going to lie… hahaha.
Make homemade noodles.
If you like to make pasta at home, making fresh noodles will be just as fun and easy. It is not a laborious process and the result is spectacular. You already know that when we prepare everything at home, it has many good things. Not only are we part of the whole process, we enjoy it… If not that, we know all its ingredients!
What will we need to do our noodles? Not much.
Flour, eggs, water, salt and our hands. Easy, right? Without long and laborious processes. To see how to make them at home, keep an eye on this post where I tell you everything.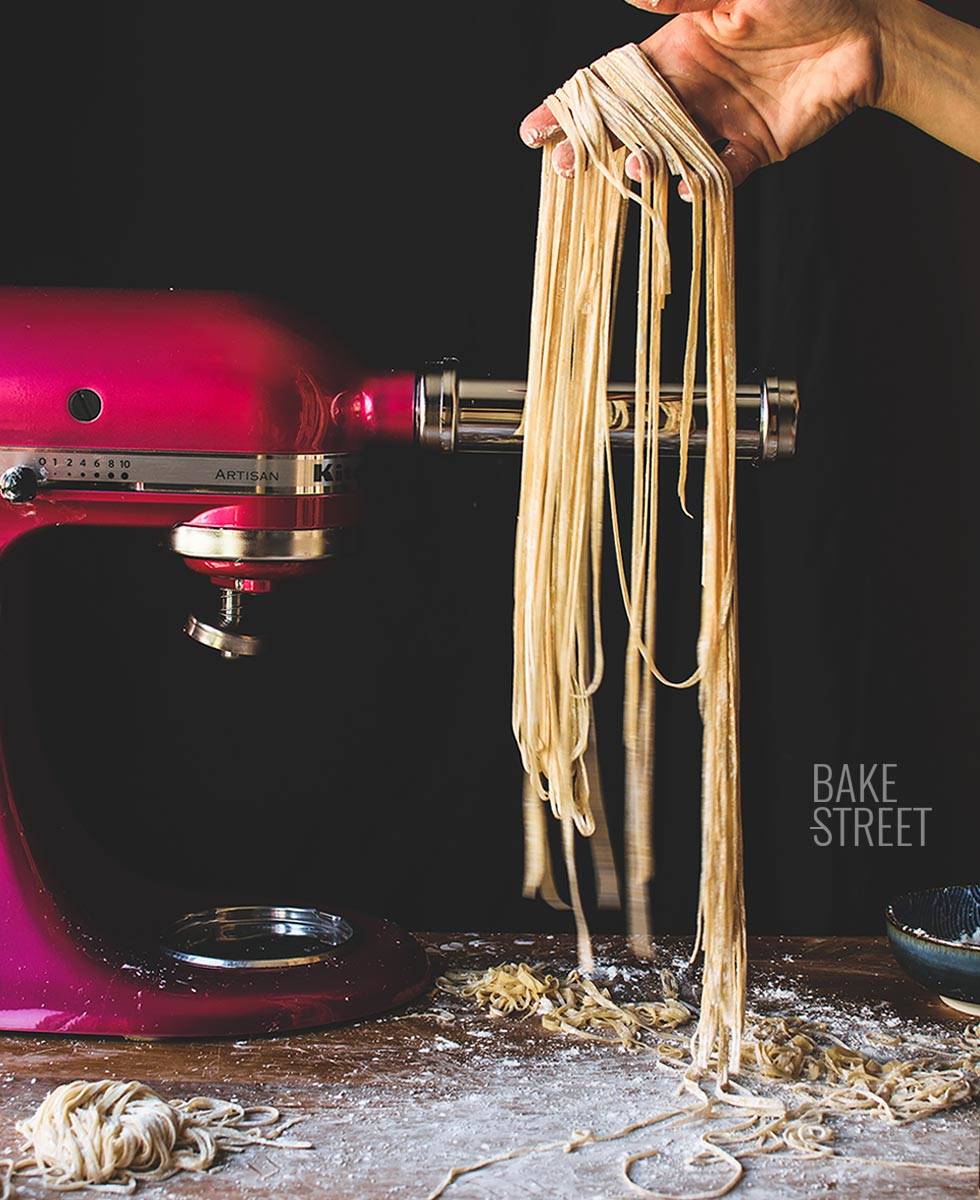 It is true that we can help ourselves with some tool to facilitate the process, but with a simple roller and sharp knife, we can make them without problems. In my case I have KitchenAid attachmentwhich is incredibly comfortable and fast. But it's not essential. If you like making pasta, noodles… You'll get a lot out of it.
Musical break! You know that from time to time… I have to do it. Also, I want to share with you this song that I love and I think is perfect to start this Monday. The group Pato Watson and the song "I Love You" Link to Youtube 😉
Preparing pan-fried hoisin honey noodles.
The recipe I've followed is from a blog that I love and visit very often. He prepares some great recipes and with a wonderful result, The Woks of Life. To make these fried noodles we'll need a wok or a high iron pan, a very simple sauce, some boiled noodles and about 10 minutes to get them ready.
We will have to fry them until we get a very crunchy result, then add the sauce and cook them until they caramelize… Wonderful, delicious and perfect to prepare either at noon or for dinner. Before presenting them, we will only have to decorate them with laminated scallion and toasted sesame. They don't need anything else to make us smile while we eat. We must not forget that, many times, less is more.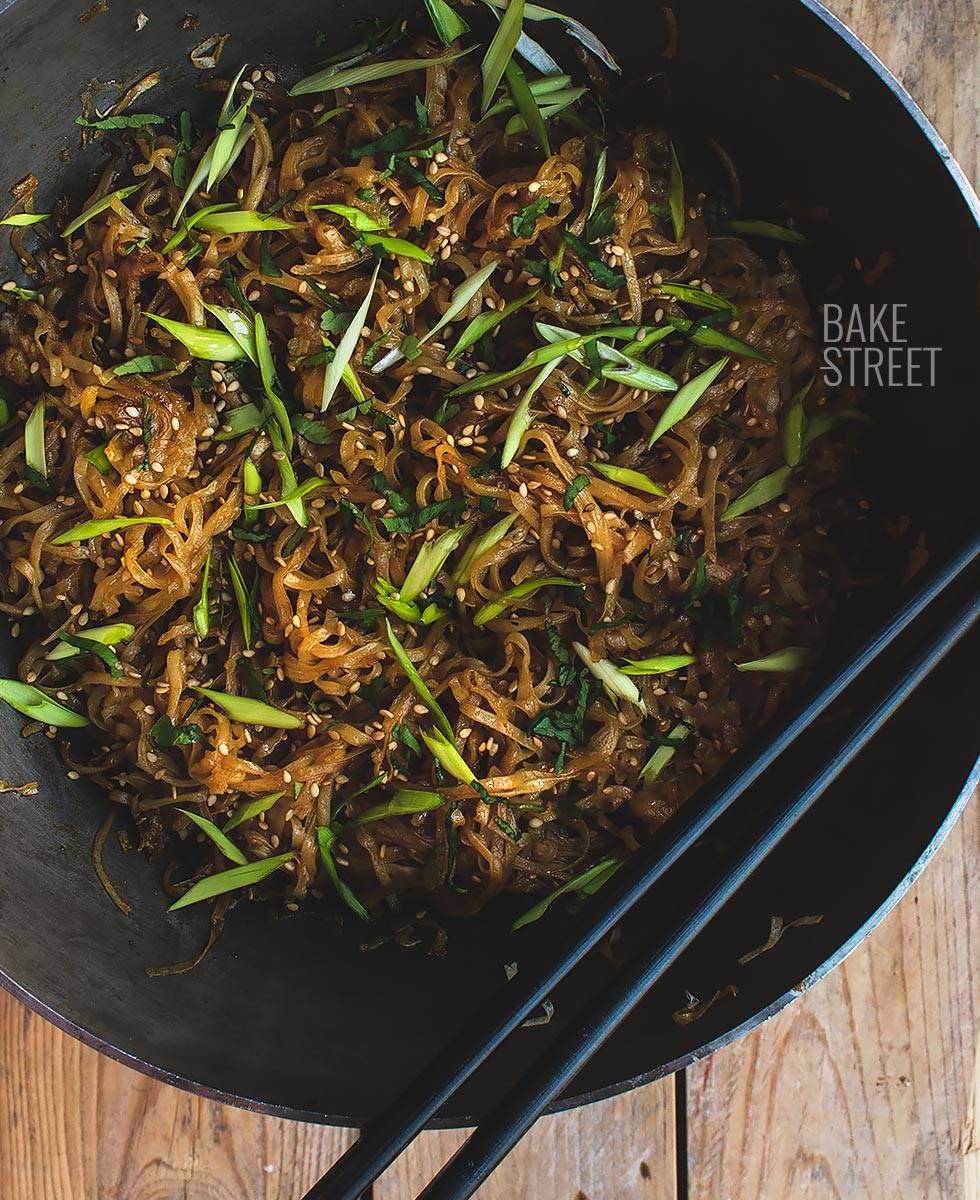 Ingredients for 2 serves
225 g fresh or dried egg noodles, in this link you can see how to make them homemade
1 1/2 Tbsp Hoisin sauce
1 Tbsp honey
2 tsp soy sauce
3 cucharadas de aceite de oliva
1/2 tsp sesame oil
1/2 Tbsp shaoxing wine
pinch of black pepper
1/4 tsp salt
sliced scallions to taste
toasted sesame to taste
fresh basil (optional)
Instructions
Prepare the sauce and cook the noodles.
In a bowl, mix the honey with the hoisin sauce, soy sauce, sesame oil, salt, black pepper and shaoxing wine. Stir well to homogenize, set aside.
Cook the noodles. Place a pot with water at medium heat and let it boil, turn off the heat. To cook the fresh noodles we will submerge them in the boiling water during 1 minute, in case of using dried noodles we will introduce them in the boiling water during 3 minutes.
Drain the noodles, rinse with very cold water and leave to drain.
Fry the noodles.
Add one tablespoon of olive oil in a wok or high iron pan/skillet. In my case I have used this Buyer skillet.
Distribute the noodles, previously boiled, over the entire surface of the wok or frying pan. Ideally they should be arranged in a thin layer. Tilt the frying pan to distribute the oil over the entire base.
Cook for about 5 minutes, the noodles should be crunchy.
Turn the noodles while shaking the frying pan and add another spoonful of oil letting it fall down the walls of the frying pan. In this way we will cook the noodles on both sides obtaining a crunchy result. We must fry the noodles well so that when adding the sauce, this caramelice.
Add the last spoonful of oil along with all the sauce we had reserved. Carefully mix the noodles and cook for 3 minutes. These should be completely covered by the sauce and acquire a caramelized result.
Remove from heat, decorate with scallion, chopped basil and toasted sesame.
Serve immediately.
Notes
The cooking time for these noodles will depend on the end use we are going to give them. If you are going to make fried noodles, cook them in boiling water for 1 minute and then sauté them for 6-8 minutes. If we are going to cook them to season them with vegetables, meat, sauces.... In that case, cook for 4 minutes. Then cook/sauté for 1-2 minutes with the rest of ingredients.
Due to the use of fresh eggs to make them out, we will not be able to leave them refrigerated for more than 24 hours. If you want to postpone their use, I recommend freezing them in zip bags (well covered with cornstarch) for a maximum of 1 week. We'll cook them directly from the freezer.
These fried noodles should be eaten just after cooking. It's when they're at their best.
No doubt an ideal dinner for this week can be these Pan-fried hoisin honey noodles. I don't know if I told you before, I'm a hoisin sauce addict. So much so that I can eat it with spoons... I promise.
When I make Gua Bao (recipe only available in Spanish by the moment) at home, the sauce I always accompany them with is this one. Everyone has their own seasoning, but mine is always this one. I find the taste wonderful. It's also true that I've tried several and the one I like the most is this Hoisin sauce (I use the Lee Kum Kee brand).
I wish you a wonderful start to the week!
Big hugs,
Eva
This post contains affiliated links
Archivado en