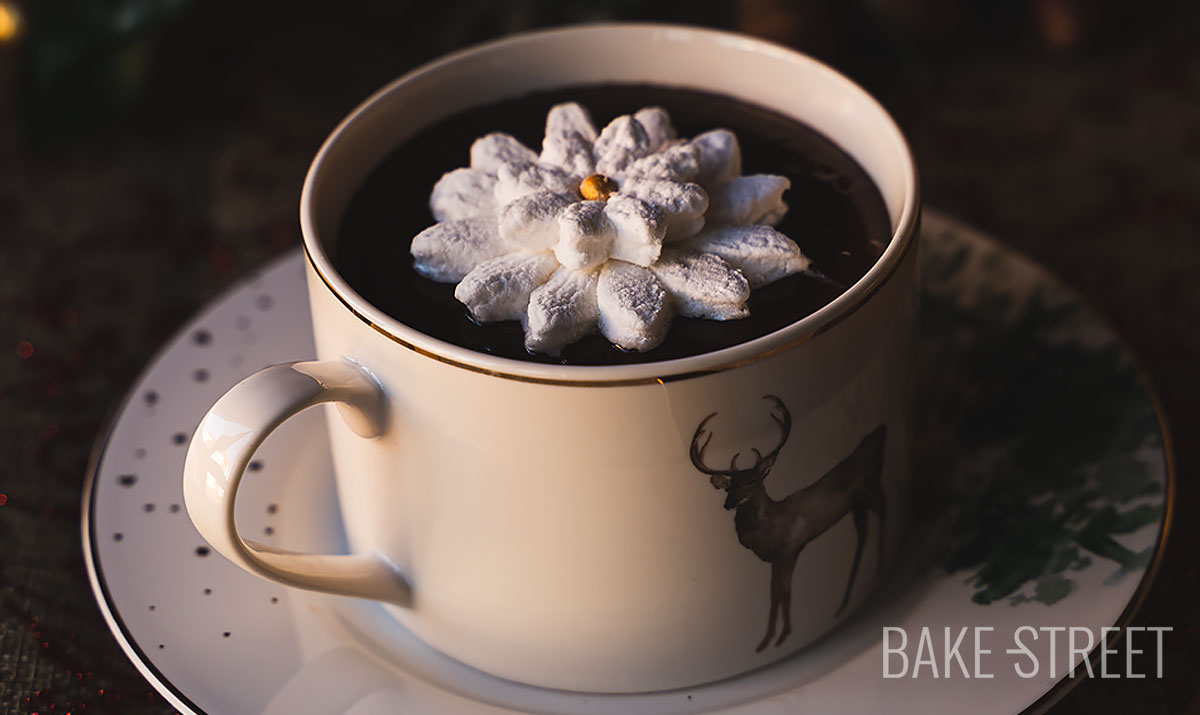 How to make blooming marshmallow flower
Este post también está disponible en Spanish
When I was little I liked goodies a lot, I think like the vast majority of children. But it's one of those things that, as you grow up, you lose the pleasure for them. You go from loving them to feeling total indifference? Except with marshmallows. I think I'm going to like this for the rest of my life. Today I leave you a very simple preparation that, despite not being children, we can still enjoy a lot. How to make blooming  marshmallow flower.
I'm sure you remember the famous flower that made a few years ago Dominique Ansel for his bakery in Tokyo. It went all over the social networks, several times. And it is completely normal because the idea was very creative and original. A flower made of marshmallow with a chocolate base that holds its petals. When placed over a cup of hot chocolate or even coffee, this flower blooms opening its petals (and thanks to the chocolate that holds it, it melts).
Today I want to recreate that elaboration so you can enjoy it during these cold days. Either by yourselves, to cheer up that inner child inside you, or with your children, nephews, nieces, grandchildren…. And, of course, we can always accompany that cup of hot chocolate. I had this recipe ready to publish it before Epiphany, but due to complicated circumstances that, unfortunately, we cannot avoid, I had to postpone it. Still, I hope you enjoy it.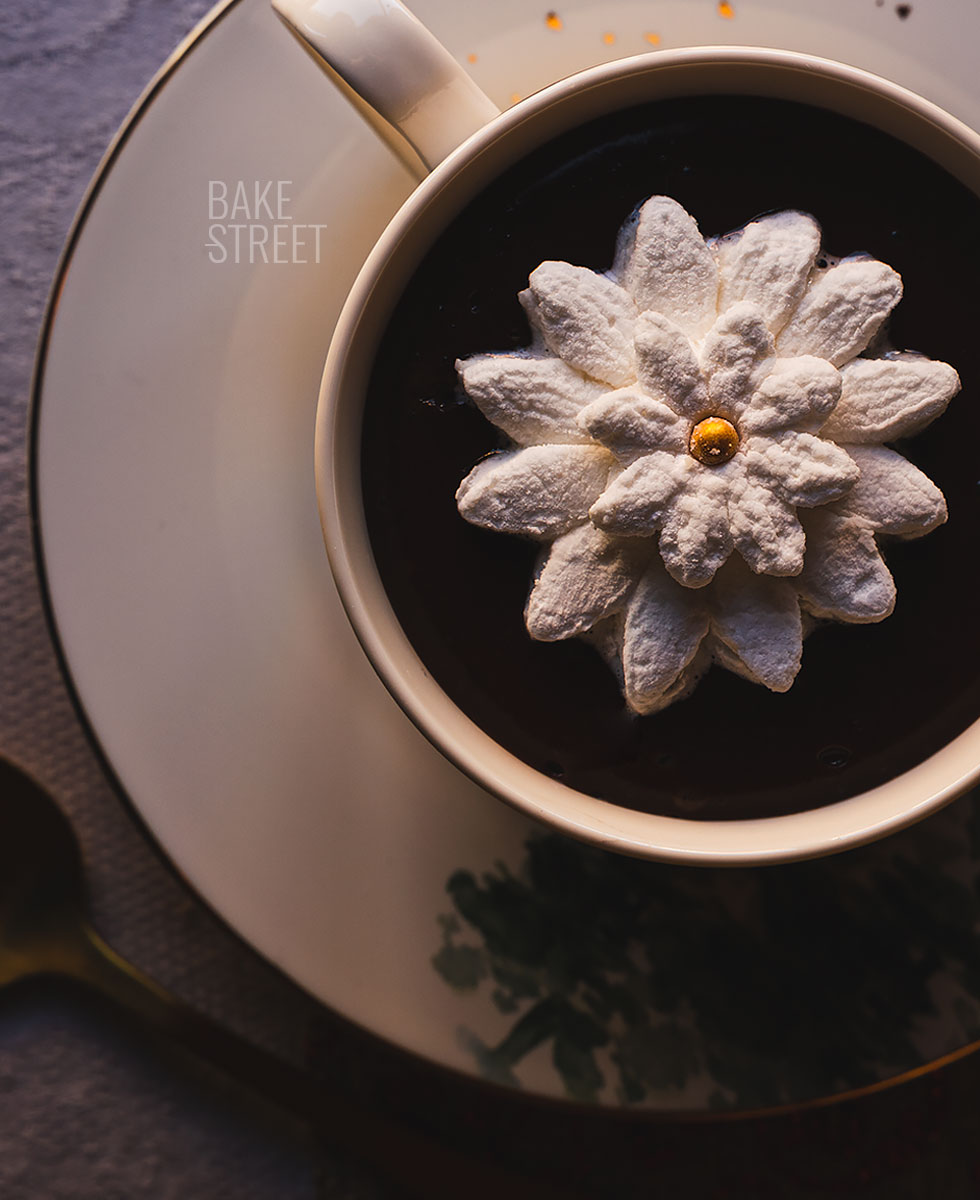 Marshmallow origin.
The marshmallow candy, although we may think that it is a more or less recent creation, originated in ancient Egypt. It was a sweet treat made with honey and thickened with the sap of the Marshmallow plant, also known as marshmallow, altea, bismalva or hemp grass.
According to the book Viable Herbal Solutions:
"Nineteenth-century physicians extracted the juice from the roots of the marshmallow plant and cooked it with egg whites and sugar, then turned the mixture into a frothy meringue that then hardened, creating a medicinal candy used to soothe children's sore throats. Eventually, advanced manufacturing processes and improved texturizing agents completely eliminated the need for the sticky root juice. Unfortunately, that eliminated the candy's healing properties as a cough suppressant, immune system stimulant and wound healer."
Making marshmallows today.
Until the middle of the 19th century, marshmallow candies were made from the sap of the Marshmallow plant. Today, this sap is replaced by gelatin, resulting in a mixture of corn syrup or sugar, gelatin, gum arabic and flavorings.
Candy and jelly bean manufacturers needed to find a new and faster way to make marshmallows. As a result, the "starch mogul" system was developed in the late 19th century. Instead of making marshmallows by hand, marshmallows were made in molds made from modified corn starch, similar to how jelly beans are made today.
At the same time, the marshmallow root was replaced by gelatin, allowing the marshmallows to maintain a "stable" shape.
In 1948, marshmallow maker Alex Doumak began experimenting with different manufacturing methods to make marshmallows. He was looking for ways to speed up production and discovered the "extrusion process," which revolutionized marshmallow production. He could make them by channeling the fluffy mixture through long tubes and cutting its tubular shape into equal pieces.
Peeps Marshmellow candies.
In 1953, the Just Born candy company bought the Rodda candy company. The latter, created a handmade marshmallow chick and Bob Born of Just Born loved the look of it. A year later, Bob Born made a machine that mass-produced marshmallow chicks, and registered it as a Peeps.
Soon it became the largest marshmallow candy manufacturer in the world. In the 1960s, it began making Marshmallow Peeps from seasonal products; Christmas trees, gingerbread dolls…. In the early 1980s it launched Marshmallow Peeps Bunny.
Originally, marshmallows were produced in pink, white and yellow. It was in 1995 that the lavender color was introduced. And in 1998, Blue Peeps were created for Easter.
In 1999, vanilla-flavored peppers were produced and a year later, a strawberry flavor was added. In 2002, a chocolate Peep was introduced.
Today, Just Born produces more than one billion individual Peeps per year. In a year, more than 700 million Marshmallow Peeps and Bunnies are consumed by men, women and children across the United States.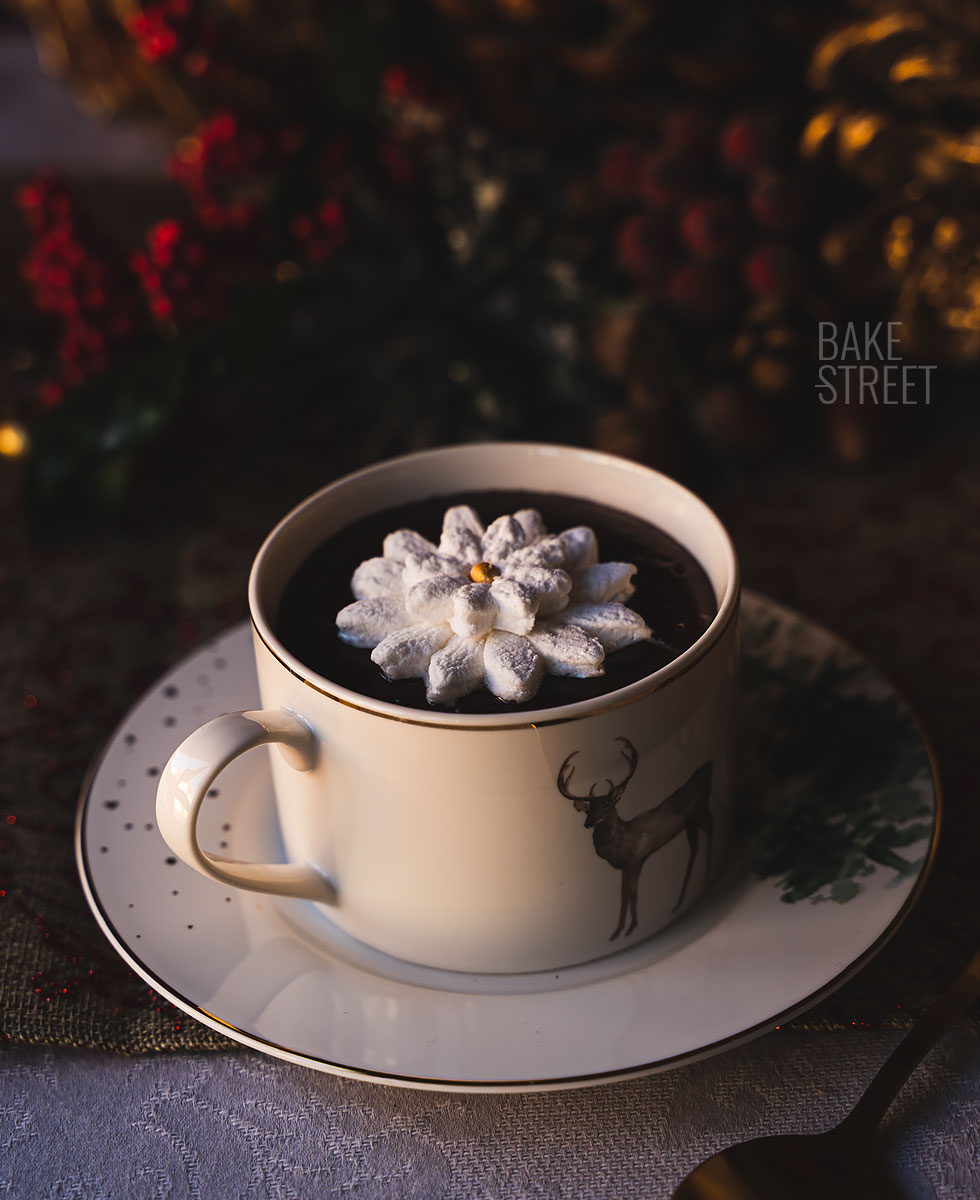 Marshmallow Fluff's origins date back to 1917.
Prior to World War I, a Somerville, MA, man named Archibald Querymanufactured it in his kitchen and sold it door-to-door, but wartime sugar shortages forced him to close. When the war ended, Mr. Query already had another job and was not interested in restarting his former business, but he was willing to sell the formula.
Durkee y Mower pooled their savings and bought it for five hundred dollars. Having just returned from France, they renamed their product " Toot Sweet Marshmallow Fluff ", but the term " Toot Sweet " did not remain on the label for long. The "no customers, but plenty of prospects" situation did not last long either.
An early receipt still on the company's books records the April 1920 sale of three one-gallon cans to a New Hampshire resort. Price at the time was $1 a gallon. The door-to-door trade gained a reputation and recognition among housewives, a fact that eventually put Fluff on the shelves of local supermarkets.
The retail trade expanded from that time onward to the point where, by 1927, they were advertising prominently in the Boston newspapers. In 1929 they moved to a factory on Brookline Street in East Lynn, tripling their floor space to 10,000 square feet. They also merged with the Cream of Chocolate Company, maker of Rich's Instant Sweet Milk Cocoa, and Durkee-Mower entered the hot chocolate business.
Although they had done well enough in the depression to buy a two-story factory…
In the year 1934, with World War II came supply shortages. Just like the one that put the original Fluff producer out of business. The existing supply of sugar was rationed to the companies that needed it. Not wanting to stretch their supplies by altering Fluff and Sweeco recipes, which would have diminished their quality, Durkee-Mower was forced to cut production considerably.
When industrial sugar rationing ended in 1947, the company prepared for another expansion. They began by redesigning the product's packaging. A survey of a large sample of New England housewives told them that the experts, their customers, thought the best jar for Fluff would be short enough to fit easily in the refrigerator for leftovers (Fluff did not need refrigeration), and have an opening wide enough to hold a spoonful.
In addition, the jar was made with a dotted surface above and below the label to make it sturdy and easy to grip. The longevity of the jar in a rapidly changing market is a tribute to its success. This same design for the basic jar is still being manufactured and used today.
We will elaborate the modern recipe, to call it somehow, and we will give it the shape we want. In this case a blooming marshmallow flower, but this same recipe can be used to carry out marshmallows of greater thickness if we use a narrower and taller mold. To serve them we can prepare a hot chocolate, in the blog you have two recipes; this one I made to serve with churros and this other one of gingerbread hot chocolate.
Recipe blooming marshmallow flower
MARSHMALLOW:
120 g water
120 g corn syrup (it can be substituted by Golden syrup or even homemade, recipe in this link)
150 g sugar
10 g gelatin (powder or sheets)
pinch of salt
FOR DECORATING:
sprinkles
60 g white chocolate
FOR DUSTING:
80 g powdered sugar
20 g cornstarch
MATERIAL WE WILL NEED:
saucepan
kneader/mixer or hand mixer or electric hand mixers
digital thermometer
rectangular tray 25 x 38 x 2,5 cm mine is from KitchenAid
spatula or scraper
flower cutters
silpat (optional)
silicone semi spheres mold (optional) 
Instructions
FIRST DAY
Prepare marshmallow.
Grease a rectangular pan with butter and sprinkle with powdered sugar. Set aside.
Hydrate the gelatin with very cold water for 20 minutes before working with it.
In a saucepan add 60 g of water together with the corn syrup, sugar and salt. Place over medium-high heat and bring to a boil.
Meanwhile, add the other 60 g of water to the bowl of the mixer along with the hydrated gelatin and set aside.
Once at this point, reduce to medium-low heat and let it heat until it reaches 240ºF/116ºC. To do this, we will use a digital thermometer.
Remove from the heat and proceed to pour the mixture in a thin, continuous stream over the gelatin while the whisks mix at the lowest speed.
Once we have added all the mixture, increase to high speed without reaching maximum speed and mix for 12 minutes. The mixture should triple its initial volume.
During the last minute of mixing, add the vanilla extract.
Pour the mixture into the prepared pan and spread it over the entire surface.
With the help of a scraper, smooth the surface. We must try to do it quickly because the mixture cools very quickly and, if it does, it will not allow us to smooth the surface.
Sprinkle the surface with the powdered sugar and cornstarch mixture.
Let stand for 12 hours at room temperature. It is not necessary to cover the tray with film.
SECOND DAY
Cut marshmallow.
Sprinkle a silpat with the mixture of powdered sugar and cornstarch.
Turn the tray with the marshmallow over the silpat and remove the marshmallow, it will come out very easily.
Sprinkle this side with the powdered sugar mixture and proceed to cut the flowers.
Place a cutter over the marshmallow and press to cut it, but without pressing the ejector. Remove the marshmallow from the sides, in case it has not been cut, with our hands.
Use the ejector to remove the flower, set aside.
Repeat the same process with different cutters, varying shape and size.
Assemble the flowers.
Place a small flower on top of a large one, with the same format, and press in the center to join them. Due to the sticky texture, we will be able to join them without problems.
Cover the outside with the powdered sugar mixture, remove the excess and set aside.
Repeat the same process with the rest of the flowers.
If desired, we can place a golden or pearl sprinkle in the center.
Terminamos las flores de marshmallow.
Melt white chocolate in a bain-marie and pour into a piping bag.
Pipe small quantities of white chocolate into the hollows of a silicone mold with half spheres.
Spread the white chocolate on the surface of these spheres.
Place the marshmallow flowers, closed (as far as the flower allows) in the holes with chocolate. Press gently to help them stay inside the cavities.
Refrigerate the mold with the flowers for 1 hour.
Serve.
Carefully unmold the flowers and store them in a glass container or wherever you are going to serve them.
Prepare a hot chocolate, pour into a cup and place a marshmallow blossom in it.
We enjoy watching it open... And taste it.
Notes
If you don't have corn syrup, you can prepare your own syrup or Golden syrup. In this post I tell you how to do it.
It can also be done with honey, only this ingredient will add flavor.
We can use powdered gelatin or gelatin sheets. Each sheet of gelatin weighs 2 g, so we will have to use 5 units. In any case, I advise you to weigh them in case there is a variety of gelatin sheet larger than the one found in department stores.
I have never done this recipe with agar agar, so I do not know if it can be elaborated with it.
Gelatine must always be hydrated in cold water, if we do it in warm or hot water, this one will dissolve and we will not be able to catch it.
The syrup we prepare must reach 240ºF/116ºC. Be patient and do not put the fire high to speed up the process, in this way we do not favor that the water evaporates correctly and the sugar dissolves well.
Once we integrate the syrup to the gelatin, we will beat at high speed, without reaching the maximum to assemble the marshmallow. The mixture will triple its volume.
Do not beat longer than specified, otherwise the mixture will cool too much and we will not be able to spread it in the pan.
It is important to always cover the marshmallow well with the powdered sugar and cornstarch mixture since it is a very sticky preparation and this mixture will help us to handle it.
Respect the resting time to allow it to solidify.
We can use any type of cutter to form the marshmallows.
This same recipe, if we pour it into a smaller mold, will allow us to prepare the famous marshmallows (much larger in size). We can cut them into squares.
To close the flower I used a silicone mold with a chocolate base. But you can use another method to contain them if you want.
The drink we use to bloom the flower must be very hot. That way, the chocolate will melt quickly and the flower will bloom faster.
We can color the marshmallow batter with food coloring, gel or paste. Incorporate it in the last two minutes of mixing.
They can be flavored with whatever you like; mint, blackberries, strawberry, caramel, banana....
Keep them in an airtight container and coat them with a mixture of powdered sugar and cornstarch.
From here I wish you a wonderful beginning of the year. I hope you have been able to enjoy a wonderful holiday season, with lots of health and close to the people you love the most (even if it is virtually).
Any time is a good time to enjoy a hot chocolate with blooming marshmallow flower and, even more so, with the cold days that are coming.
Lots of love!
Eva
Sources: Marshmallow Fluff, Leskanaris
Archivado en