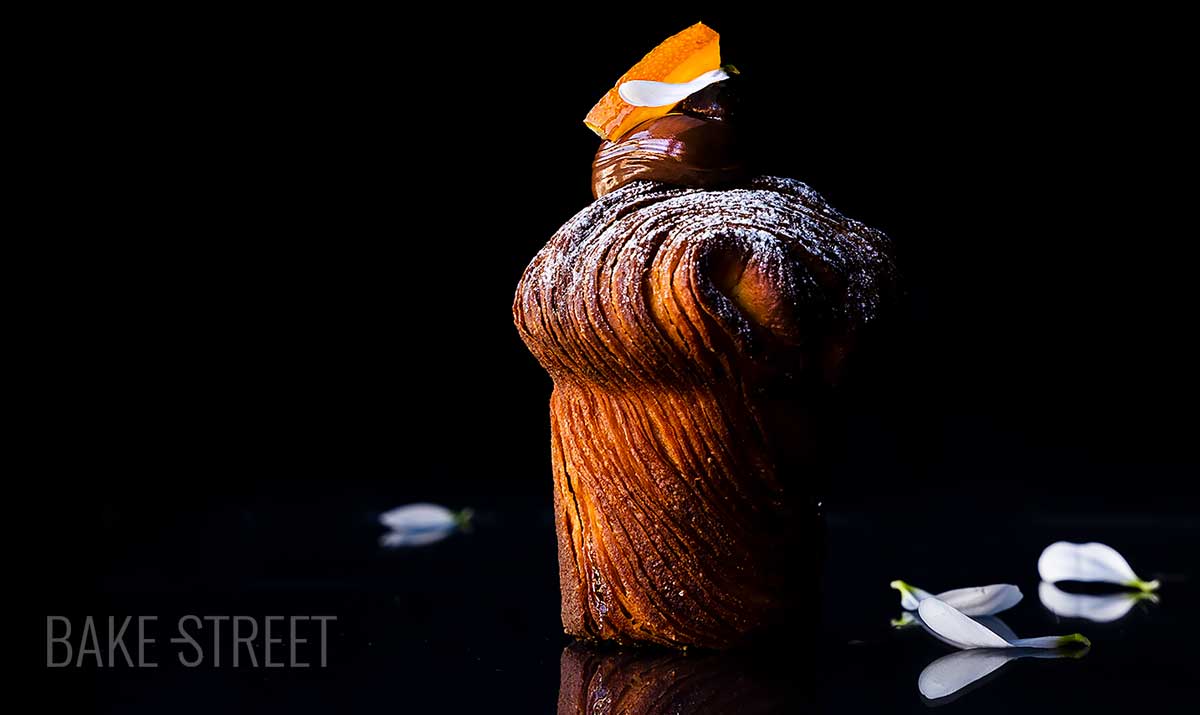 How to make an easy Cruffin
Este post también está disponible en Spanish
This last week has been very intense for me. Those of you who follow me on social networks will already know because I've shown you on several occasions, hahaha. But for those of you who haven't, I want to tell you that we are one more in the family! We have a beautiful 2 month old puppy that has us completely in love. His name is Björn, his name means bear in Norwegian, and if you want you can see him in this account I created for him. I can't help it, it's all love… I'm crazy in love with him! Now let's see what I've got to show you today, as I'm getting distracted by this chocolate. I'll leave you with How to make an easy Cruffin.
Maybe you think why simple? It looks very laminated something that, directly, makes us think of a complicated process. Well, it is right there, in the process of "laminating" (which is not really) where the simple part of this elaboration lies.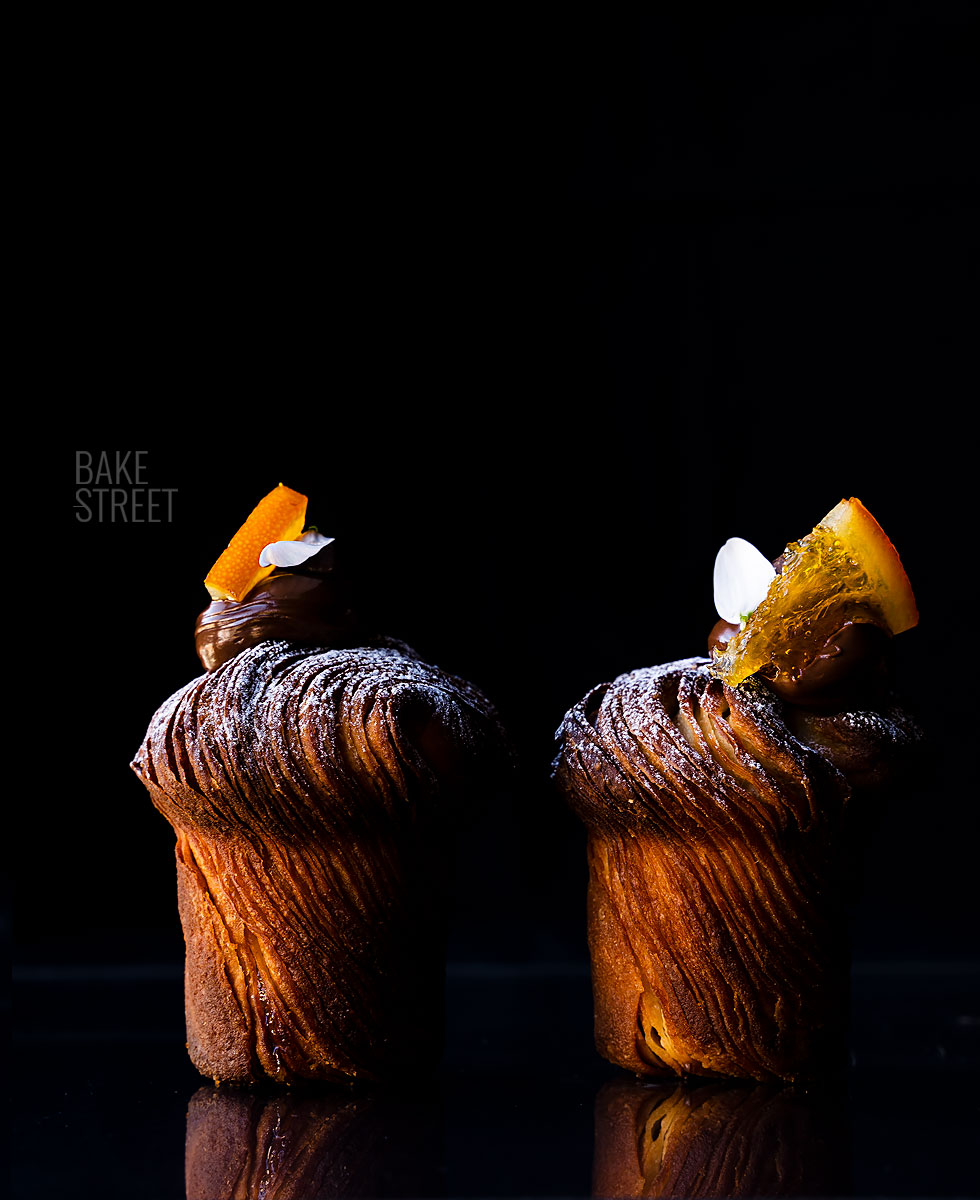 What is a Cruffin?
I'm sure for the vast majority of you this pastry has no need for introduction. But it never hurts to make a little presentation about what we're going to make.
Cruffin is a hybrid of croissant and muffin, that is, a dough that would be used to make a croissant, but that is rolled up on itself and placed on a muffin tray to be baked. This is how they achieve their characteristic and striking appearance.
Then they are filled with jam, creams, curds, ganaches… And they are decorated on the outside, usually crowning the top. There are an endless number of truly original fillings to enjoy in a cruffin.
Who was the creator of this elaboration?
Although today we can find it in a lot of bakeries, its creator was Kate Reid from Lune Croissanterie, (their web) in Melbourne, Australia in July 2013.
The Cruffin was very popular since its appearance and was later recorded by Mr. Holmes Bakehouse, San Francisco in November 2014. Since then, there have been multiple variations of the Cruffin around the world.
Apparently, in March 2015, Stephen (Bakehouse pastry chef) claims that the store was robbed and that the recipe folders containing the making of the Cruffin and 230 other recipes were stolen. Other things like money, baking equipment, an iPad, computers… were not taken.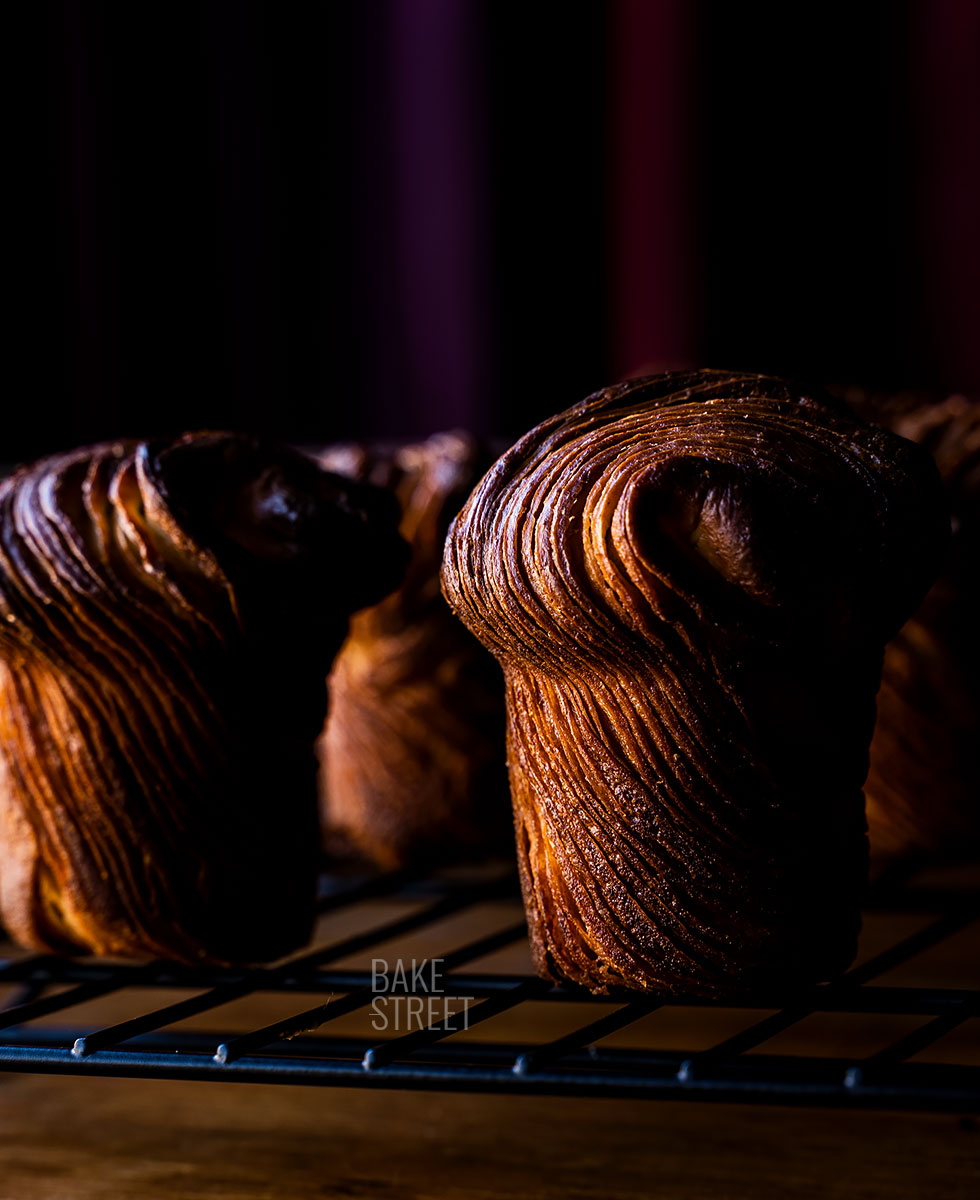 What makes this elaboration easy?
As I mentioned above, a cruffin is a mixture of croissant and muffin. Which means that to make it we need to make a laminated dough with butter. This would be the original and traditional format to do it.
But, there are other methods to do it, only the result is not the same. By this I mean that we will get a beautiful rolled dough, but the inside will NOT be like a croissant. On the contrary we will obtain a laminated dough, but more dense in terms of its structure.
To make them we will use the same process used to make the Sfogliatella Riccia. We will prepare a dough, in this case raised to provide sponginess, and we will let it rest in the fridge overnight. The next morning, we will divide the dough into pieces so that it can be stretched more easily using a pasta machine.
Now comes the important step, the one that will give us the lamination, but it will not force us to laminate the dough. We will butter the surface at room temperature, but not melt it. If we do, it will integrate into the dough and we won't get a lamination.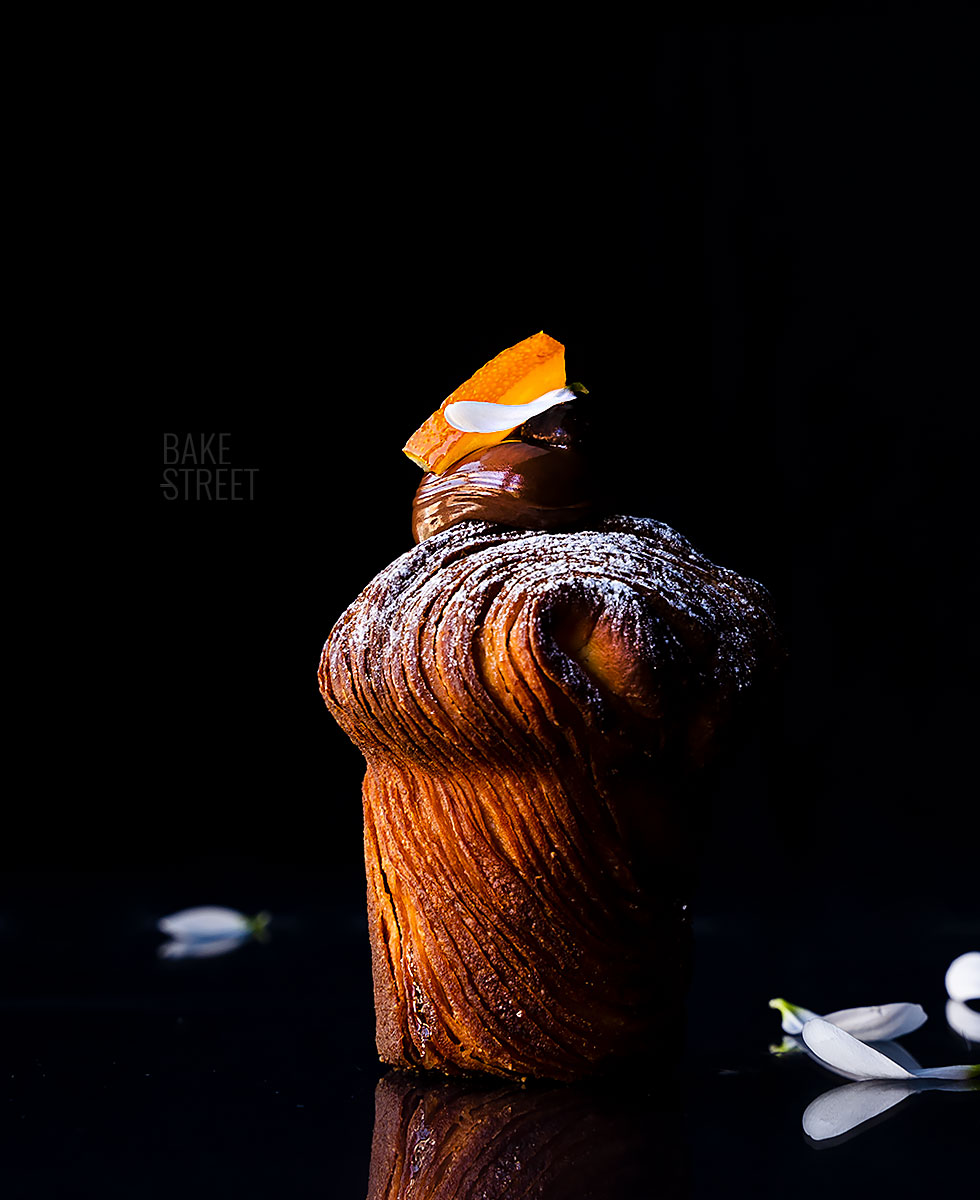 Then we roll up the dough on itself and refrigerate it for 1 hour. The reason to carry out this doughs to the fridge is to harden the butter to avoid that, when cutting it, the layers melt. You will be able to work it better and get better results.
Then we cut the rolls of dough, shape them and put them in the mould. In my case I used the famous Ikea tray, but you can use a similar one or even a tray for popovers or muffins.
To carry out the recipe, in my case, I followed the one that shares The Busy Spatula, only with some variations in the quantities and the process of elaboration. On internet you will find many recipes carrying out this process.
Ingredients for 12 units
FOR THE DOUGH:
300 g Multicereali flour, W=290
160 g water
50 g sugar
15 g milk powder
4 g osmotolerant yeast
30 g unsalted butter at room temperature
4 g salt
150 g unsalted butter at room temperature for laminating
FOR DECORATING:
icing sugar
Nutella
orange jam
candied orange
edible flower petals
Instructions
FIRST DAY
Make cruffins dough.
Reserve a teaspoon of water to dissolve the yeast.
In the bowl of the dough mixer add the flour, previously sifted, together with the water, powdered milk, sugar and salt. Knead with the hook at speed 1 and leave until you get a dough almost developed. It will take about 15 minutes.
Add half of the butter and knead again until it is completely integrated.
Add the other half and knead again until it is completely absorbed. We must obtain a perfectly developed dough.
Dissolve the yeast in the water and pour it into the bowl, knead again until you have a homogeneous and smooth dough. The texture of the dough is soft and slightly sticky to the touch.
Take the dough out of the bowl, roll it out, flatten it slightly and cover it with film.
Keep in the fridge until the next day.
SECOND DAY
Divide the dough,
Take the dough out of the cold and divide it into 6 pieces of approximately 75 g each.
Place the possible pieces (after dividing) in the center of each piece, preform and round gently.
Cover with film and leave to rest for 20 minutes.
Stretch the dough.
Stretch each piece individually.
Before passing the dough through the pasta machine, we will stretch it with the help of a roller trying to give it a rectangular shape. We will give a narrow enough thickness so that it enters through the rollers of the machine.
Pass the piece of dough through the pasta machine.
We will go through all the levels of the roller until we reach number 5. My pasta machine has a thickness of 1-9.
As we stretch and refine the dough, it will become longer. Handle it carefully throughout the process.
Once we have stretched to the desired thickness, cut the ends and cover with butter.
Butter it up and roll it up.
Using your fingertips, butter the entire surface of the dough. Do this carefully to avoid damaging it.
We begin to roll it up on itself.
Once we have rolled up all the dough, put it aside and proceed to stretch another piece of dough.
Join both ends and proceed in the same way as with the previous roll.
Cover with film and repeat the same process with the other pieces. In total we will obtain 3 rolls of dough.
Refrigerate for 1 hour. This step will help us to make the butter hard and, when we cut it, we will not melt the layers.
Shape cruffins.
Grease the mold with butter, in my case I used one from Ikea, sprinkle with flour and turn over to remove the excess. Set aside.
Take one of the rolls and cut it lengthwise.

We cut each piece in half and with each one of them, shape the cruffin. To do this we will turn the piece on itself with the layers facing outwards.
Put it inside the mould and repeat the same process with the rest of the pieces.
From each roll we will get 4 cruffins. In total we will get 12 units.
Cover with film and leave it to rise until it doubles in size. In my case it was 3 hours and 15 minutes at 70ºF/21ºC.
Bake.
Preheat the oven to 374ºF/190ºC with convection.
Place at medium height and bake for 10 minutes.
Reduce the heat to 356ºF/180ºC, convection, and bake for 10 more minutes.
In total it takes 20 minutes of baking.
Remove from the oven, carefully unmold it (you can take it with your own hands) and let it cool down completely on a rack.
Fill and decorate.
Put the orange marmalade in a piping bag with a filling tip. We do the same with the Nutella.
With the help of a toothpick, or with a knife if you prefer, make a hole or small incision at the bottom.
First we fill with the orange marmalade and then with Nutella.
Repeat the same process with all the cruffins.
Once they are filled, sprinkle the surface with icing sugar.
Pour some Nutella on top, decorate with a piece of candied orange, a nut with chocolate and a petal.
Serve.
Notes
To prepare the dough I used a flour with a strength of W=290, Multicereali. In case you don't have it, you can use a similar flour.
To laminate the dough I have used a pasta machine, it could be done with a roller pin if you wish. Sprinkle the work surface well and stretch the dough carefully.
The dough should be cold when we stretch it, that way it will be easier to handle.
The butter should be at room temperature, but not reach the melting point. Otherwise, it would integrate into the dough and we would not achieve the desired result.

In very hot weather seasons, this method would not work well.
To form the cruffins you can use the tray you have at home, even muffin capsules in its absence.
The dough won't double in volume, but almost.
In my case I like to bake this kind of dough with convection to help the formation of the layers. In case your oven doesn't have this option, bake them normally.
Before filling them, we must let them cool down completely.
Ideally, they should be consumed on the same day. In my case I had to leave them overnight to finish the video and they lost their freshness compared to the day I baked them.
I hope you like this version of How to Make an easy Cruffin and you'll be encouraged to make them at home. The result is quite good, very attractive and doesn't require any complications. Just patience.
It doesn't hold up as well as if we make it with croissant dough, that is, its shelf life is shorter and it hardens a little sooner. The ideal is to consume them on the same day or the next day.
Then you can fill them with whatever you like. In my case I chose orange jam and Nutella. But as I said above, there are infinite combinations to which more wonderful. In the future, I will leave you the traditional version in which the inside of the cruffin is like a croissant.
I wish you a wonderful weekend! I will be giving a lot of pampering to my puppy and I hope he will let me cook, at least a little bit, hahaha.
Big hugs,
Eva
Sources:Wiki
Archivado en