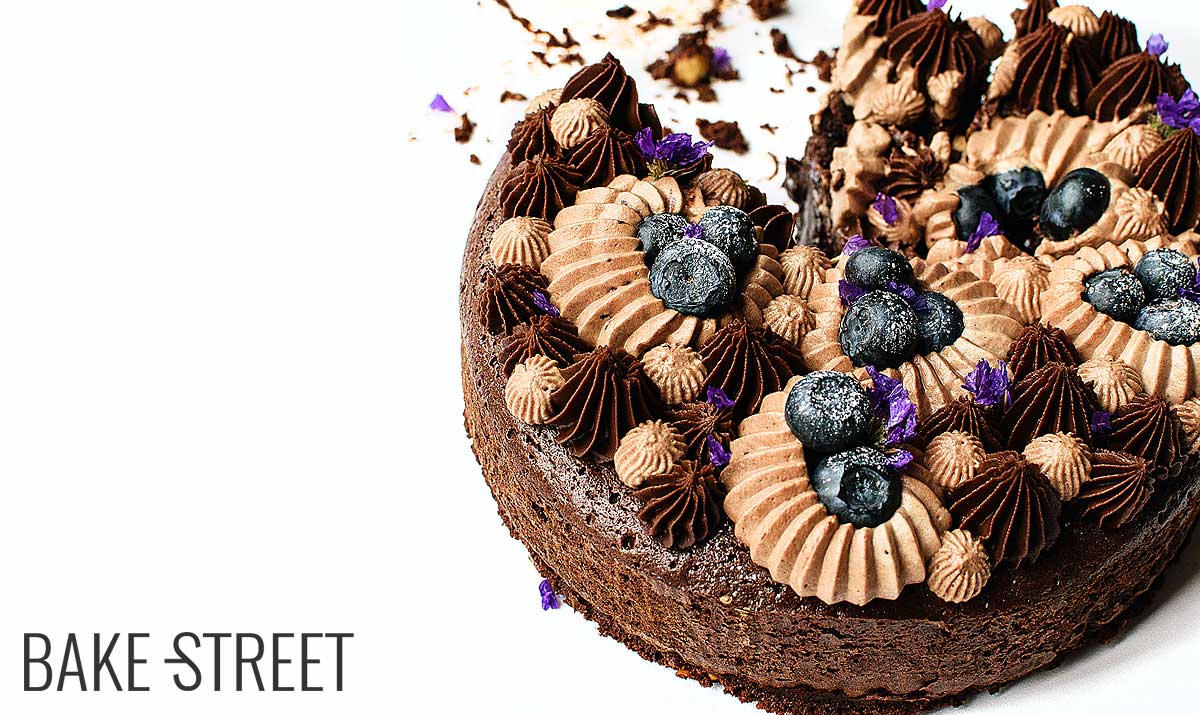 Double chocolate brownie cake
Este post también está disponible en Spanish
I've been craving huge chocolate for a few days now. In fact, for a couple of weeks, I've been thinking about making a brownie cake in a thicker than usual format, almost like a sponge cake. This type of elaboration, so easy to carry out, can be surprising if we use it in a different way. In addition to the traditional format we are used to. So from this craving and idea, came this double chocolate brownie cake.
I can assure you that it is a kind of recipe that can get us out of some unforeseen situation since it is very simple to make, and at the same time attractive. The only thing that needs a previous elaboration is the ganache, since it needs a few hours to acquire the adequate consistency to work with it.
Changing the view of the brownie.
Who doesn't like a brownie? I think it's hard to find someone who can refuse this sweet, but if you don't like chocolate… It's not very complicated. Personally, I've always loved it. It has an incredible flavor and texture that combines very well with other types of preparations. And not just with ice cream, which is also a delicacy of the gods.
Some time ago I left you this brownie tart with caramel popcorn, in which the filling of this one was the brownie itself. To make it, it requires a double baking process, on the one hand the sablée dough and then the brownie that we pour over the baked dough. Afterwards we only have to decorate with a chocolate and caramel ganache along with some caramel popcorn.
This time I wanted to make a much thicker format, in appearance it may even look like a chocolate sponge cake. But when we try it we can appreciate its characteristic melting texture, creamy, soft and incredibly wonderful. The cooking time is much longer than we are used to and the reason is the thickness of our brownie.
Take good care of this point because otherwise you will be able to get an exterior brownie cooked, but melting interior similar to thetunnel of fudge cake(only available in Spanish). Perhaps this cooking point could be of interest if we decorate the exterior in a different way. Sprinkling cocoa powder, for example. In this case, we are looking for a solid consistency so that the top decoration does not crumble when cutting.
Decorating our cake.
You know that, at this point, we can choose the type of decoration we prefer. The good thing about the brownie is that it combines great with an infinite number of ingredients and elaborations, so we can use everything from fruit to ganache of different types, creams, meringue… Coming to simpler elements such as cocoa powder or icing sugar.
In my case, and as I told you at the beginning of the post, I've been thinking about chocolate for a few days now. So I was very clear that the coverage of this would be chocolate in different formats.
I love the milk chocolate and caramel ganache (which you can find in this post and some others). But since I combined it with brownie on another occasion, I decided to change it to this recipe. A classic but delicious 70% chocolate ganache and a cocoa whipped cream (chantilly).
Here I would like to take a short break to tell you that I never liked the typical truffle cream, as I used to say when I was a little girl, cream with chocolate. I've always found it dull and unattractive, but this time I did like the result.
I made a small amount just in case I didn't like it very much… And I loved it. A whipped cream with a pinch of cocoa powder to add color and a flavor, flavored with some vanilla. The result is fantastic.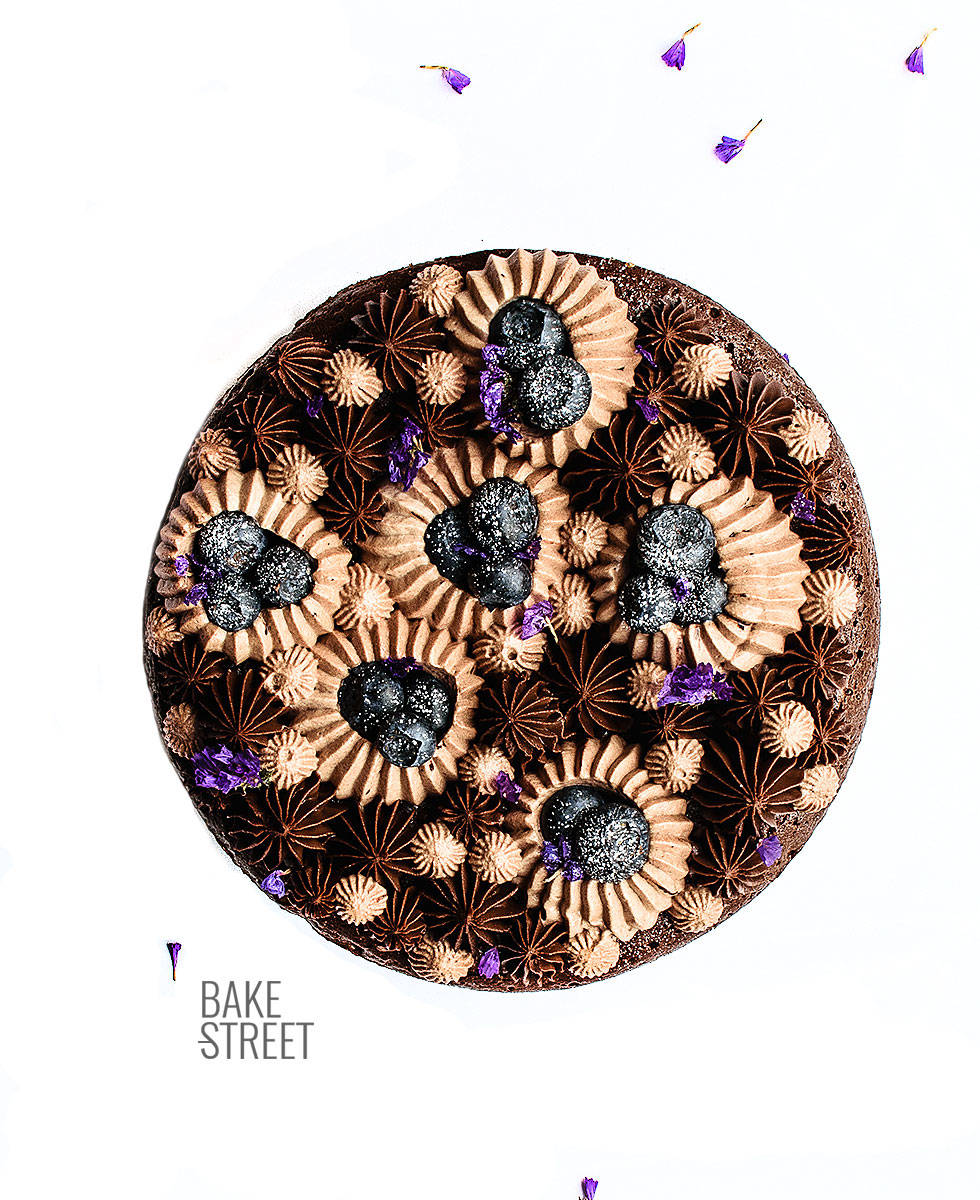 Ingredients
FOR BROWNIE:
10.5 oz (300 g) black chocolate 70%
8.8 oz (250 g) unsalted butter at room temperature
5.3 oz (150 g) dark muscovado sugar
4 large eggs
2.1 oz (60 g) pastry flour
4.2 oz (120 g) hazelnuts
pinch of salt
FOR CHOCOLATE GANACHE:
4,4 oz (125 g) heavy cream
3 oz (90 g) 70% black chocolate
FOR CHOCOLATE CHANTILLY:
3,5 oz (100 g) cream
0,9 oz (25 g) icing sugar
1 1/2 or 2 tsp cocoa powder
few drops of vanilla extract
fresh blueberries to taste + a pinch of icing sugar
Instructions
Make milk chocolate ganache.
Chopped finely milk chocolate and black chocolate, set aside.
Pour the cream into a heat-resistant bowl and place in the water bath. Leave until it takes temperature but without boiling.
Remove from the heat and add chopped chocolate, mix until smooth.
Pour in a medium bowl and let cool completely at room temperature for 30 minutes.
Pour the ganache into the base of the tart and let it cool to room temperature. It will take us about 2 hours.
Place in the fridge 6 hours or overnight.
Make brownie.
Line a 7 inches (18 cm) removable round pan, set aside.
Preheat oven at 340ºF.
Chop black chocolate, set aside.
Fill a medium saucepan with water, enough to generate heat but making sure it does not touch the base of the bowl we put on it.
In a bowl resistant to heat add the chopped chocolate and place in the water bath at medium-low heat. Let until it is melted completely.
Once the chocolate has melted, remove from the heat, add the butter at room temperature and mix with a spatula until completely homogenized. Set aside.
In a large bowl add muscovado sugar along with the eggs and beat for a couple of minutes.
Pour the chocolate mixture over the egg mixture stirring constantly, mixture will get thick.
Incorporate pastry flour, previously sifted, and a pinch of salt. Mix with soft movements and wrapping with a spatula of silicone. Finally add hazelnuts, slightly chopped, and mix again.
Pour the mixture into the pan and bake for 50-55 minutes. Check before removing it by pricking it with a wooden stick that it is juicy, but not raw.
Remove from the oven and let stand in the pan for 5 minutes.
Unmold and leave to cool completely on a rack.
Make chocolate chantilly.
Pour heavy cream into freeze bowl and beat with an electric mixer into slow speed.
Once cream is becoming to form stiff peaks, add sugar little by little stirring the whole time. Increase speed gradually but without reaches high one. Ideally use medium speed.
Add the sifted cocoa powder and continue beating.
Before finish to beat the cream, add vanilla extract and beat until get a perfect whipping cream. Be sure not to over-beat, otherwise cream will become lumpy and butter-like.
Cover with plastic wrap and place in the fridge until used it.
Assemble the cake.
Put the chocolate chantilly in a pastry bag with a religious tip, mine is from Decora 795. To decorate the small starry dots with chantilly, I used a tip Wilton 199.
Put the chocolate ganache in a pastry bag with a star shaped tipe. I have used 2 types, Wilton 6B (larger) and Wilton 4B (smaller).
Decorate with the chocolate chantilly and the chocolate ganache to our taste.
Fill the holes in the chocolate chantilly with fresh blueberries and sprinkle with icing sugar on top.
Notes
The hazelnuts can be replaced with walnuts or other nuts that you like. The result will be very good in any case.
Check the brownie baking time as it may vary from one oven to another. Remember that it must be juicy, not dry, but that when you prick it the inside is not raw.
I don't have any muscovado sugar, can I use panela? Yes, you can use panela. Whenever possible, I try to use this type of sugar instead of refined sugar. If you do not have this or similar, you can use brown sugar (although it is dyed sugar...) or white sugar. In this case, as we are going to cover the top, we don't need the finish to be the characteristic of the brownie, crispy, for that reason I prefer to use the moscabado.
If you use another variety of chocolate that is not 70%, remember that the proportions with respect to the cream vary depending on this one. Otherwise the final consistency will not be the same.
Remember that to whip up the chocolate chantilly the cream and the bowl must be previously cold.
If you don't like cocoa powder you can make a coffee whipped cream by adding this powdered ingredient (very finely ground) instead. The result will be a mocha cream.
Blueberries can be replaced with other fruit of your choice; raspberries, blackberries, blackcurrants and even candied kumquats can be great.
The ideal is to eat the cake with the brownie at room temperature. When we cool this one, the inside hardens. So I recommend you decorate it just before serving.
Preservation: We can keep it refrigerated in an airtight container for 3-4 days. Before serving, it should ideally be tempered to give it the proper texture.
This double chocolate brownie cake has certainly been the best way to combat my craving for chocolate these days. Much better even than eating a bar of milk chocolate, and this is already difficult... Another one of my perditions.
I know that many of you like elaborate recipes with longer and more detailed processes, but you are also very grateful for these kinds of simpler recipes. Because although we all love to spend time cooking, we also have days when we want to enjoy other things. However, while enjoying homemade elaborations.
So I hope to see your cakes and you tell me how it went with it.
Big hugs and happy Wednesday,
Eva
Archivado en