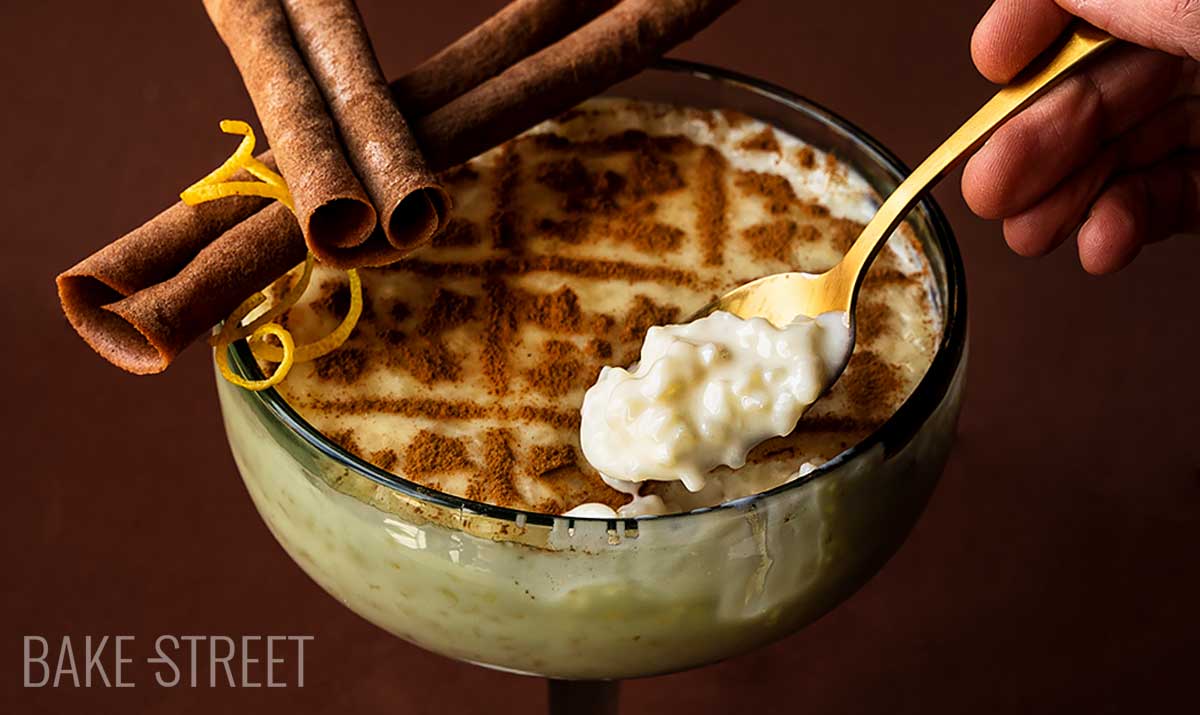 Creamy milk rice with cinnamon wafers
Este post también está disponible en Spanish
You won't believe it. I have been with my husband for almost 14 years and, since we met, he has asked me countless times to make creamy milk rice. As one of you told me, good things come to those who wait… hahaha. I have always prepared everything she has asked me for or liked, but this recipe (for some reason) I had a special dislike for her. I didn't like it at all.
I have tried several recipes, not made by me, but elaborated by other people, and it never convinced me. I guess it was a mixture of several sensations… I did not like it, the ones I tried were not very good and it was not my moment.
The thing is that this year, for some reason, I decided to make it. I took it for granted that I was not going to like it, but I wanted to give my "half lemon" a taste because, after almost 14 years, it was time to make him his favorite dessert, hahaha. After making it, I tasted it and was amazed.
I don't know what changed in me or if the way it was made influenced it. But I liked it, very much. Come on, I would have eaten everything I had prepared if it weren't for the fact that I still have a regular stomach (I've been a little upset for more than a month, let's see if they find out what it is). The fact is that I have been making, almost daily, milk rice to be able to try and test each step and make it reach you in the best possible way. And that you can enjoy a creamy milk rice with cinnamon wafers.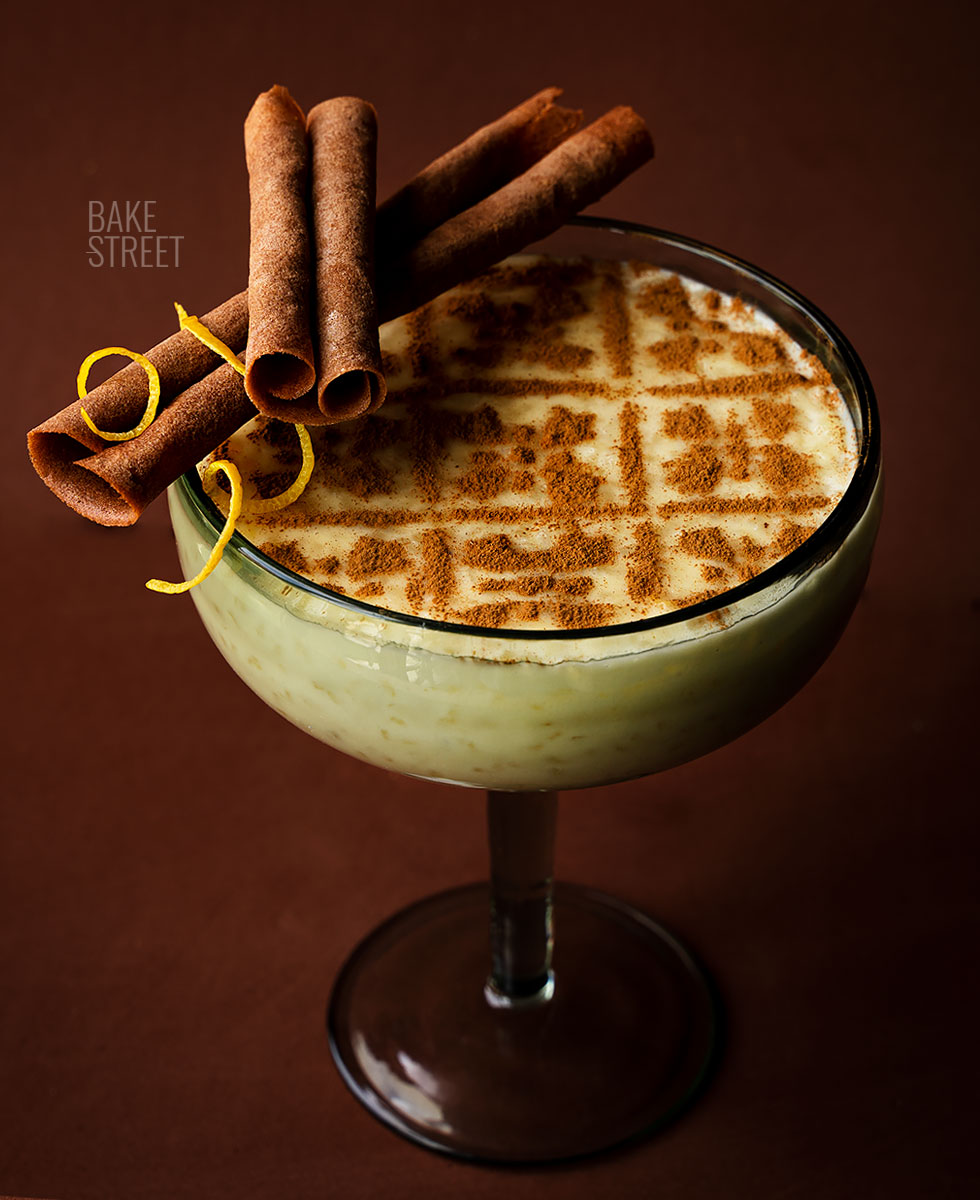 Milk rice origin.
Milk rice is a typical dessert that is consumed in many countries around the world, not only in Spain as we might think. It is made with very simple and accessible ingredients, such as rice, milk and sugar, among others. In addition, it can be served either cold or warm.
Contrary to what many believe, the first known recipe for milk rice is the 13th century Andalusian one, as recorded in the 13th century Anonymous manuscript translated by Ambrosio Huici Miranda, "La Cocina Hispano-Magrebí durante la época Almohade". (Spanish-Maghrebi Cuisine during the Almohad period).
Sugar cane was one of the crops acclimatized in the Iberian Peninsula by the Arabs, it was already cultivated in Al-Andalus in the 10th century, mainly on the Valencian coast and in Granada. It was the Arabs who brought the "Oryza sativa" (rice) to the West, and it was in the Iberian Peninsula where its cultivation was introduced.
Eventually, it also reached Italy, the Po Valley, as a result of Venice's trade relations with Turkey.
In Al-Andalus, specifically in Valencia, Balànsiya for the Andalusians, rice became the protagonist of their dishes, many of them becoming very popular. Another variant of milk rice, which appears in the same Andalusian recipe book, was sweetened with honey.
There is another record dating from 1477 by the Catalan Ruperto de Nola, who wrote a book called "Libro de guisados", in which he mentions a sweet preparation based on milk, sugar, spices and rice flour.
Nola called "manjar imperial" a kind of custard made with the same ingredients as milk rice, except that in her case the rice was milled, from which we can deduce that being easier to use whole grain than milled, someone would have already made something very similar to milk rice.
What was the first official recipe for milk rice?
Although in ancient times rice was already consumed dipped or cooked in milk, the popular sweet recipe is mentioned as a dish in the recipe book called "Libro del Arte de Cozina" published by Domingo Hernández Maceras in 1607, a cook from the University of Salamanca. In its pages it mentions "how to make milk rice", but at that time it had a different characteristic.
The original recipe is practically the same except for one detail: the water used to cook the rice is the same water used to make rice pudding. In addition, it was also left to rest and before serving, sugar and cinnamon were sprinkled on top.
With the passage of time, it was spread and popularized in other countries with the consequent adaptation of the recipe to each culture. Because it was born in Spain, it has a strong heritage in all Hispanic areas such as Peru where there is a variant called "arroz zambito" that adds evaporated milk, chancaca (panela), nuts, raisins and grated coconut.
There is a variety called "Arroz Emperatriz" in which yolks are added. It was one of the favorite desserts of King Alfonso XII. Empress rice is a classic of French cuisine. It seems to have been made in the 19th century by the personal chef of Eugénie de Montijo, Empress of France, married to Napoleon III. It is a dessert whose base is milk rice to which cream, gelatin, fruits and yolks are added.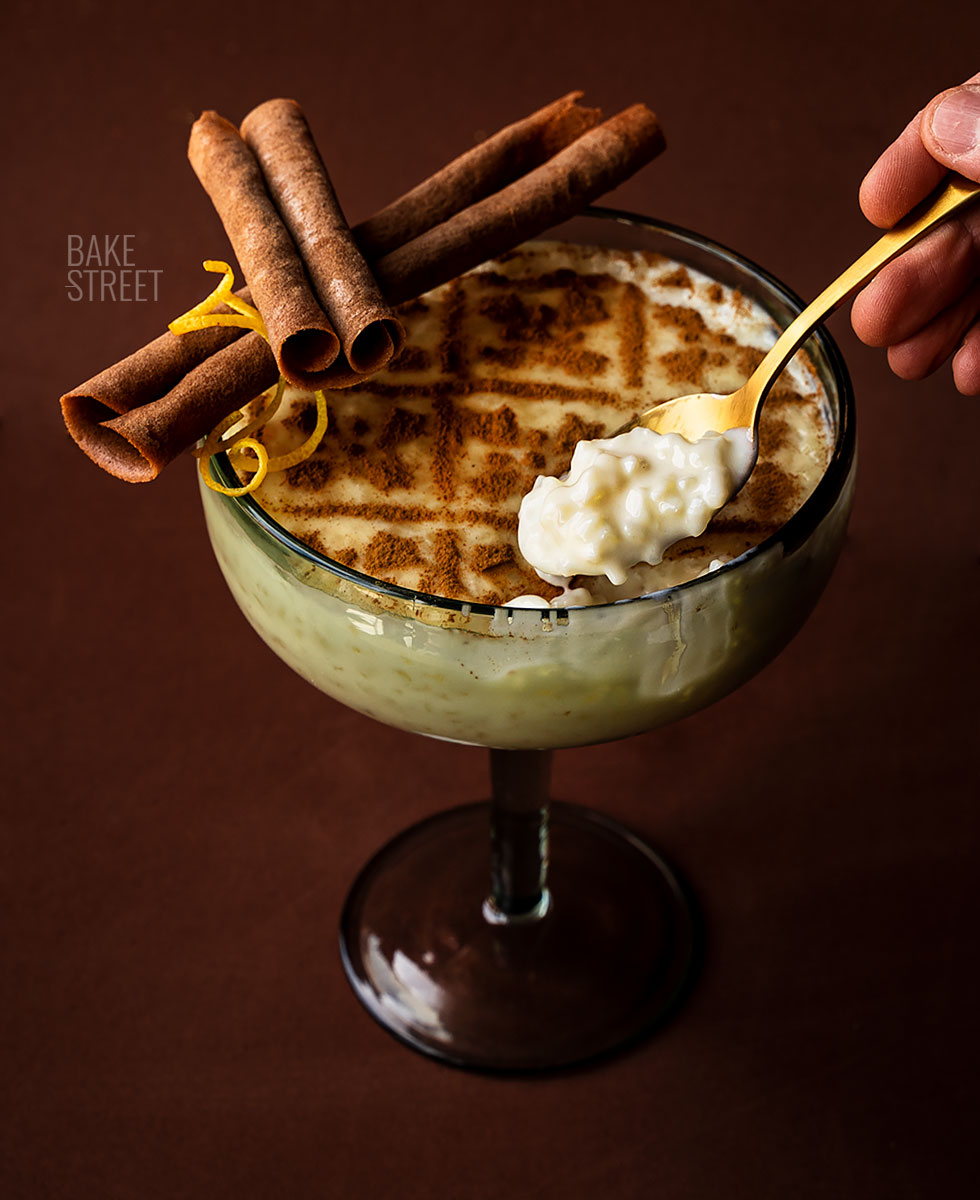 Falling in love with the whole planet.
In Argentina it is also consumed as a dessert and is made with dulce de leche, one of the most typical products of the country, while in Mexico it is sprinkled with ground cinnamon and raisins. In the Caribbean countries it is customary to add coconut and in Spain it is flavored with lemon peel, unlike in Italy where orange peel is used. The Mediterranean area usually uses cinnamon powder.
In Finland, known as Joulupuuro, it is one of the traditional dishes of their Christmas gastronomy, served as breakfast on Christmas Eve. When it is prepared, a single almond is introduced to the mixture, believing that it will bring good luck in the new year to the diner.
But milk rice still expands to other countries such as Germany, where apples are added; Iran where it is flavored with saffron; India where cardamom is incorporated; Iceland where it is prepared with butter; in Norway where almonds and cherries are added; in Portugal where it is customary to burn the surface with sugar to give it a caramelized and crunchy flavor; and in Anglo-Saxon countries where it is flavored with vanilla.
In Turkey it is a typical dessert that is called sütlaç
Making the recipe.
Since I had never prepared rice pudding before, I did a lot of research to see how to make it. There are countless ways to prepare it, but one that especially caught my attention was the process that Asturians follow.
In Asturias, a region of Spain where this dessert is particularly rooted, it is common to make it with butter and cook it in a similar way to a risotto. In addition to serving it with sugar burned with a hot iron, so that the surface is caramelized and crispy (known as requemado). It is also customary to add a dash of aniseed liquor, but in my case I have not added it.
It could be said that the recipe is practically based on the process of the Asturian milk rice, but as it has some variants that are not faithful to the recipe, I have chosen not to call it that way.
The first cooking will be done with water and then we will cook the rice with the infused milk.
In my case, I decided to add heavy cream as well.
Is this essential? Not at all.
In fact, it can be omitted if desired and milk can be added instead. For my part I wanted to use it because after the tests I did, many, it is true that the cooking process in which we imitate the risotto technique and the rice releases a lot of starch, you get a very creamy texture. But, in my opinion, it gives it an unctuous point thanks to the extra fat it provides.
Do not wash the rice so as not to remove the starch from the surface of the grain.
In my humble opinion, milk  rice goes very well with cream. Although I recognize that it is not essential. I must say that for a first contact with this preparation, the addition of cream helps to achieve a creamy texture.
To accompany this creamy milk rice, let's prepare some cinnamon wafers or neulas. I came up with the idea of making them with the same appearance, at least I tried, as the cinnamon stick. It is very apparent at serving time, not to mention how good they are…. When you open the container where they are stored, there is an amazing cinnamon aroma.
The story about the wafers or Russian cigarettes, I left it in the Banana Split recipe where I show you how to make the classic homemade vanilla wafers.
To serve it I leave you two options; one with cinnamon sprinkled (if we want a more elegant touch, we can use a stencil) and another with a burnt sugar surface that will leave a layer of crunchy caramel, irresistible, on the surface. Both are extraordinary…
Recipe Creamy milk rice with cinnamon wafers
CREAMY MILK RICE:
140 ground rice + 500 g water
1 brik heavy cream (about 185 g)
whole milk to complete 1300 g
50 g unsalted butter, room temperature
100 g sugar
3 cinnamon sticks, good quality ones
peel of one lemon
pinch of salt
CINNAMON WAFERS:
60 g cake flour
90 g egg whites, room temperature
50 g powdered sugar
50 g unsalted butter, melted and cooled
5 g cinnamon powder
pinch of salt
MATERIAL WE WILL NEED AND SHOW IN THE VIDEO:
*You have a 5% discount on the website Claudia&Julia using this code BAKESTREET. Delivers throughout Europe.
Instructions
Prepare homemade wafers, neulas or Russian cigarettes.
Preheat the oven to 355ºF/180ºC with heat up and down.
In a medium bowl add the flour together with the powdered sugar and the egg whites. Whisk until a homogeneous mixture is obtained.
Add the melted butter and mix again until completely blended. The mixture should have a silky texture.
Finally, add the cinnamon and mix again until completely blended.
Shape wafers.
Prepare two trays, in my case I used two perforated trays, cover with silpat or Teflon.
Place two small mounds of mixture on the silpat.
With the help of a spatula or a knife with a round tip, spread the mixture forming 2 very thin rectangles. It is important that they are not thick because otherwise, after cooking, they will be very hard.
Bake.
Place in the oven at medium heat and bake for 3-4 minutes (read the NOTES section for baking time). They must still be tender to be able to form them, if we bake them too much, it will be very difficult to roll them. Or it will be impossible.
Remove and then form the wafers. Although in my case I formed them in the oven door (see video).
With the help of a spatula, lift the rectangle of dough a little and then roll it up. To do this we will use a chopstick or some utensil of similar characteristics.
Place the chopstick at one end and roll it on itself while the dough is still warm. And repeat the same with the other end, to give the appearance of a cinnamon stick. This is very important because as it cools, it hardens.
You must be careful when rolling the dough because it burns a lot. I recommend you to do it touching only the edges.
Once it is rolled, keep the final fold down so that it hardens in this way.
Remove the toothpick and repeat the same process with the rest of the dough.
See the NOTES section for more tips on how to make them.
Prepare milk rice.
With the help of a peeler, cut the peel of a lemon (previously washed). Try not to take the white part, otherwise it will be bitter.
In a medium saucepan, add the cream and complete with whole milk until reaching 1300 g of weight. Add the butter together with the cinnamon and the lemon peel.
Place over medium-high heat and let it come to a gentle boil. At this point, reduce to low heat and keep warm while preparing the rice. The infused milk will be kept at a gentle heat throughout the process.
In another pot add the water along with the unwashed rice and place over high heat.
Once it comes to a boil, reduce the heat a little (from 9 I lowered it to 8) and cook until the water evaporates. During this step, stir occasionally to prevent the rice from sticking to the bottom of the pot.
Once we observe that the water has evaporated, begin to incorporate the infused milk little by little. In the same way we make a risotto, in my case I add 2 ladles at a time.
Cook over medium heat (my plate has a value of 1-9 and I cooked between 4.5 and 5, I moved it if the boiling point rose too much) stirring constantly.
Once you notice that it has thickened, add more infused milk. Repeat this process until all the milk is incorporated. It is not necessary to remove the lemon and cinnamon, we will do that at the end.
Once all the milk is incorporated, add the sugar all at once.
Continue mixing until we observe that the mixture is creamy, but slightly light. It is important not to thicken to the point that you think it is fine because, once it cools and goes through the refrigerator, it will continue to thicken. The ideal is to leave the rice with the consistency that I show you in the video.
The complete cooking process, counting from the moment I start adding the milk, was 37 minutes. This time may vary, but it will serve as a guide to follow.
Remove from the heat and proceed to remove the cinnamon sticks and lemon peel.
The latter can be a little more laborious to remove, in my case I use tweezers. But, if you wish, you can put the lemon peel in a gauze to remove it more easily.
Fill the cups or containers.
Fill cups, bowls or the container of your choice with the rice pudding.
Let cool completely at room temperature.
Refrigerate until ready to serve.
Serve.
Decorate the surface of milk rice with cinnamon powder. In my case I used a stencil, but it is not necessary.
Accompany with the "cinnamon sticks" or cinnamon neulas and a curl of lemon peel.
Serve.
NOTE: If we wish, instead of decorating with cinnamon, we can sprinkle the surface with sugar and burn with the help of a blowtorch. In the video you can also see how to do it.
Notes
It is recommended to have two trays to bake the wafers, so that we can prepare the next ones while baking the ones we have just made. Although it can be done in the same tray if you are careful. Place it on a cooling rack while you arrange and spread the dough for the next baking.
If the tray is hot, the wafers will be ready in 3-4 minutes. If the pan is cold (because we used two) they will need 5-6 minutes of baking time.
The ideal is to use Teflon or silpat to make them, the baking paper can be wrinkled.
I don't recommend doing more than two per batch, especially if you're doing it alone. The reason is that they get cold very quickly and you won't have time to roll them up.
The size of the wafers can be to your liking, but it is important that they are very thin to obtain good results. The mixture, once spread on the silpat or Teflon, must be transparent. If the dough is too thick, the wafer will be very hard.
The number of wafers will depend on the size of these, in my case 10 units came out.
You can use any variety of rice you wish, but the result is extraordinary with round rice.
Do not wash the rice to avoid removing the starch from the surface. It will benefit us a lot during the cooking process to obtain a creamy result.
Using good quality cinnamon is important to obtain a well flavored milk.
Lemon can be replaced by orange, if desired.

We will keep the infused milk at very low heat throughout the cooking of the rice. In this way, we will keep the milk warm, a process that will make the rice cooking process much easier.
I advise you to mix the rice during the whole process, with a wooden spoon, so that the final result is really creamy.
Do not cook the rice at a high temperature, medium-low heat is ideal.
Keep in mind that the milk rice mixture will thicken as it cools. And in the refrigerator. In the post I leave you the exact cooking time that I carried out, plus the video where you can see the consistency. Of course, the type of casserole/pan will influence, as well as the power of your stove or hob.
It can be eaten warm or cold, in both cases it is extraordinary.
It can be kept in the refrigerator for 3-4 days.
It seems unbelievable that, at my age, and with the war I have given with this dessert... Now I like milk rice. A clear sample that confirms that we can not say of this water I will not drink.
But I think it is completely normal that we change, evolve, even when it comes to eating. It has happened to me with several things, from not liking to loving them. And this is one of the cases.
I encourage you to try it, even if you are in my situation, and let me know what you think!
By the way, if you follow me on IG you will see that, given the reception of the first story I uploaded with the milk rice (almost 600 people said they would do it!), I decided that anyone who did it and tagged me in the publication, I would send them a little gift from me. So if you go for it and tag me in your post or mention me in your stories, I'll send you a little detail. If you don't have IG and you do it anyway, write me an email and I'll be happy to send it to you!
I wish you a wonderful Sunday!
Lots of love,
Eva
Sources: Balansiya, El Comercio, Mdzol
This post contains affiliated links.
Archivado en