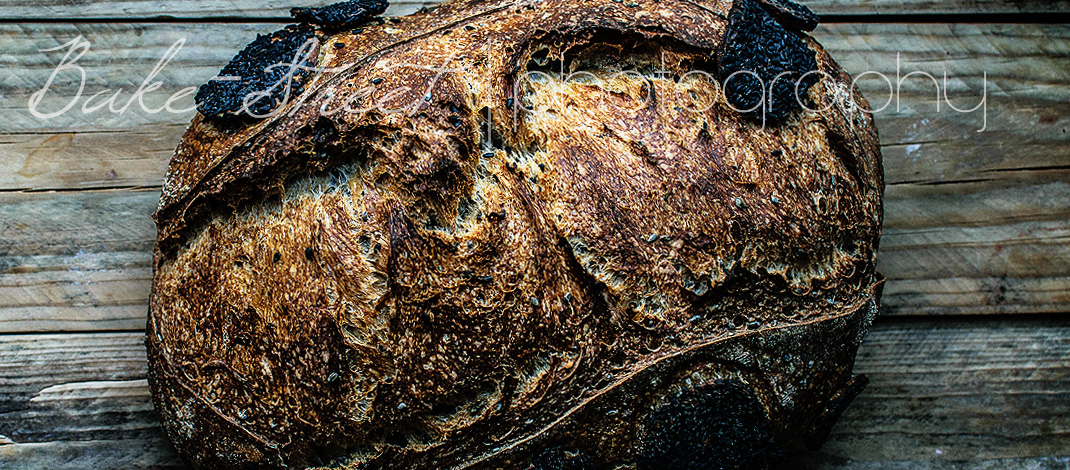 Black sesame and gomasio sourdough bread
Este post también está disponible en Spanish
This black sesame and gomasio sourdough bread is a crazy idea, that I have from time to time, and I did not really know how it will go. I took time thinking about to make one sourdough bread with dough cuts on its top and sprinkle with some flour to create a contrast of color.
Well, as you have seen below, I forgot sprinkling with flour (cover sesame dough cuts to keep them clean). Maybe the result it would have been like a "flamenco bread". But flavor and aroma was incredibly interesting so I decided to share with you, even though do not make what I want. It isn´t a problem, because I make breads every weeks so I will repeat this idea in the future.
I really love to play with this kind of presentations, they are different, and because it is really amazing remember handicrafts like when we were child!
This is an easy recipe, bread flour with a low hydration (65%), salt, black sesame and gomasio.
Mmm, gomasio. What is this?
Do not be afraid, it is a simple ingredient and I have talked about it on more than one occasion. In fact, I have used it in several recipes. It is a Japanese condiment, a kind of salt that we can make at home easily, we only need sesame (black or white, if not) and a pinch of salt. Here you can see how to make it (recipe in Spanish).
It gives an interesting flavor besides to be healthy. When you make it, use it to season salads, vegetables or recipes that you love.
Dough to make cuts, is it the same dough that we use to make sourdough bread?
No. to make this dough, we will make a "dead dough", without yeast. This way we prevent the dough rises or makes things during the proofing or baking. And we do not reduce the final dough from bread.
It is simple to make, mix ingredients and let sit to benefit dough to hydrate and, mainly, it relaxes. remember that when we manipulate a dough, gluten will be tight and it will be impossible to roll it. After resting it will be easy to work with it.
Dough hydration will depend from your flour. It must not be stiff neither sticky. If you have to rectify, make it.
How can I stick black sesame to dead dough?
With water, spray well over the roll dough, sprinkle with black sesame and press lightly with your hands. You can use round cookie cutters, square, triangular… what you prefer.
To stick the dough black sesame cuts on the bread, we will use olive oil (or other king of vegetable oil). They will keep join and during baking, ends will rise up.
How must be final proof?
This time I have preferred to make bulk fermentation in the fridge and second at room temperature. I think this way dough cuts will rise up better during baking. Usually I prefer to make final proof in the fridge, but I think that this kind of breads (like Couronne Bordelaise, for example) work better this way.
Mi final idea was to sprinkle the top from the bread, except black sesame cuts, with rye flour to create a black and white contrast. But I forgot it… I was thinking to record the video, the process… when I place it in the oven I said: Oh my Goodness! The flour! – But it was too late. Even then, I really love the final result, so I share with you the recipe 😉
BLACK SESAME AND GOMASIO SOURDOUGH BREAD:
SOURDOUGH 100% HYDRATION:
6.34 oz (180 g) 100% hydration starter refreshed with 80% Shipton Mill wheat flour and 20% Shipton Mill rye flour
Here you can read how to make water yeast fruits or here how to make common sourdough (By the moment, both are only available in Spanish)
FOR THE DOUGH:
18 oz (510 g) bread flour (I used Pani Ylla flour)
10,1 fl oz (300 g) water
0.38 oz (10,8 g) sea salt
0.88 oz (25 g) black sesame
0.17 oz (5 g) gomasio (homemade sesame salt)
FOR THE BLACK SESAME DOUGH CUTS:
It is a dead dough, without yeast, that we will use to decorate bread.
5.3 oz (150 g) wheat flour
2.36 fl oz (70 g) water
 0.09 oz (2,7 g) sea salt
black sesame
| | | | | |
| --- | --- | --- | --- | --- |
| INGREDIENTS | BAKER´S %  |  SOURDOUGH | REST |  TOTAL |
| Shipton Mill Wheat | 11,25% |  67,5 g | |  67,5 g |
| Bread flour, Pani de Ylla | 85% | | 510 g |  510 g |
| Rye Shipton Mill | 3,75% | 22,5 g | | 22,5 g |
| Water | 65% | 90 g | 300 g | 390 g |
| Salt | 1,8% | | 10,8 g | 10,8 g |
| Black sesame | 4,17% | | 25 g | 25 g |
|  Gomasio | 0,8% | | 5 g |  5 g |
INSTRUCTIONS: 
FIRST DAY
Make bread dough.
In a large bowl add flour with leaven and water, mix with your hands until it is well hydrated and looks smooth. Cover with  plastic wrap or cotton cloth and allow to make autolysis for 60 minutes.
Transfer to a work surface, without flour, and knead. Combine kneading with resting to get almost a complete developed dough.
Knead 2-3 minutes and let sit 5-6 minutes. Total time kneading will be roughly 10 minutes without time resting.Before the first rest, add salt and gomasio, mix with your hands making sure it is completely incorporated.
Add black sesame.
Stretch dough over a work surface and add little by little caraway seeds and chopped figs, fold several times to get a homogeneous distribution. Repeat the process until all ingredients are incorporated. Remember not to work dough in excess when adding ingredients, other wise you can damage dough structure.
Grease with olive oil a bowl or recipient and put the dough inside. Cover and make a bulk proof for 4 hoursat room temperature. My home temperature was 70ºF. Turn and fold after 60 minutes.
Let rise until dough reaches 1/3 volume.
Refrigerate overnight. My dough was in the fridge 16 y 1/2 hours.
SECOND DAY
Remove the dough from the fridge.
Remove the dough from the fridge and let sit for 2 hours, so it could lost low temperature. It must double size if it did not grow in the fridge.
While, make dead dough.
In a medium bowl mix flour along with salt and water. Knead until get an homogeneous dough.
Cover with plastic film and let sit for 1 hour, dough must be well hydrated and relaxed.
Preshape the dough.
Preshape into a boule (ball), be careful not to degas too much, and allow to bench rest for 20 minutes cover with a cotton cloth.
While, roll the dead dough wit a rolling pin. Make a square 16×10 inches.
Spray with water and sprinkle with black sesame. Press with your hands to fix seeds on the dough. Set aside.
Shape the dough.
Shape a batard, how I showed you in the video. and place seam-side up in banneton.
Use round cookie cutters, with different sizes, to make dough cuts.
Place them over the bread, to stick to the dough use olive oil (or vegetable oil). Grease the back circle and place it over the bread.
Place seam-side up in banneton, cover with a cotton cloth and let rise for 4 y 1/2 hours at 70ºF.
Bake the loaf
Preheat oven 450ºF at least 30-40 minutes prior to baking with your stone or steel sheet on it positioned on final rack. Put inside a pan with volcanic stones, this helps to get steam in the baking.
Transfer the bread from the banneton over a wooden board cover with parchment, seam side down. Score the bread making a -S.
Place the bread into the oven and pour boiling water over the pan with volcanic stones. Close the oven door immediately to trap the moisture.
Bake for 20 minutes at 430ºF.
After first 20 minutes, open the oven door to allow steam goes out, remove the track with volcanic stones with kitchen gloves and reduce oven temperature to 410ºF. Bake for 10 minutes.
Reduce temperature to 375ºC and bake 10 minutes more. Finally bake with convection at 375ºC for 10 minutes. Bread will get a better crust this way.
Total bake time is 50 minutes.
Ending the bake…
Once bake has ended, turn off the oven and let sit the bread inside the oven with the door ajar for 15 minutes. Remove from the oven and let cool over a rack.
PRESERVATION: Bread can be stored for up 3-4 days cover with cotton cloth. If the beginning is dry, cut the first slice and inside will be still tender. You can cut the bread into slices, cover with plastic film and freeze. This way is the better to make perfect toast each morning. You can use the bread slice from the freezer and put into the toaster, they will be perfect 😉
This black sesame and gomasio sourdough bread has an intense flavor, really amazing, and better if you make toast!
But, when you will slice bread, black sesame circles will fly for sure! They could be a cracker really interesting 😉
Happy week!
Eva
Archivado en