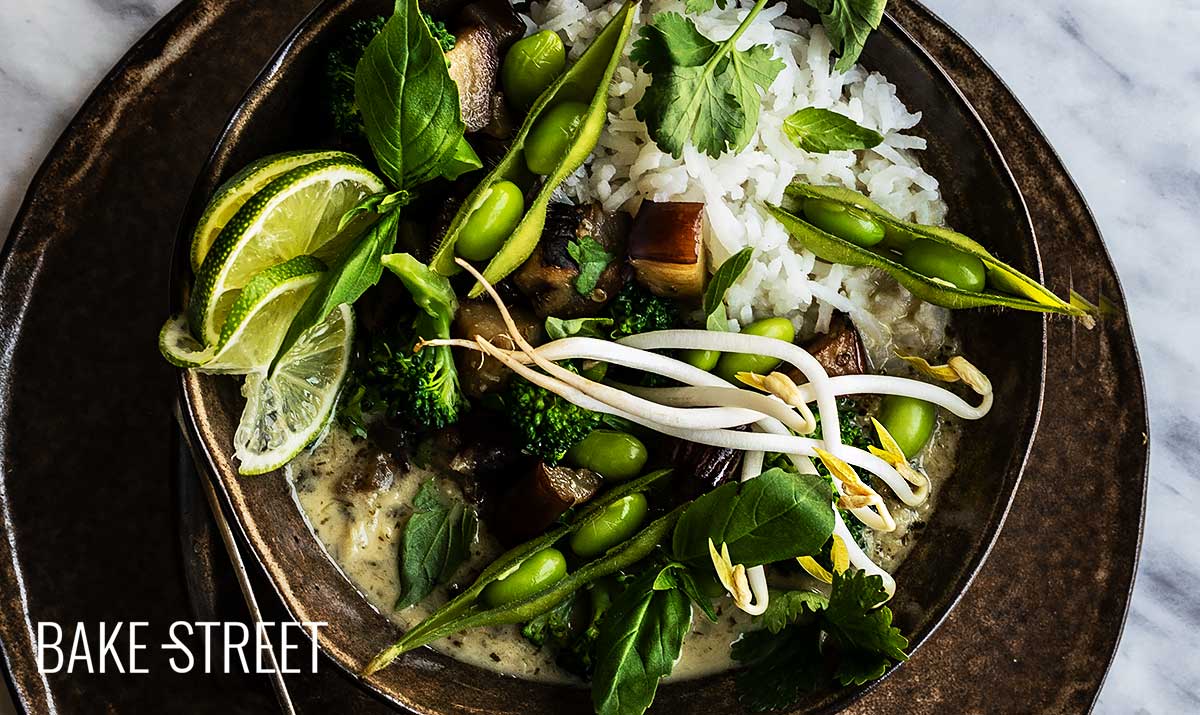 Vegan green curry with jasmine rice
Este post también está disponible en Spanish
It's been a long time since I left you any savoury recipes, not because I don't make them… But when I choose recipes to post, I always share the sweets and leave the savoury ones accumulated. But I said to myself, no, it's time to take out these recipes that are not only easy and effective, but are also ideal to brighten up the week. Today we are going to see how to prepare a Vegan green curry with jasmine rice.
This summer I discovered this recipe thanks to Ania from Lazy Cat Kitchen (thank you so much for this wonderful recipe) and I don't know how many times I've made it… There were weeks that I looped the half-day meal with this green curry. I don't know if the same thing happens to you, but when I do or discover something I really like, I don't mind eating it every day for several weeks… I got totally hooked.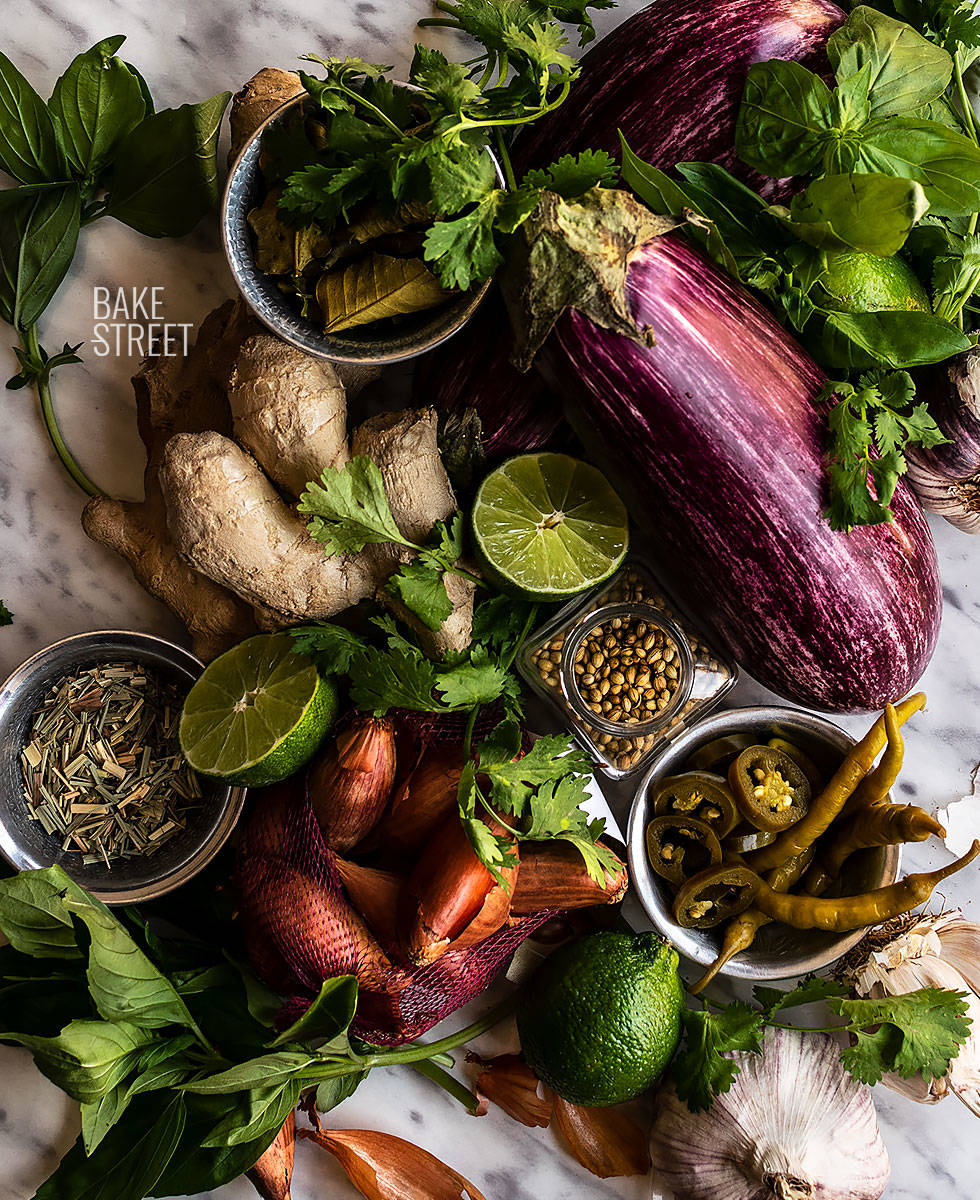 Preparing vegan green curry with jasmine rice.
The recipe I leave with you is not the same as Ania's, but it follows a line similar to the one she shares (and it's spectacular, I tell you that I've tried it several times). Once I tried hers, I decided to make some changes to my taste with other types of ingredients.
In fact, you're going to find some that might shock you a bit like Dashi broth, piparras (a type of basque chili pepper), shichimi togarashi… Anyway, I decided to make a somewhat different combination of flavors with some ingredients that I like very much. This is something I like very much from the kitchen, to be able to give our personal touch to elaborations that other people have made. Pastry does not work so openly, but you can also do some cases.
This curry is a dish for those who like spicy, because it is VERY spicy. Not at a level you can't tolerate, but if you don't like this kind of flavor, then I recommend you reduce the amount of chile and piparras. Or omit one of them and reduce the other. That way you can enjoy it and not suffer, hahaha.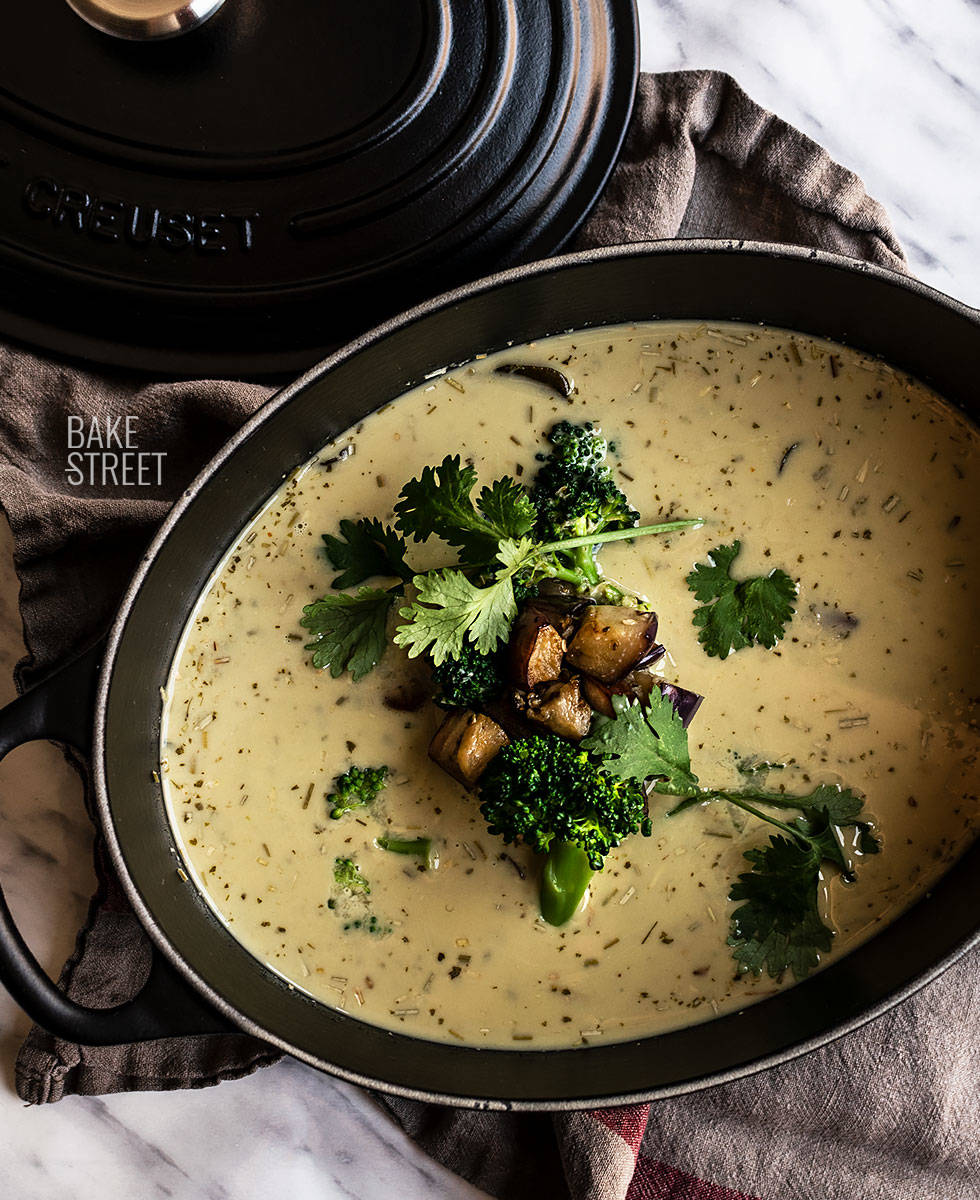 Oval Cocotte Evolution Le Creuset
The patience of a process.
We already know that all those elaborations that, once we have cooked them, if we let them rest overnight in the fridge improve their final flavor. The flavors settle, mature and the next day are more powerful on our palate. That is why I recommend, if you can and want, once the curry is cooked and has cooled, leave it to eat the next day. Maybe it will be difficult for you. In my case with this type of dishes it is too hard because I like them a lot, but it is worth it. And if not, serve a small bowl and the rest for the next day 😉
Once we have this base prepared, we will only have to choose what we are going to accompany it with. In my case jasmine rice (but you can use another variety if you wish or even aromatize it as in this recipe, only available in Spanish, sorry it´s an old recipe), broccoli, edamames, eggplant and sprouts.
The combinations to accompany it can be very broad; you can use seasonal vegetables such as sweet potato, pumpkin, chestnuts or even in summer, use raw vegetables such as cucumber, fresh fennel … Anything you like will be perfect.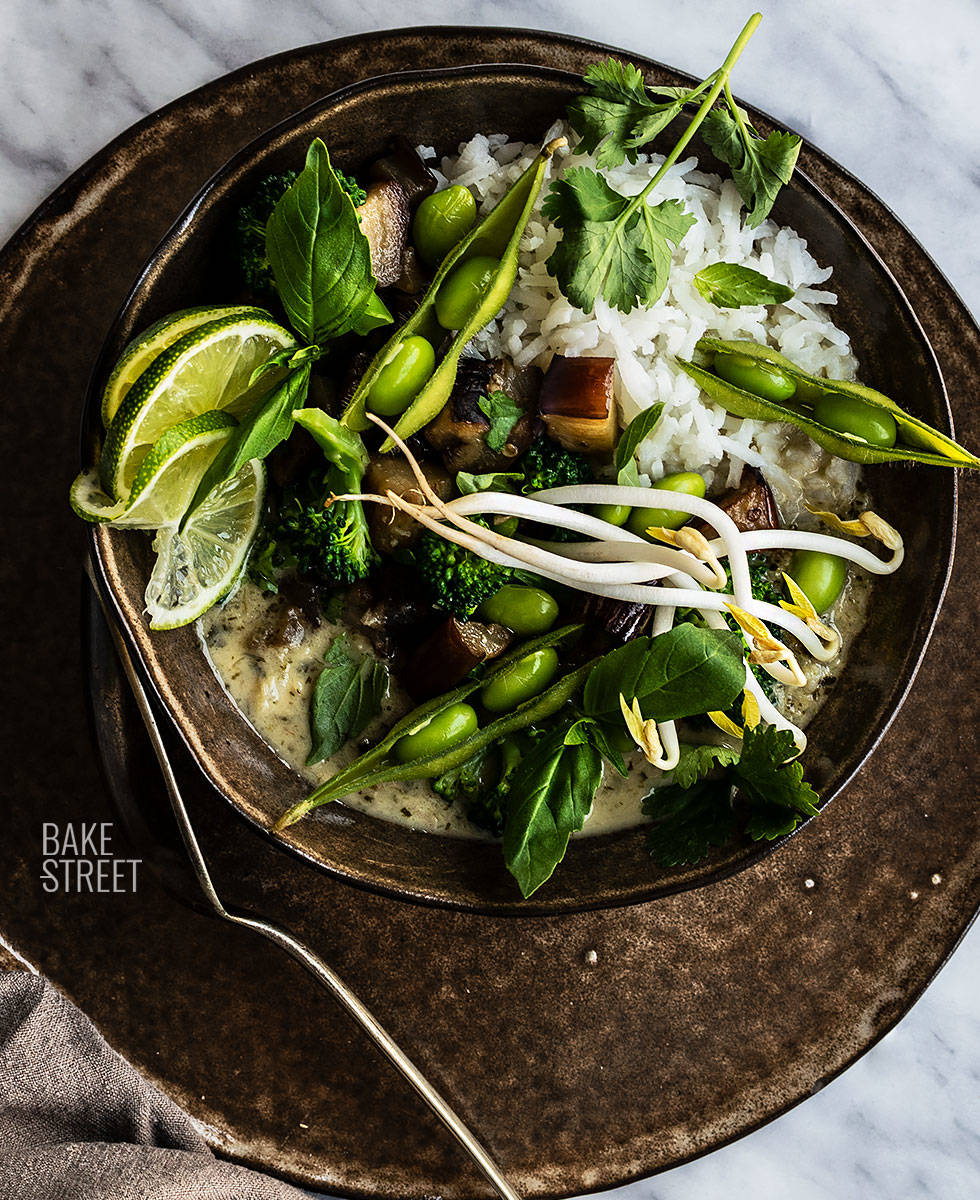 Ingredients for 4 serves
FOR GREEN CURRY PASTE:
3 shallots, about 40 g
4 garlic cloves, about 25 g
45 g fresh ginger, peeled
2 tsp dried citronella
1 tsp cilantro seeds
3/4 tsp ground cumin
15 g green chili
2 piparras (you an use another type of chili)
12 g fresh coriander, only the leaves
6 g fresh basil, only the leaves
shichimi togarashi to taste
1 tsp of salt
FOR CURRY BROTH:
3 Tbsp olive oil
400 g coconut milk, high fat content
480 g Dashi broth, recipe in this link
6 kaffir lime leaves
1-2 Tbsp Tamari
juice from 1/2 lime
one lime zest
4 tsp sugar (you can use coconut sugar)
FOR DRESSING:
jasmine rice
1 large eggplant
200 g edamame, frozen in my case
broccoli
sprouts to taste, I have used soya bean sprouts
Instructions
Prepare curry paste.
In a food processor add all the ingredients for green curry paste except for cilantro and basil.
Process until very thinly chopped.
Add cilantro and basil, process again until they integrate. Try not to exceed the processing time when chopping the ingredients when we have integrated the aromatic. Otherwise, the heat of the blades and the excess friction, they will darken.
Set aside.
Make curry both.
Place a cocotte or large pot in a medium-low heat and pour the olive oil.
Once it has a little temperature, add the curry paste. Cook for 10 minutes at medium-low heat stirring constantly.
Pour the coconut milk and mix with the green curry paste.
Add the kaffir lime leaves together with Dashi broth.
Turn up the heat a little until it reaches a soft boiling state, then reduce the heat and simmer for 15 minutes.
Add Tamari, 1/2 lime juice, sugar and lime zest. Stir.
Remove from heat and let cool completely.
Once cooled, refrigerate overnight for flavors to mature and enhance.
Cook the vegetables.
Since each vegetable requires a different cooking process and time, we will prepare these separately.
Cook the eggplant.
Wash and dry the eggplant. Cut in half lengthwise, without removing the outer skin, and these in squares of approximately 2 cm.
Prepare a large iron frying pan, or a non-stick frying pan if you prefer, pour 3-4 tablespoons of olive oil and place at medium-high heat.
Once it has reached temperature, add the eggplant and cook until it softens and takes on a golden colour on the outside.
Season to taste, mix and place in a strainer to remove excess oil, about 15 minutes.
Blanche broccoli.
Prepare a saucepan with water and place over medium-high heat, let it come to boil. While, cut small stems of broccoli and wash very well.
Fill a bowl with very cold water and ice cubes, set aside.
Once the water boils, add the salt and add the broccoli. Cook for 2 minutes, do not exceed this time.
Remove with the help of a slotted spoon and quickly place in the bowl with water and ice.
Leave for 1 minute. Drain and set aside.
With this process we favor that the broccoli acquires a very crunchy texture in addition to removing all the chlorophyll and favor that it has a very intense green color.
Cook edamames.
Prepare a pot with water, the quantity will go according to the edamames that you are going to cook, and place to high heat. Let the water boil.
Add edamames, in my case frozen, and let the water boil again.
Once the water comes to the boil, cook for 3-4 minutes.
Remove from heat and pour over a strainer.
Set aside.
Cook jasmine rice.
Fill a pot with water , according to the amount of rice that you are going to cook, and let it boil.
Wash the rice very well with cold water to remove excess starch. Drain.
Add the rice in the hot water and leave on a medium high heat until it comes to boil again.
Once it boils, lower to medium heat, cover and cook for 5 minutes.
After this time, reduce to medium low heat and cook for 8-10 minutes. It should have absorbed all the water. It is important not to uncover the pot during the cooking time.
Remove from the heat and let it rest for 2 minutes.
Serve.
Divide the rice into bowls.
Serve with curry broth, vegetables, edamames, soybeans sprouts, lime slices, basil and cilantro leaves.
Serve immediately.
Notes
If there is an ingredient that you can't find, you can replace it with a similar one or omit it. The good thing about this type of recipes is that they can always be adjusted to the tastes and / or needs of each.
In my case I have used Dashi broth, but you can use vegetable broth, another type of broth or even water if you prefer. In the latter case keep in mind that the taste will be a less.
If you don't like coconut milk you can use another variety of vegetable or even animal milk. But the taste, consistency and creaminess will not be the same...
If you make curry broth for several days, you can keep it refrigerated for 2-3 days or freeze it.
Vegetables are totally optional and you can adjust it to your tastes. I am crazy about eggplant and edamames... so I had to use them, hahaha. Not to mention the sprouts, they provide a wonderful crunchy texture.
I recommend you to cook the vegetables right at the moment you are going to consume them.
In my case I have used jasmine rice, but you can use that variety of rice that you prefer. To cook it, always follow the instructions of the package or manufacturer.
This Vegan green curry with jasmine rice will fascinate you, I promise. Besides, now that the cold and the rain are coming, these are the kind of dishes that are very appetizing. They comfort us inside and help to continue with the rest of the day much better. I don't know about you, but the days that I eat well become more bearable than those that I eat anything...
It is perfect to take at midday and even for dinner. If you are wondering, I have indeed also eaten it at night. It's that its taste is addictive, its combination of textures, its creaminess... Ok, if you like something, enjoy it! Even if you hurry me, you can take it to work. What I would do would be to bring a tupper with the rice and vegetables and another with the broth, then mix it before eating and after heating the green curry, and ready to eat ;)
I wish you a wonderful beginning of the week!
Big hugs,
Eva
This post contains affiliate links.
Archivado en