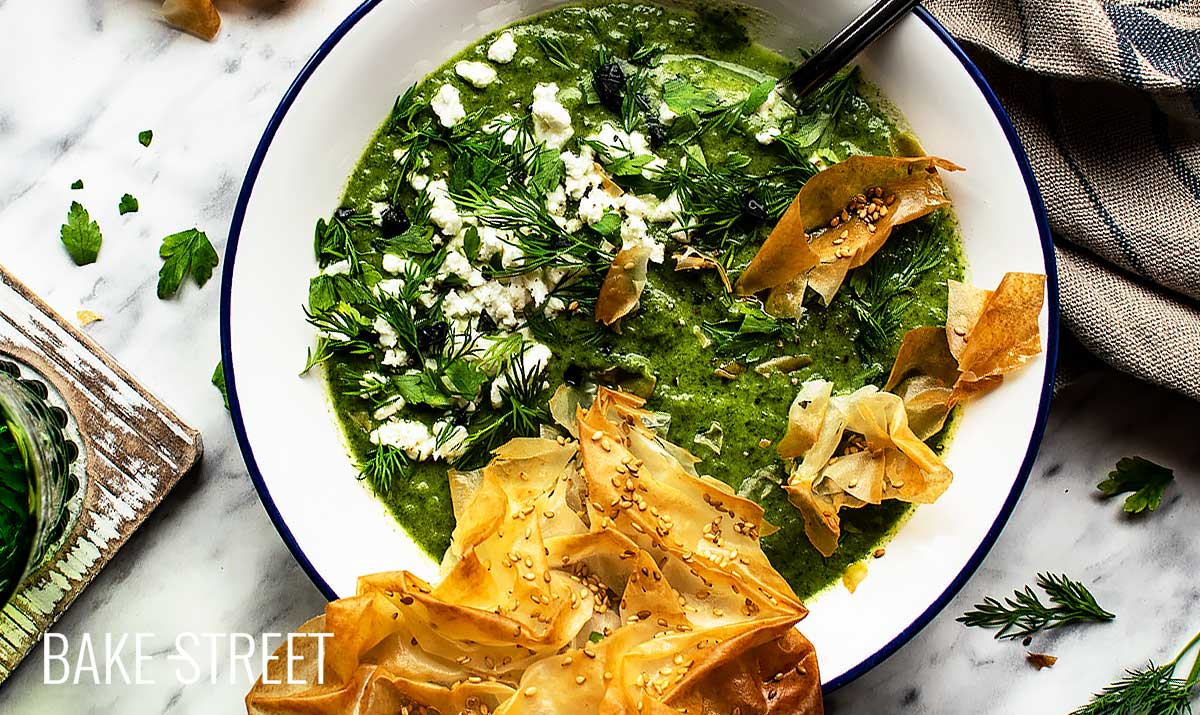 Spanakopita cream with crunchy phyllo
Este post también está disponible en Spanish
Before the Christmas season arrives and bombards you with sweet and wonderful recipes, I want to share with you a recipe that is worthy of a pedestal. I'm not exaggerating, promise. A few days ago I saw in Ful Filled's IG profile a recipe that fascinated me, a Spanakopita cream. The first thing that came into my head was, for God's sake, what an original idea! I found it fascinating.
And not only that, the presentation, the color of the cream, the way to develop the recipe… It's amazing. So, as always happens to me on these occasions, I wanted to develop a Spanakopita cream with crunchy phyllo based on her incredible recipe.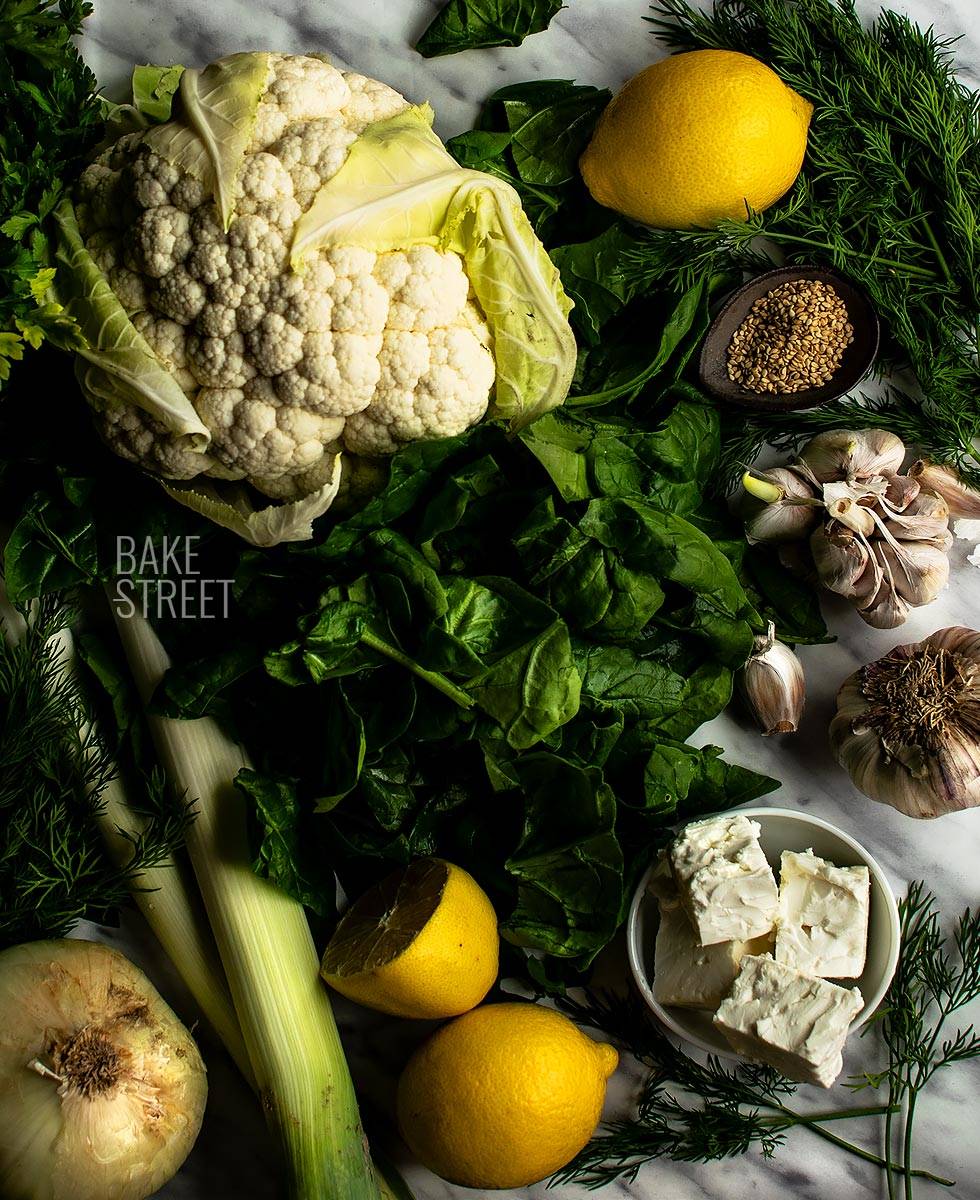 Whenever I fall in love with an idea, I try to adapt and version a little the original recipe so as not to literally carry out the same process. Her recipe is very good and we can enjoy it in her blog. For that reason, and since I loved her idea, I made another version modifying some things and based on the traditional Spanakopita (only available in Spanish).
Spanakopita cream.
The base of this cream is made with cauliflower, spinach and a vegetable broth. We will also add other elements that will help us to enhance the flavor and, some of them, are part of the traditional preparation of Spanakopita such as leek, dill, parsley, onion and garlic.
As with all preparations, remember that if there is something we don't like, we can replace it with another ingredient without any problem. What you should bear in mind is to use a similar one, so that both the final texture and the flavor follow the same line. Its elaboration process is very simple to carry out, all we have to do is fry, cook the rest of the ingredients together with the broth and blend until a cream is obtained. In less than 1 hour we will have an absolutely delicious cream.
Decorating our cream.
Bella, decorate her cream with halloumi croutons, toasted pine nuts, feta and dill. An option that I would certainly recommend because we have also eaten it at home and it is very surprising. But I wanted to leave you a different presentation and it occurred to me to use one of the main ingredients of this preparation, the filo dough.
I prepared a crunchy phyllo brushed with butter and sprinkled with sesame that we will accompany at the time of serving the cream. Also decorate with feta cheese, dill, parsley and black salt flakes. One thing I do recommend… Made more phyllo crunchy than I tell you, they are incredibly good and with the cream even more!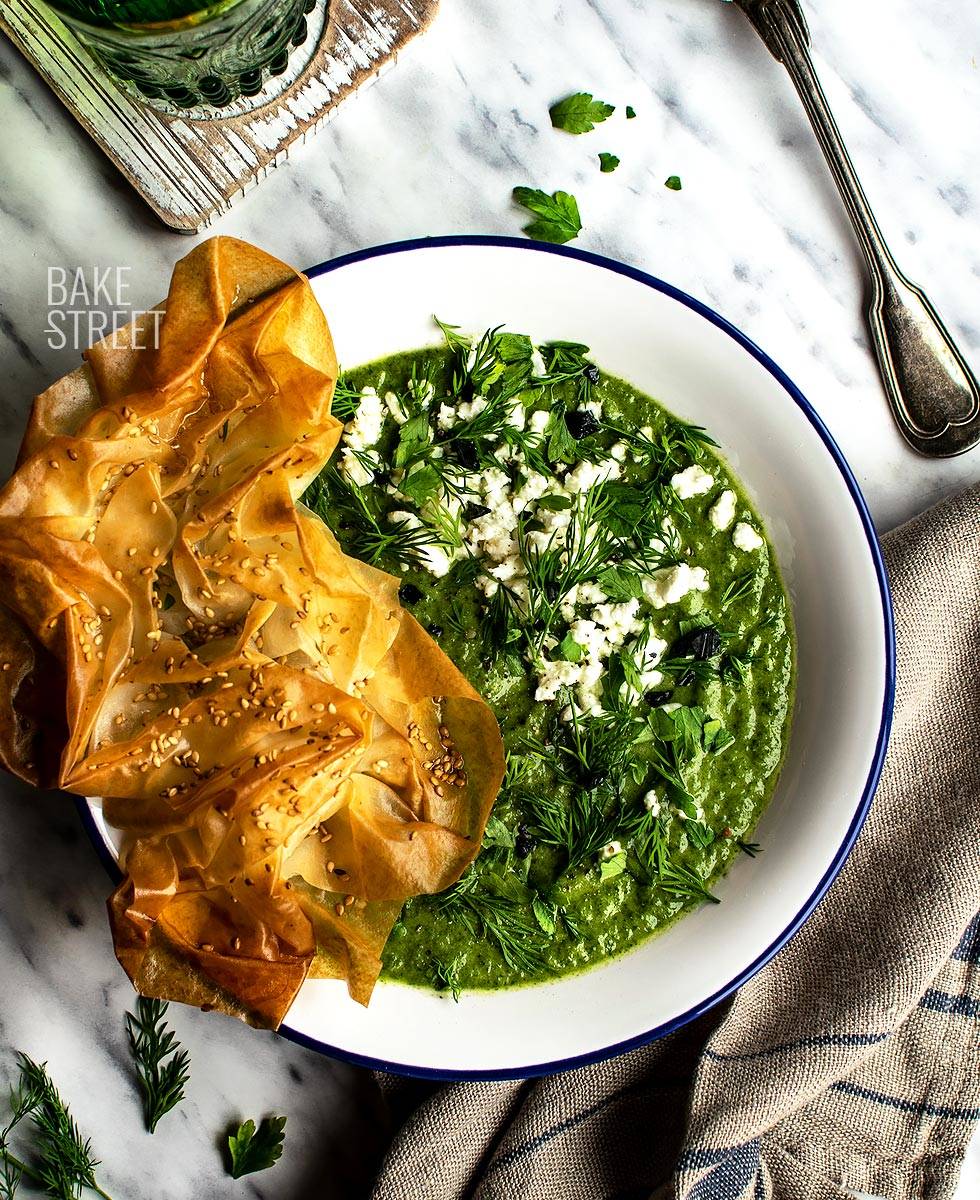 Ingredients for 4 serves
FOR THE CREAM:
500 g fresh spinach
450 g cauliflower
720 g vegetable broth
4 Tbsp olive oil
3 garlic cloves
1/2 large sweet onion
2 large leeks sliced
125 g feta cheese
3 Tbsp fresh lemon juice
15 g fresh dill
5 g fresh parsley
salt and black pepper to taste
FOR CRUNCHY PHYLLO:
4 sheets phyllo pastry
30 g unsalted butter, melted and cooled or ghee
sesame
GARNISH:
crumble feta cheese
fresh dill and parsley
black salt flakes (optional)
Instructions
Make Spanakopita cream.
In a large pot add the olive oil and place at medium heat.
Once it has reached temperature, add the chopped onion and cook at medium low heat for 4-5 minutes. It should acquire a semi-transparent tonality.
Add the minced garlic together with half of the dill and leeks. Cook, stirring from time to time, for 3-4 minutes more.
Add the cauliflower cut into pieces together with the vegetable broth and raise the heat until it comes to boil. Then reduce to medium low heat and cook for 20-25 minutes. The cauliflower should be tender.
Add the spinach, stir to help soak in the broth, and cook for 1 minute.
Remove from the heat, add the feta cheese together with the lemon juice, the rest of the dill, parsley, a pinch of salt and the ground black pepper.
Blend in a food processor or with a hand blender. In the second case, we will have to blend for more and several times until we achieve a smooth, homogeneous and creamy consistency.
Let it rest, covered, for a few minutes.
Make the crunchy phyllo.
Preheat oven to 390ºF (200ºC).
Line a baking tray with greaseproof paper, set aside.
Take a sheet of filo pastry and brush the whole surface with melted butter.
Sprinkle with raw sesame and fold trying to give it an attractive shape. In my case I made two shapes, one round and the other slightly elongated. I recommend you to make the second one because at the time of serving the dish it is much more elegant.

Place in the tray and make the same step with the remaining sheets.
Place in the oven and bake for 9-10 minutes, should acquire a light and beautiful golden color.
Take it out and let it cool down for a few minutes.
Assemble.
Ladle the cream in serving bowls.
Decorate the surface with crumbled feta cheese, fresh dill, chopped parsley and black salt flakes.
Place the phyllo crunchy and serve right away.
Notas
Thoroughly wash all vegetables, especially leeks, to remove any soil they may contain.
If you don't like dill, you can reduce the quantity a little, but I recommend you not to omit it because the taste is impressive.
I recommend you to use homemade broth always. We know what it is made with and the quantities of each ingredient. You can use the variety that you prefer either vegetables, chicken with vegetables, meat ...
If you do not have or do not want to use broth, it can always be replaced by water. But keep in mind that the final result will have less taste.
I recommend that you place the crunchy phyllo on the side of the dish or bowl, to prevent it from getting wet before time and losing the crunchy texture.
We can leave everything prepared in advance, both cream and crunchy phyllo. The latter can be stored in an airtight container once it has cooled completely, it will keep its crunchy texture from one day to the next.
You can keep the cream in an airtight and refrigerated container for 3-4 days.
This Spanakopita cream with crunchy phyllo is ideal to enjoy in these cold days. We can serve it as a first course or dinner, as well as leaving everything prepared in advance if desired. Just warm, decorate and serve.
Even for those who are not a big fan of spinach, this cream will undoubtedly be a different way to consume and enjoy them. Trust me. And why not? It can even be served as a meal on Christmas days, its presentation is very elegant and its texture very light, perfect to open your mouth with the rest of the dishes.
I wish you a very happy beginning of the week.
Big hugs,
Eva
Archivado en