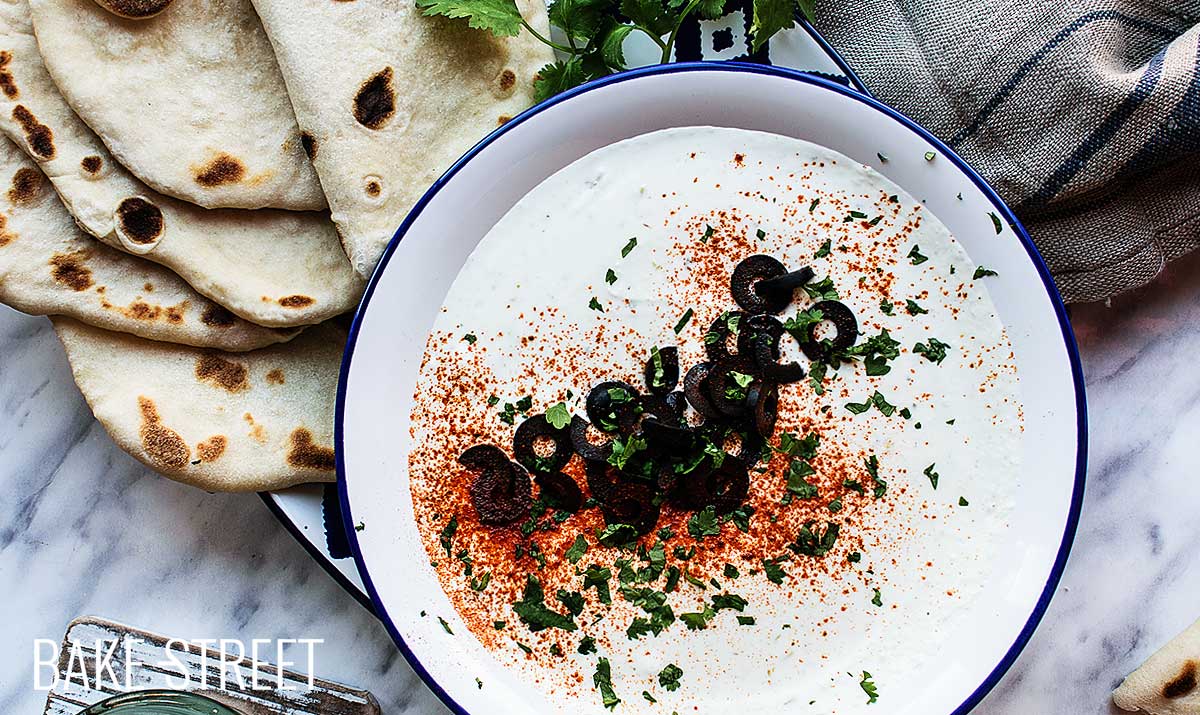 Tirokafteri, Greek spicy cream cheese
Este post también está disponible en Spanish
A couple of weeks ago we ate in a Greek restaurant and tasted different dishes of its great gastronomy. Many of us already knew them, but one of them we had not tried before, which is the one I share with you today. Yeah, I know, it's one of his most popular sauces/dips along with the tzatziki. But we already know that it's never too late if the bliss is good. Today I leave you how to prepare a super simple and wonderful starter or aperitif of Greek cuisine. Tirokafteri with Greek pita bread.
It is a type of dip sauce made with feta cheese, Greek yogurt, garlic, chilies, oregano and olive oil. All this is processed and served decorated with sweet paprika and olives. Easy, fresh and absolutely delicious.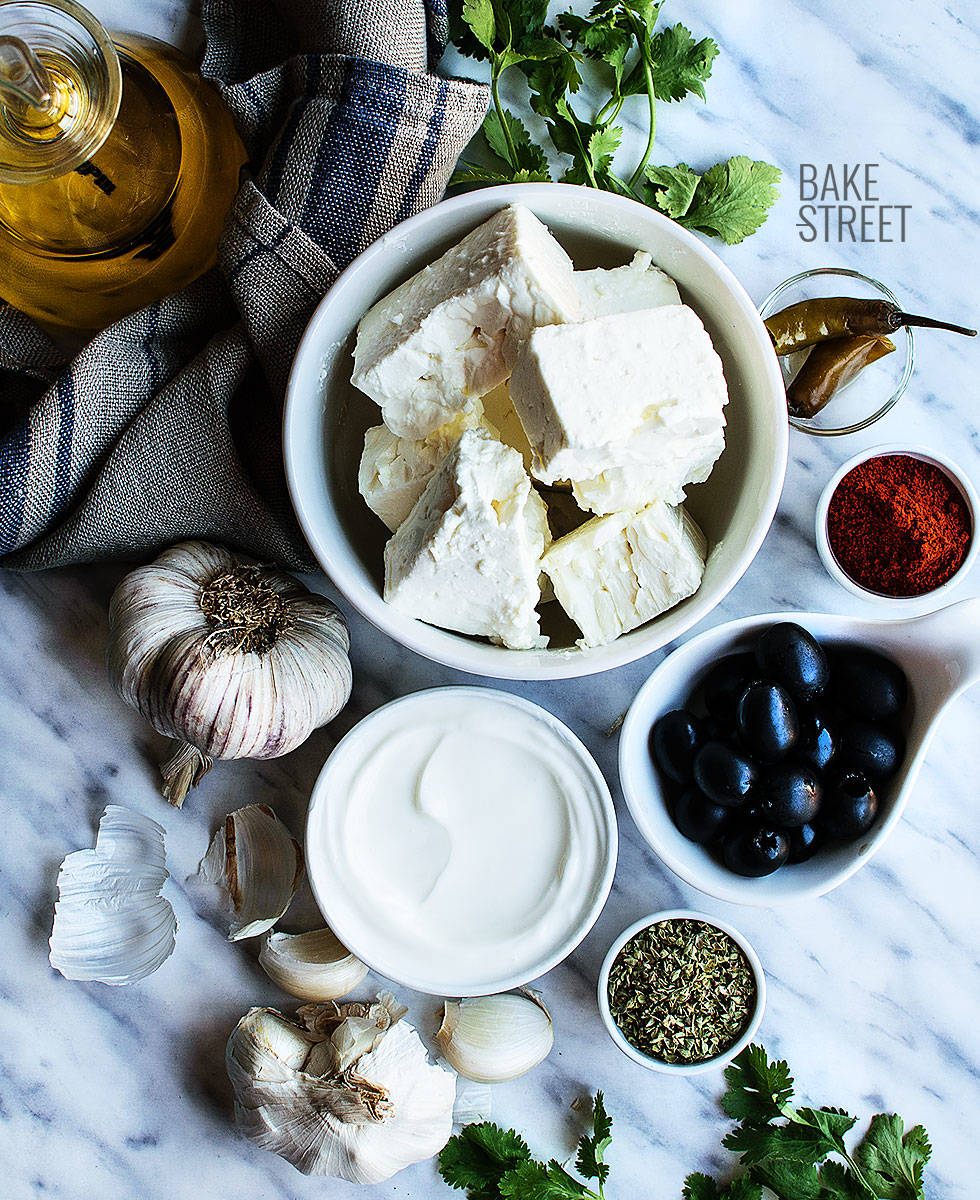 Tirokafteri origin.
"Tiri" or "Tyri" in Greek means "cheese" and "kafteri" "spicy". So the translation of Tirokafteri would be "spicy cheese". It is traditionally served as a starter (meze) accompanied by pita bread or vegetable crudités, but it is also common to serve it as a side dish for a dish; meat, vegetables…
Feta cheese has a peculiarity: it has a very dense and crackling texture. To obtain a creamy and spreadable texture, we will have to process the feta cheese together with the Greek yogurt. This will help soften its texture and turn it into a creamy and very smooth sauce. Don't forget that after cooling it, it will become a little denser.
Many recipes use fresh whole milk instead of yogurt. You can use both indistinctly, but in my case I preferred to use yogurt so that it will also bring a little softness.
Another factor to keep in mind is that both, yogurt and milk, reduce chili spiciness. So don't be afraid of the amount I specify, although you can always add a small amount, blend the sauce and taste it. In this way you can adjust the flavors according to your tastes.
Accompanying the sauce.
When we ate at the restaurant we were served this spicy cheese sauce with small pita breads. These breads were a little fluffier than the ones I've had before. We really liked it a lot. That's why I knew that when I shared this recipe with you, I would do it with some pita breads.
The recipe is very basic only that it contains a small amount more hydration, since I wanted to achieve a more spongy result, in addition to an important amount of honey. And there's no need to turn on the oven, we'll make them in a frying pan 😉
The result is absolutely extraordinary! A super simple recipe to carry out with which we can open the appetizers of a dinner, lunch, barbecue…. It'll go well any time. Even a quick summer dinner accompanied by a salad or other dip or cream sauce.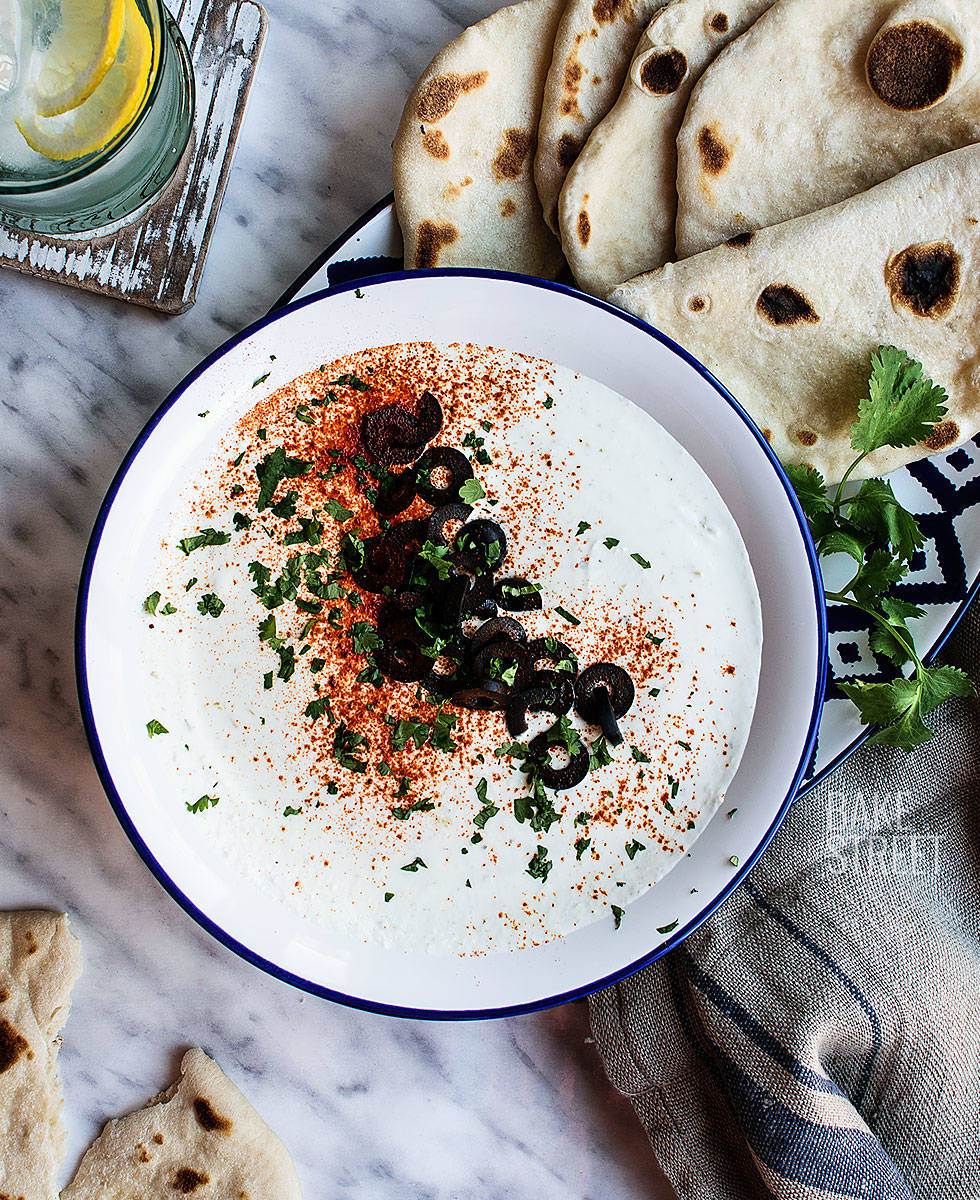 Ingredients
FOR KIROKAFTERI:
350 g feta cheese
85 g unsweetened Greek yoghurt
1 large garlic clove, about 8 g
15 g olive oil
7 g white wine vinegar
10 g pickled Serrano chili with seeds
3/4 tsp dried oregano
ground black pepper to taste
1 tsp sweet paprika, for garnish
sliced black olives
fresh cilantro, chopped
FOR GREEK PITA BREAD (19-20 PIECES):
500 g all purpose flour
2 g dry yeast + 10 g water
115 g whole milk
185 g water
30 g unsalted butter at room temperature
50 g honey
7 g salt
Instructions
Make kirokafteri.
In a food processor add the crumbled feta cheese along with the yoghurt, olive oil, vinegar, chopped garlic, chopped chili, ground black pepper and oregano.
Blend until obtain a soft and creamy paste. Taste and rectify, if necessary, any ingredient that we believe we can enhance further.
Pour into a deep dish or bowl, cover with film and refrigerate for at least 2 hours.
Make Greek Pita Bread.
In the bowl of the mixer add the flour together with the milk, water and honey.
Mix with the help of the hook at speed 1 until a homogeneous mixture is obtained.
Add the salt together with the butter and knead again until a smooth and soft texture is obtained.
Dissolve the yeast in the water and pour into the dough. Continue kneading until the dough is smooth.
Make bulk fermentation.
Once we have our perfectly developed dough, make a ball.
Grease a tupper or airtight container, put the dough inside and let it rise until it has doubled in volume. In my case, it took 3 hours at 78,8º F (26ºC).
Preshape.
Transfer the dough over a clean, flour-free surface. Divide the dough into 19-20 equal pieces, about 1,6 oz (45 g)/ each.
Make a ball with each piece, cover with a cotton cloth and let it rest for 15 minutes.
Shape and cook.
Place an iron skillet on medium heat.
Using a roller, stretch one of the pieces to shape a disc with a diameter of 4 inch (10 cm).
Place into the pan.

Cook for 1 minute on each side, watch as bubbles appear on the surface.
Remove and place on a cloth. We repeat with the rest of the pieces.
As we take out the flatbreads, we will stack them one on top of the other.
They can be eaten freshly made or once they are cold like corn tortillas.
Serve.
Take out kirokafteri from the fridge.
Sprinkle with sweet paprika and decorate with laminated black olives and chopped fresh cilantro.
Serve with freshly baked pita breads.

 
Notes
All the quantities of kirokafteri can be adjusted to your personal tastes.
If your medium strength flour/AP flour is lower in protein than the one I leave in the ingredients, it will need a little less hydration to achieve the same consistency as this one. In that case, I recommend you to add the milk/water little by little and watch until the desired consistency is achieved. Wait for the dough to absorb the liquid well before adding more.
It is not necessary to grease the iron pan to cook them. It is important to make sure that the pan* (preferably iron) is hot so that the dough does not stick and the cooking is done properly.
We can serve the kirokafteri with pita bread and/or crudités, as you prefere.
These flatbreads can be kept for several days in a freezer bag or zipped. If you wish, you can warm it before consuming it.
If we have any kirokafteri left over, we can keep it in an airtight container in the fridge for 3 days.

Skeppshult Iron Skillet from Claudia & Julia (affiliate link)*
This Kirokafteri with Greek pita bread is a super simple recipe that will get us out of trouble more than once. A different and perfect snack to accompany a good wine.
If you don't feel like making pita bread, which is not baked in the oven but in a frying pan, you can always serve it with crudités or toasted bread, grissinis... store-bought. It's not the same thing, but depending on the moment, it might work for us.
I hope you enjoy this delicacy of Greek gastronomy and tell me what you think of it.
I wish you a wonderful start to the week!
Big hugs,
Eva
Archivado en