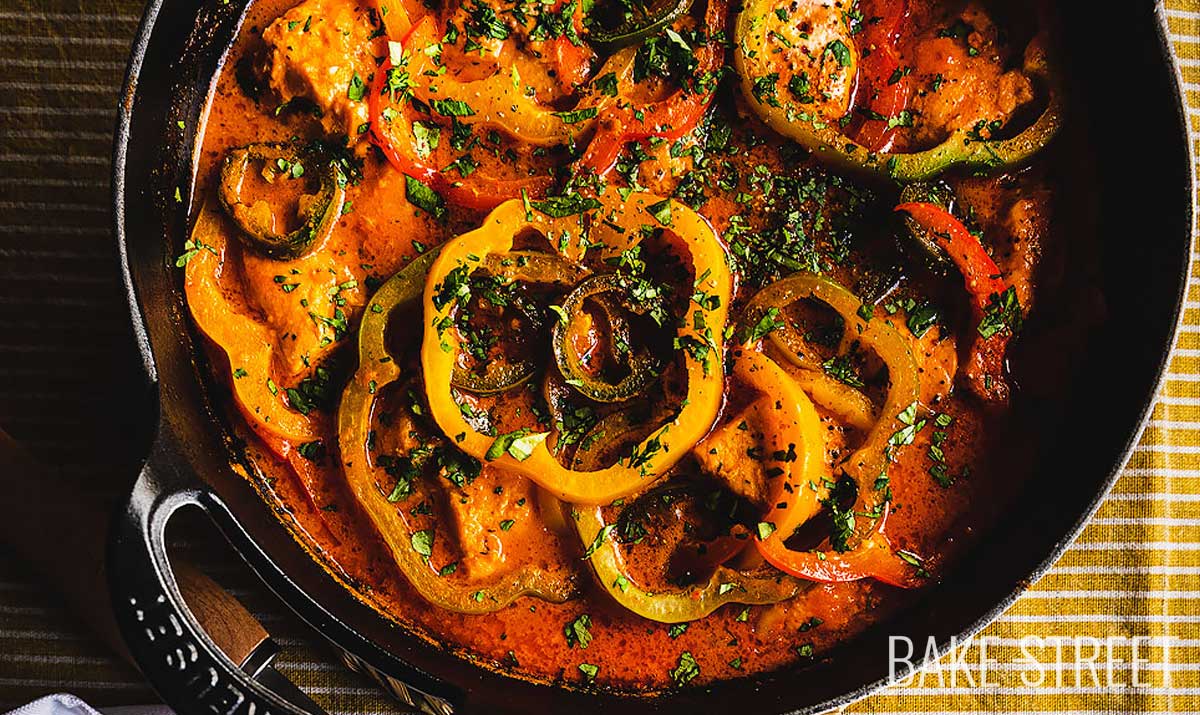 Salmon Moqueca – Salmon Stew
Este post también está disponible en Spanish
It seems that cold days have finally arrived and, with them, the desire to prepare soups and stews. At least in my case. There is nothing better than coming in from the street on a winter's day, knowing that a good, warm stew awaits you. Now that's happiness. For those of you who love intense, daring and different flavors, close your eyes and travel with me to Brazil to enjoy this wonderful Salmon Moqueca.
This is a fish stew that, in case you haven't tried it already, I recommend you to do it as soon as possible. It is possible that when you see that it is a fish stew, it may not call much attention to you. But trust me. I promise you that it will surprise you a lot.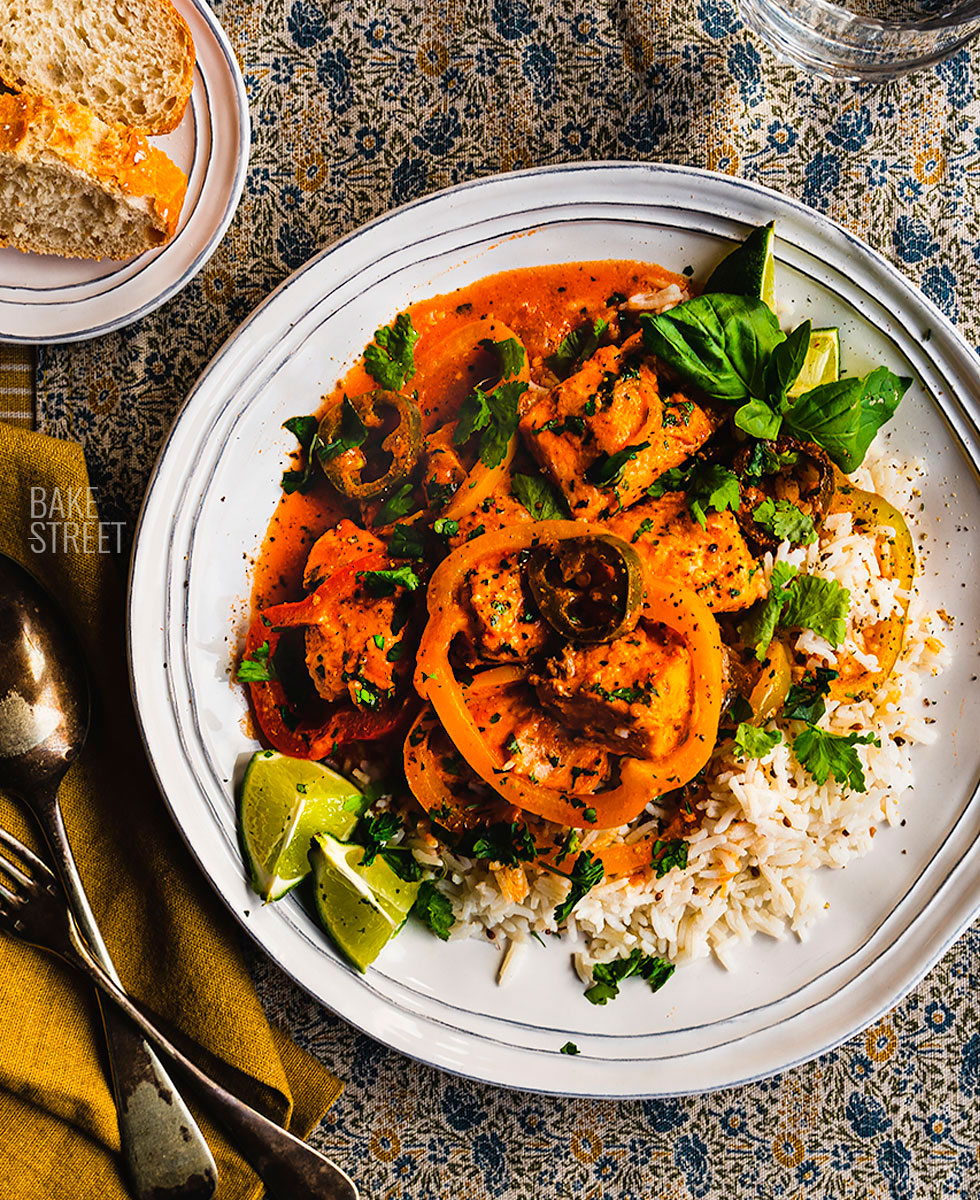 The moqueca or muqueca de peixe in Portuguese, is a very simple recipe made with accessible ingredients, which does not require much time to prepare (as long as you already have the tomato sauce made in advance). The stew is made with fish in chunks or cubes, traditionally made with white fish, but in my case I leave you this version with salmon, tomato sauce, coconut milk, onion, bell pepper, coriander and palm oil (dendê), although we will use olive oil. Apparently, this variety of oil gives the stew a very particular and pleasant flavor and aroma.
Moqueca, a word derived from pokeka, is of indigenous Brazilian origin and was originally carried out by roasting the fish between the leaves of different trees.
There are two types of moqueca; moqueca baiana, from the state of Bahia in the northeastern part of Brazil, has African influences. It is made with coconut milk and palm oil. And moqueca capixaba, from the state of Espírito Santo in the southeast, has Portuguese influences. It is made with olive oil and urucum (annatto-achiote) seed.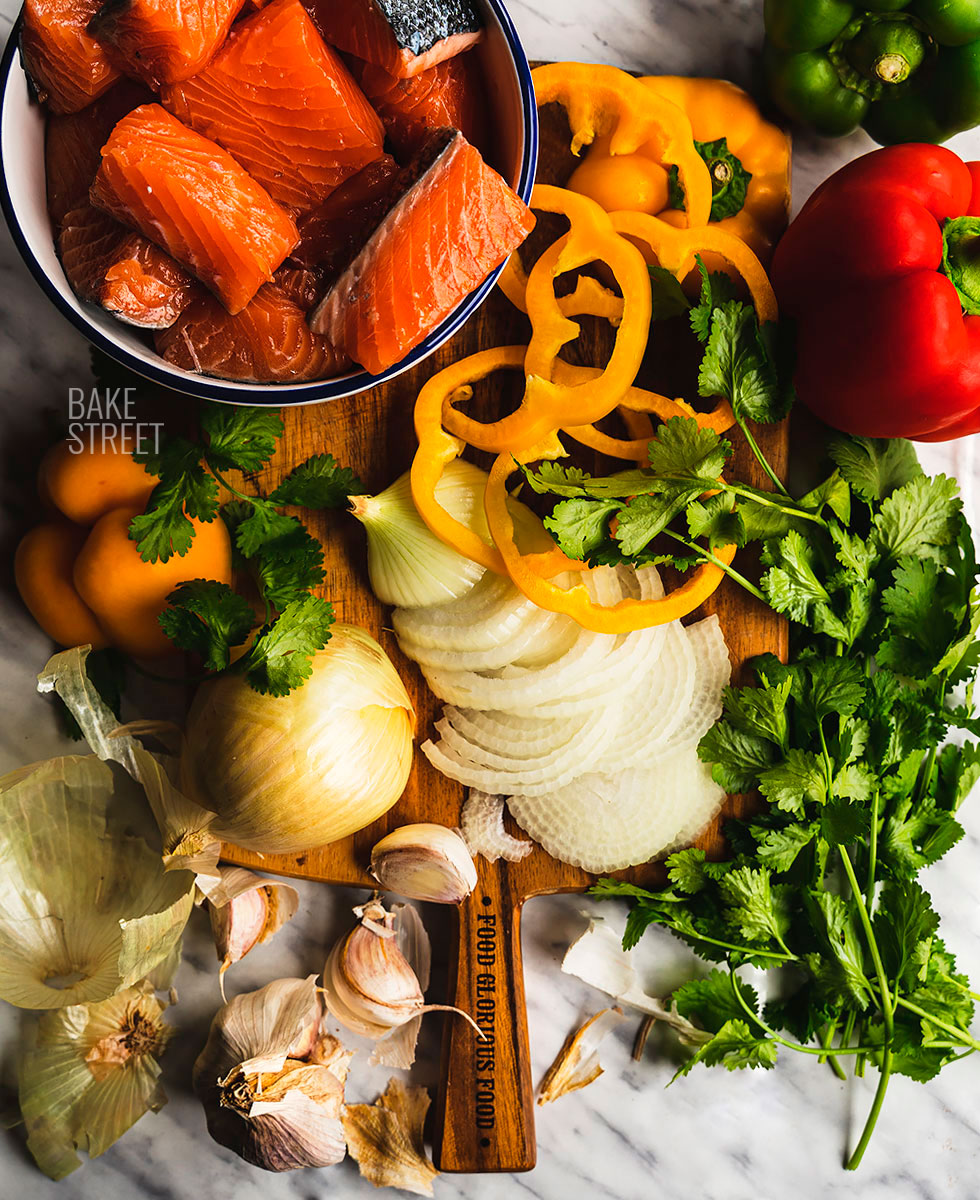 The first written mention of moqueca is found in a historical document, a letter from the Portuguese priest Luís de Grã, dated 1554. In 1584, another priest, Fernão de Cardim, comments that fish, potatoes, and mangará (banana flower), among other foods, were roasted. Today moqueca is not roasted, it is cooked on a stove.
This elaboration can be served with rice or beans, although it is very common to find it accompanied by cassava.
Making Salmon Moqueca.
To prepare this fish stew, we will make a homemade tomato sauce. Maybe you think, can I use canned tomato sauce? Of course you can, but I advise you to make it homemade if possible because the final taste is nothing like it. In my case I make a somewhat particular tomato sauce, but the final taste and texture is incredible.
Once we have the tomato sauce ready, we will use it as a base, along with coconut milk, to cook the salmon. This does not require much cooking time to be cooked. In about 18 minutes, you will have it ready. Accompany the stew with slices of bell bell pepper and jalapeño. In my case I show you how to serve it with infused rice, although you can serve it with whatever you like.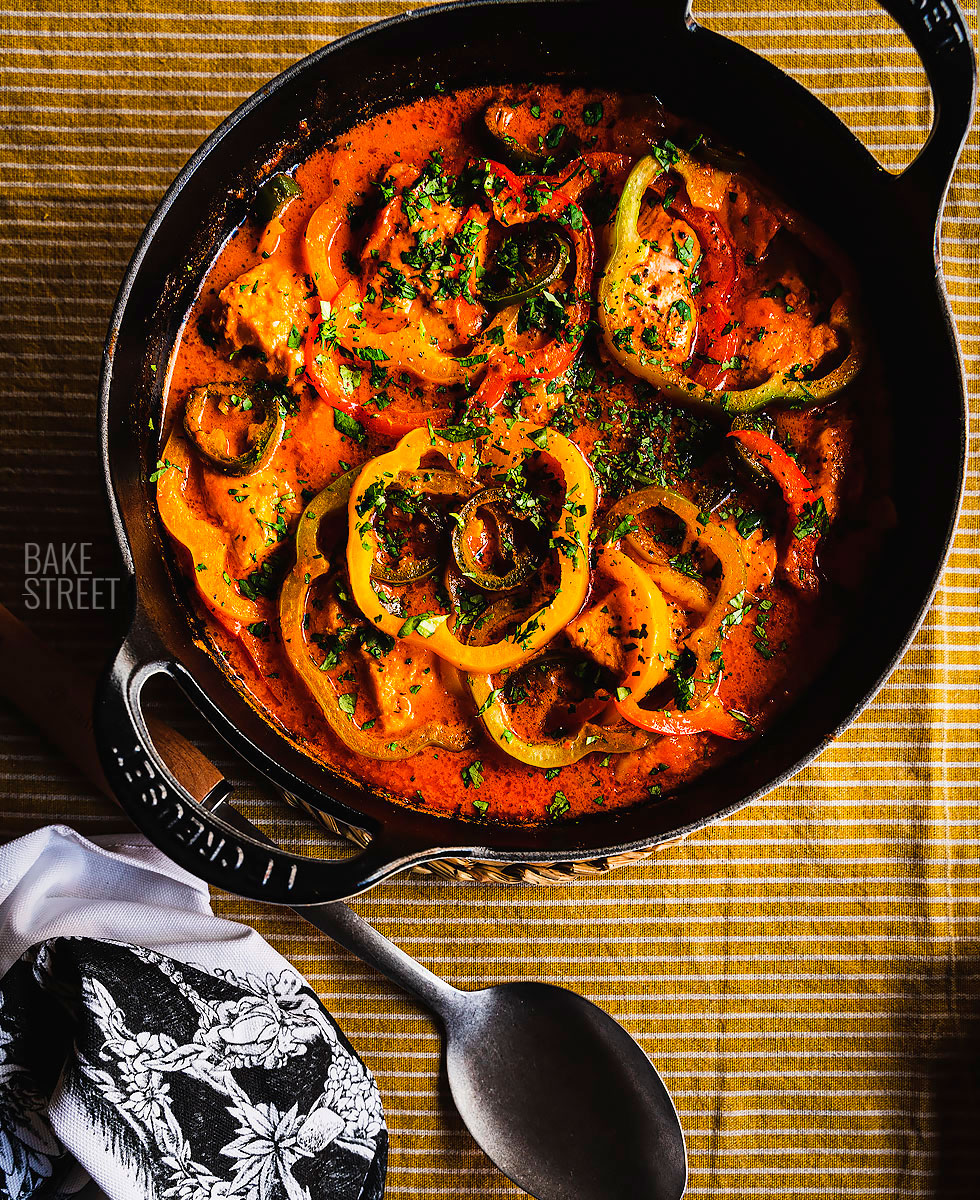 Salmon Moqueca - Salmon Stew recipe
INGREDIENTS FOR 3 SERVES
1 kg fresh salmon, loin and cut into chunks
2-3 tablespoons olive oil
1 medium sweet onion, sliced
2 large garlic cloves, sliced
285 g homemade tomato sauce (recipe below)
145 g high-fat coconut milk
1 yellow bell pepper
1 red bell bell pepper
1 green bell bell pepper
1 fresh jalapeño (optional)
juice of half a lime
salt and black pepper to taste
chopped fresh cilantro
chopped fresh basil (optional)
HOMEMADE TOMATO SAUCE:
1 kg red and ripe tomatoes
1 roasted red bell pepper, ideally homemade
3 tablespoons olive oil
15 g unsalted butter
20-25 g sugar
Salt to taste
ANISEED INFUSED RICE:
The amount of rice detailed is per person
50 g basmati rice
135 g water
1 bay leaf
1 teaspoon of anise seeds
½ tablespoon olive oil
fleur de sel
Instructions
Blanch tomatoes.
Fill a large pot with water, place over medium heat and bring to a boil.
Meanwhile, make a cross cut at the base of each tomato.
Once the water comes to a boil, carefully introduce the tomatoes and blanch for 1 minute.
Remove tomatoes from the water and let them cool until you can handle them without burning your hands. We can also put them under a stream of cold water.
Remove the skin, chop and add them back into the pot.
Prepare tomato sauce.
Add olive oil, sugar and a little salt to  chopped tomatoes.
Place over medium high heat and cook until the tomatoes come to a boil.
At that point, reduce heat to medium low. As the tomato begins to cook, it will begin to release water. Cook until we notice that much of the water has evaporated, it may take about 35-45 minutes.
At this point, add roasted red bell pepper strips and cook for another 10 minutes.
Remove from the heat and blend to obtain a smooth and creamy tomato sauce.
Return to the heat and stir in the butter. Cook until you obtain the desired density for your tomato sauce.
Taste, adjust salt and sugar if desired.
Set aside.
Prepare rice infused with aniseed.
Wash  rice thoroughly with cold water to remove excess starch. Drain.
Place a saucepan over medium heat, add the oil and, once it reaches temperature, sauté the rice for a few seconds.
Add the aniseed and bay leaf to the rice along with the water, leave over medium high heat until it comes to a boil.
Once it comes to a boil, lower to medium-low heat, cover the pot and cook for 5 minutes.
After this time, reduce heat to low and cook for 8-9 minutes. It should have absorbed all the water. It is important not to uncover the pot during the cooking time.
Remove the pot from the heat.
After 2-3 minutes, open the lid and stir the rice with a wooden spoon.
Prepare Salmon Moqueca.
Place Balti Dish on medium heat.
Pour olive oil and let it heat up, without smoking.
Add the onion and garlic and cook, stirring occasionally, for 5 minutes or until translucent.
Add tomato sauce along with coconut milk. Mix well with a wooden spoon and cook for 2-3 minutes more.
Place salmon pieces in the Balti Dish allowing them to be submerged in the broth.
Distribute the sliced colored peppers over the surface along with sliced jalapeño.
Cook for 18-20 minutes, the temperature of the salmon should not exceed 140ºF/60ºC in the central part of the piece. A lid can be placed over the Balti Dish to help retain some of the steam.
Remove from the heat, drizzle the surface with the juice of half a lime and sprinkle generously with chopped fresh coriander.
Serve Salmon Moqueca.
On a large plate, place a base of flavored basmati rice and, on top of it, put pieces of salmon with some broth and vegetables.
Sprinkle some black pepper, more fresh coriander (if desired) and fresh basil. Garnish with lime wedges.
Serve immediately.
Notes
Traditional moqueca is made with white fish, but this version with salmon gives us a very surprising and tasty result.
I recommend using fresh salmon instead of frozen, if possible. In this case it is not necessary to freeze it since we are going to cook the fish completely.
If we buy the salmon loin whole, we can cut the pieces to the size we prefer. If we order it from our fishmonger, make sure that the pieces are not too small.
It has nothing to do if we make the tomato sauce at home than if we buy it ready-made... I recommend you to dedicate a little time to prepare the sauce at home.
I advise you not to omit roasted red belle pepper (and roast it at home), whenever possible, because it not only gives a very vivid color, but also a wonderful flavor.
The butter in the tomato sauce is an ingredient that not only adds flavor, which is wonderful, but also texture. The tomato sauce becomes creamier and creamier.
Jalapeño is optional, but I recommend adding it. It adds a spicy point, very light, and very pleasant.
If you do not like coconut milk, you can use heavy cream instead. The result will not be the same in flavor, but in consistency and texture.
This dish is ideal to serve with rice. In my case I leave you the option of accompanying it with infused basmati rice, but you can use the variety of rice you prefer.
This salmon stew can be frozen in an airtight container for 2 months.
I am sure that this Brazilian fish stew, Salmon Moqueca, slightly modified from its original recipe, will fascinate you. It is a perfect recipe for winter days, although of course we can enjoy it whenever we want.
For my part I suggest serving it with basmati rice infused with anise, some time ago I left you a recipe in which I used it (this curry) and since then we usually prepare it a lot as an accompaniment to different elaborations.
In addition, you can vary the spices and adjust according to the recipe you are going to prepare, for example cardamom, cumin, fennel ... It is a way of cooking rice very resultona. I look forward to hearing what you think!
Love,
Eva
Sources: Vox Localis
Archivado en