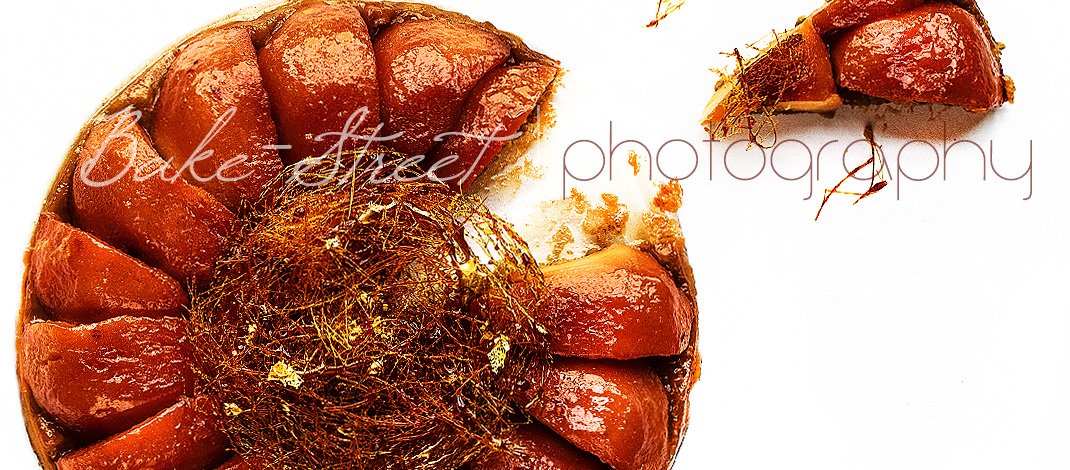 Quince Tarte Tatin with caramel nest
Este post también está disponible en Spanish
Two weeks ago my parents gave me a lot of quinces, pomegranates, persimmons… from their garden. Every year they give us a big amount from fruits, but this year it was insanity! I have my terrace full of quinces, but I have to admit that smells awesome. So I have to think about several recipes to use them besides the traditional sweet quince. This quince tarte tatin has been the first recipe that I made with them.
Sincerely, I though about this tart because I knew it will be necessary a lot of quinces! So I could reduce the large shipment! I love quince, so I think this tart will be awesome.
I didn´t know exactly how sweet it will be. Apples, except for Granny Smith, may have a natural pleasant sweet. But natural quince, without cook, has a complex flavor and too hard texture (this is only my opinion). Many of you told me that you eat them natural, even with salt!, but I need to cook it before eating.
I never use too much sugar with tarte tatin, well I try to use always the less sugar I could. That way, we will get a potent quince flavor with a lightly caramelized sweet. In contrast to apple tatin, which I cook in the saucepan with the caramel, for this particular tart we will make poached quinces with honey and cinnamon.
They will become soften and aroma will be intense thanks to infuse with honey and spices. Once quinces are ready, make caramel,  cover with poached quinces and cook for a few minutes. I´m drooling only with the remembrance!
The dough that I have used to cover the tart is the same that I used for this Caramel Ambar tart, hazelnut pâte sucrée. When I make this kind of dough, I like to do a big amount. You can form the dough into a ball, wrap it tightly in plastic wrap and freeze for 1-2 months. Believe me when I tell you that this resolves more situations what you think. For 10 inches cast iron skillet, you will need roughly 12.2 oz.
Final decoration was improvised, I think it became through the way. At first it wasn´t easy to make caramel threads, but if you have control over caramel temperature, everything goes perfect. The appearance reminds me a bird nest, so I decided to call it this way!
QUINCE TARTE TATIN
We need a 10 inches iron skillet.
HAZELNUT PÂTE SUCRÉE :
6.87 oz (195 g) pastry flour
3 oz (85 g) icing sugar
0.88 oz (25 g) ground almond
0.52 oz (15 g) roasted hazelnut
4.58 oz (130 g) cold unsalted butter
1 large egg
0.70 oz (20 g) dark moscabado sugar
1/2 tsp salt
POACHED QUINCES:
6 large quinces
33.8 fl oz (1,600 l.) water
7 oz (200 g) sugar
2.64 oz (75 g) honey
1/2 lemon juice
2 cinnamon sticks
½ vanilla bean, split lengthwise
CARAMEL FOR QUINCES:
5.30 oz (150 g) sugar
3.17 oz (90 g) unsalted butter
dash of lemon juice
CARAMEL NEST:
3.5 oz (100 g) sugar
edible gold foil
gold powder dust
INSTRUCTIONS:
Make hazelnut pâte sucrée.
Add roasted hazelnuts in a food processor and process until hazelnuts are finely ground. Set aside.
Grate butter, set aside.
In a big bowl add pastry flour with ground almond and hazelnuts, grated butter and salt. Mix between your hands until combined. Texture must be grainy.
Add moscobado sugar, egg and mix lightly.
Transfer the dough to a counter and knead making fraisage technique. It will be useful to get an homogenous dough but without gluten developed.
Put the heel of the hand over the dough and push to the front little by little to get a merged dough but without being elastic. We can see how to make it in this video.
Once the dough is homogenous, roll it between two teflon sheets into 0,11 inches (3 mm). Diameter dough must be bigger than iron skillet.
Let sit between two sheets over a baking tray in the fridge for 2 hours or overnight.
Poach quinces.
Peel quinces with a sharp knife or vegetal peeler and remove quince core. They are too hard so be careful when you make this step.
Cut in quarters, drizzle with lemon juice and set aside.
Pour water in a pot with honey, sugar, vanilla, cinnamon sticks and quinces.
Cook medium heat until quinces are tender, roughly 30-35 minutes. If you insert a fork, must come in and out easily.
Remove from the heat and let lightly cool.
Make caramel for quinces.
Put cast iron skillet over medium heat and add sugar with a dash of lemon juice. Let cook until sugar melts and turn golden brown.
Add butter and let cook until melted fully, stirring occasionally.
Remove from the heat and arrange the poached quinces over the caramel in concentric circles with the cut sides facing up, packing them as tightly together as you can.
Put again over medium heat for 12 minutes. Quinces will get lightly caramelized.
While…
Preheat oven 356ºF.
Remove the dough from the fridge and lay over the quinces.
Trim off any excess dough, with the heat from the cast iron edge will be enough, then tuck the edges of the dough around the outermost quinces and prick it with a fork.
Place the pan into the oven and bake for 25 minutes.
Remove from the oven and let rest for 5 minutes, then carefully with oven mitts, invert the pan onto a plate. Don't let the tart sit in the pan too long or it will stick.
Let cool if you want to decorate with caramel nest or lightly cool if you are going to eat soon.
Make caramel nest.
Line a baking sheet with parchment paper, set aside.
In a medium saucepan add sugar and let melt completely. t must turn golden brown, but not too much, otherwise it will be bitter.
Remove from the heat and let sit roughly 2 minutes.
Take either 2 forks in your hand or a wire whisk that you've cut the ends off of and dip it into the sugar and lift it up. If you see tiny strands (as opposed to drips) coming off the tines, your sugar is cool enough to fling.
Make circles over the baking sheet as faster as possible. You must work quickly because caramel cools inmediately.
Lift the caramel threads and form it into a nest.
Carefully brush threads with gold dust, fine details without brushing too much.
Decorate with 2-3 fragments of edible gold foil.
Assemble quince tarte tatin.
Do not put caramel nest over the tarte tatin until served. Quince moisture become caramel nest dissolved.
PRESERVING: Can be stored in a airtight container into the fridge for up 7 days. But don´t worry, it will disappear before!
If apple tarte tatin was my favourite tart… this quince tarte tatin is taking advantage! It is absolutely delicious and light, with an incredible taste from poached quinces and not too sweet.
Hazelnuts dough combines perfectly with infused quince but, of course, you can change it for another kind of dough if you wish.
I think it will be a perfect dessert for Christmas, your guests will be pleased!
Have a really nice weekend, see you on Monday! 🙂
Eva
Archivado en