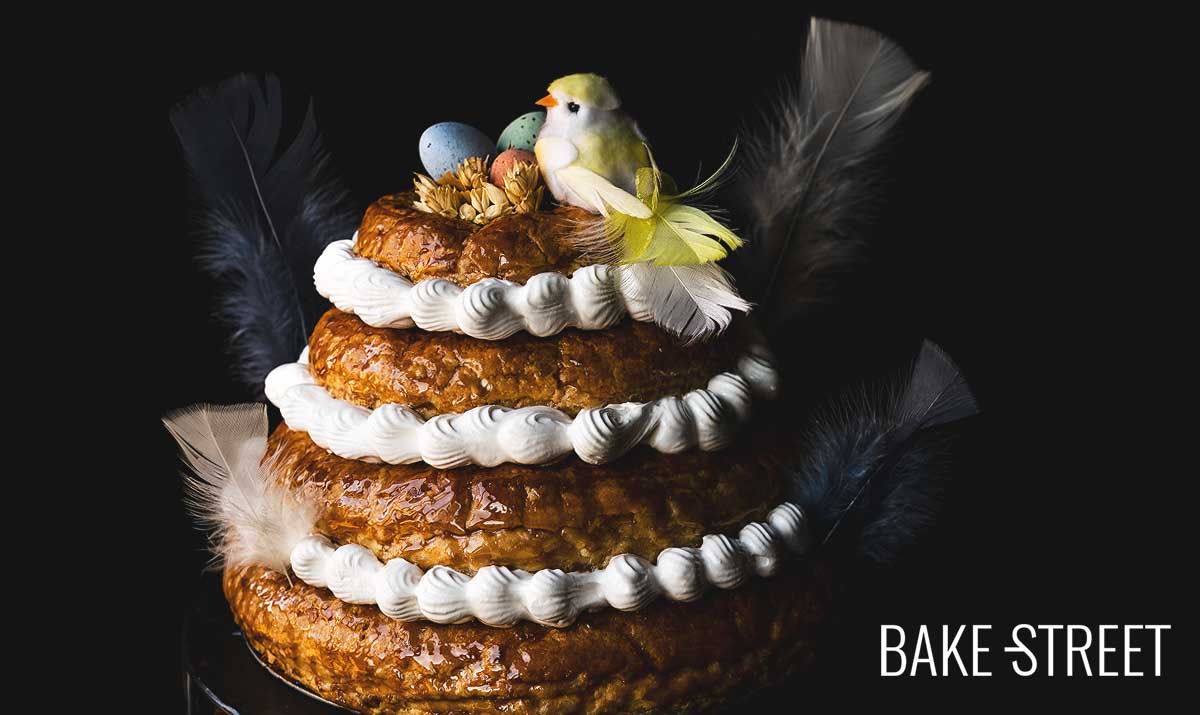 Puff pastry wreaths filled with almonds – Roscu de Pascua
Este post también está disponible en Spanish
This is the beginning of a time of year full of sweets treats and cultural traditions. You already know that I love nothing more than cooking & baking, but if the preparations have a story behind them, I love them even more. Today I would like to share with you a recipe that I have been wanting to make for a couple of years and always, for one reason or another, the season passes me by. Puff pastry wreaths filled with almonds, also known as Bollu or Roscu de Pascua, traditional recipe from Asturias (Spain).
It is a cake made with puff pastry and a flavoured almond filling that is reminiscent of marzipan. Once baked, it is brushed with a thick syrup made with cinnamon, orange peel and dry wine. It can be presented as high or as low as you like. It is traditionally decorated with meringue, candied fruit, flowers, feathers and Easter eggs.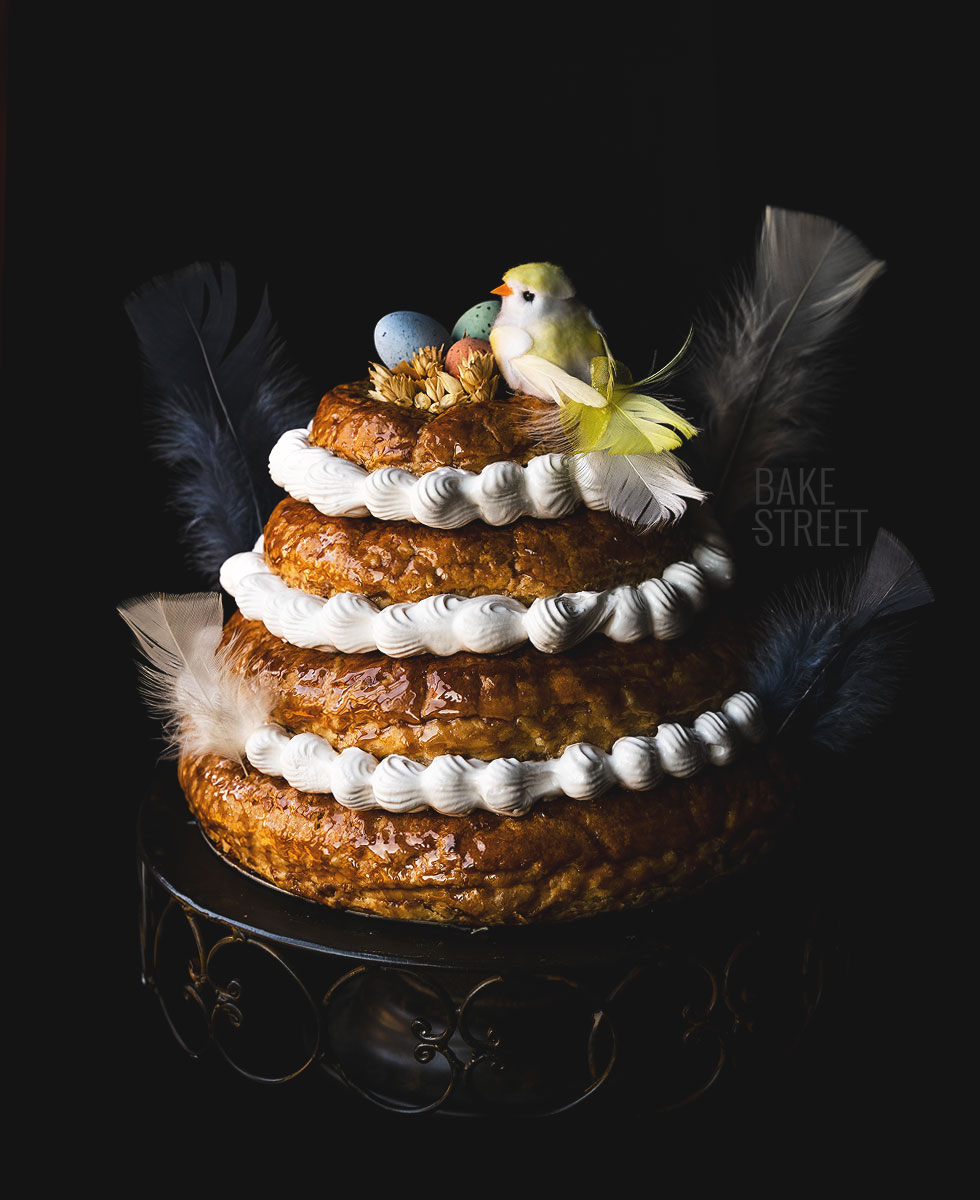 Puff pastry wreaths filled with almonds – Bollu o Roscu de Pascua origin.
The original Bollu de Pascua is not made with puff pastry but is a buttered sponge cake known as Mantecado de Avilés. It is baked in a characteristic four-pointed mould and it is usual to superimpose several layers of different sizes. It is covered with icing and decorated for the festivity.
At the end of the 17th century, sailing ships sailing from Asturian ports on the route to the Americas carried sweetened bread among their provisions. It had the ability to harden and keep for a long time without going mouldy. This differentiated it from boroña, made with corn flour, giving it the names of bollo and marañuela, both of which are still made today.
In Avilés, this sweet treat is transformed and presented covered with a sugar frosting, becoming a gastronomic symbol of the festival founded in the city in 1893 to celebrate the arrival of spring. It was a tradition to distribute buns and wine from Nava del Rey to those attending the celebration on Easter Sunday.
On Easter Sunday and Monday the Fiesta del Bollo, is held, declared to be of National Tourist Interest, celebrating the end of the Easter fast and the beginning of spring. On Sunday there is a large parade of floats, music bands and folklore groups, as well as giants and big-heads that go through the streets of the town. Monday there is a massive open-air meal in which participants share food prepared at home or in bars and restaurants.
During this weekend it is customary to enjoy this cake.
Over time, it has taken on new formats. Puff pastry wreaths is an evolution of this buttery pastry, made with other products, but with the same purpose.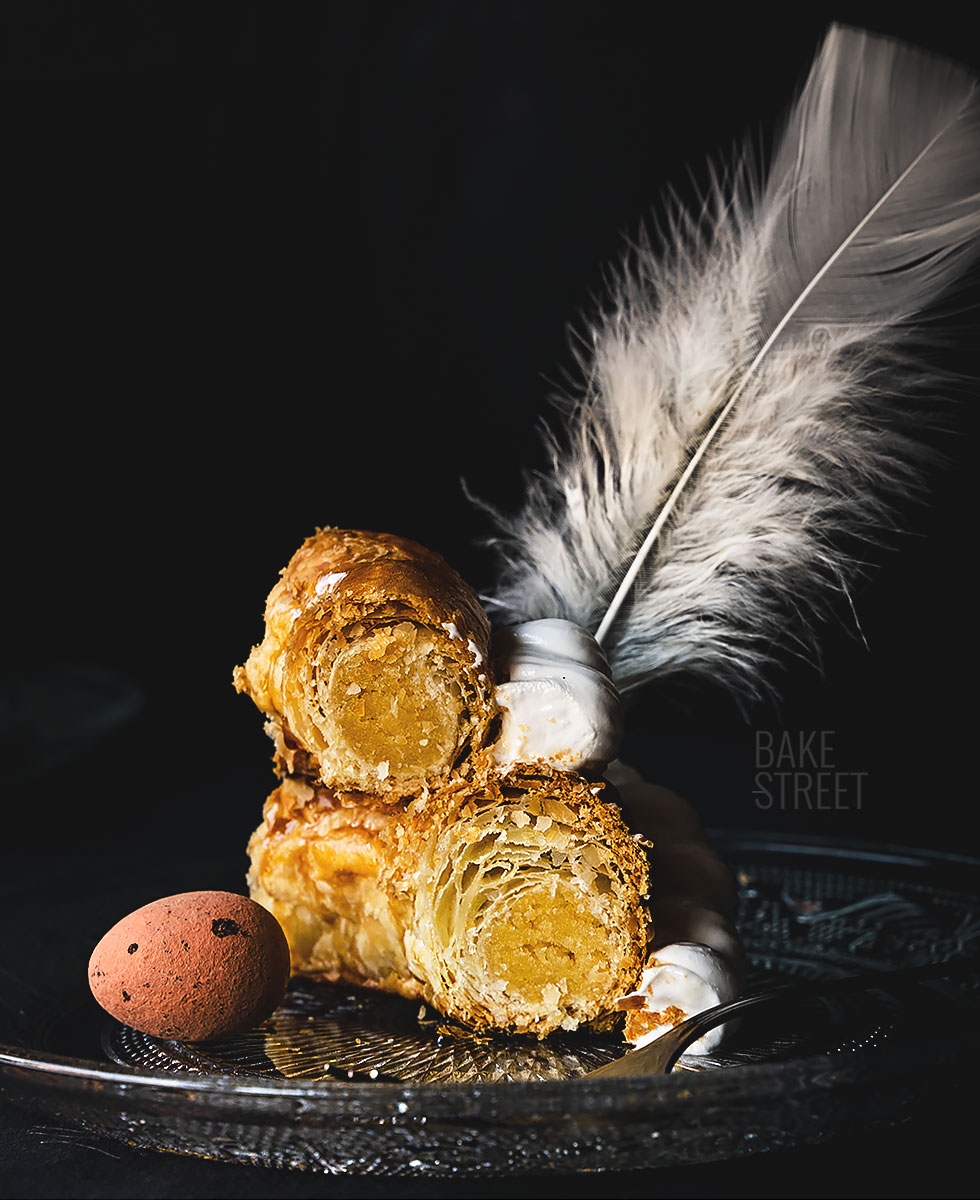 Tradition.
The Easter cake tradition originates from the Asturian mining area. It is a family tradition between godparents and godchildren in which gifts are exchanged. This act reflects the importance of the figure of each of them in his or her life.
Every year, on Palm Sunday, the godchildren bless the palm, the "ramu", and give it to their godparents. In some cases, if it is not made of palm, it is usually made with laurel and rosemary. At Easter, the godparents reciprocate with an Easter cake and some other gifts.
It is said that this ritual must be followed until the godchild marries. In the year of the wedding, the godfather must close this tradition by giving the godchild the biggest roscu of all those received in previous years. This last one is called the "floriu", some of them can be up to 7 high.
There is no rule or custom detailing whether the roscu should be given to the godfather or the godmother. So it is common for a house to receive several roscus at this time of year, one for each godfather and godmother of the children in the house.
For my part, this year, I have decided to make this puff pastry version, which we have fallen in love with at home, but I have yet to buy the traditional moulds to be able to make the famous Mantecado de Avilés and leave it for you. Of course 😉
Recipe Puff pastry wreaths filled with almonds
BLITZ PUFF PASTRY:
460 g cake/pastry flour, cold + 40 g for dusting
460 g unsalted butter, cold
200 g very cold water, from the fridge
10 g sugar 
8 g salt
ALMOND FILLING:
Recipe by La Cucharina Mágica
300 g ground almonds
4 large egg yolks
200 g sugar
30 g dry white wine
SYRUP:
Recipe by La Cucharina Mágica
220 g water
220 g dry white wine
230 g sugar
75 g dark muscovado sugar
1 cinnamon stick
one orange peel
ITALIAN MERINGUE:
60 g egg whites(2 large eeg whites)
150 g sugar
36 g water
FOR DECORATING:
feathers
chocolate Easter eggs
chicks or decorative birds
candied fruits and edible flowers (optional)
MATERIAL NEEDED:
kneader or stand mixer
metallic rooling pin
perforated tray + teflon or silpat
pastry brush
cake stand (optional)
digital thermometer
ruler + pizza cutter/sharpened knife
Instructions
FIRST DAY
Make blitz puff pastry.
In my case I have opted for a simple puff pastry called quick/blitz puff pastry. You can see how to make it in the video recipe for Carbayones from Oviedo. If you want to make a traditional puff pastry, you can see how to do it in the video recipe for palmiers.
Once we have made the last fold, we can keep the puff pastry refrigerated until the next day or leave it to rest in the fridge for 45 minutes before proceeding to shape the roscu.
SECOND DAY
Make almond filling.
In a bowl add the ground almonds together with the egg yolks, sugar and white wine.
Mix very well until completely homogenised.
Cover with plastic film or a shower cap to prevent it from drying out, while rolling out the puff pastry.
NOTE: In the video you will see that I only add 3 egg yolks. The reason is because, later on, I prepared a little more filling to have enough for all the wreaths. Originally there were going to be 3, but I had enough puff pastry to make 4.
Make syrup.
In a medium saucepan add all the ingredients and place over medium-low heat.
Cook until the syrup is slightly reduced and somewhat thick. It will take about 15-20 minutes.
Remove from the heat and allow to cool completely. If you wish, you can make the syrup the day before and leave it to infuse overnight.
Roll out puff pastry.
I divided the puff pastry recipe into two parts, so that I got two sheets. This makes it much easier to roll out and work with at home.
Take the first puff pastry sheet out of the refrigerator.
Lightly dust the work surface with flour and, using a rolling pin, roll out the puff pastry to approximately 70 x 35 cm.
Divide the puff pastry in half by cutting it lengthwise, so that the width of each ring-shaped pastry will be about 16 cm.
The rectangle of the base will be 60 cm long and the second cake will be 50 cm long. Cover the puff pastry cuts with cling film and refrigerate.
Fill puff pastry.
Make a cylinder with the almond paste, not too thick, and place it on the puff pastry. To distribute the amount of almond filling I did it a bit by eye, I didn't weigh the quantities. Try to divide it into 4 cylinders of approximately 50 cm, 40 cm, 30 cm and 20 cm in length. The length of the filling should be less than the length of the puff pastry.
Cover the almond filling with the puff pastry and roll it up without exerting pressure, it is preferable that it is a little loose so that it can grow well during baking.
Seal one end and insert it into the other. Seal to make sure that it does not open during baking (one of them did open up for me, but if it does, it's OK because we can hide it afterwards).
Place on a perforated tray lined with teflon.
Repeat the same process with the rest of the pieces.
Bake.
Preheat oven to 345ºF/180ºC heat up and down.
Brush with beaten egg and bake for 40 minutes.
Remove and leave to cool completely on a wire rack.
NOTE: Bake the wreaths in pairs. We can roll out and fill the second batch while the first is baking.
Assemble roscu de Pascua.
Strain the syrup to remove the cinnamon and orange peel. Set aside.
Place a cake base on a non-slip surface on a rotating stand.
Brush a little syrup over the disc so that the cake doesn't slip when the cake is placed on it. Place the first puff pastry, the largest, on the cake base. Generously brush the entire surface with the syrup.
Place the second cake on top and brush again.
Repeat the same process with the other two pieces.
Make Italian meringue.
Incorporate water and sugar in a saucepan. Place at medium heat.
We will use a kitchen digital thermometer to know the temperature of the syrup. When it reaches 244ºF/118ºC, remove it and add it to the semi-whipped egg whites.
Add the egg whites in a bowl or KitchenAid bowl and begin to whip them.
Beat until they are quite firm, but not too much or dry.
The syrup will be ready as soon as we reach this point.
Incorporate the syrup in a fine continuous thread over the egg whites beating at the same time.
We will continue until a firm consistency is achieved and a very brilliant meringue.
If we check the temperature, we must whip at high speed until the temperature falls to 104ºF/40°C.
Let it rest for 2 minutes before using.
Pipe meringue.
Put Italian meringue in a piping bag with a curly or star-shaped tip. In my case I used the Wilton 4B.
Pipe the meringue as I show you in the video.
Terminamos de decorar el roscón de hojaldre.
Decorate the roscu or Easter bollu with feathers, chicks, flowers, candied fruit and/or chocolate Easter eggs. The decoration is entirely up to you.
Serve.
Notes
To make quick/blitz puff pastry, ideally, all ingredients should be cold. With the mixing the temperature rises and we want to keep the dough cold, as much as possible.
Butter brings a lot of flavor, I recommend you to use a good one quality.
Do not overmix the ingredients more than I detail in the process and show you in the video.
Respect all the rest times to achieve a good result.
In case you don't want to make puff pastry, you can buy it... But the homemade one is very good!

If you want to make a laminated puff pastry, you can do it following this recipe.
It is important to bake the puff pastry well, otherwise the central part (the part that covers the filling) will be raw.
There will be some puff pastry left over, we can use it to make other recipes such as Carbayones de Oviedo, Carolinas... or fill them with mozzarella, cherries, oregano and blue cheese and bake them in the oven. In my case, that's what I did and they are very good.
If you want, you can make the roscu two high instead of four high. In that case, one single sheet of puff pastry will be enough. The filling should be reduced to 3 egg yolks, 225 almonds, 150 sugar and 25 g of wine.
I have used an Italian meringue to decorate it, but you can use a French meringue if you prefer and don't want to make it too complicated.
Dark muscovado sugar gives it a lovely caramel colour, as well as exquisite flavour notes. If you don't have any, you can use brown sugar.
It can be kept for 2 days at room temperature or refrigerated for 5-7 days.
This Easter you can't miss this Puff pastry wreaths filled with almonds, also known as Bollu or Roscu de Pascua. The whole process may seem a little laborious, but I can assure you that it is much less than it seems.
The preparation of the puff pastry is very easy as we don't have to roll it as in the traditional process. Just keep the dough very cold and work carefully. A quick puff pastry that gives very good results and allows us to work with a homemade dough. Of course you can always use bought puff pastry if you don't want to complicate things too much.
The filling is as easy as mixing and ready. Then a couple of small details that we will have ready in a few minutes; the syrup and the Italian meringue. The result? An amazing pastry that is definitely worth trying.
I hope to see yours very soon! I wish you a wonderful Sunday.
Big hugs,
Eva
Sources: La cucharina mágica, Wikipedia, Pan y Pizza
Archivado en