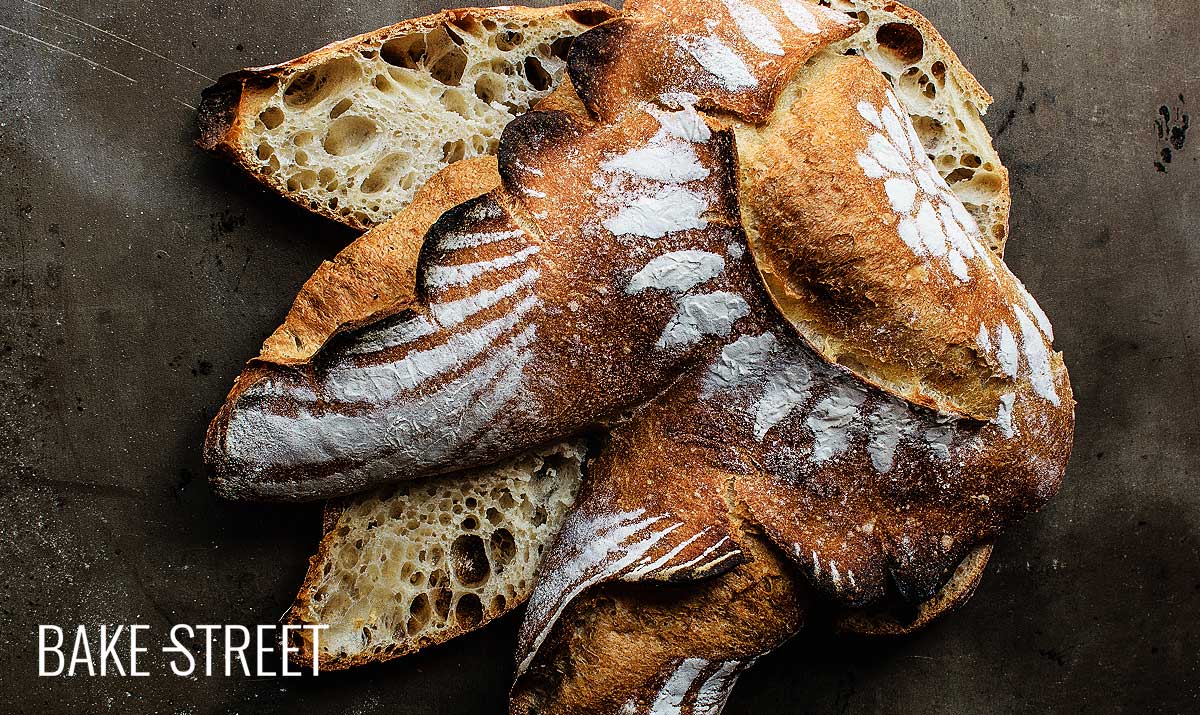 My experience in Olivier Magne's Masterclass
Este post también está disponible en Spanish
Today I'm not going to share a recipe with you but my experience in Olivier Magne's Masterclass with Yohan Ferrant at the Baking School Barcelona Sabadell. Those of you who usually go through the blog, you would notice that last week there were no posts on it and the reason was my attendance to this course.
Since I wanted to enjoy 100% of this experience, I preferred to stop publishing so I wouldn't have to watch out for them or social networks. They require a lot of time and dedication, so they would keep me from enjoying this class. However, I did my best to share through my stories some moments and results of what Olivier was doing so that you could enjoy a little bit of what he was doing.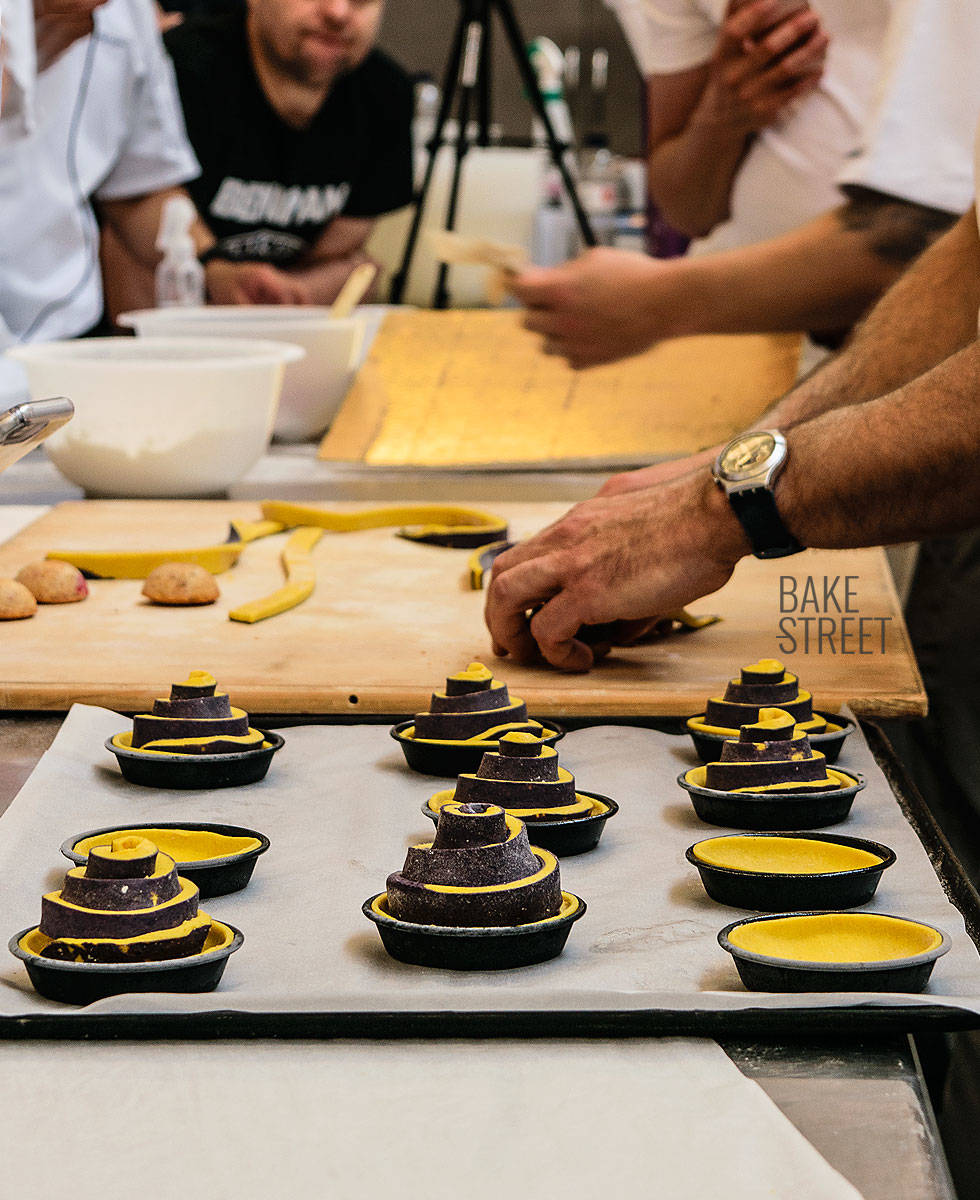 When you realize how small you are.
To be honest, the first day I attended the masterclass I was very nervous. I am not a professional in the sector, just an amateur who applies her knowledge at home. But I still want to learn more about this fascinating world, and there I was going to meet many people who are dedicated to this profession and are really good at their work.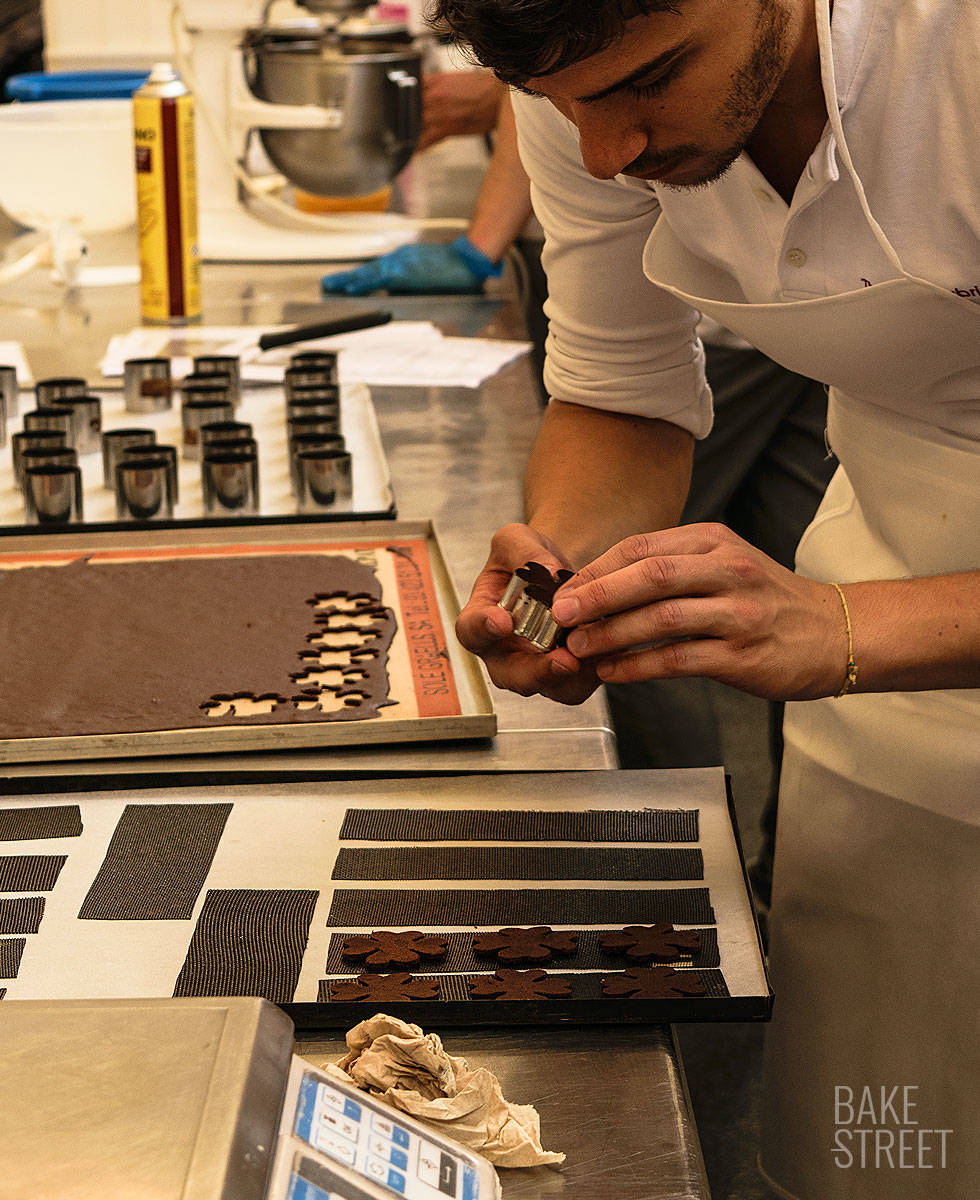 Upon arriving at the school, I met a group of bakers/pastry chefs and Yohan at the front door. A single kind and close gesture on his face made me feel more at ease and I knew I would be very comfortable with them. I was able to talk to him before I went in and got rid of all those nerves I had on me. Which was very good for me….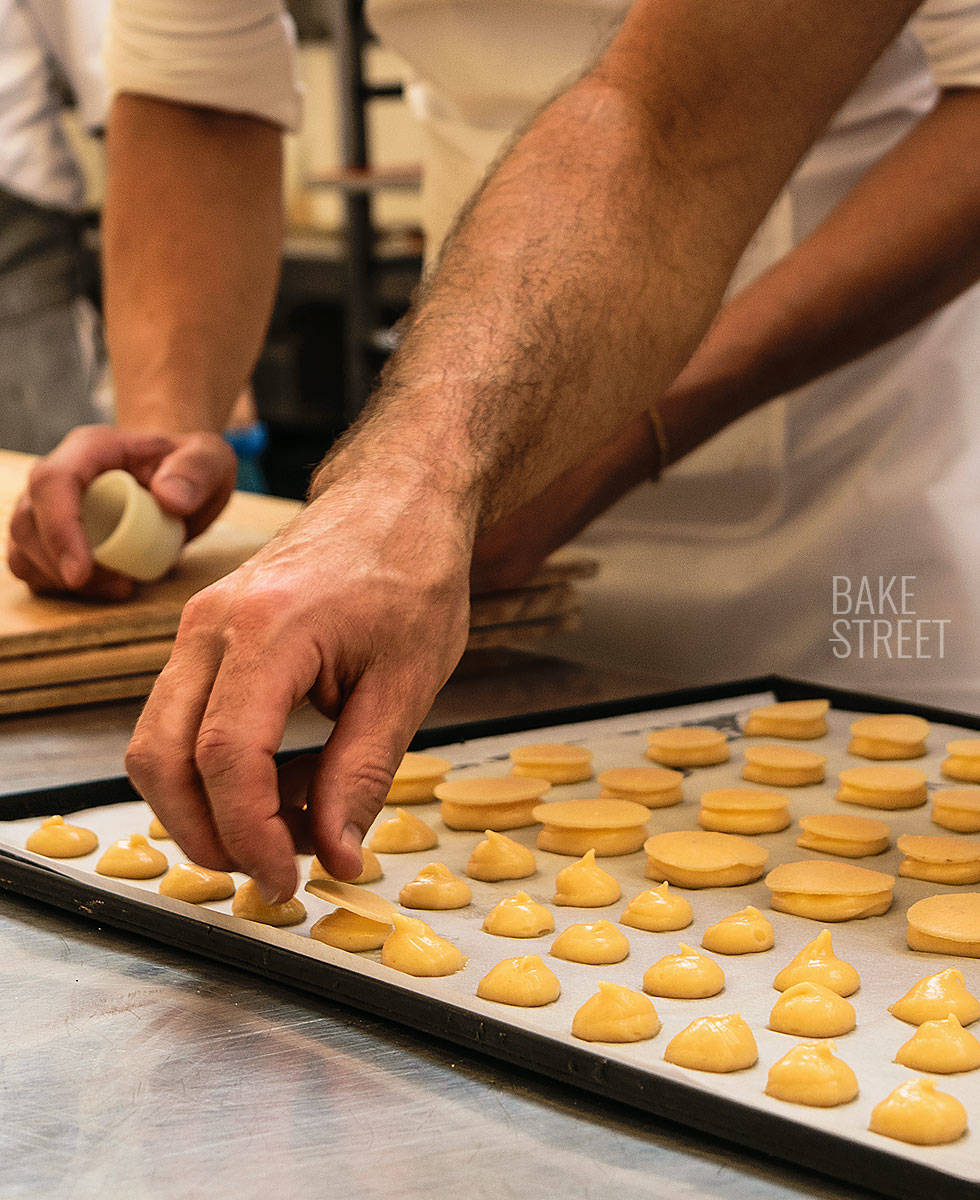 If there's one thing I liked about all these people it's how good they made me feel all the time during those two days. I always had the feeling of being one of them (even though I didn't dedicate myself to this profession the way they do) and that's thanks to how great they are. A humble, kind and approachable attitude. They welcome you with open arms, listen to you, advise you and share instructive experiences with you.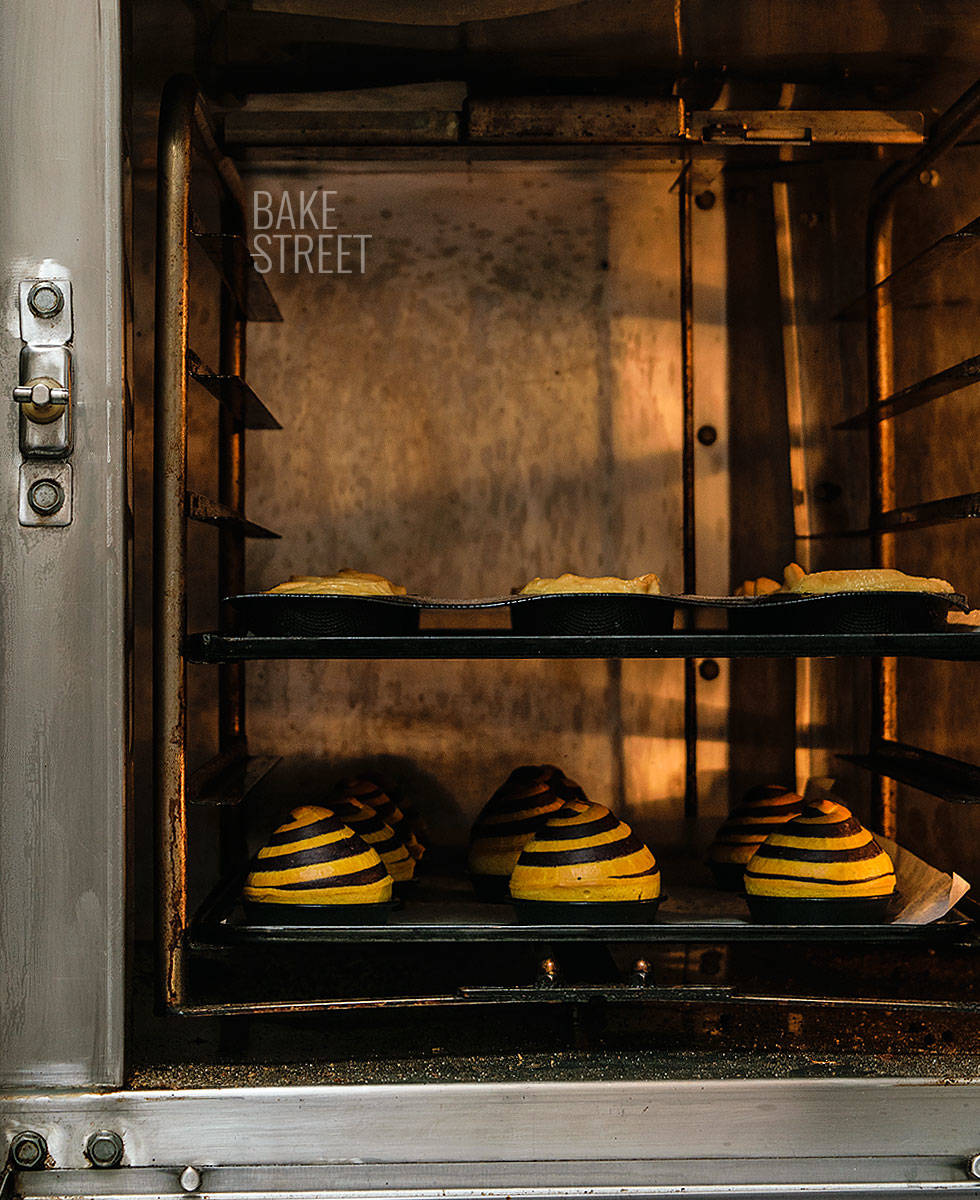 I met Álvaro from "Le Frabique", Sandro (chef from Miami), Javier (he came from La Rioja, but I don't remember the name of his bakery, sorry), Alberto from "Panadería Simón", one of the owners of "Panem"… and some more of whom I don't remember the name of, a thousand apologies. In short, they all make you feel at home.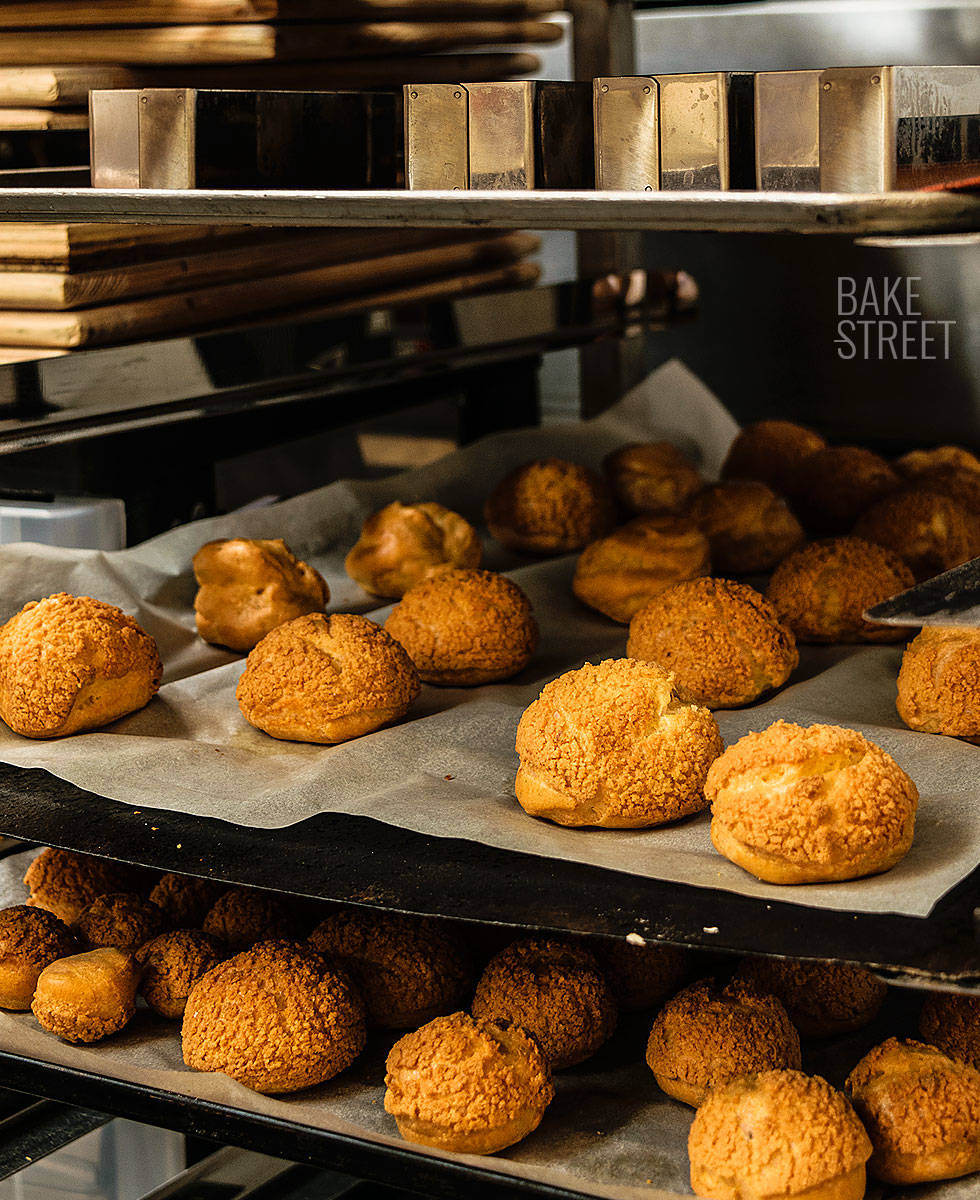 Olivier Magne.
Many of you already know this great baker, but for those of you who don't already know him, I will tell you a little about him. Olivier Magne is a French baker who won the MOF in 2015. This is an award and recognition given every 4 years and is a symbol of excellence highly valued in France. It awards the sector's professional as "The best French bakery" (Meilleur Ouvrier de France). They are subjected to very tough tests in which they have to carry out their work with some unforeseen events along the way imposed by the judges. Their work must go ahead in time and achieve a good result, especially in taste and finish rather than appearance.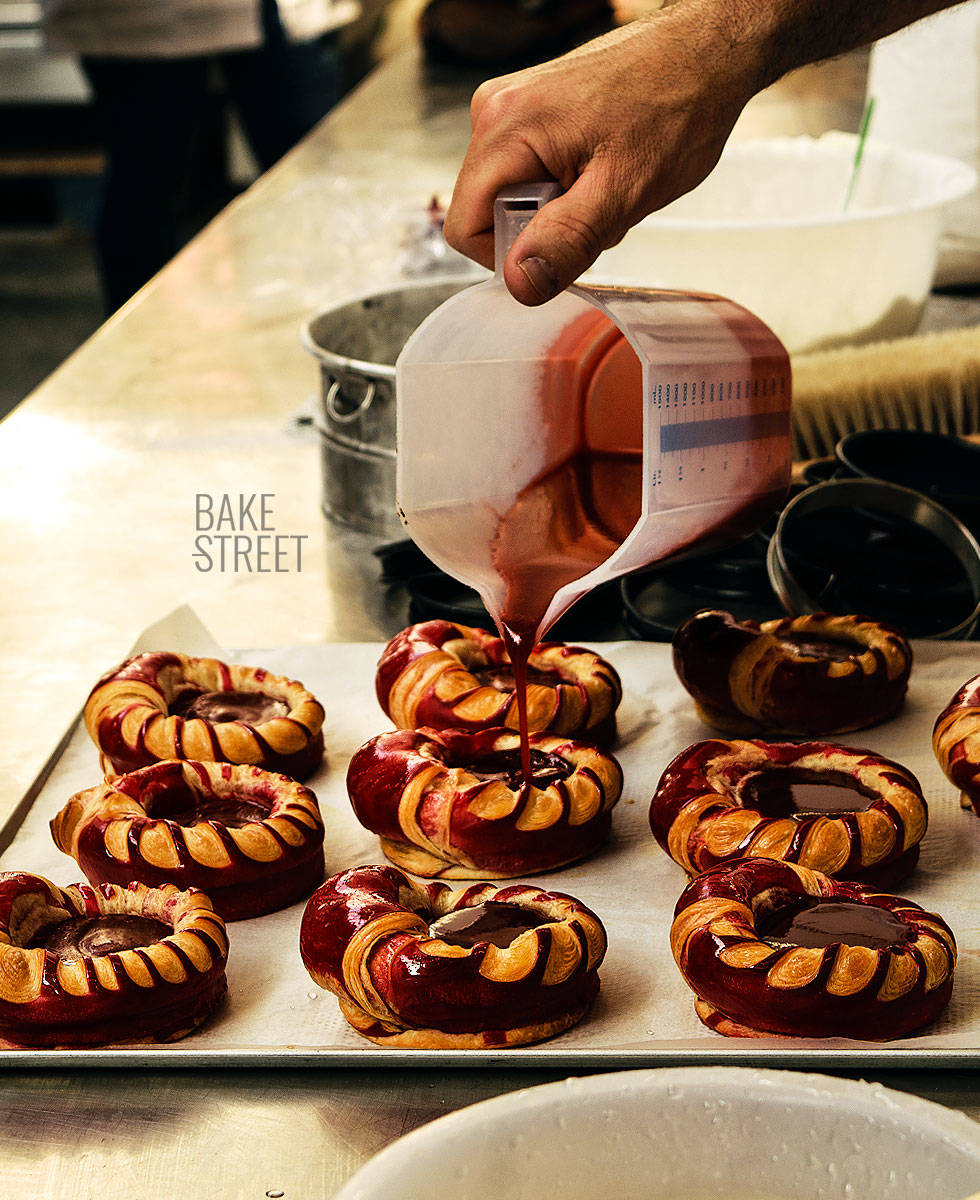 All the people who win this award are highly valued in their guild, some of them who won this award were Paul Bocuse, Alain Ducasse or Joël Robuchon, for example. Olivier is considered one of the most innovative bakers in France and to realize this, you only have to look at his incredible creations. Elegant, clean, creative and carried out with a very studied process.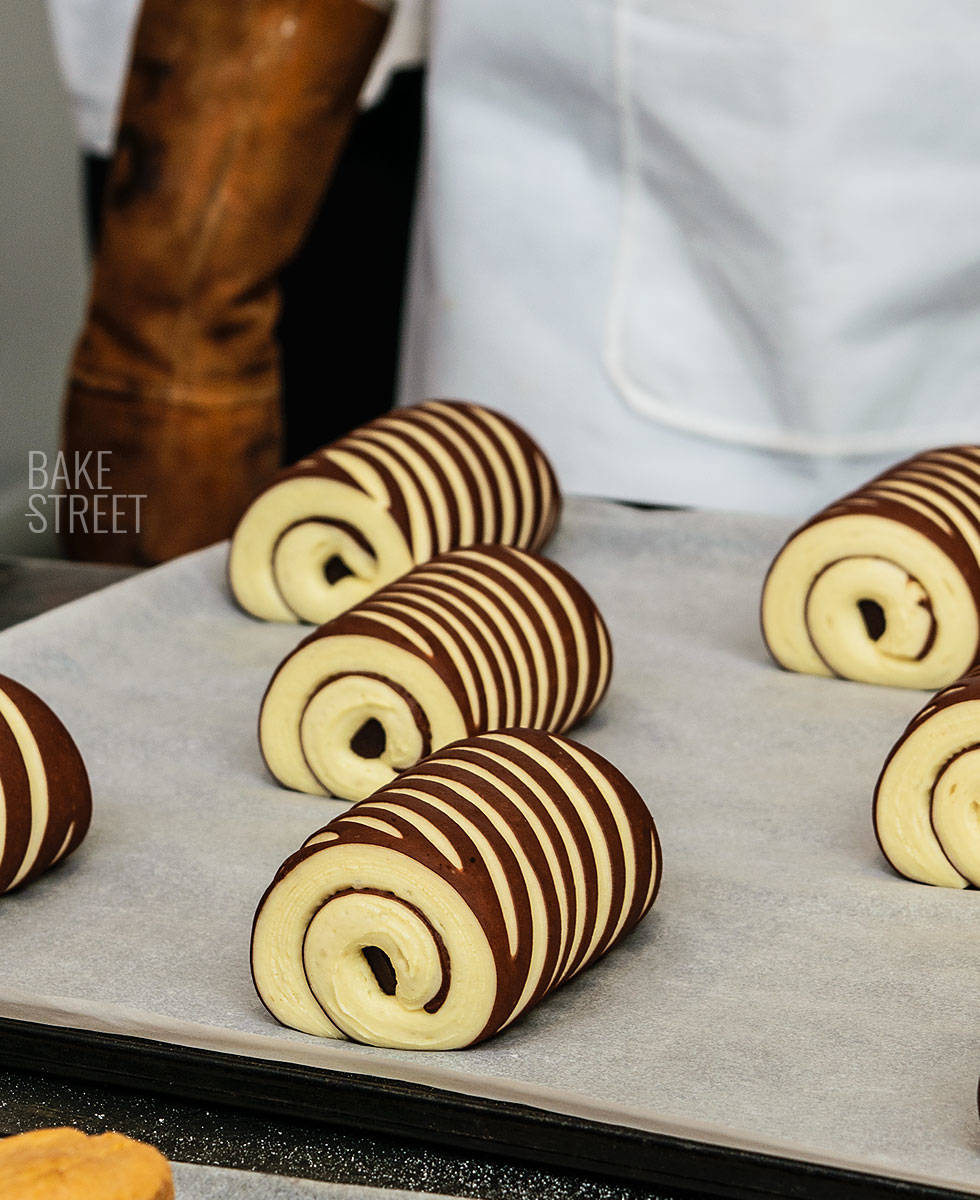 The Masterclass.
All the content taught by Olivier was divided into 2 days. It was a lot of material, a lot of work, processes, shaping… and it all came out perfect thanks to the great organization of Olivier and Yohan. Of course, I must not and I don't want to omit the people who helped them to carry out the masterclass, giving support to finish the work, laminates, baking… as Alain, Thomas, Matthieu (the last two are finalists of the MOF), Cyril (who came from Korea) and Massimiliano. A very well-rounded and organized team.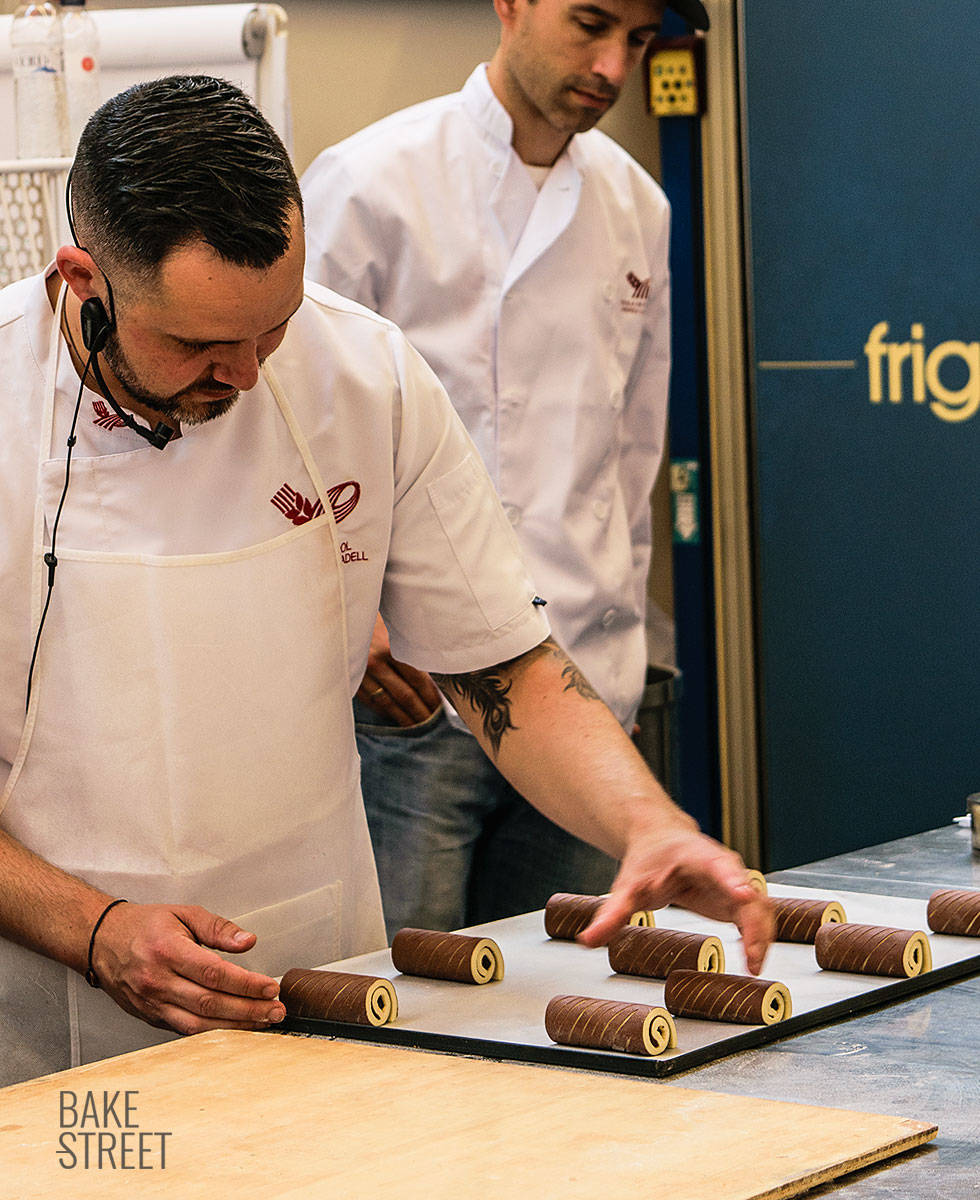 We were 35 assistants and everything went perfect. It is admirable how you can teach and organize so many different people with such a good result. The course was given in French, but Yohan was always translating what Olivier said. The good thing about the school is that people from different parts of the world can attend without language being a problem as it is translated into French, English and Spanish.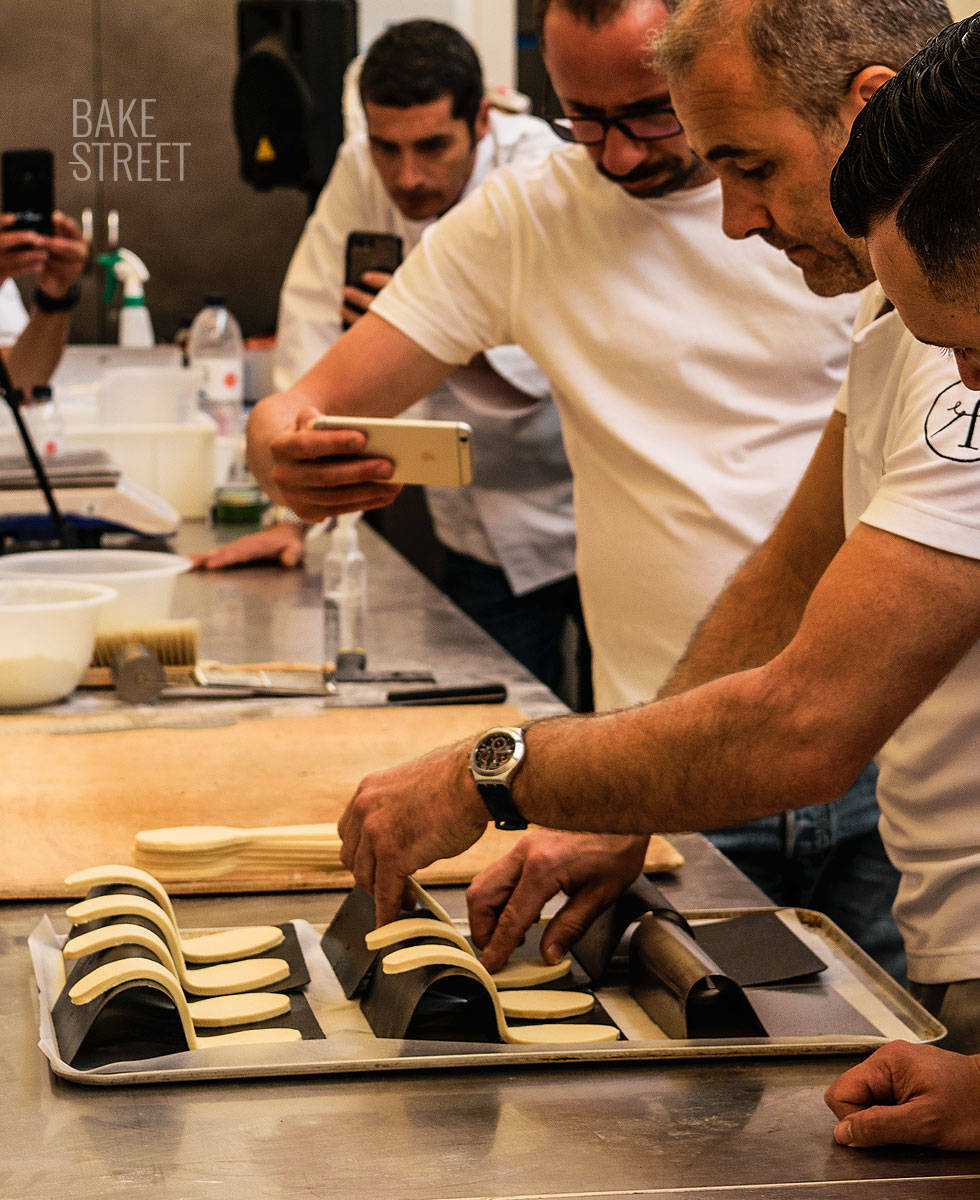 First day.
On the first day Olivier gave us an introduction in which he spoke about the work we were going to do. More than 14 different creations of different complexity were created. He told us about the sourdough, the method he uses to work with it in his bakery and advice on how to get good results.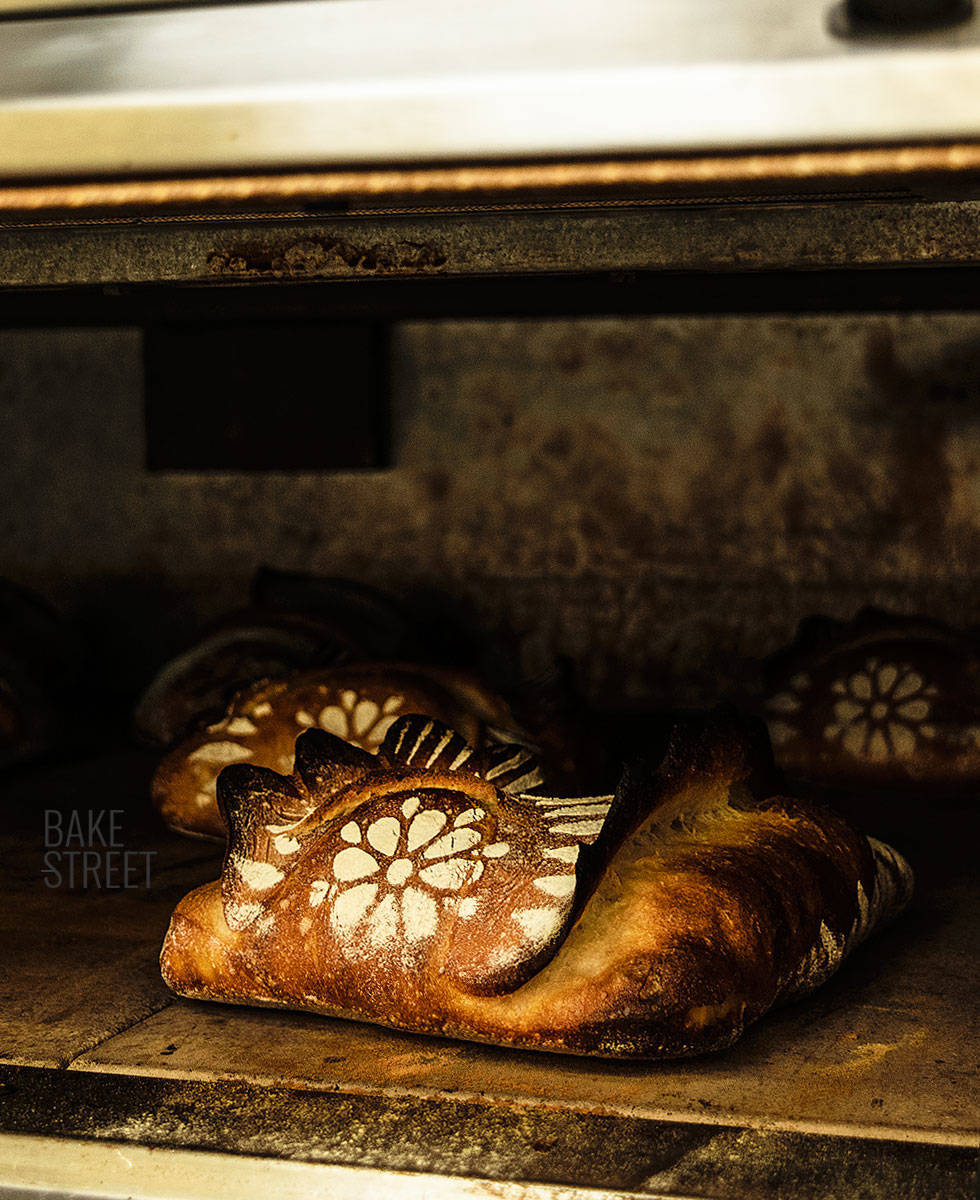 He explained the importance of knowing the base temperature, how to calculate it and put it into practice. This point seemed to me to be really interesting because it is where much of the success in our bread and dough lies. In fact, he shared with us that it is a step he always takes in his bakery every day.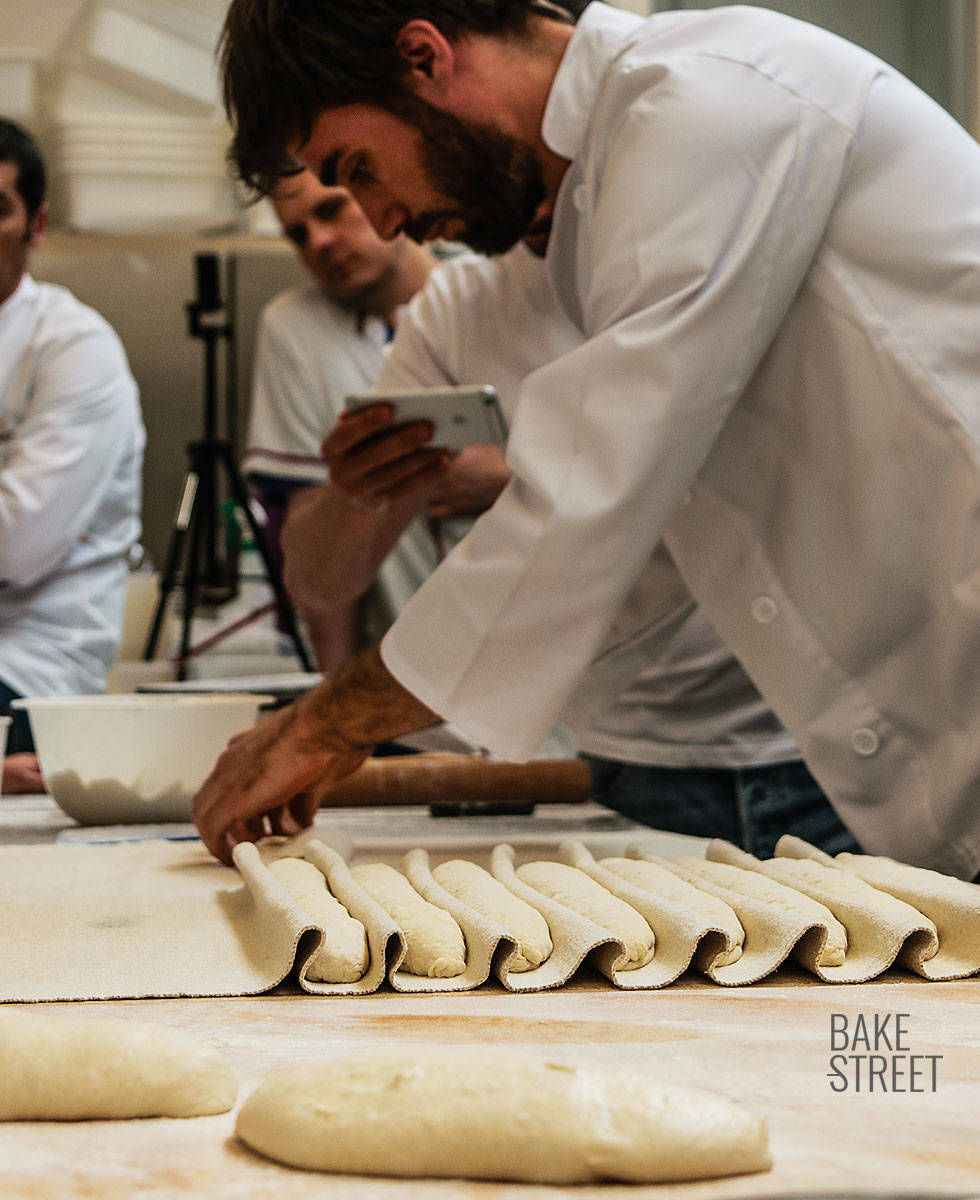 During this first day, we learned and saw how to make all the fillings that would be part of the preparations. At this point he explained the difference between working with pectin or starches and how they would affect the final results if we work with them in one way or another. Especially to avoid possible catastrophes…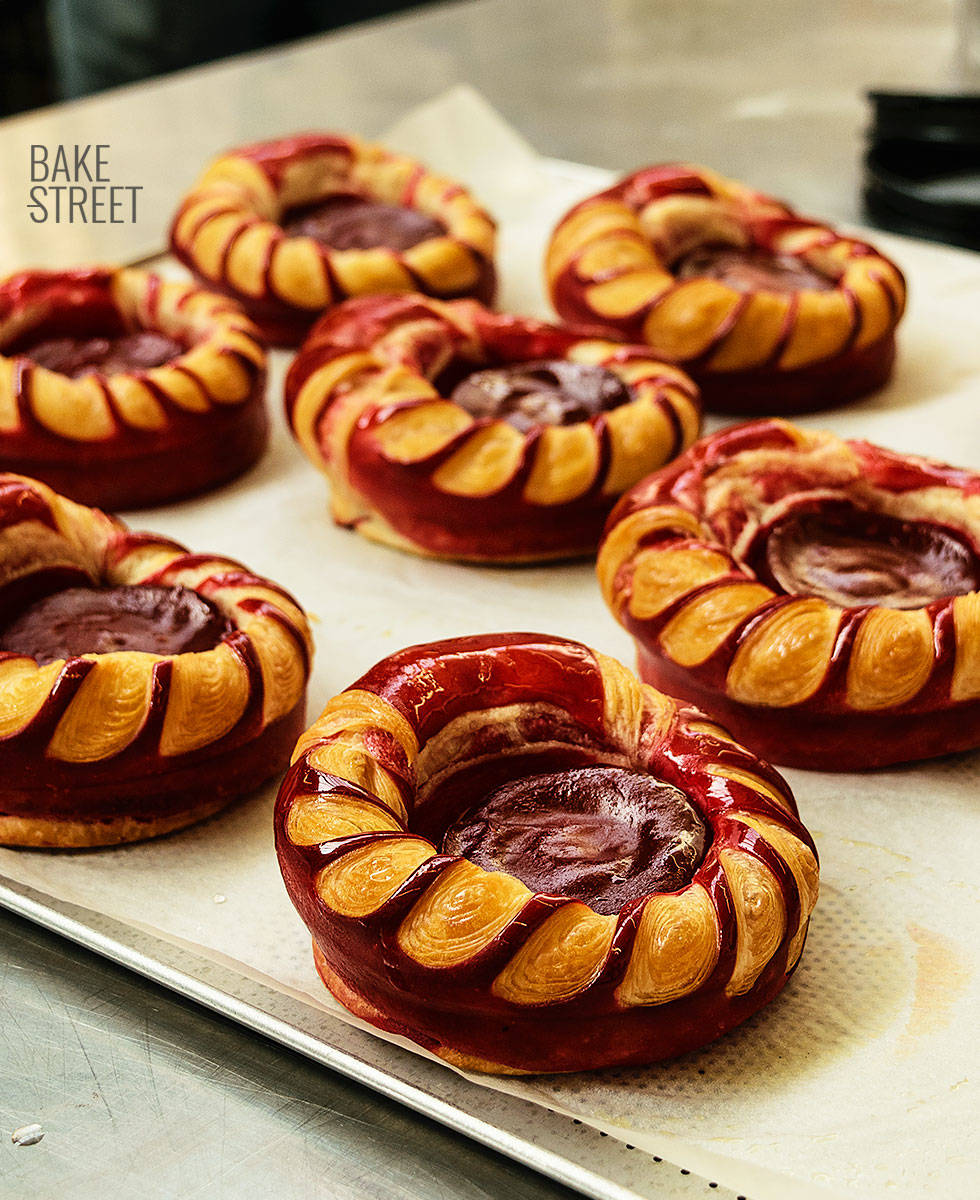 In addition, the pâte à choux, the crumble, all the cores with different flavours, the dough of the croissants, the bread dough that would give rise to the baguettes and other very creative breads, the brioche doughs (traditional and colored with turmeric, fruits…) were made. In short, the previous steps that require rest to finish the elaborations.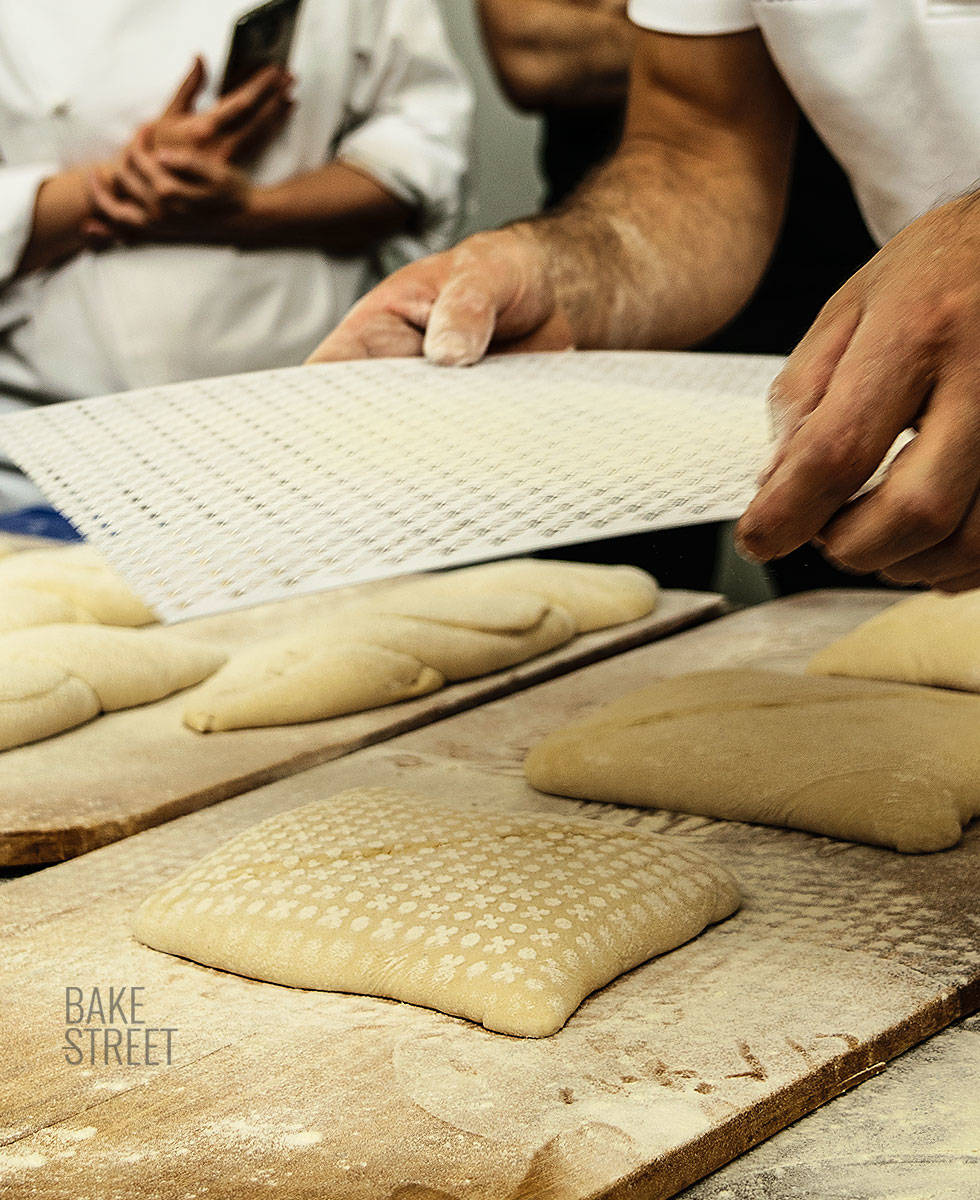 At the end of the first part.
At the end of the first class we went for a drink. I was lucky to be with Olivier, Yohan, the team that helped them and some of their colleagues. From this came the idea of going to dinner together and making the first day a perfect one. We had a great meal and the atmosphere was fantastic.
Being able to be with them in a more relaxed and friendly environment was really great. We laughed a lot, talked and shared many things that allowed me to get to know better the people I was doing the masterclass with.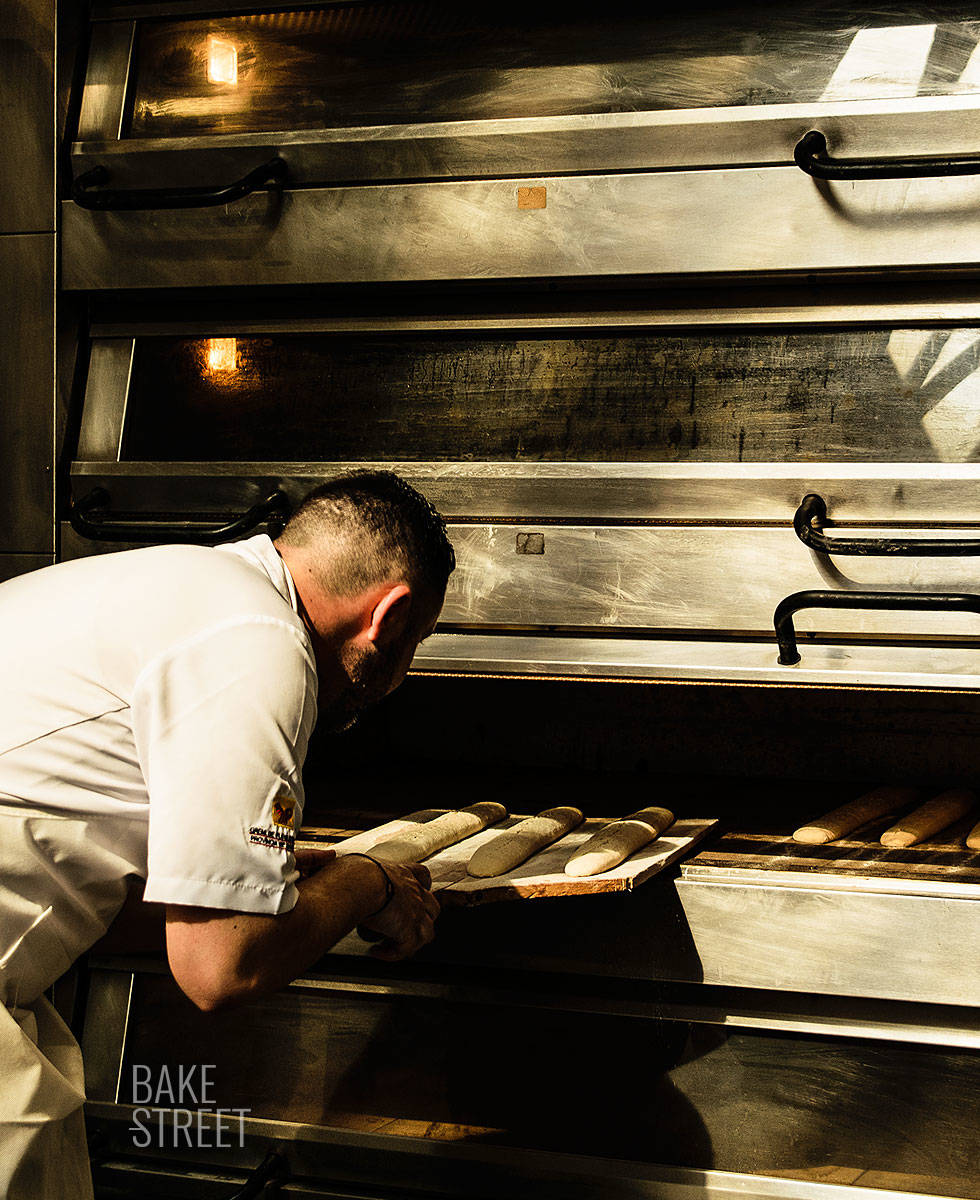 Second day.
The second day was very interesting, we would see how everything elaborated the previous day took shape and color. For those who like working with doughs, this day was great. At least it's how I saw it.
The class started at 10:00 am, but they were at school earlier so they could laminate some of the doughs and take a few steps forward. When we arrived, many of us did it a little earlier, we could see how he prepared and worked the dough for the laminate. I loved it.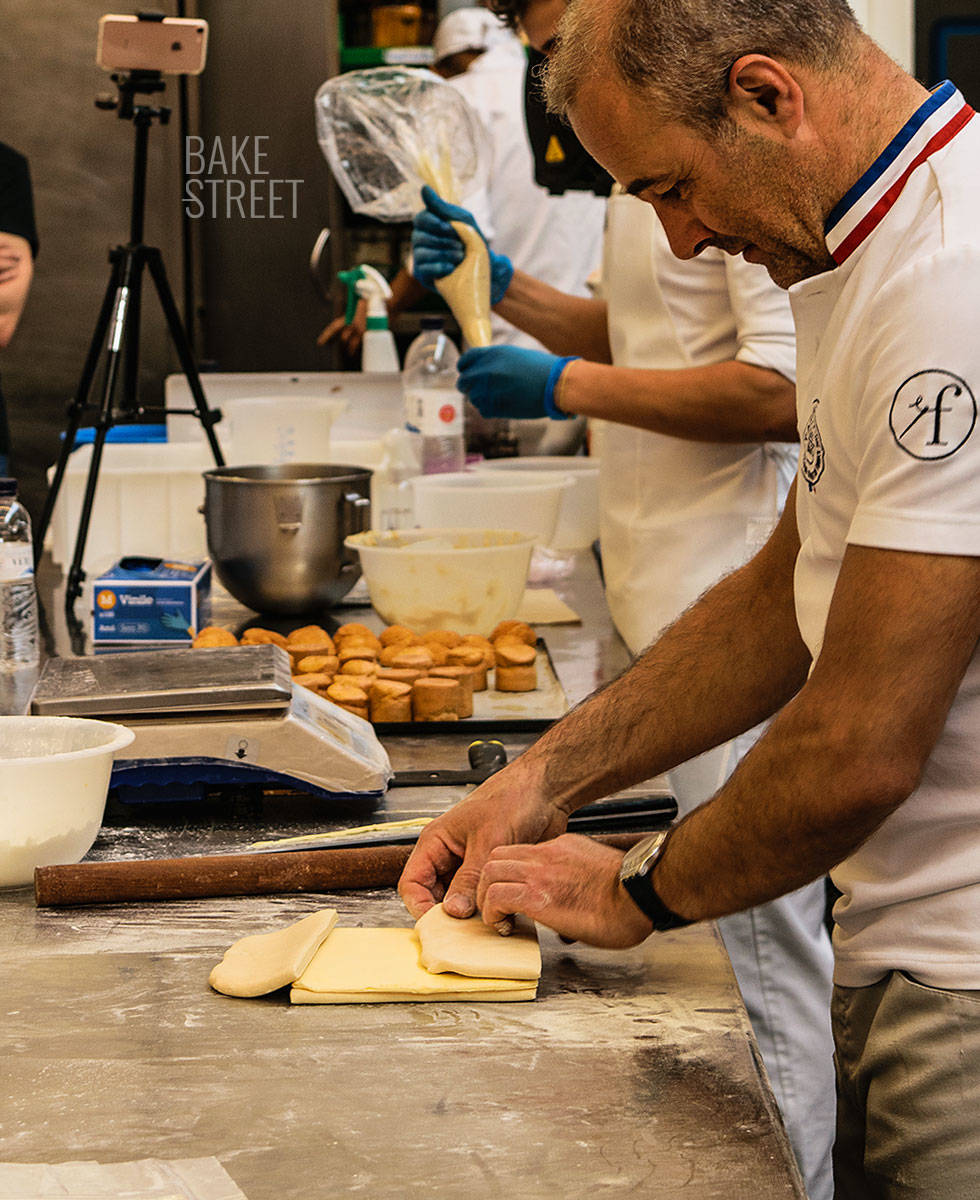 The first two pastries were made by hand, the dough and the butter stretching with roller, so that we could see how to do it without machinery (he used this method that I learned from Yohan and shared with you). It is a very clean and comfortable way to work the butter at home to get a good result. Of course, in a bakery there are faster and more comfortable processes to do this step.
He taught us a technique for laminating in which there are no more dough leftovers, which is fantastic because I had always seen this laminating method and it forces you to cut dough on the sides so that there is no excess dough that could spoil the final result. In addition to seeing how to work at all times the dough to prevent the butter from reaching its melting point and spoiling.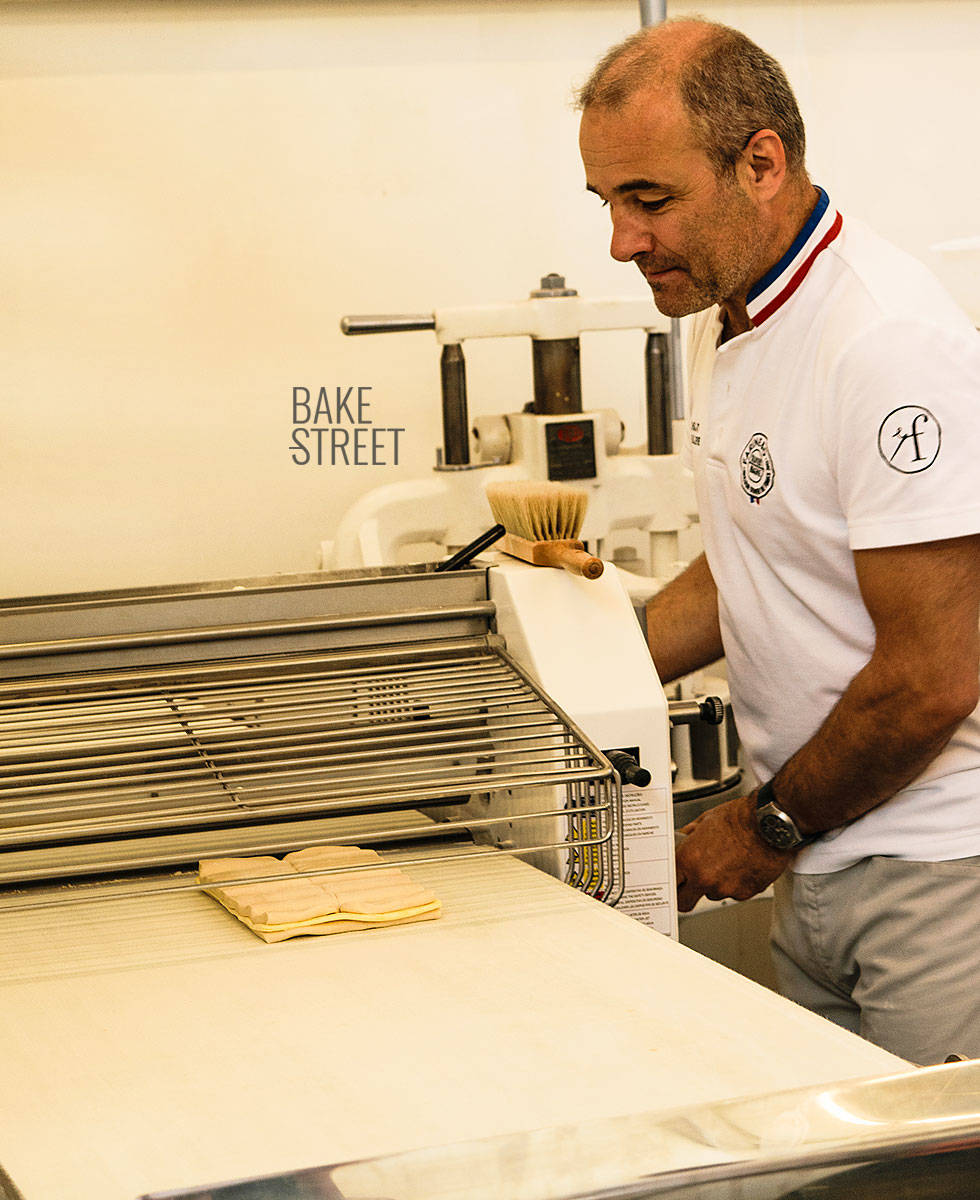 We saw how to make a two-tone dough, both for croissants/pain au chocolat and brioches (in addition to other wonderful creations such as vanilla and strawberry rings), how to make Tzarine, chocolate and pistachio rosette, kouign amann… And two very creative and surprising preparations. The praline mango spoon and the marrón glazé drum (photo below), the latter is surprising. I remember Yohan saying that these things are from people who don't sleep, hahahaha.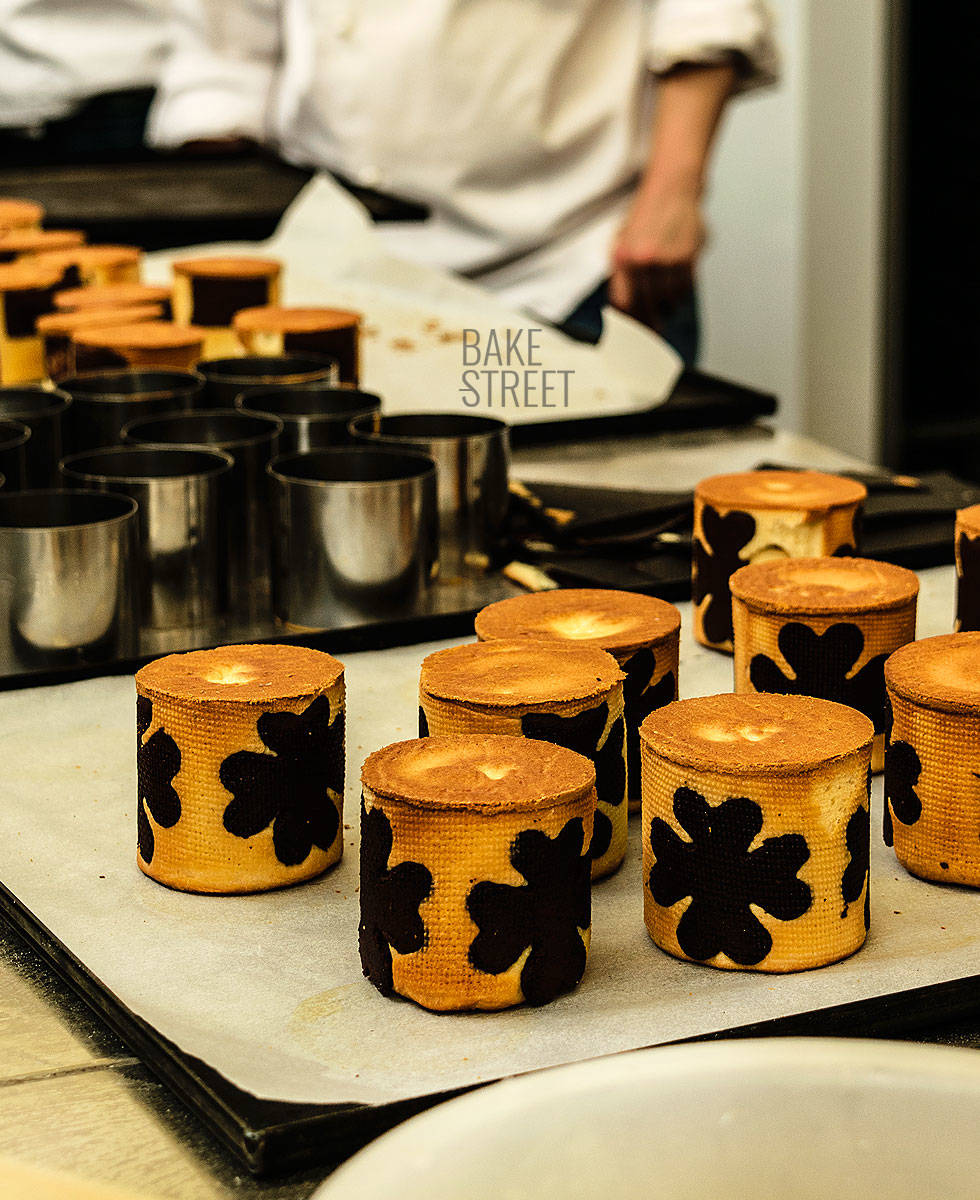 There are elaborations that I would never have thought of combining in the same creation.
Such as the drum. Pàte à choux, different creams/custards and brioche. Perhaps in the first moment our palate will not finish joining these textures and let us see that it is a fantastic union, but once you try it you realize that it is formidable. And not only that, but the creativity that surrounds this product as well as the process to carry it out. Truly admirable.
The rosette also combined several preparations such as a croissant dough and a brownie heart with pistachio.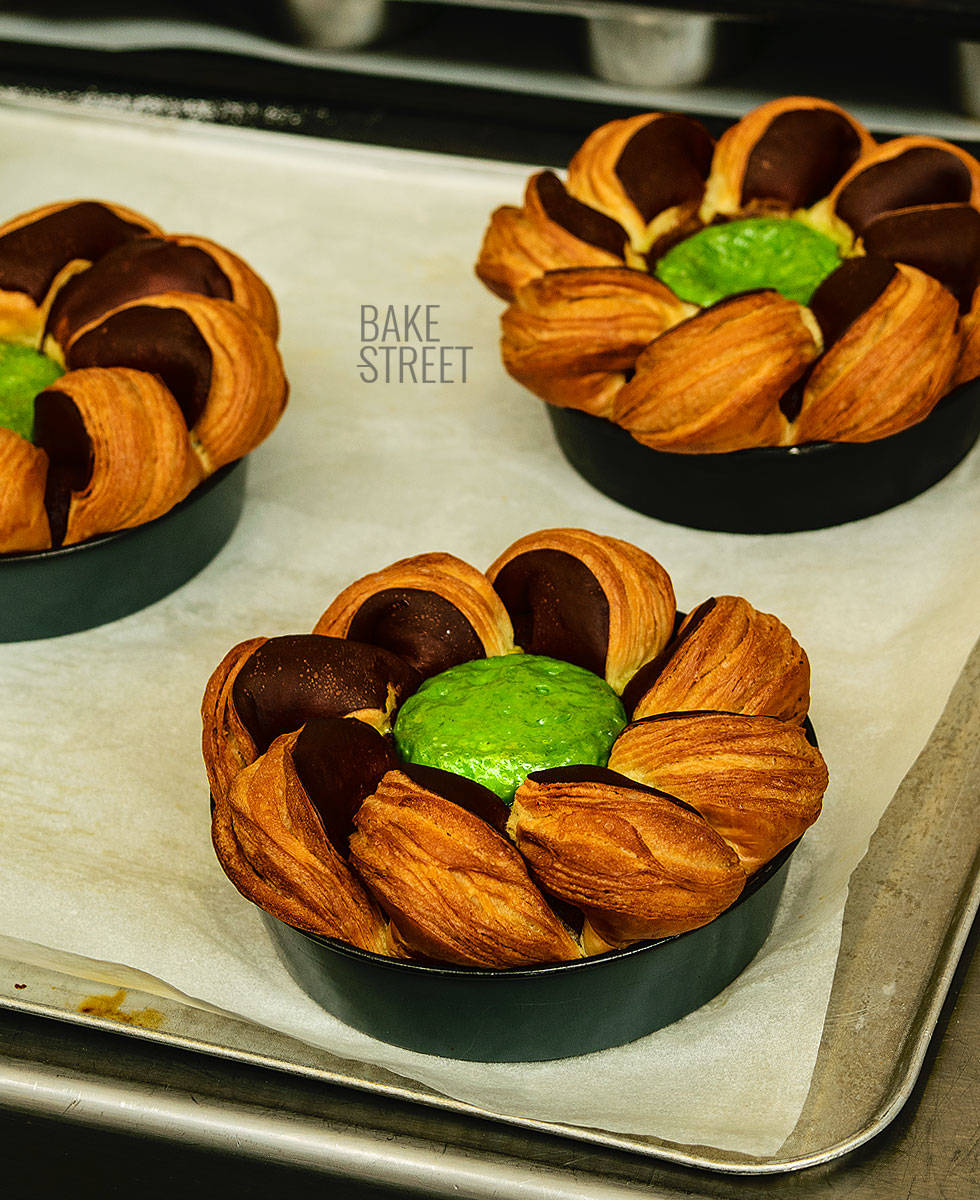 This day was much more intense. Olivier had to pay a lot of attention to everything he was preparing and teaching, but without losing a second of his smile and attention from all those present.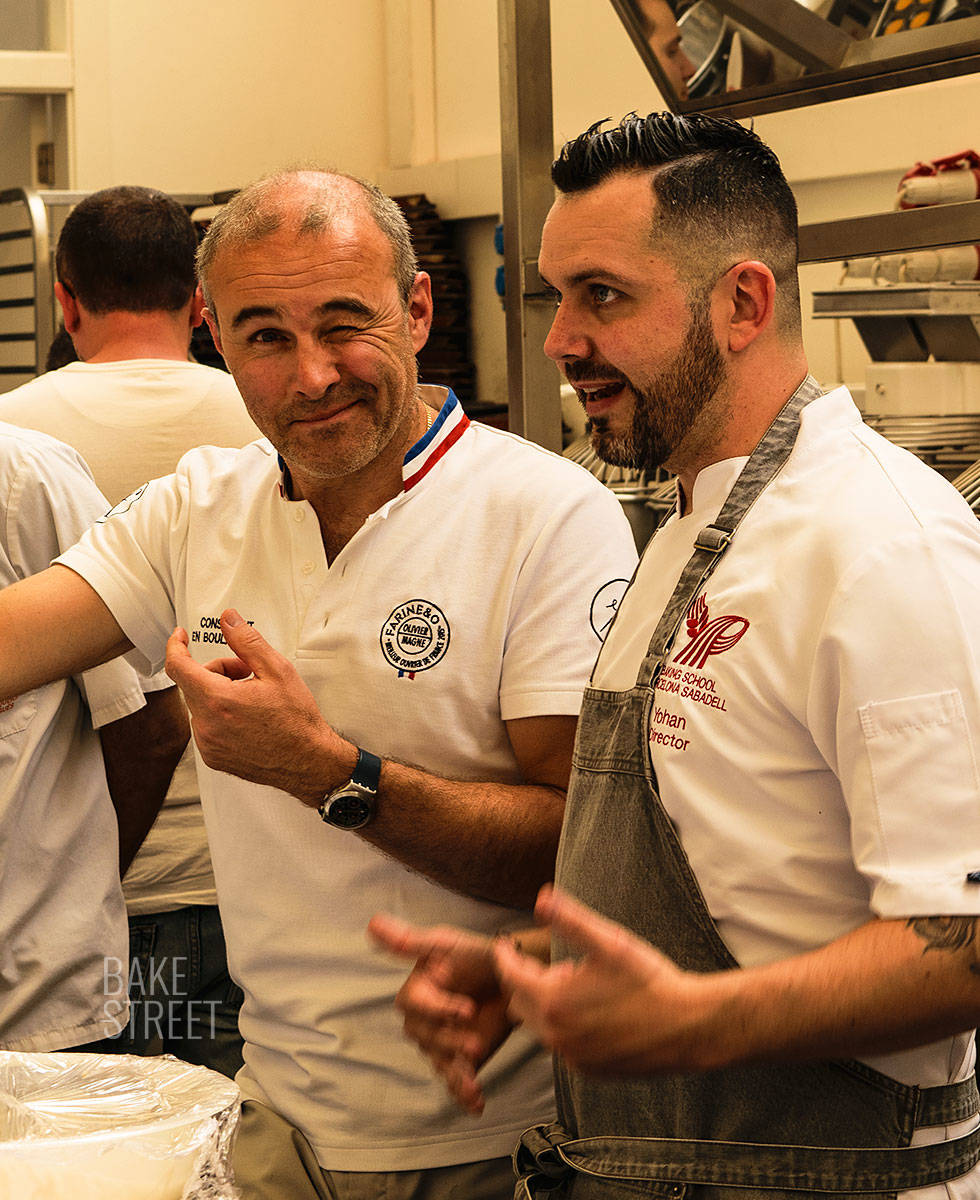 At the end of the Masterclass.
The moment you see all the products coming out of the ovens, the scent that surrounds the school's workshop, as well as the look of surprise from all of us who were there, automatically generates a memory of those who are never forgotten. Everything had an impeccable finish, and the care and affection was reflected in each elaboration that was arriving at the tables. The only way to achieve those results is to do it with passion.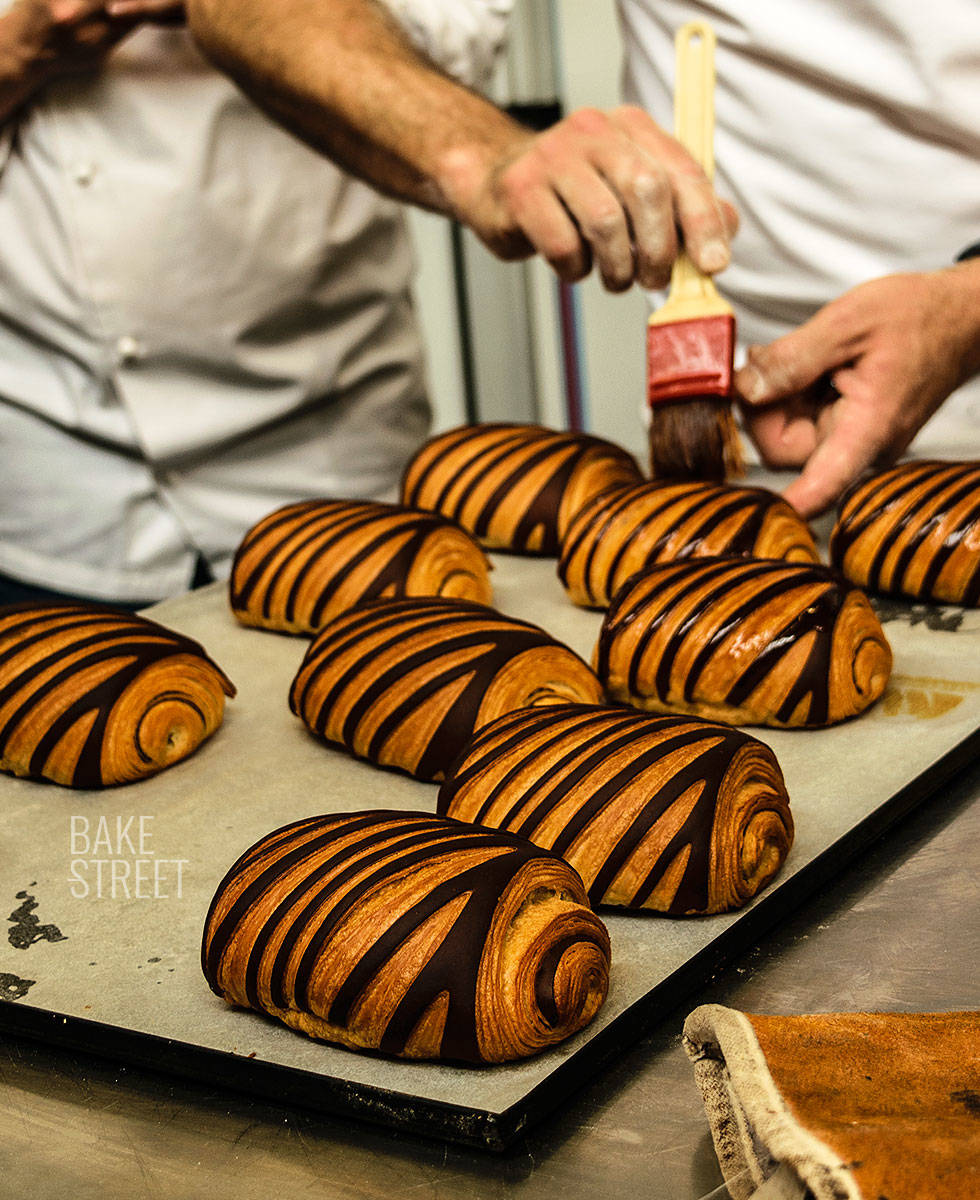 When Olivier had finished setting up the table with all that had been worked out, he wanted to express his gratitude to all those present. He said the attitude of all of us was exemplary. In Paris when he does a masterclass of this kind, he never exceeds 12 students and found it incredible how Yohan was able to manage such a large number of people with such a well executed organization.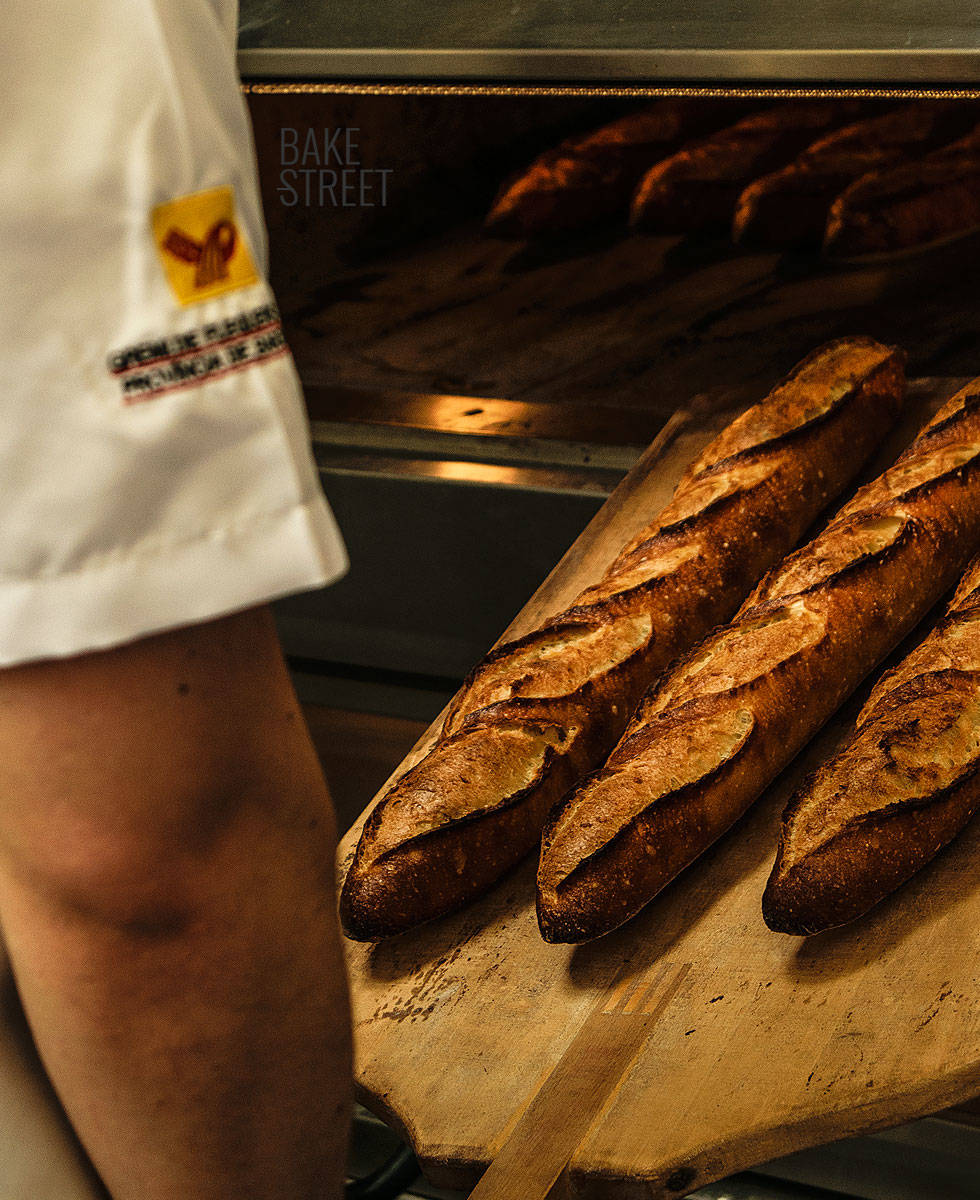 He also shared that he was struck by the fact that in Spain there was not a culture as similar to baking as there could be in France, but that thanks to Yohan this passion for this profession is getting closer to all those who want to feel it. For him, the bakery has to suffer and love at the same time, he defends that no one is better than no one, that only we can make our way in this world and that true success lies in hard work, perseverance, constancy and a passion for learning.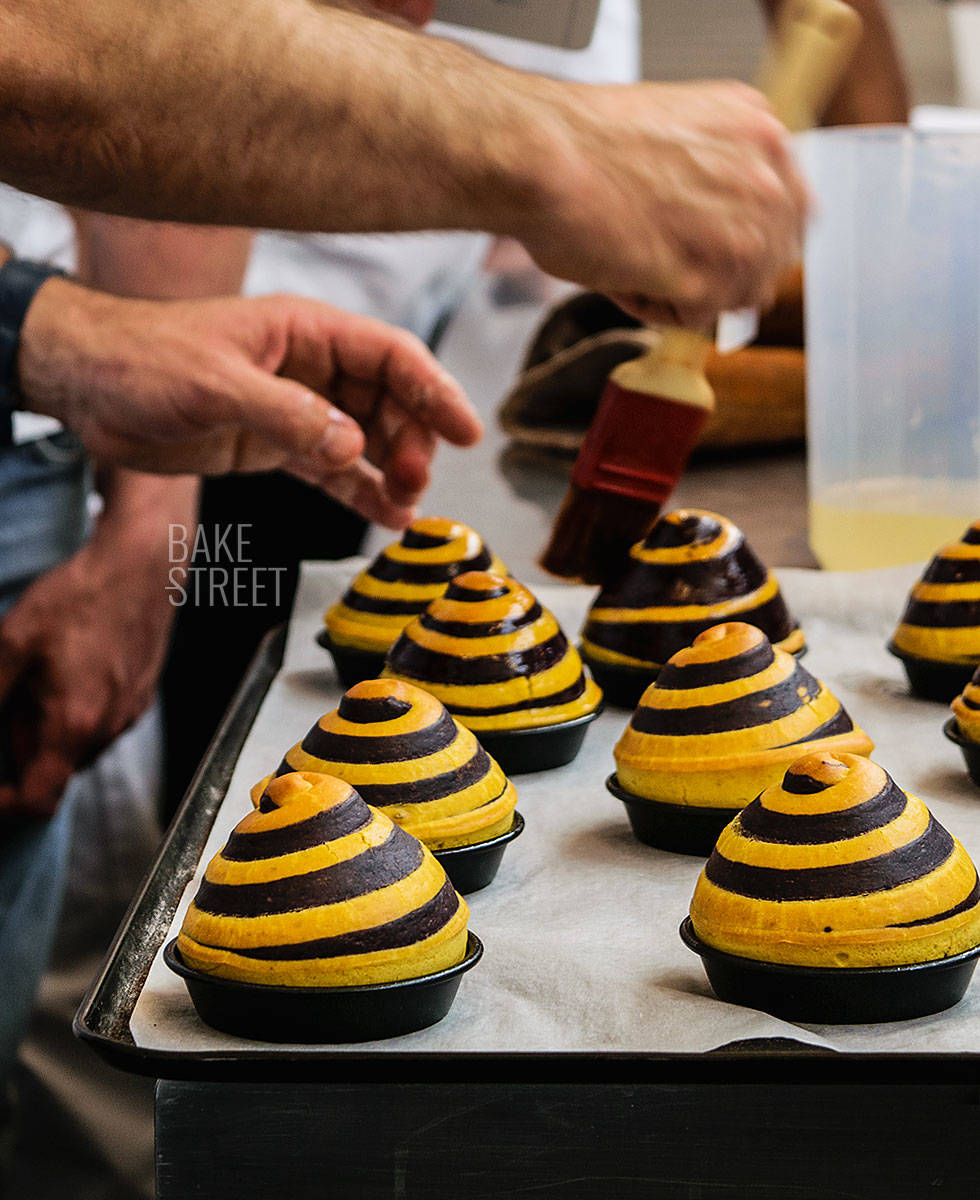 When he finished, Olivier was moved and embraced Yohan. At that moment you are aware of how a profession that is loved and lived at every moment can unite people who feel the same passion.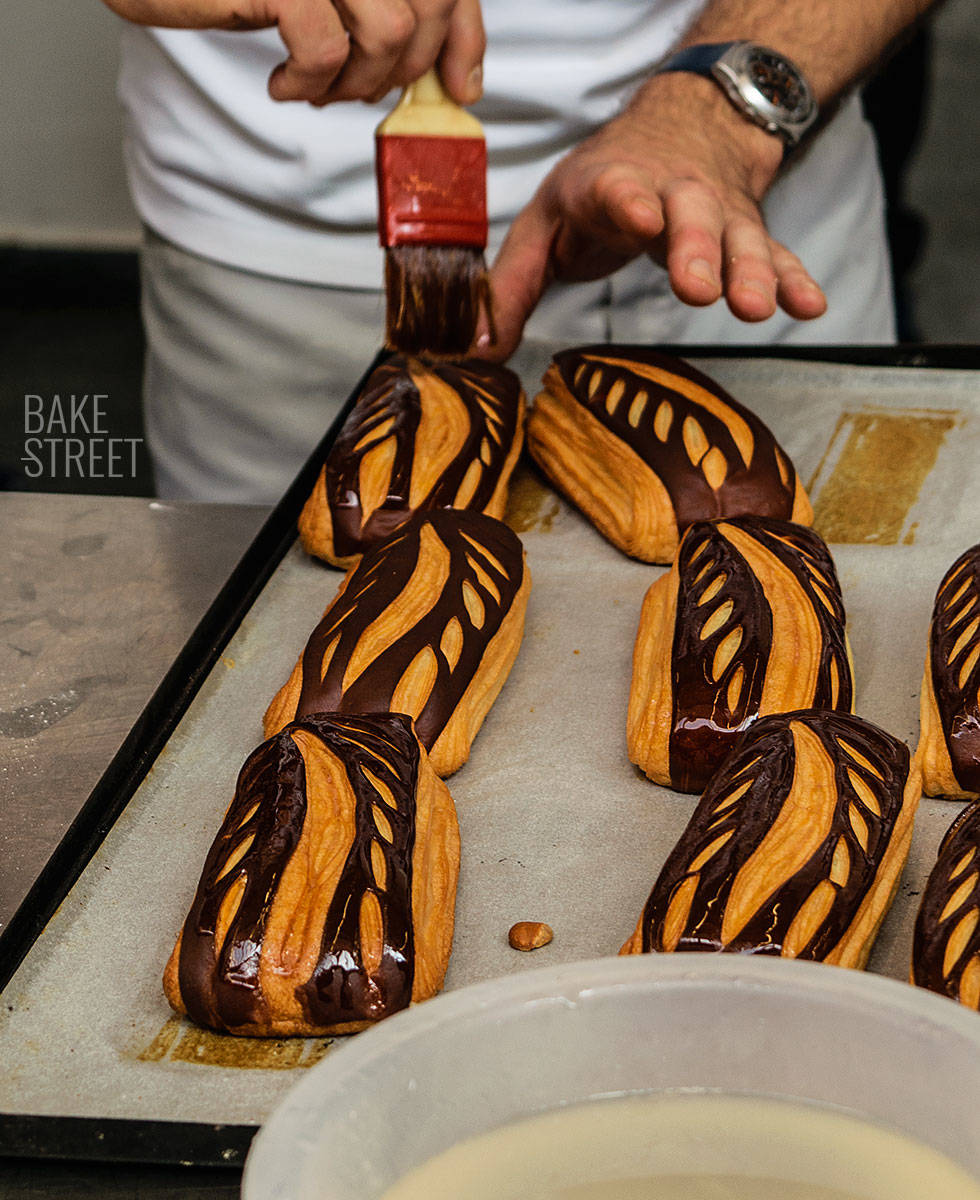 This experience not only allowed me to learn and grow technically or professionally.
It gave me the opportunity to see baking and confectionery masters work, teach and share their work with humility, closeness and kindness. Only people who are like that have the ability to contribute positive things and allow others to evolve alongside them.
And to top it off, on the last day when Olivier was setting up the table I met a wonderful person. Alba from Galette. I couldn't be more excited to meet her in person! A few years ago we collaborated together for a magazine, along with other colleagues, and being able to see and talk to her was something I didn't expect. What a great two days!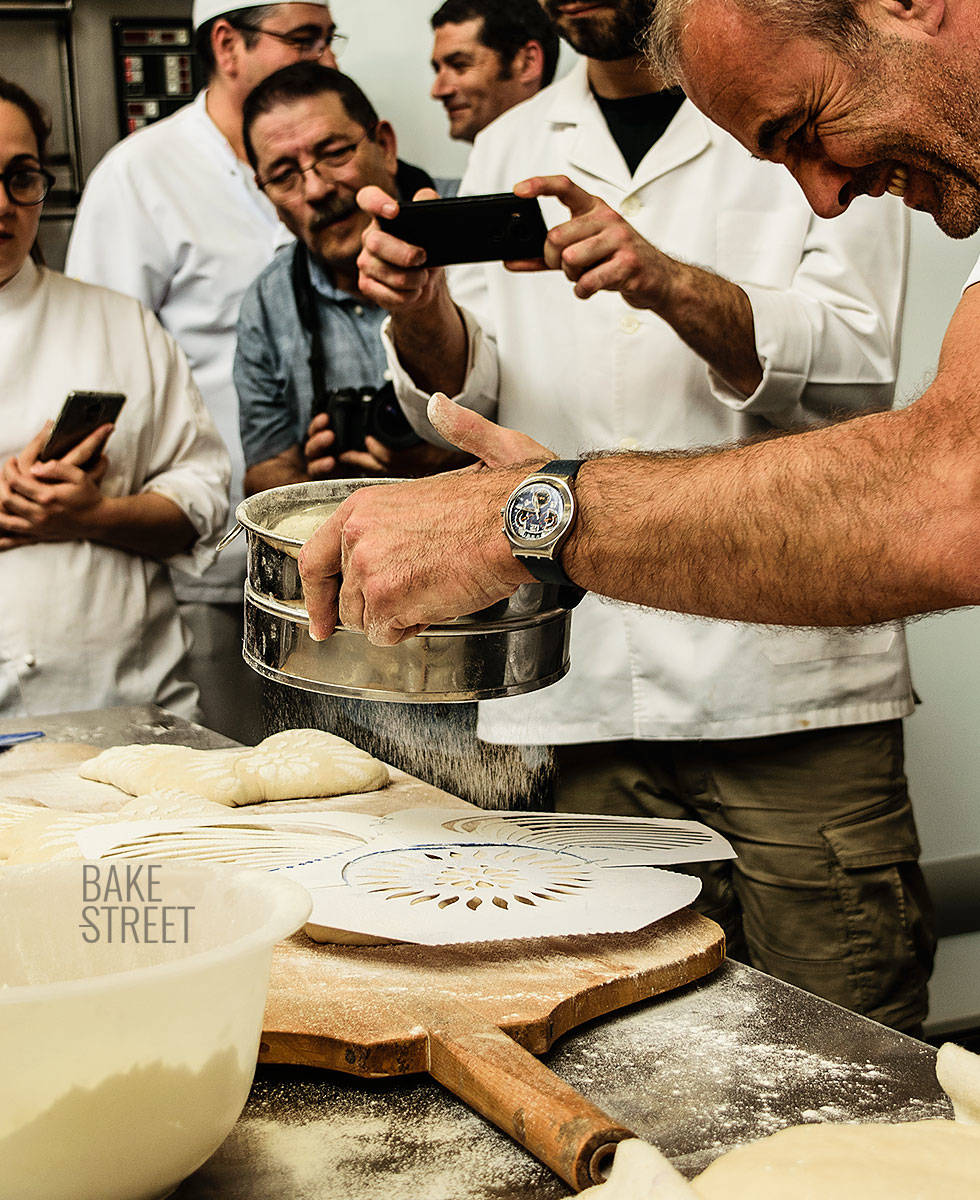 Of course I would also like to thank the school's assistant principal and the entire team for taking such good care of us. They prepared us some delicious lunches, there was no lack of detail. Thank you very much.
I have an experience that I will never forget and that, of course, I recommend to everyone who feels this bond and passion for this world. I hope that my experience will help you and that you will be encouraged to live yours.
Big hugs,
Eva
Archivado en