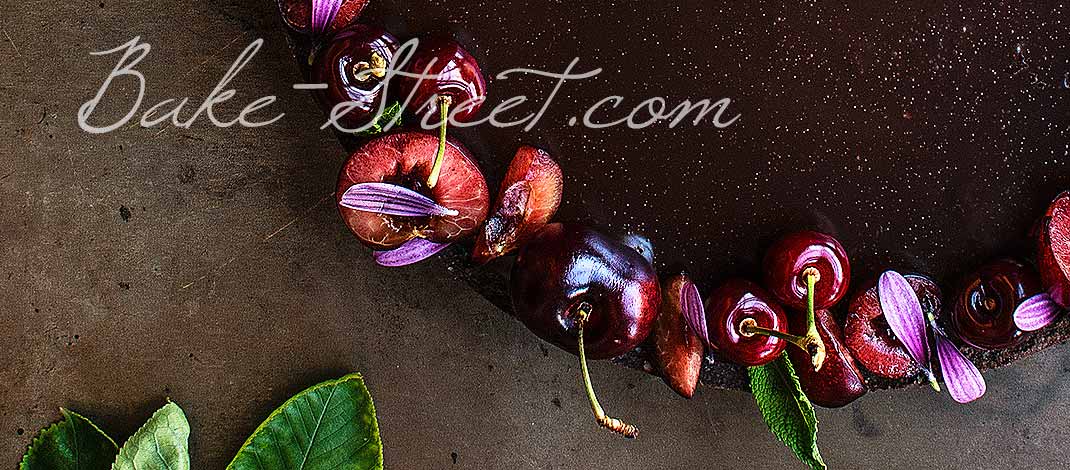 Milk chocolate and cherries tart
Este post también está disponible en Spanish
So much time without cooking a tart, but one of those tarts with an inordinate amount of chocolate. Luckily I did not delay too much and finally I carried my wish with this milk chocolate and cherries tart. When we have seasonal fruits we must take advantage and the cherries are now at their best moment.
I must say that this tart is for true chocolate freaks since both the base and the creamy ganache are made with this ingredient. It is not cloying even though the main ingredient has more sweetness than another variety of chocolate, it is nice to eat 😉
This time we will not make a very complicate tart, it is very simple and with basic elaborations that we all know. A sablée cocoa base with some muscabado sugar to remove the bitterness of the pure cocoa, a milk chocolate ganache very creamy and season fruits to decorate.
The best part about this decoration is that we can always adjust it to the time of year we are in. This time they are cherries but would also look perfect with raspberries, strawberries, blueberries, currants and even nuts.
The difference between this ganache and others lies in the final creaminess. We will not find a ganache very firm and hard, it will be soft but will maintain its consistence when cutting. Of course, do not leave it at room temperature for hours because it is likely that the chocolate becomes too soft … Ideally is to consume it directly from the cold or remove it from the fridge some minutes before to eat it.
One of the things we have to keep in mind when making a ganache is the type of chocolate we are using. The final density of the ganache will vary depending on the type of chocolate that we still use using the same amount of cream.
For that reason we must know the correct proportions for each variety of chocolate:
Black chocolate at 70% cocoa, we will need 100 g + 150 g heavy cream
60% cocoa, we will need 135 g + 150 g heavy cream
Milk chocolate with 40% cocoa, we will need 225 g + 150 g heavy cream
White chocolate at 35% cocoa, we will need 300 g + 150 g of crème fraîche *
* After several tests I verified that the result is much better to elaborate the white chocolate ganache with crème fraîche instead of heavy cream.
MILK CHOCOLATE AND CHERRIES TART
For one ring pastry of 9,6 inches
FOR THE CACAO PASTRY:
6.35 oz (180 g) pastry flour
0.88 oz (25 g) cocoa powder
0.88 oz (25 g) ground toasted hazelnut
4.6 oz (130 g) cold butter
1 large egg
1.4 oz (40 g) moscabado sugar
0.07 oz (2 g) salt
1 beaten egg-white for brush
MILK CHOCOLATE GANACHE:
12,3 oz (350 g) milk chocolate
1,5 oz (42 g) black chocolate 70%
9,7 oz (275 g) heavy cream
FOR DECORATE:
cherries
purple daisy petals
mint leaves
INSTRUCTIONS:
Make cacao pastry.
Grate butter, set aside.
In a big bowl add pastry flour with cocoa powder ground toasted hazelnuts, grated butter and salt. Mix between your hands until combined. Texture must be grainy.
Add moscobado sugar, egg and mix lightly.
Transfer the dough to a counter and knead making fraisage technique. It will be useful to get an homogenous dough but without gluten developed.
Put the heel of the hand over the dough and push to the front little by little to get a merged dough but without being elastic. We can see how to make it in this video.
Once the dough is homogenous, roll it between two teflon sheets into 0,11 inches (3 mm). Diameter dough must be bigger than iron skillet.
Let sit between two sheets over a baking tray in the fridge for 2 hours or overnight.
Bake cocoa pastry.
Remove teflon sheets and place the pastry over a parchment.
Helping with the ring pastry, cut the base and let sit without remove the ring.
Cut strips, bit higher than the ring height, and place around the base. You must to cut several strips to cover the tart sides. Press which each other to join the ends the strips.
Remove the excess of pastry with a knife to have a perfect edge.
Tap the base with a fork. Refrigerate for 30-40 minutes.
Preheat oven 345ºF.
Remove from the fridge, line pastry with baking paper and fill with ceramic pie weights or uncooked beans.
Bake for 15-20 minutes.
Remove ceramic pie weights, brush with beaten egg-white and bake for 5 minutes more.
Remove from the oven, with care, and let cool.
Make milk chocolate ganache.
Chopped finely milk chocolate and black chocolate, set aside.
Pour the cream into a heat-resistant bowl and place in the water bath. Leave until it takes temperature but without boiling.
Remove from the heat and add chopped chocolate, mix until smooth.
Pour in a medium bowl and let cool completely at room temperature for 30 minutes.
Pour the ganache into the base of the tart and let it cool to room temperature. It will take us about 2 hours.
Place in the fridge overnight.
Decorate the tart.
Wash and dry cherries.
Cut some of them in halves and remove the stone.
Decorate the edge of the tart with cherries, some petals and mint levaes.
Serve.
NOTES:
How should I preserve this tart? In the refrigerator inside an airtight container or film-coated, the way you prefer.
How much time can I preserve it?  I do not think it lasts too long, it's terribly good. It could be perfect for 5-7 days.
If you do not like milk chocolate you can make a black chocolate ganache or even white, but remember that the heavy cream / chocolate quantity will vary from one type to another.
This milk chocolate and cherries tart would be perfect to enjoy this weekend, I assure you. Requires little oven, just the base, and the filling is made in cold something that is thankful in these hot days. The result is fantastic, but it is true that it is difficult to fail with this combination 😉
Have a nice weekend!
Big hugs,
Eva
Archivado en