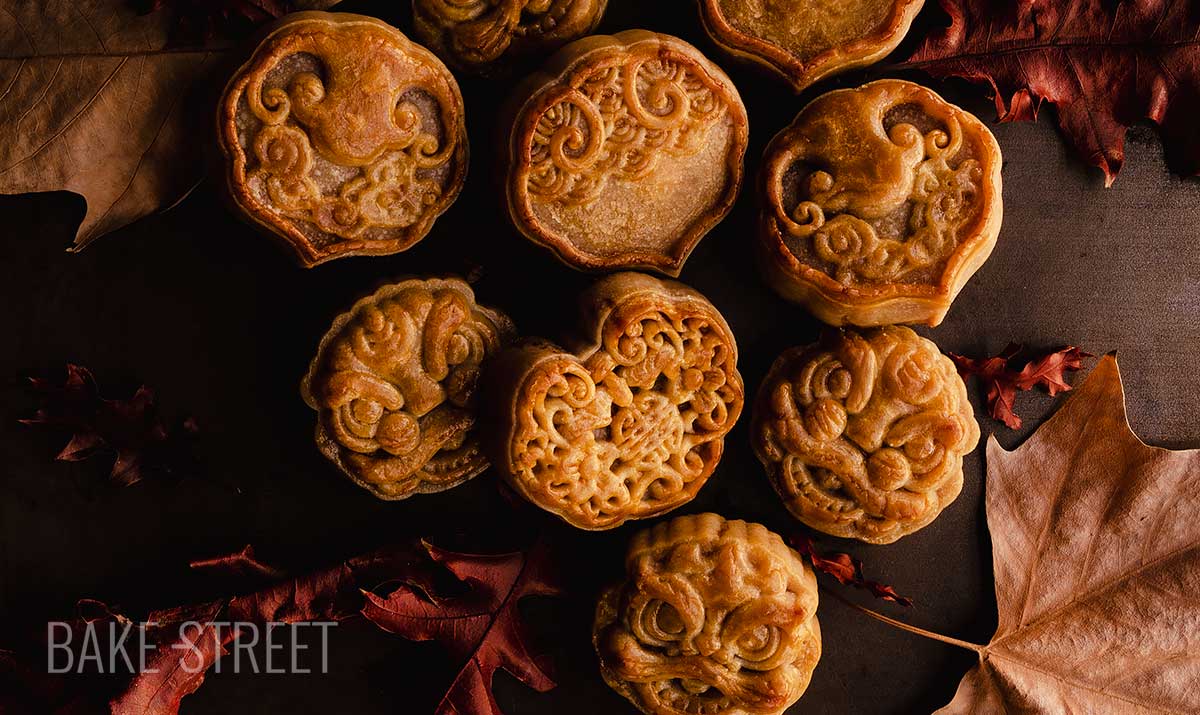 Lotus paste mooncake with salted egg yolk
Este post también está disponible en Spanish
I know that this year I have left you the recipe a little short of time, but it is also true that it is a sweet that is worth making and enjoying at any time of the year. Yesterday I left you how to make lotus seed paste, a silky, soft and very aromatic filling, which not only can be used to make today's recipe, Lotus paste mooncake with salted egg yolk, but can also be used for many other elaborations.
Last year I wanted to make them and try them, but this year I was sure I was going to share with you the process of both recipes. When making the lotus paste, you will find a very similar process to making anko. It is true that it requires standing for quite a while, watching and stirring, but the result is well worth it.
The dough recipe that I leave you this year is the same as last year. I really like the result and, for the moment, I don't see the need to modify it. What I have improved is the stretching process, so that we can achieve a very thin dough that wraps a large amount of filling. In addition, this process will allow us to handle the dough much better, preventing it from sticking to both the work surface and our hands.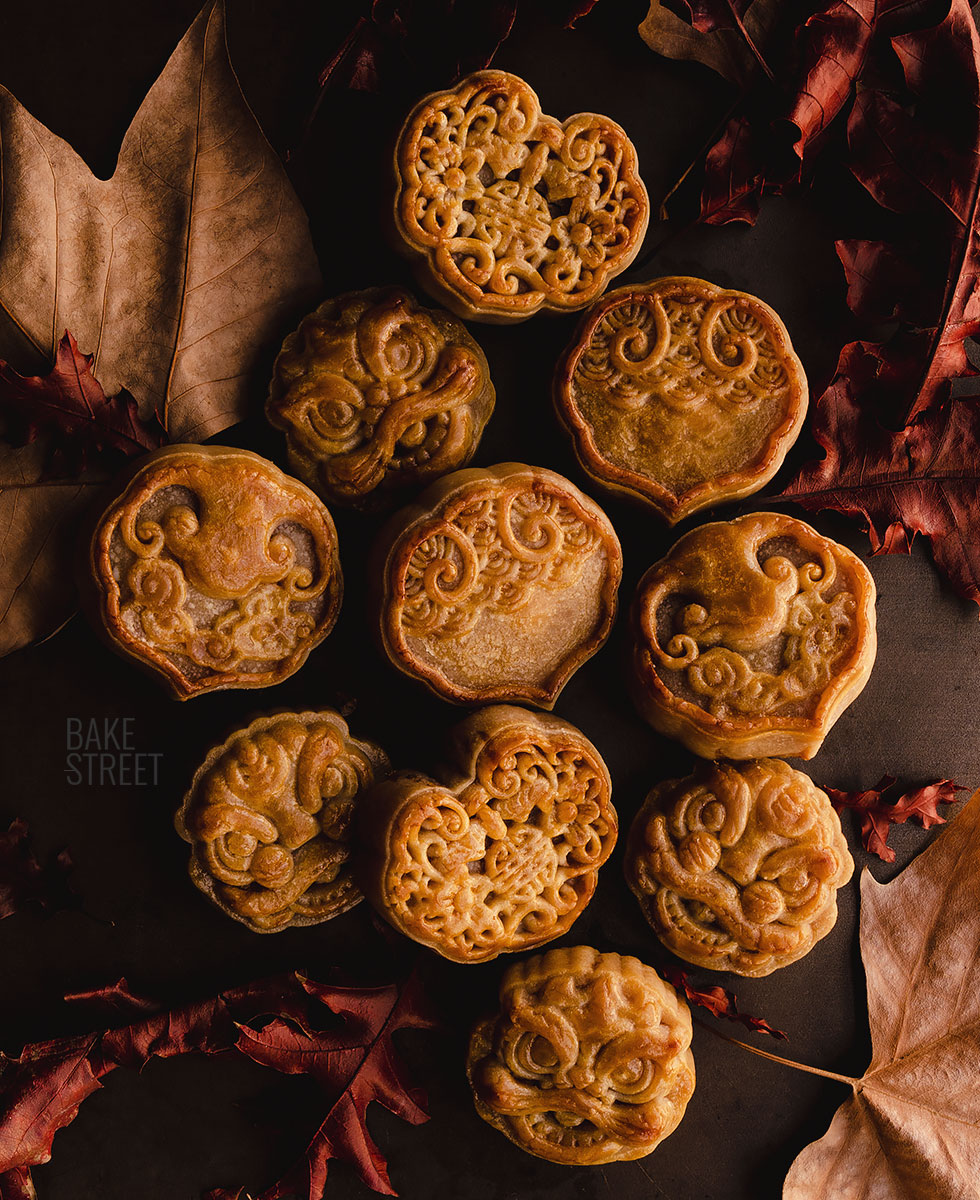 Lotus paste mooncake with salted egg yolk.
This combination, without having tasted it before, already had me fascinated…. Just seeing the color of the lotus paste, I could imagine its taste. Which, by the way, is much better than I expected. However, my family found it rather bizarre… A sweet paste made from seeds and a salted duck yolk? Phew, no thanks!
You know what? It's their loss! I found it fascinating, very different and a very balanced combination. They were utterly delicious. I can tell you that the salted yolk does not taste like an egg yolk as if we were eating a boiled egg yolk. The flavor is much more delicate and smooth. In the video you will see that I am making marks in the filling to have, constantly, located the yolks. So that they didn't open one and find what they didn't want.
On the other hand, I must say that the salted yolks I have used are not the common or usual ones. In Spain it is not easy to find them…. I was in an Asian supermarket and saw the salted duck eggs. Immediately, I was super happy believing that I had found what I was looking for, but no. The taste is good and curious, but it is not.
The flavor is good and delicious, but the consistency, or rather hardness, is not what is needed for this type of elaborations. Even so, I decided to use them, since I had bought and opened them. So I apologize in advance because, when you see me cutting the mooncake, it will be hard to find the yolk, hahaha.
I really want to make them at home and, I think, this is the best way to obtain the best result. The following ones will be better, in this aspect, no doubt.
If you want to know everything about these sweets and their origin, you can do it in this post I left you last year 😉
Recipe Lotus paste mooncake with salted egg yolk
Ingredients for11 pieces
MOONCAKE DOUGH:
Recipe from Magic Ingredients
150 g pastry/Cake flour
75 g Golden Syrup (recipe below)
10 g lye water
35 g vegetable oil
1 g salt
cornstarch for the mold
GOLDEN SYRUP:
300 g sugar
150 g water
30 g lemon juice
FILLING:
lotus seed paste (link recipe)
salted duck egg yolks (optional)
FOR BRUSHING:
MATERIAL WE WILL NEED:
Instructions
Prepare Golden Syrup.
To see how to prepare the Golden Syrup, you can do it in this post.
Prepare the dough for mooncakes.
To see how to prepare the dough for mooncakes, you can do it in this post.
Assemble mooncakes.
Divide the mooncake dough, in my case, into 5 portions of 15 g and 6 portions of 25 g. We will obtain 11 units. Round very well, cover with film or store in a covered container to prevent them from drying out.
For the filling we will use lotus paste (I left the recipe a few days ago). Shape 11 round pieces, 5 units of 35 g, 2 units of 50 g and 4 units of 45 g. The 75 g molds need filling pieces weighing 50 g, as half an egg yolk weighs 5 g (and I have filled with yolk 4 units), for that reason I make 4 pieces of 45 g. In my case, I also make a mark on the 45 g pieces to easily differentiate them from the rest.
Cover with cling film or store in a covered container to prevent them from drying out.
If we fill the lotus paste balls with yolk, proceed as follows. Make a hole in a lotus paste ball, simulating a bowl. Place half yolk inside and we close carefully trying to wrap it. Seal well. On this occasion, I also made marks on these pieces because my family does not like them with salted yolk.
Roll out the dough. Take one of the pieces, place it between two sheets of film and stretch it with a rolling pin. We must give enough diameter to cover the piece of lotus paste.
Remove the film, place the piece of lotus paste on the dough and proceed to wrap and adjust carefully. Begin to join the base until it is completely sealed. Gently roll and cover with film.
Repeat the same process with the rest of the pieces.
Create the pattern with the mold.
Roll one piece over a bowl with cornstarch, remove the excess.
Place on a tray lined with a silpat or baking paper.
Put the mooncake mold over the piece and press it with force 2-3 times.
Remove the mooncake from the mold, pressing down in the same way as if we were going to mark the cake and place it on the tray.
Repeat the same process with the rest of the pieces
Bake mooncakes.
Preheat oven to 355ºF/180ºC with heat up and down.
Remove any excess cornstarch from the moon cakes, using a pastry brush.
Spray the surface with water and place in the oven at medium heat. Bake for 5 minutes.
Remove the mooncakes from the oven and let them cool for 4-5 minutes. In the meantime, mix 1 egg yolk with 15 g of water.
With the help of a pastry brush, better not silicone, brush a very thin layer of yolk on the surface of the mooncakes. Make sure there is no excess in the hollows.
Reduce the temperature to 335ºF/170ºC and bake for 10 minutes.
Remove the cakes from the oven, let stand for 2 minutes and brush another very thin layer on the cakes.
Put them back in the oven for 5-10 minutes, they should have a nice golden color.
Remove from the oven and let them cool completely on a wire rack.
Once cooled, store in an airtight container and let stand for 1-2 days at room temperature. If it is very hot, it is best to store them in the refrigerator.
Before serving, let them cool for 1-2 hours.
Notes
My mooncake molds, this year's, I bought them on Aliexpress (they are linked above in the material we will need). You can also find them on Amazon and specialized stores.
Mooncakes can be made with an infinite number of fillings. In my case I leave you this option made with anko (recipe in this link) and today's recipe, with lotus seed paste.
We must use alkaline water to make them for two reasons; it increases the alkalinity (pH) to neutralize the acid of the golden syrup and favors the Maillard reaction, responsible for making the crust acquire a nice golden color.
If alkaline water is not available, a solution can be made at home with baking soda. The ratio would be 1 teaspoon of baking soda to 4 teaspoons of water. According to Elaine of the China Sichuan Food blog, using baking soda directly will result in a much less crispy and browned crust. She recommends baking the baking soda on a lined baking sheet at 248ºF/120°C for about 1 hour to make it a more potent alkaline ingredient. We should not touch it during the process to avoid skin irritation.

It is very important to weigh both the dough and the filling. The combined weight of both cannot exceed the amount of dough that your mold can tolerate. In my case I have a 50 g mold.
When we make the fillings at home, we must make sure that they are dry. For that reason, we must heat dry our anko well. A wet filling can cause cracks in the crust due to evaporation.
It is very important to remove the cornstarch from the top of the mooncakes to make sure they have a nice and perfect finish.
Salted yolks that I used are not the usual ones. I thought they were going to be hard yolks and, to my surprise, they weren't..... I decided to use them anyway since I had opened the eggs. I have to look for a good recipe to prepare them and share it with you.
We must spray the mooncakes with a little water to prevent them from cracking during baking. We must not overdo it or we run the risk of spoiling the top pattern.
The baking has several processes; during the first 5 minutes we fix the shape of the mooncake, in the second and third batch we brush with the yolk to give color to the cake and finish the baking.
When we take the mooncakes out of the oven we will notice that the dough is very firm and hard, besides not having any shine. This is completely normal. Once they have cooled, we must let them rest inside an airtight container to help the crust become soft and shiny.
We can keep them refrigerated for 2 weeks..
I really encourage you to prepare at home this delicate sweet, Lotus paste mooncake with salted yolk, because I am sure you will love and surprise in equal parts!
If you celebrate the Mid-Autumn festival or you like to be part of these precious traditions, be sure to try this sweet so typical of this day. Remember that the ideal is to share the mooncake and not eat the whole thing.... This year, I am trying to do it. I cut it into portions to share, but in the end, as they do not take their pieces, I end up eating them all! But my intention is good.
I wish you a wonderful weekend!
Lots of love,
Eva
Archivado en