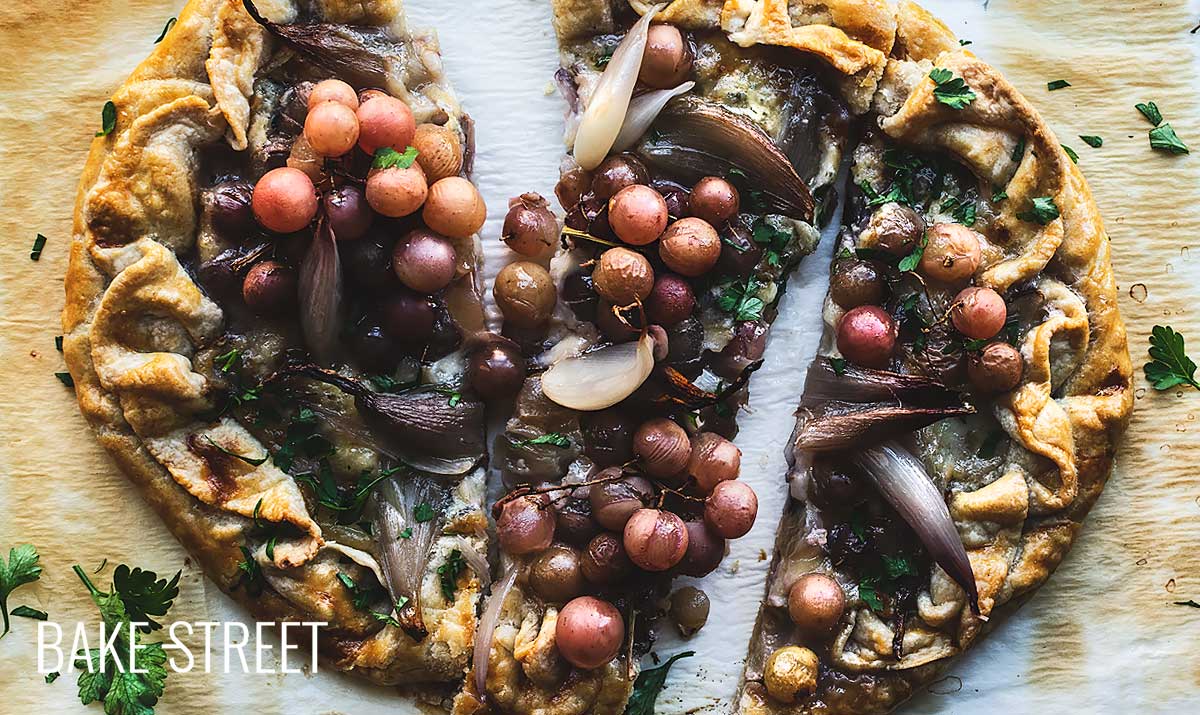 Gorgonzola, grapes and confit shallots galette
Este post también está disponible en Spanish
It's been a long time since I've made a galette at home and we really like that. It's a recipe that we can have ready in a few minutes and solve a dinner or even a lunch. On this occasion, we would need a little more time to prepare the confit shallots… But for the rest, it is a recipe that will take us little work and time. Today we see how to prepare this Gorgonzola, grapes and confit shallots galette.
If you like savoury pies you will have already prepared more than one galette at home. They are really versatile, admit all kinds of fillings, ingredients and, the dough, can be adjusted to the type of flour that we like the most. Rye, wheat flour, wholemeal flour… Even add seeds or spices.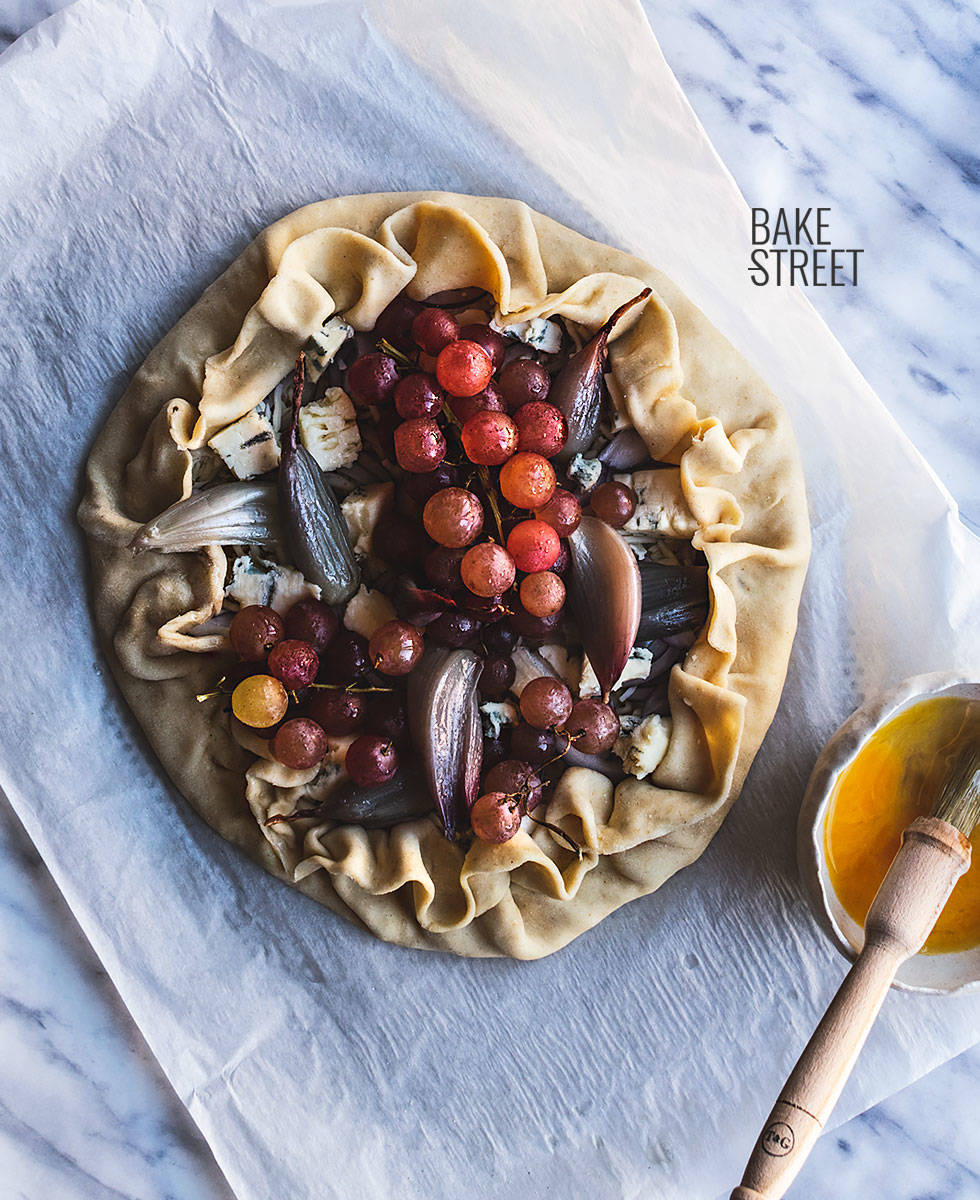 Gorgonzola, grapes and confit shallots galette.
Since the raspberry grape season came, I had the idea of making this galette. I know many of you don't find them easily because you've told me so much. I think this year, too, they've called them cotton candy grapes or something similar. I didn't buy this variety, but it looks the same. Not very large caliber grapes, pink and seedless.
In any case, as I will tell you below, another grape variety can be used. Ideally it should be sweet, small in size and seedless. But if we do not find grapes in these conditions, use another type of grapes. We can cut the grapes in half to remove the seeds. Unless it doesn't bother you that they are there when you eat them…
Musical break.
Today I have a bit of homesickness and I wanted to listen to songs from my childhood. Of those moments in which you started choreographing in front of the television while watching video clips. Or when you recorded the music by placing the radio cassette next to the TV and asked your whole family not to make any noise (while you crossed your fingers so that the phone didn't ring).
One of the music groups that I liked the most, and still do, is TLC. I liked them a lot, hahaha. Well, this Monday I remember one of their songs that I liked the most, "Waterfalls" (Video on YouTube) along with the famous "Creep", of course. Do you remember them dancing in pyjamas? My idols!
Continue with the recipe.
Galette dough couldn't be easier to make; mix, flatten and cool. This last step is important to facilitate the manipulation of the dough. What's more, you can leave it done the night before or at midday if you plan to do it for dinner. If you hurry me a lot more, it can even be completely assembled and covered with film in the fridge by the time you get home. That way all you have to do is bake it. Easy, isn't it?
Maybe not in all cases this is possible, it will depend on the ingredients we are going to make it with. In this case we could do it because none of them will damage the consistency of the dough and they will stay perfectly refrigerated on the dough.
The combination that I have chosen, even being a salty elaboration, inclines towards sweet flavours; grapes, confit shallots and Gorgonzola cheese. Outstanding.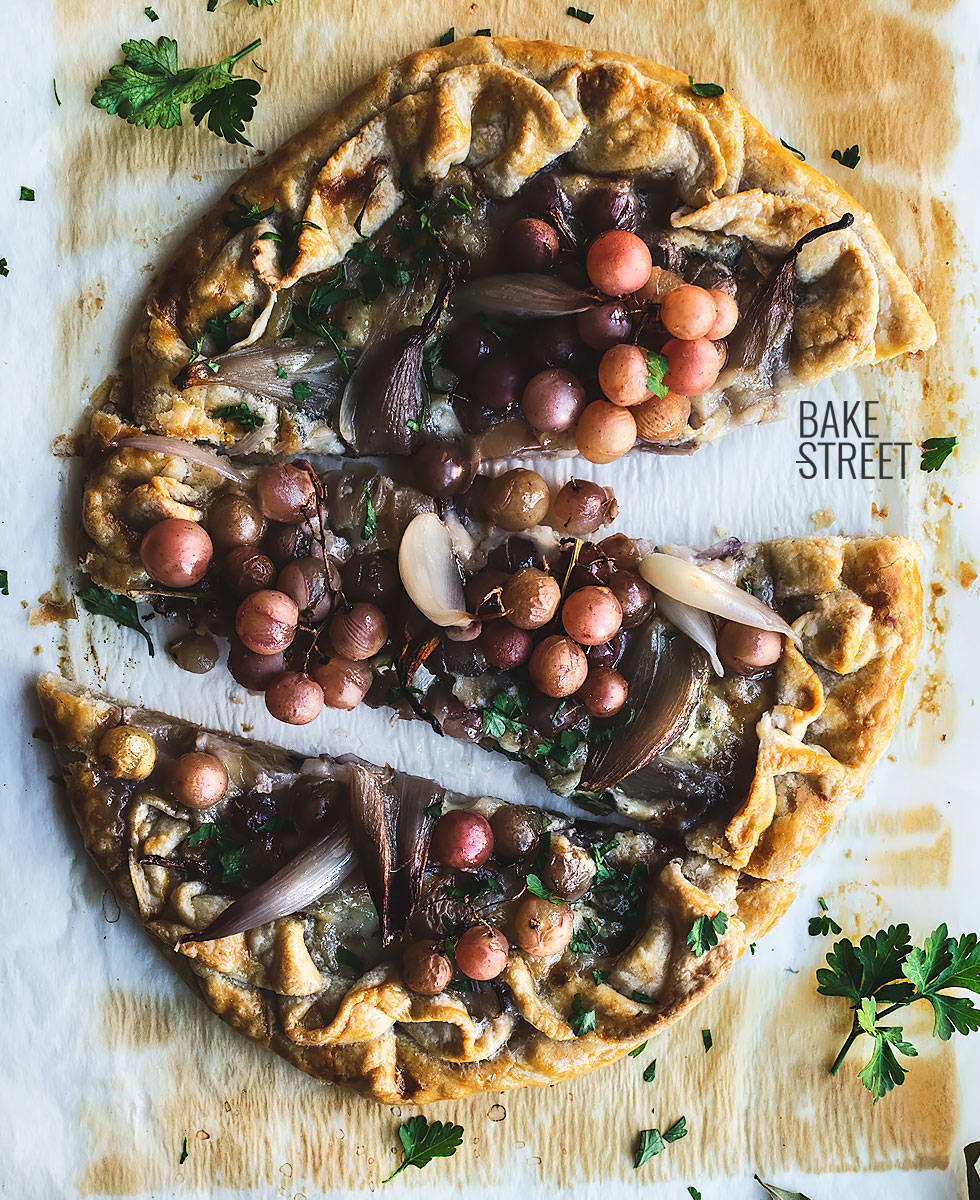 Ingredients
FOR THE DOUGH:
140 g bread flour
90 g unsalted butter, cold
2 g salt
pinch of sugar
30-40 g very cold water (from the fridge)
1 beaten egg + pinch of salt + 1 tsp water, for brushing
FOR THE FILLING:
confit shallots, to taste (recipe below)
mozzarella
Gorgonzola cheese
raspberry grapes or any other variety you prefer
1/2 finely chopped red onion
chopped fresh parsley
FOR CONFIT SHALLOTS:
9-10 shallots
350 g olive oil
Instructions
Confit the shallots.
Wash shallots thoroughly with water to remove dust and possible dirt. Dry with kitchen paper towels.
In a medium saucepan add the olive oil and the unpeeled shallots. The final amount of olive oil may vary depending on the size of the shallots. The shallots must be completely covered.
Place at very low heat, in an induction hob with values of 1-9 we will put it at 3, cover the pan lightly and let it confit slowly. It will take about 40-45 minutes.
To know if our shallots are ready, we only have to prick them with a knife. If it comes in softly, they will be confit.
Remove from the heat, take out with a slotted spoon and let cool completely in a dish.
Make dough galette.
In a large bowl, or in the KA bowl, add the flour together with sugar and salt. Mix slightly.
Add the butter cut in small squares and, with the help of the flat beater, mix at speed 1 until a sandy texture is obtained. If done by hand, rub the mixture with both hands until the texture specified above is obtained.
Pour the cold water and mix with the flat beater until you get a homogeneous mixture. If done by hand, combine the ingredients until a homogeneous dough is obtained.
Transfers the dough to a clean surface and knead for a few seconds.
Shape a flattened disc, cover with film and place it in the refrigerator for 2-3 hours.
Shape the galette.
Lightly sprinkle a work surface with rye flour.
Stretch our dough, giving it an oval shape, until we reach approximate measures of 13,8- 15,7 inches (35-40 cm) in diameter. The dough must be very thin.
Place on a tray lined with baking paper.
Remove the skin from the shallots and cut in half lengthwise. If they are very large, we can cut them into quarters. Set aside.
Sprinkle the base with mozzarella to taste.
On top of this, we place the laminated red onion.
Finish decorating with the shallots, Gorgonzola cheese cut into pieces and raspberry grapes.
Fold the edges inwards, covering part of the tomatoes and folding.
Refrigerate for 45 minutes so that the dough becomes firm.
Bake the galette.
Preheat the oven to 355º F (180ºC).
Get the galette out of the fridge.
Brush the edge with beaten egg and bake for 30-35 minutes.
Raise the temperature to 390º F (200ºC) and bake for another 5 minutes.
Remove and let it warm for a few minutes on a rack.
Just before serving, sprinkle with fresh parsley chopped.
Serve.
Notes
The oil that we have used to confit the shallots, we can reuse it to fry potatoes, for example.
We must respect the cold times of the dough to ensure that, at every step, it has the right consistency and firmness.

Can I use another type of flour to make the base of the galette? Yes, of course. You can use the variety you prefer, but always keep in mind that each flour works differently. In this recipe you can see how to make it with some rye.
Podéis cambiar los tipos de queso a otros que se ajusten a vuestros gustos personales, pero procurad que alguno de ellos tenga un sabor más fuerte para lograr un buen contraste con las uvas.
Grapes can be of the variety you prefer. The ideal is that they do not have seeds, as the variety that I specify you. In case you don't find any of this type, you can always cut them in half to remove the seed.
This Gorgonzola, grapes and confit shallots galette is a very autumnal recipe, very easy and delicious. In addition, a sure success because the combination of grapes and cheese always works great.
Result is a combination of sweet flavors with a slight spicy touch thanks to Gorgonzola cheese. The texture is very juicy inside with the contrast of the explosion of grapes and the crunchy dough. I think, you will have to try it to give me your opinion ;)
I wish you a wonderful beginning of the week!
Big hugs,
Eva
Archivado en