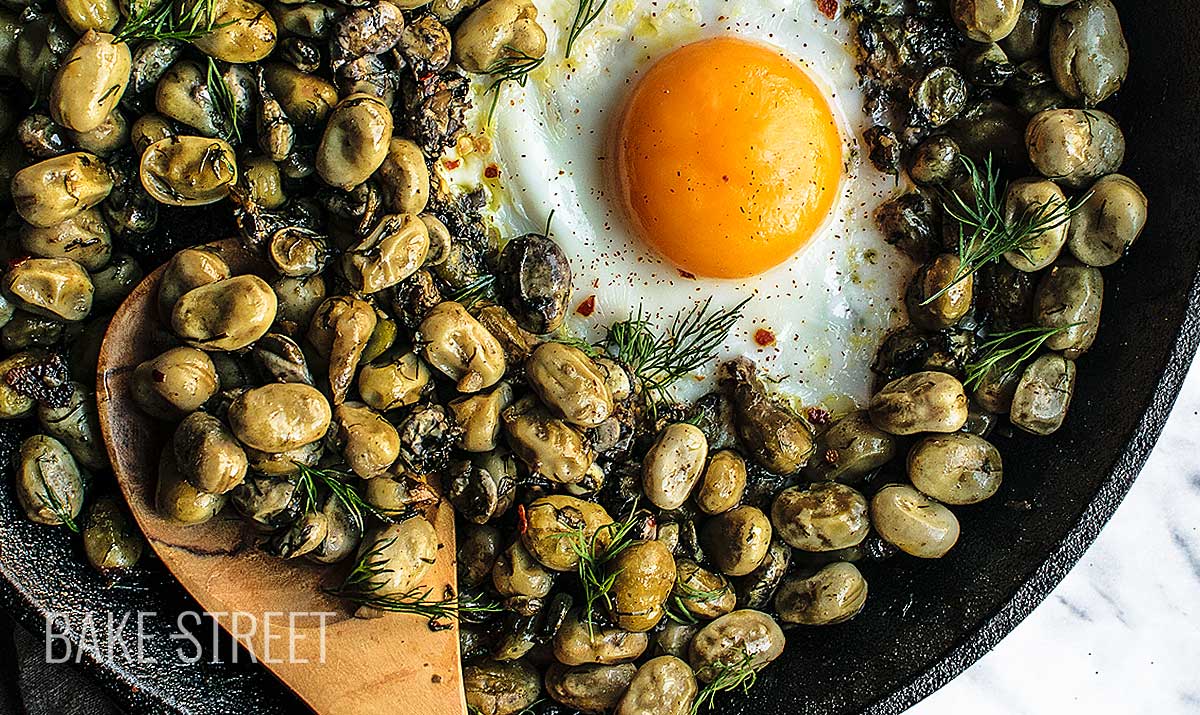 Baghala Ghatogh, broad beans with dill
Este post también está disponible en Spanish
Since I was a child I've always loved beans. In fact at home, my mother and I were the ones who enjoyed it the most. At that time I only dreamed of eating them the way my mother prepared them; sautéed with lots of onion and finished with poached eggs. I didn't need to eat them any other way because I loved them, but when you grow up and you know the possibilities, a wonderful world opens up. Today we will see how to prepare Baghala Ghatoh, broad beans with dill, turmeric and egg.
As a curiosity, surely this may seem strange to some of you, my mother always cooked the beans with her pod. This is something that on many occasions when I say it is strange, although for me it has always been normal. I know that it is consumed this way in many areas and that in Catalonia they call "xiulets" to the tender beans that still do not have grain. So this resolved my doubts about whether or not they could be eaten.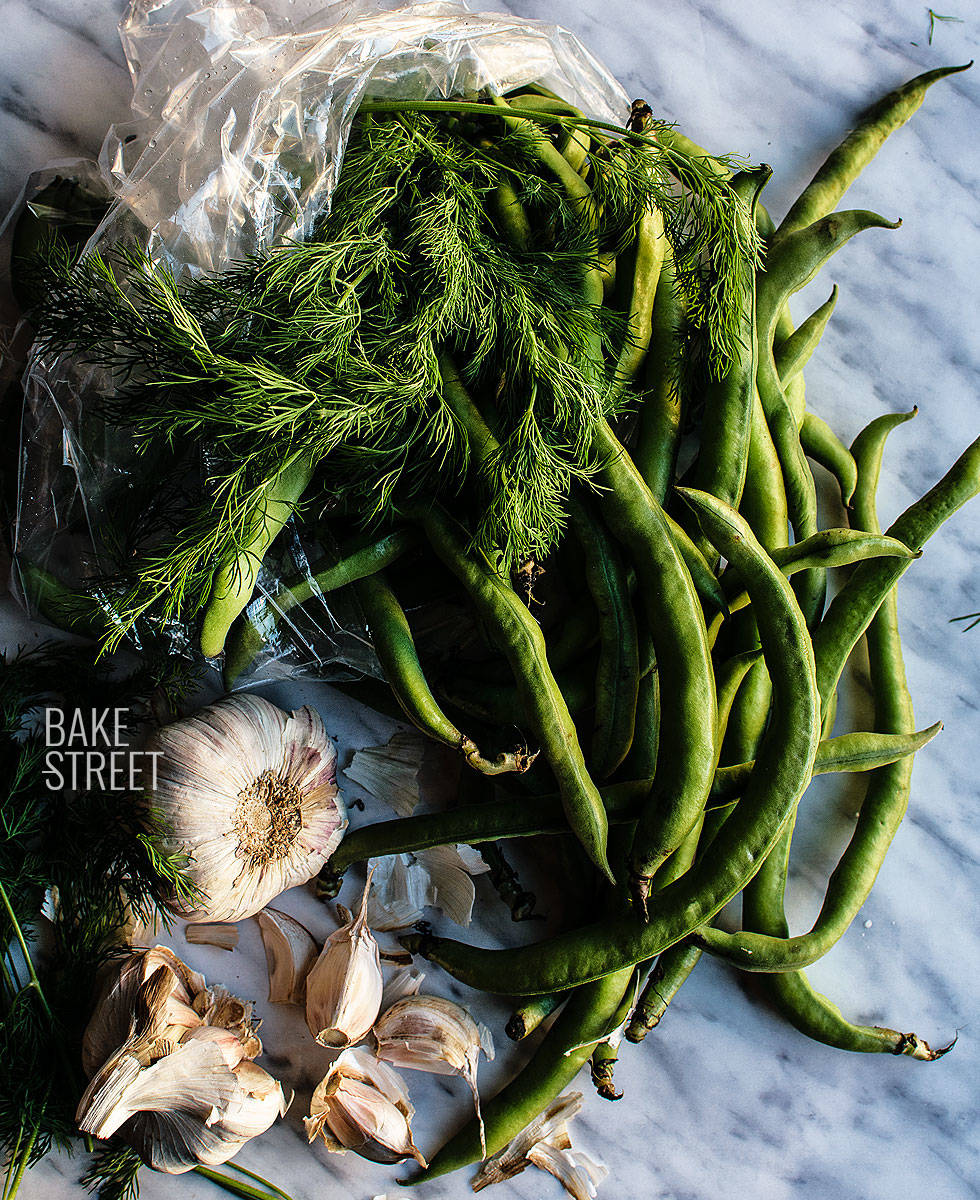 Origin of the Baghala Ghatough.
This elaboration is of Persian origin, specifically from the north of Iran. It is mainly made with fresh beans, dill, garlic, turmeric and eggs, although we can find some varieties. It is traditional to serve it with kateh, Persian rice, or Persian flat bread.
It is a recipe that has a lot of flavor thanks to dill and garlic. So to encourage you to prepare this elaboration, I recommend you to be lovers of both ingredients. The recipe is adapted from Sabrina Ghayour and her book Persiana.
Personally I loved the result, it's very aromatic yet soft and with a spicy point that I love. Besides, it is a recipe that we can have ready in a little less than half an hour… Of course, not counting the time it will take to clean the beans! This process is somewhat entertaining, but with a little practice, it may not be so laborious in the end.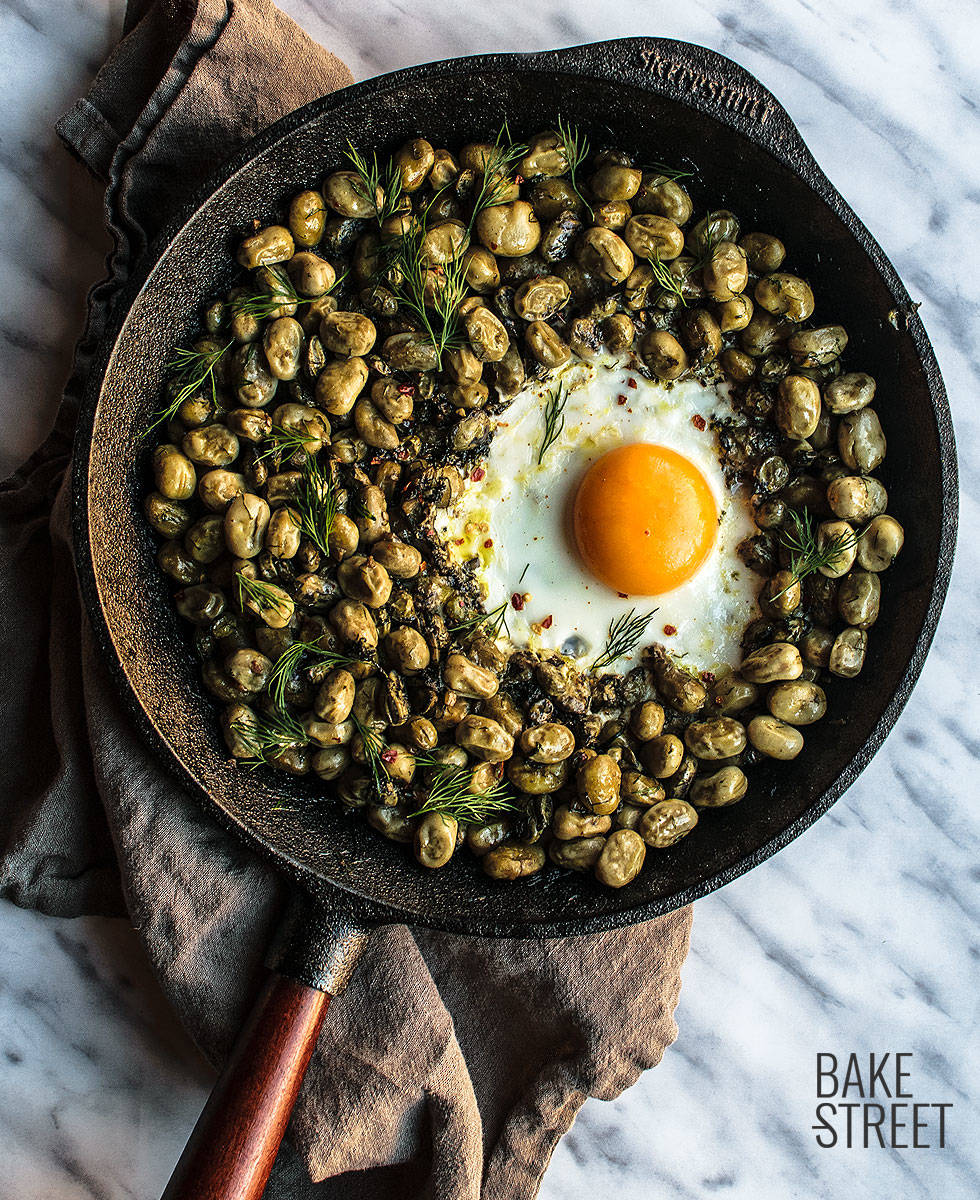 Ingredients for 2 serves
13 oz (370 g) broad beans, peeled
4 large garlic cloves
1,75 oz (50 g) unsalted butter
0,35 - 0,50 oz (10-15 g) fresh dill
1 tsp turmeric
1/2 tsp hot paprika
2 Cobán chiles or 2 cayenne or chili flakes
2 large eggs
pinch of saffron
salt
Instructions
Clean the broad beans and boil.
Open the pods and remove the beans.
Fill a medium saucepan with water and place it over medium-high heat.
Once it breaks to boil, add a little salt along with the broad beans.
Cook about 4-5 minutes, they should be tender.
Remove from the heat, transfer to a cold water bath  to stop the cooking.
Drain and set aside.
Sauté.
Cut the garlic and dill very finely, set aside.
Place a medium skillet over medium-high heat and add the butter.
Once it is melted, add the garlic together with the dill. Sauté for 3 minutes, the garlic will begin to take a light golden brown. Add the turmeric and mix with a spoon.
Add the beans together with the hot paprika and crushed chiles. Mix to homogenize the ingredients.
Cook at medium heat for 3-4 minutes stirring occasionally.
Add the eggs.
Separate the egg yolks from the egg whites.
Using a spoon, form 1 or 2 hollows (depending on how many eggs you want to eat)) between the beans.
Pour the egg whites and cook until they set, about 2 minutes.
Carefully tip the yolks over the egg whites and leave to warmth for 1 minute. Remove from the heat, the yolks will be cooked with the remanent heat.
Add a pinch of salt and saffron over the eggs and garnish with fresh dill.
Serve immediately.
Notes
Can I use canned broad beans instead of fresh beans? Yes, they can be used. You know that canned food does not have the same taste and texture as if it is natural. But it can always be an option. Buy them in a naturally way, no fried or similar.
If you use dried beans, soak them the night before.
Can I replace butter with oil? It can be substituted, but the flavor of butter is very special. Give it a chance ;)
It is an elaboration that needs a lot of dill, it can always be reduced in case you don't like it. But the essence of this recipe lies mainly in the use of this aromatic herb.
In my case I have used chile from Cobán, which you will already know from other recipes. It's a chile with a fantastic smoky touch, but you can replace it with cayenne, flakes of chili... as I said in the ingredients.
Saffron can be used in strands or ground, as you prefer.
When it comes to cooking eggs, you don't have to separate the egg whites from the yolks if you don't want to. In my case, I do it this way because I love runny yolks. But if you like yolks more set, just have to add the whole eggs and cook them until they reach the desired point. Remember that if you put a lid on the pan, they will cook faster.
Berard olive spoon
from 
Claudia & Julia
.
Now that we have the broad beans in season, try this Baghala Ghatogh. Although, if we use frozen or canned beans, we can consume it at any time of the year.... But the ideal thing is to make use of seasonal products to enjoy them in all their glory. And educate the palate, which then becomes capricious.
Badly compared is like eating "Roscón de Reyes" (I will share the recipe in English soon). We can do it any time of the year, yes, but when do we enjoy it the most? At Christmas, with a good hot chocolate, surrounded by your family and opening the presents ;)
Cheer up it's the middle of the week!
Big hugs,
Eva
Archivado en