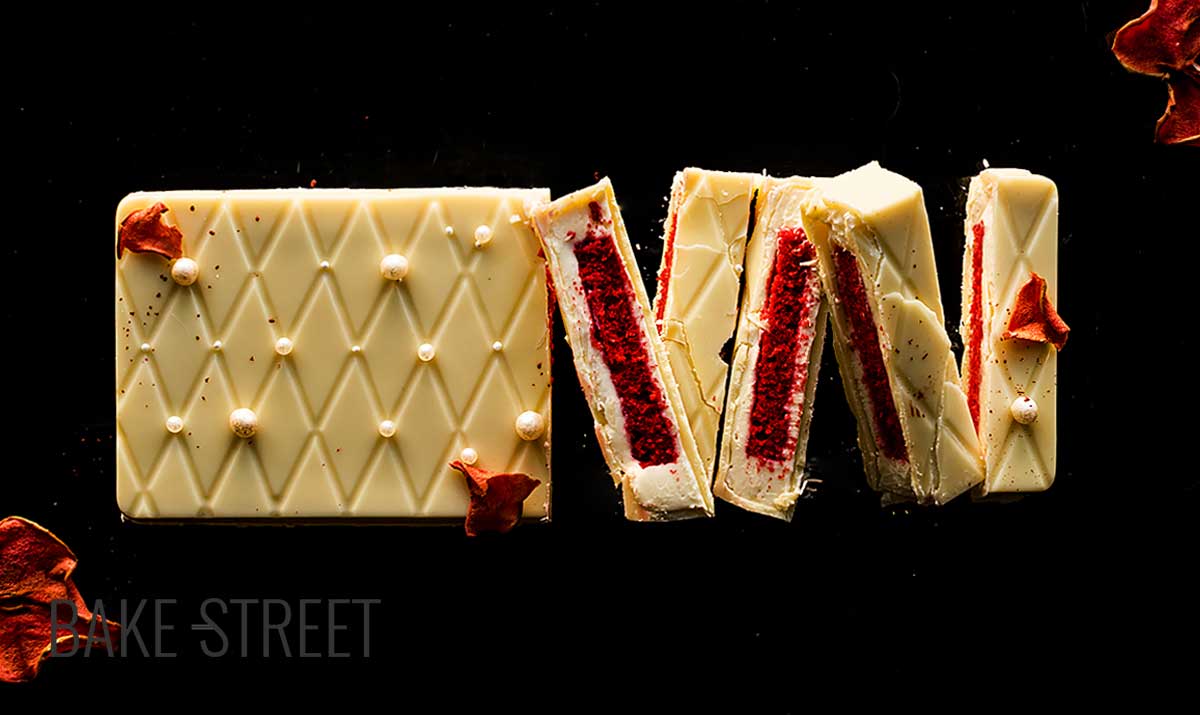 Red Velvet nougat
Este post también está disponible en Spanish
One of the things I like most at Christmas is decorating the tree, it fascinates me. I enjoy it as much or more than when I was a child. I must admit that I love this time of year for many reasons, and one of them is the amount of wonderful candy that accompanies us during this time of year. There is such a wide assortment that it is impossible for at least one of them not to like someone. Today we are going to focus on nougats, so versatile, wonderful and exquisite. So much so that we can make a nougat of whatever comes to mind. Like this Red Velvet Nougat.
This year I have been very focused on cakes. Normally it's something I do from time to time, but this year I've had and suffered a special fixation. So it occurred to me to take this little "obsession" to the nougat format and so finish and start next year surrounded by cakes. But in another format, hahaha.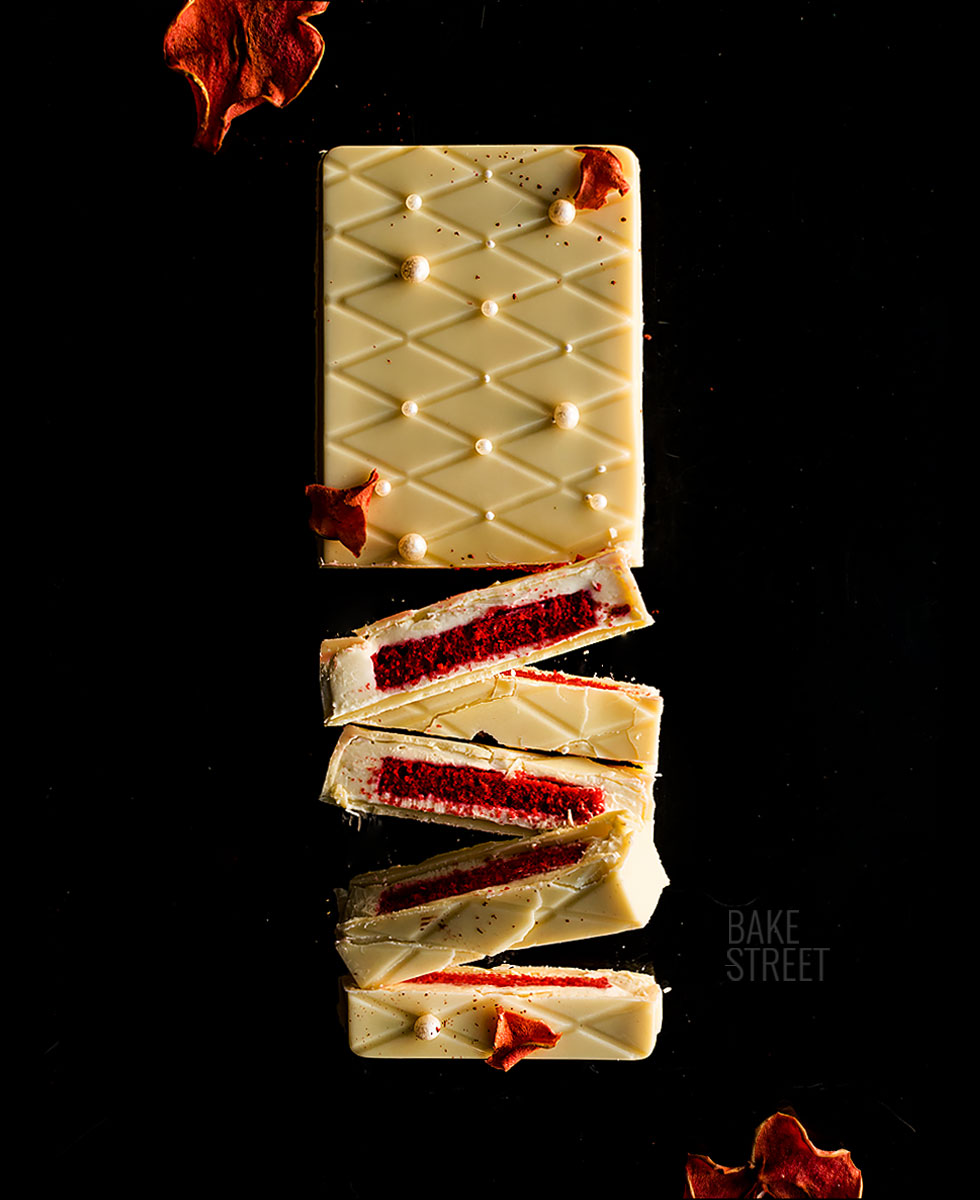 A sweet treat that's never missing at Christmas.
If there is something that is bought in 99.9% of households at Christmas, I omit that small percentage because there will always be some exception, it is nougat. We may find more or less assortment depending on the family, but there will always be some. More classic, traditional, modern, new… Which makes you wonder why we don't dare to make them at home.
They are very easy to carry out, well depends on the nougat, and the results are exceptional on a par with gratifying. If you have never tried this sweet, you still prefer to opt for a simpler recipe such as chocolate and almonds or coconut nougat, marzipan … But I assure you that there is a very small step from making a very easy to a little more elaborate.
If you like Red Velvet, this nougat cannot be missing from your Christmas tray under any circumstances. I promise you, it's something from another world.
Little break.
It doesn't happen to you many times, when you are going to taste some elaboration, that when you bite it reminds you of some song? It does happen to me. With a lot of things, but especially with food. I can not help putting BSO to some recipes, I must be crazy, hahaha.
The fact is that when I took photographs of this nougat, two songs came to mind, of which it was very difficult for me to choose one. But I finally decided on this one, which I think is perfect, Etta James "At Last" (link to YouTube). That way, I also accompany you to start this Monday with a beautiful song.
Red Velvet Nougat.
To carry it out we will need to prepare 3 elaborations; a Red Velvet type sponge cake (it is not like the original, but the result is a very spongy sponge cake of brilliant colour), cream cheese and white chocolate ganache and a white chocolate coating. That's it. Really easy.
The sponge cake looks a lot like a Genovese sponge cake, only I color it with red paste food coloring. We will prepare it in about 10-12 minutes and it only needs 8-9 minutes of cooking. Come on, you can't even have a cup of coffee!
Cheese and white chocolate ganache I saw it to Roberto de "Postres con estilo". Looking for a ganache with cheese on it, I arrived at his blog, which I had known for a long time, and I said: This man is my hero! You're going to love the result, wonderful.
Finally the white chocolate coating. It's very easy to do since we only have to melt in a bain-marie, but we have to temper the chocolate to get a good result.
To assemble it, I have used one of these nougat moulds. In my case, I chose the lattice because I thought it was very elegant for this nougat. They are very comfortable to use, clean and take up little space.
The result of this Red Velvet nougat is a nougat with a crunchy exterior, a thin layer of white chocolate, accompanied by a creamy filling thanks to the cheese and white chocolate ganache together with a very juicy sponge cake… Seriously, happiness.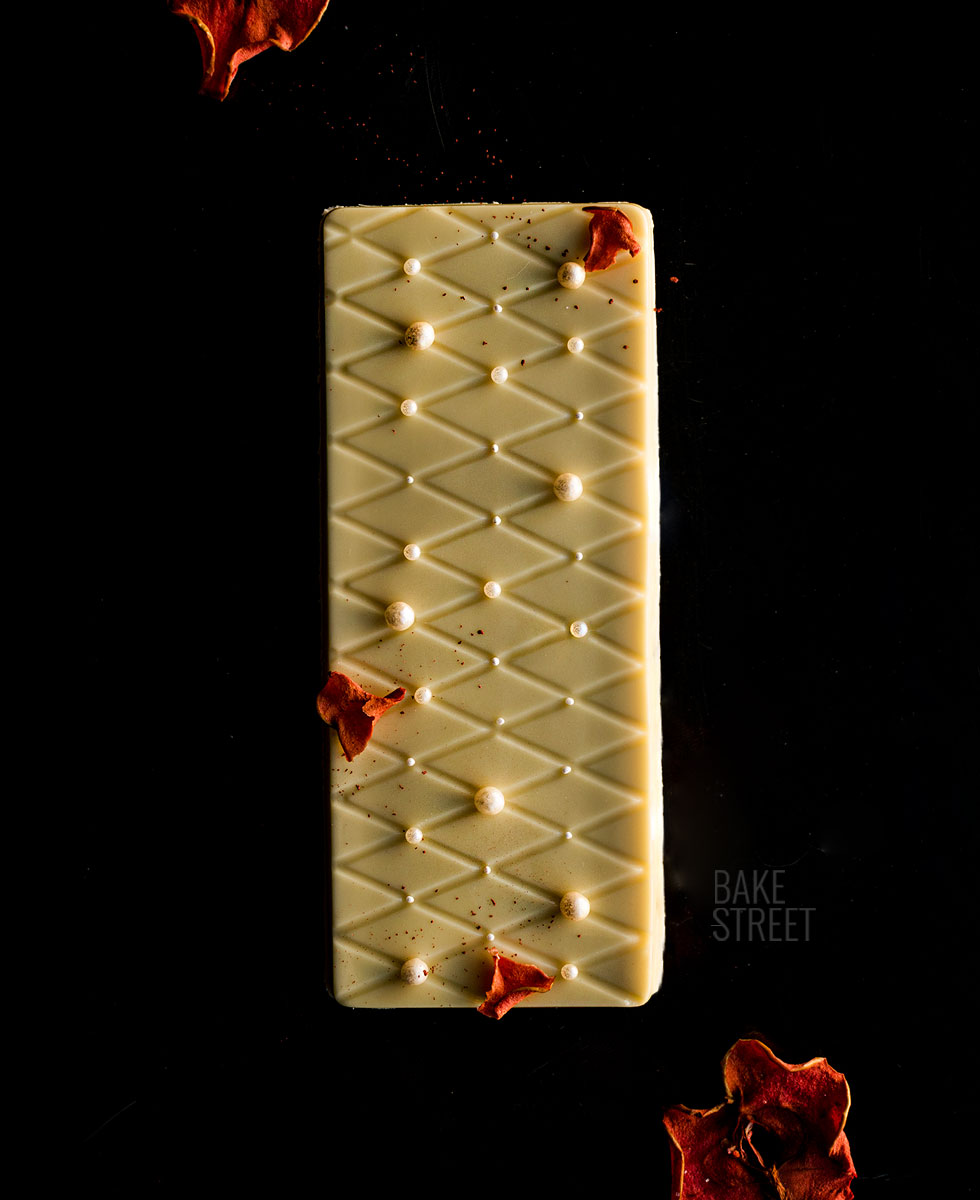 Ingredients
FOR THE OUTER COATING:
FOR CREAM CHEESE AND WHITE CHOCOLATE FILLING:
130 g cream cheese at room temperature
150 g white chocolate
10 g inverted sugar
FOR RED VELVET SPONGE CAKE:
185 g cake flour
170 g egg (3 pieces)
85 g sugar
115 g egg whites
70 g icing sugar
30 g unsalted butter, melted and cooled
"Extra Red" paste food coloring
pinch of salt
FOR SYRUP:
FOR DECORATE:
silver sprinkles of different sizes
edible ruby powder
Instructions
FIRST DAY
Make Red Velvet sponge cake.
Preheat the oven to 400ºF/205ºC.
Line a perforated tray with baking paper. Set aside.
Sift the flour, set aside.
In the bowl of the KitchenAid or a mixer, add the eggs along with the sugar and salt. Whisk, increasing progressively the speed without reaching the maximum, until reaching the ribbon stage* (see in NOTES).
Once this point is reached, add red paste food coloring and beat again at medium speed until it dissolves completely.
On the other hand, in a bowl add the egg whites. Whip them at the lowest speed and increasing the speed gradually without reaching the maximum.
As soon as they start to foam we will add the icing sugar little by little and whipping at the same time.
Once we have all the icing sugar incorporated, we will continue assembling until obtaining a firm and brilliant meringue. Set aside.
Begin to add the dry ingredients, little by little, to the whipped eggs. We will do it with enveloping movements helping us with a spatula.
Integrate the whipped egg whites to the mixture and homogenize with enveloping movements.
Finally, add the butter and integrate again with enveloping and soft movements.
Introduce the mixture in a piping bag.
Bake.
To prevent the ends of the paper from lifting or moving when you pipe the batter, put small "points" of batter in the corners. In this way the paper will remain fixed.
Cut the tip of the piping bag and pipe the batter. Make a rectangle and then fill the inside trying to exert the same pressure at all times.
If we have more batter in the piping bag, we will create lines around the rectangle.
Place in the oven for 9-10 minutes. If we press the surface of the cake, it will return to its initial state.
Take it out of the oven and let it cool completely on a rack.
If we are going to use it the next day, once it is completely cold, cover it with film and leave it at room temperature.
Make the syrup.
Add all the ingredients in a saucepan. Place at medium heat and let it boil. The sugar should be completely dissolved.
Once it comes to the boil, turn off the heat and let it cool completely.
Place the syrup in a bottle, if we prefer we can pour it in a bowl or container, with the help of a funnel.
Reserve at room temperature.
Prepare the Red Velvet nougat coating.
Melt the white chocolate in a bain-marie.
Temper the chocolate until it reaches 82,4ºF/28ºC, we will use a digital thermometer to know the temperature.
Pour the white chocolate into the nougat mould. Swing to favour covering all the sides of the mould.
Turn the mould over, tapping gently to remove the excess white chocolate.

Leave to cool at room temperature for 20 minutes.
If you want the coating gets hard quickly, you can place it in the fridge.
Prepare the cheese and white chocolate ganache.
Before proceeding with the ganache, remember to remove the cheese cream from the fridge a few hours before it reaches room temperature.
Melt the white chocolate in a bain-marie, it must reach 113ºF/45ºC for us to be able to use it. If the temperature has been exceeded while melting, let it cool until you reach the specific temperature.
Add the inverted sugar in the white chocolate and mix.
Pour over the cream cheese and mix.
With the help of the turmix, beat to emulsify, we should obtain a smooth and homogeneous mixture.
Put inside a piping bag.
Assemble the nougat.
Cut the sponge cake into a rectangle. The length and width must be less than the total dimension of the mould.
Soak in syrup on both sides. Set aside.

Pipe a base of cheese and white chocolate ganache. We will fill a little less than half.

Smooth to make sure there are no holes.
With the help of a spatula, place the cake inside the mould. We will try to leave it centered. Press gently.
Fill the sides and the surface with the ganache.

Smooth the surface with a spatula. Remember to leave a little margin to cover the base with white chocolate.
Cover with film and refrigerate for 5-6 hours.
Cover the nougat.
Temper the rest of the white chocolate cover.
Pour over the mould and smooth with the help of a spatula to remove the excess.
Refrigerate for 24 hours.
SECOND DAY
Unmold.
To remove the nougat we must be careful not to force the mold or the nougat.
Carefully stretch the 4 ends to remove the mold from the nougat.
Turn carefully, we can place it on a board and turn it. Try not to touch the top at any time to avoid leaving fingerprints.
Decorate.
Melt some white chocolate and stick the sprinkles on the surface.
Let it harden at room temperature.
Sprinkle with edible ruby powder and serve.
Notes
The ribbon stage is obtained by beating the eggs together with the sugar for several minutes. The mixture takes on a whitish colour and the texture becomes very thick to the point of lifting the whisk and being able to form a cord or ribbon over the mixture without deforming it. Hence the name.
It is important to use a good quality white chocolate to get the best possible result.
The cream cheese I use is spreadable cream, Philadelphia type.
The sponge cake will be bigger than the amount we need to make the nougat. We can wrap it very well in film and freeze it to make more nougat at another time. Or we can give it another purpose that we want.

Respect the steps of the process, tempering of the chocolate and temperatures to obtain a good final result.
The decoration is totally optional, you can decorate it the way you like.
I recommend you to keep it refrigerated and to temper it 1 hour before serving it. We can keep it wrapped in film and refrigerated for 5-6 days.
With this Red Velvet Nougat your family is going to make the wave over and over again. From the moment you get up in the morning until you go to bed, believe me. It happened to me, hahaha. No, now seriously, it's a set of incredible flavors and textures.
When I thought about doing it, I wasn't sure if the sponge cake inside would work and it worked very well. It's a different and surprising contrast. I recommend 100% that you cheer up with it and tell me what you thought of it. I can assure you that if you like this cake, this nougat will fascinate you!
Big hugs,
Eva
This post contains affiliated links.
Archivado en