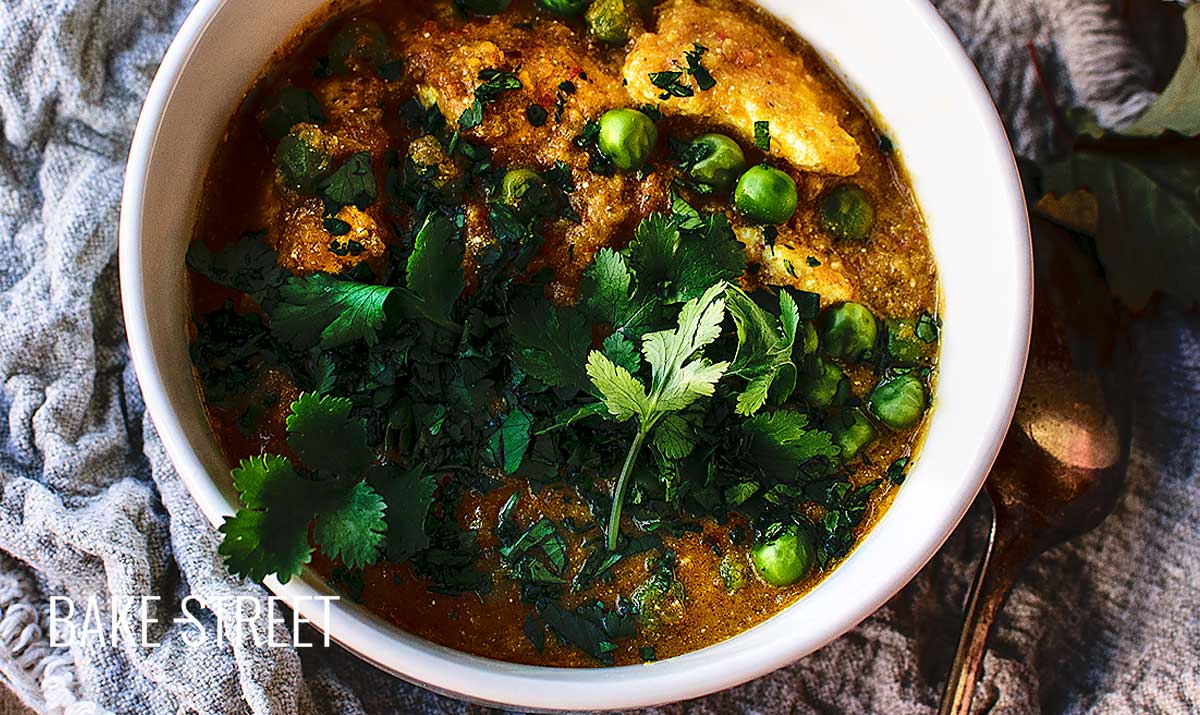 Matar Paneer, Indian flavors
Este post también está disponible en Spanish
Today I bring you a recipe that may not be very appealing at first, but I assure you, I promise and give my word that it has an impressive taste. In it we will find an explosion of flavor thanks to the presence of several spices and fresh ingredients. It is the Matar Paneer  (मटर पनीर) or Mutter Paneer.
This preparation is a very popular dish of Indian cuisine especially from the northern area. It is a paneer (fresh cheese) and matar (peas) stew with a spicy and slightly sweet sauce accompanied by fresh cilantro. The combination of all ingredients results in an impressive explosion of flavor.
A simple, fresh and different dish.
This recipe is really easy to carry out and we can have it ready in just over 30 minutes. As long as we have a paneer done. Otherwise, the entire preparation can take about 2 hours.
Some time ago I left you on the blog a sweet elaboration of Indian gastronomy that was carried out, in its entirety, with milk. The Chum Chum Bengalis. The base was made with chenna or paneer, which is a very simple homemade fresh cheese.
This time we will use this fresh cheese for a salty dish and cook it together with the spice sauce and peas.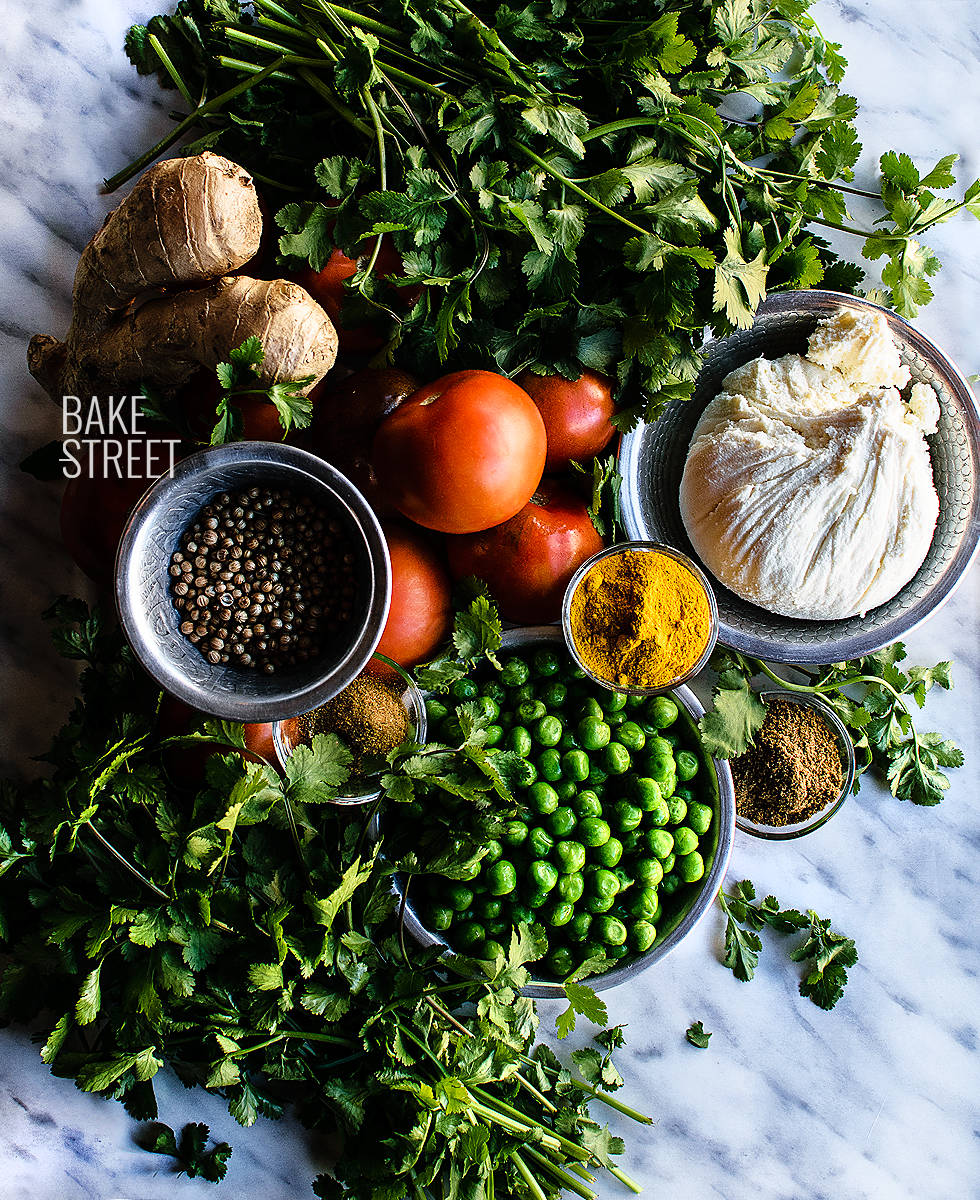 Surely, those of you who know this elaboration will notice that the dish lacks color. Indian cuisine is characterized by using a wide range of spices that envelop its dishes of aroma and flavor, in addition to highlighting its intense and bright colors. This preparation is usually made with a red sauce. To achieve this color they use an addition of red food coloring. I decided to omit it and get a dish that was much less appealing to the eye… But of course, feel free to use it if you wish.
Enjoying the dish.
The truth is that it's a dish that can be served either as an entrée or as a main course, because it won't leave you feeling hungry… I guarantee you that. It is traditionally served with infused rice (recipe only available in Spanish),parathas (recipe only available in Spanish) or naan bread to accompany it. So if you dare to prepare any more little things, you will make the perfect dish 😉
Before carrying out the recipe, I read many, many of them, and at the end I was guided by the one that Veg Recipes of India and Masala Herb shares in her blog, thank you very much! It followed the same ingredients and steps as all those that were gathered between the most traditional and authentic recipe of this elaboration. Since you will find many and, some of them, quite varied.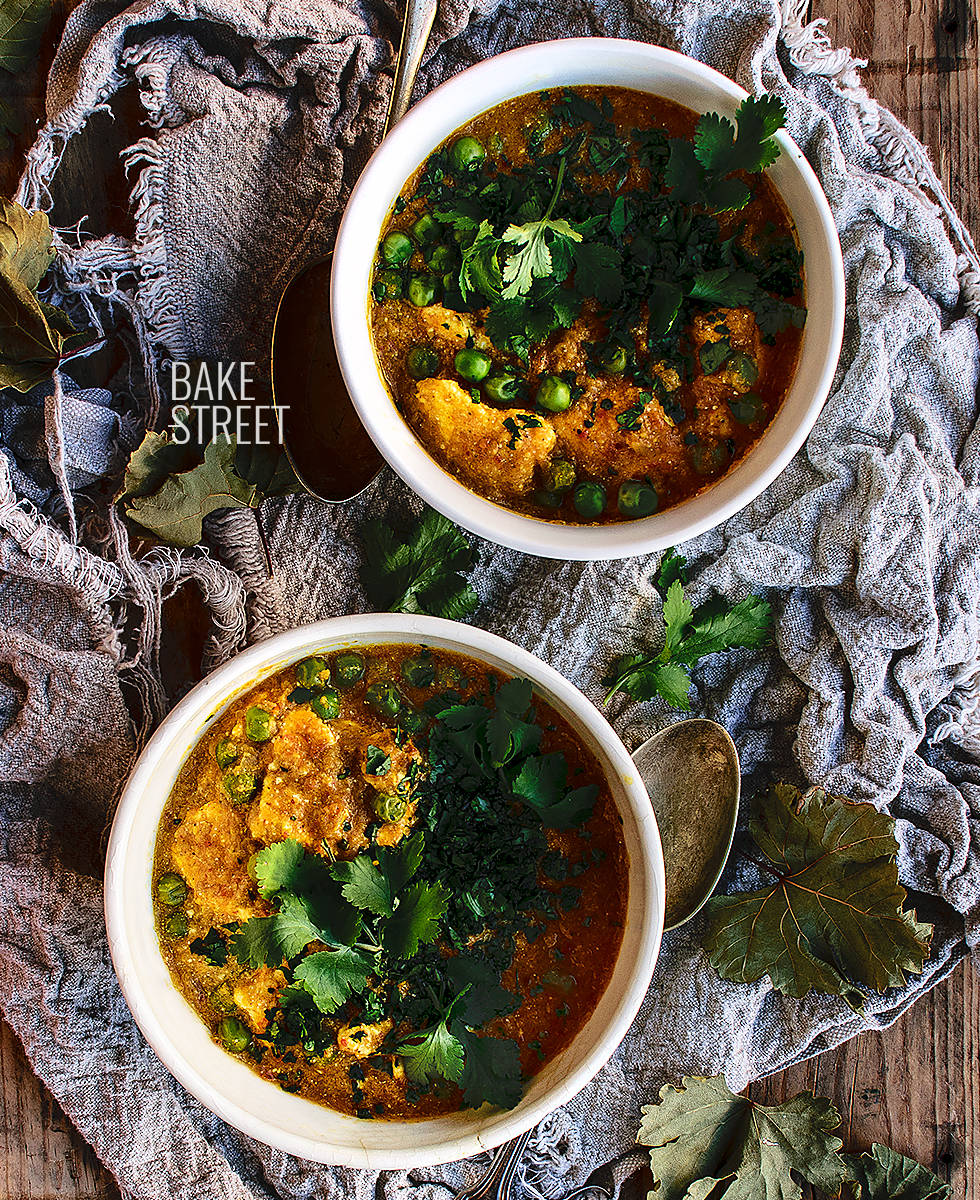 Ingredients for 2 serves
8,8 oz (250 g) de paneer (recipe below)
7 oz (200 g) boiled peas, fresh or frozen
 2 Tbsp olive oil or ghee
1 large onion
1,1 oz (32 g) fresh ginger
0,4 oz (12 g) garlic
10,5 oz (300 g) read and ripe tomatoes
5,8 oz (165 g) de homemade vegetables broth
3 Tbsp fat content coconut milk
1 tsp turmeric
1 tsp cumin powder
1 y 1/2 tsp Garam Masala
1 tsp ground coriander seeds
2 Coban chili or 1 tsp chili flakes
1 Tbsp sugar
salt and black pepper to taste
fresh cilantro to taste
FOR PANEER:
1,5 l. whole fresh milk
juice from 1 1/2 lemon
Instructions
Make panner.
To make the paneer, we will follow the process that I leave you in this recipe.
Once we have it ready, let it drain while we prepare the sauce.
Make the sauce.
Wash the tomatoes thoroughly and blanch them in boiling water for 1 minute to remove the skin.
Place them in very cold water to stop the cooking and remove the skin. Set aside.
In a food processor, add the chopped onion, garlic and ginger. Process until we obtain a paste, set aside.
Pour the olive oil or ghee into a medium saucepan and place over medium heat.
Add the onion paste and cook at medium low heat for 6-7 minutes. We'll stir from time to time.
Process the tomato, pour it into the pot together with the sugar and cook for 2-3 more minutes.
Add the spices, season with salt and pepper and leave for 1-2 more minutes.
Pour the vegetable broth together with the coconut milk and crushed chiles.
Stir well to homogenize and simmer for 15 minutes, stirring occasionally.
Work the panner to shape it.
Take the chenna out of the cheesemaker's cloth and transfer it to a clean bowl.
Work with your hands, in the same way that we knead a dough, to make it amalgamate and acquire a soft texture.
Flatten with the hand and try to give square shape.
Cut into squares, place on a plate and set aside.
Finish the plate.
Add the peas together with the paneer and stir gently.
Cook for 1-2 minutes and remove from heat.
Ladle into two individual bowls, garnish with chopped cilantro and leaves.
Serve immediately.
Notes
Can I curd the milk with vinegar instead of lemon juice? Yes, you can. Personally, I like lemon better because it doesn't transmit such a strong flavor. But they both work the same way.
If you prefer, you can buy store-bought paneer. Or use fresh or goat cheese instead.
If you are vegetarian, the paneer can be replaced by tofu.
Peas can be used both frozen and fresh, but do not use canned peas. They have worse taste and an extremely soft texture.
You will have seen many mata paneer with an intense red color. This is due to an addition of food red coloring. In my case I didn't use it, but you can do it if you want.
I recommend you to consume it always freshly made.
If you like Indian cuisine, don't forget to try this Matar Paneer or Mutter Paneer because it is a real wonder if you like dishes with a lot of flavor. Very easy to carry out and with wonderful results.
I have told you many times before, eating well does not imply (necessarily) spending many hours in the kitchen. Certainly, some creations leave us no choice... But it's not this case.
I wish you a fantastic start to the week!
Big hugs,
Eva
Archivado en