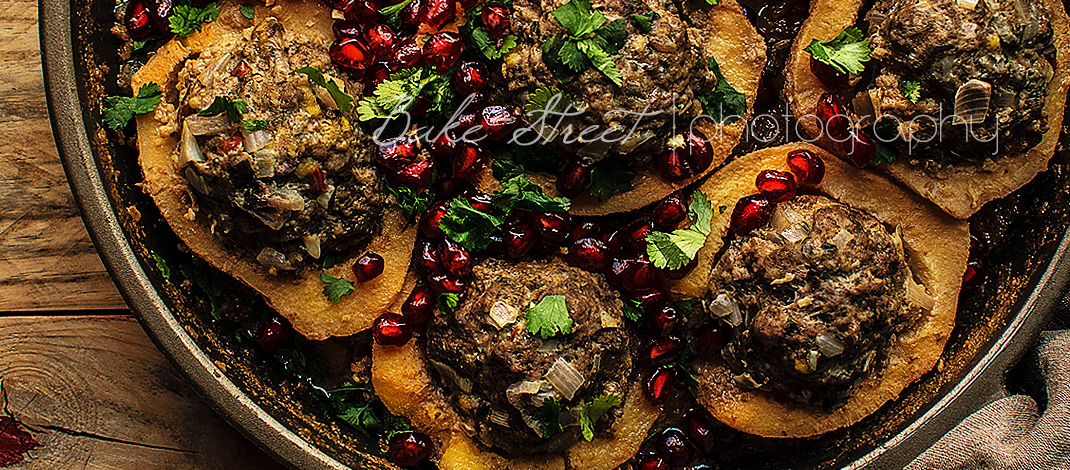 Lamb stuffed quinces with pomegranate and cilantro
Este post también está disponible en Spanish
If you are not sure what to make on your Christmas menu, I suggest you these lamb stuffed quinces with pomegranate and cilantro. May be it looks peculiar, but I promise that it is a surprising and attractive meal.
Many of you will know who makes this recipe, but if you won´t I tell you. My dear Ottolenghi, I really admire his work because he always manages incredible combinations. There are persons with an special talent to reach perfection and one of them is him. this recipe is from his book "Jerusalem", I am sure you know it and probably… you got it!
I told you that I will bring more quince recipes… I use them for a lot of elaborations and I have a immense amount yet. But I don´t mind because I love them, I will make too many recipes to share with you. Ok, turning to the recipe, despite you think we must use many ingredients when you read the list, there are not too many. Really.
The principal ingredient is lamb, with an intense and special flavor. We will need to use it ground, in Spain is difficult to find it this way, may be in others countries not. If you haven´t got available in this format, you can ask your butcher for it.
Could I use other kind of meat?
Yes, why not? But, I imagine final result won´t be equal juicy as if you use beef, for example. Of course, you can choose what kind of meat you prefer to use.
Spices dressing is really potent, especially the filling. The sauce is awesome, very fresh and digestive, I liked it too much.
Pomegranate molasses…
One ingredient from sauce is pomegranate molasses, perhaps you are thinking – what is this?-. It is a syrup makes from pomegranate juice make with sugar and lemon juice. You can buy it on specialist dealer or make it at home, it is quite easy.
You only have to squeeze pomegranate juice, add one third from its weight of sugar and a squeeze of lemon. Cook over medium heat until simmer. When it turns slightly thick, remove from the heat, pour in a glass container and let cool completely.
The remaining ingredients are easy to find at your neighborhood stores.
I only change one step from the recipe, the final time cooking. Ottolenghi tell us to cook 30 minutes but, in my case, didn´t be ready after this time. Besides my sauce wasn´t reduce as he said, so I had to cook for more time. Probably the kind of pan is important, I´m sure. An iron skillet has a better temperature distribution reducing time cooking. My iron skillet is not large, I had to use other… For this reason I share my experience with you, to make easier this last part from the recipe. And don´t worry if sauce is watery, cook for few minutes more.
Now, come on to see how to make them 😉
LAMB STUFFED QUINCES WITH POMEGRANATE AND CILANTRO:
4 serves
4 medium quinces (roughly 10.5 oz/piece)
14 oz (400 g) ground lamb
2 cups (500 g) chicken stock
1 large clove garlic finely chopped
1 red chile finely chopped
0.7 oz (20 g) fresh cilantro + 2 Tbsp to garnish
1/2 cup (50 g) bread crumbs
1 tsp ground allspice
2 Tbsp finely grated fresh ginger
8 cardamom pods
1 1/3 cups (220 g) shallot finely chopped
1 large egg
juice of 1/2 lemon, plus 1 Tbsp
2 tsp sugar
3 Tbsp olive oil
2 tsp pomegranate molasses
pomegranate seeds
sea salt
freshly ground black pepper
INSTRUCTIONS:
Prepare lamb.
In a medium bowl mix ground lamb along with garlic, red chile, cilantro, bread crumbs, allspice, half of ginger, half of shallots, egg, 3/4 tsp sea salt and some black pepper. Mix well with your hands and set aside.
Prepare quinces.
Pour cold water into a large bowl with the lemon juice.
Peel quinces with a sharp knife or vegetal peeler and remove quince core. They are too hard so be careful when you make this step.
Use a melon baller parisienne and scoop-out flesh leftting 0.4 inch (1 cm) shell. Keep the flesh.
When you peel and cut each quince, place into the bowl with cold water to avoid they turn brown.
Fill quinces.
Fill the hollows with the lamb mix using your hands to push it down.
Make sauce.
La sartén que utilicemos debe tener tapadera o una que sea lo suficientemente amplia como para cubrirla entera durante la cocción.
Place the quince flesh in a food processor and chop well.
In a large saucepan add olive oil over medium-high heat. Once the pan is hot, add chopped quince flesh along with the remaining shallot, ginger and cardamomo pods.
Sauté for 10-12 minutes or until shallots has softened and looks transparent.
Pour pomegranate molasses, the one tablespoon lemon juice, sugar, chicken stock, 1/2 tsp sea salt and some black pepper. Mix well with a wooden spoon. Let cook for 5-7 minutes until stock begins to simmer.
Add the quinces halves to the sauce with the meat stuffing facing upward. Reduce to medium-low temperature, cover with the lid and cook for 40 minutes. At the end quinces must be tender, meat well cooked and the sauce slightly thick.
If sauce is not thick, remove the lid and let simmer for 5 minutes more.
Remove from the heat and serve.
Serve stuffed quinces.
Serve one or two quince halves over some sauce. Decorate with pomegranate seeds and garnish with copped cilantro.
Now you only have to choose a good red wine and enjoy 😉
These lamb stuffed quinces are a great option to make these holidays. We are using seasonal ingredients and a kind of meat more special. Fruit and meat is an awesome and fascinating combination, Flavor is really surprising an it is not a heavy dish.
The best part is that you can make it in advance, only you have to warm few minutes before serve. Cover with the lid to keep the moisture and avoid to get dry. Serve and garnish with pomegranate seeds and cilantro. It is a recipe full of color…
It is mid-week so, keep the force with you for Christmas! 😉
Eva