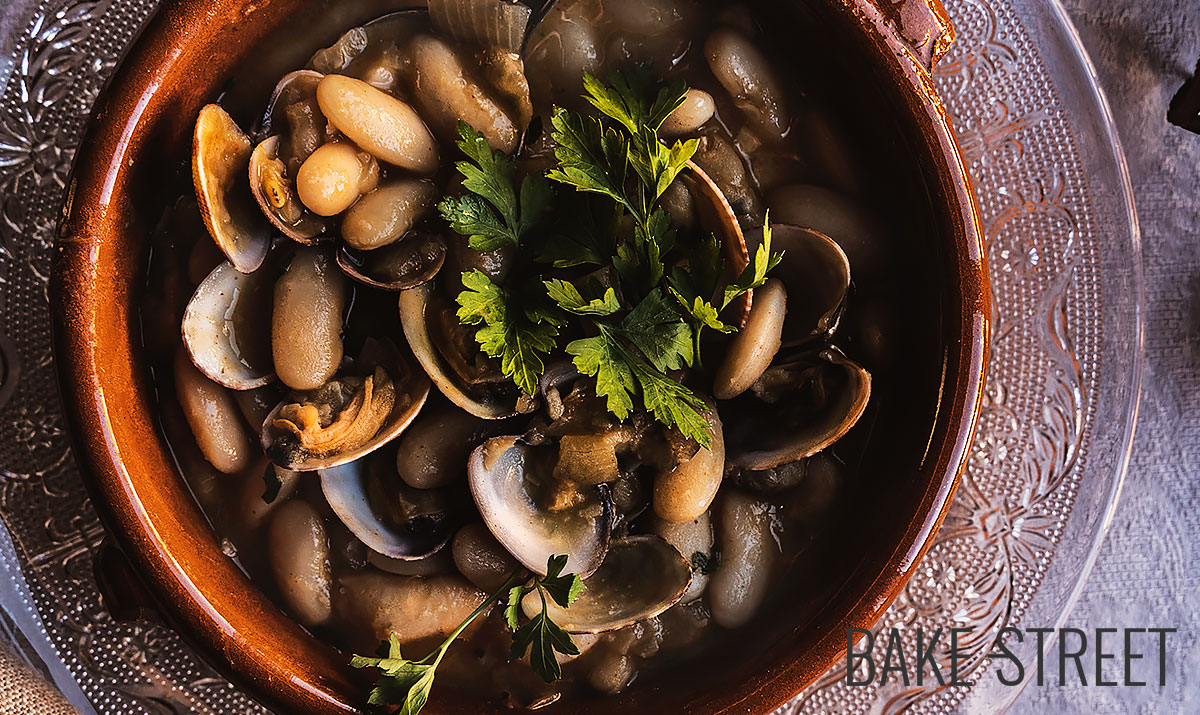 Fabes con almejas, Asturian recipe
Este post también está disponible en Spanish
You may not believe me, but until a few years ago I was unable to eat beans. I don't know if it was the texture, the taste… It was something I always rejected. Until I grew up, educated my palate and learned to appreciate what it is to enjoy a good plate of Fabes con almejas – Beans with clams, Asturian recipe.
What kind of world would I live in to say that I didn't like "that". How much nonsense goes through our heads when we are young. We think we eat well and, honestly, we have no idea how to enjoy the good things in life. Fortunately, time heals everything and, to this day, I enjoy such wonderful elaborations as the one I leave you with today.
Before going into details with the elaboration, it is possible that the way I make the recipe is not the traditional or classic as it is usually done in Asturias. It is true that I have based it on its origins, but in the end we always end up adjusting some things either for our personal taste or that of our relatives.
Of course, any advice or suggestions regarding the elaboration will be welcome. It is always good to learn and improve a little more.
Les fabescon almejas.
Throughout the post you will find that I refer to beans as faba; las fabas or les fabes. The latter is written in bable (Dialectal variety of Leonese spoken in Asturias and other areas of Spain.) and is how they are called in Asturias.
This recipe, as it is well known by all of us, is a traditional elaboration of the Asturian cuisine that consists of two main elements; fabes(beans) and clams. It seems to be a fairly recent elaboration, from the 19th century.
We always tend to think that "food eaten with spoon" have very distant origins and, as we can see in this time, this is not always the case.
It is true that it is not a difficult preparation, in fact you will see that it only requires to fulfill each of the detailed steps. But there is something important and it is that we must respect the exact process to carry them out. And, within our possibilities, use the appropriate ingredients.
To elaborate them we will have to carry out two different cookings; one for the fabas and another one for the clams. For, later, to unite both in the same casserole. Already I advance you that every minute invested in this elaboration, will be worth the effort. More than worth it.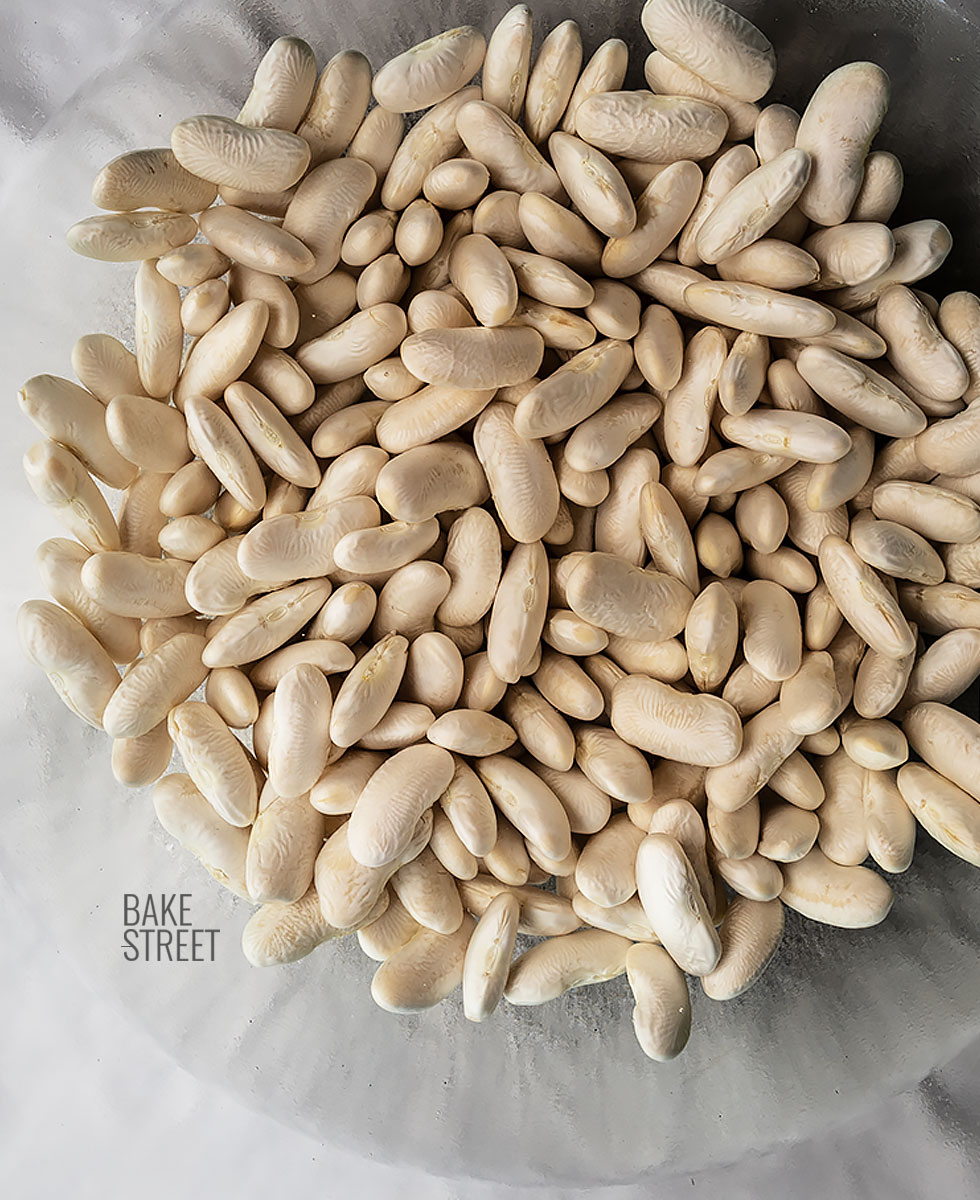 The importance of ingredients; Les Fabes.
To prepare fabes with clams we must use a bean with PDO, specifically the Faba Asturiana. A dry bean of the species Phaseolus Vulgaris, L., of the traditional variety "Granja Asturiana" that guarantee that they have been produced, elaborated and packed in the Autonomous Community of the Principality of Asturias.
The consumption of faba in Asturias dates back to the 16th century, when it is known with certainty that this legume was planted in the territory and some of them were consumed. The variety called "de la Granja" is soft and buttery in texture.
The origin of fabada, another Asturian recipe made with this same type of faba and prior to fabes con almejas, reveals a humble origin as can be seen in its ingredients. Experts mention that it may have been born in the 18th century, although there is no evidence to support this statement. Although fabas are a rural ingredient, it is believed that fabada originated in the cities.
There are no written references to faba in any literary work.  For example, La Regenta, makes no mention of this recipe despite an exhaustive description of the region's customs. Other authors mention its great resemblance to the Languedoc cassoulet from French cuisine that could have arrived in Spain through the Camino de Santiago in the Middle Ages.
The first written reference to fabada appears in an Asturian newspaper of Gijón, "El Comercio", in 1884, although it does not detail the recipe. According to the research of different experts, fabada was born in an undetermined period between the 19th and 20th centuries.
The other element of this recipe; Clams.
In the market we can find an infinity of types as well as a great difference between their prices. It is advisable to use Galician clams and, among the types of Galician clams available, ideally finas or de carril.
The difference between one type and another will not only be reflected in the price, but also in its flavor and texture. The types of Galician clams that we can buy are; fina or de carril, white or babosa, rubia and japonica.
Having these two things clear, the rest will only require time, patience, care and a lot of love. The result will be an absolutely delicious and comforting dish.
If we want to finish with a dessert, which goes like a glove, then we can only prepare some Carbayones from Oviedo. I don't know if I have already told you…. (yes, if I have told you) But I love Asturias. Both the place, the people and all its gastronomy.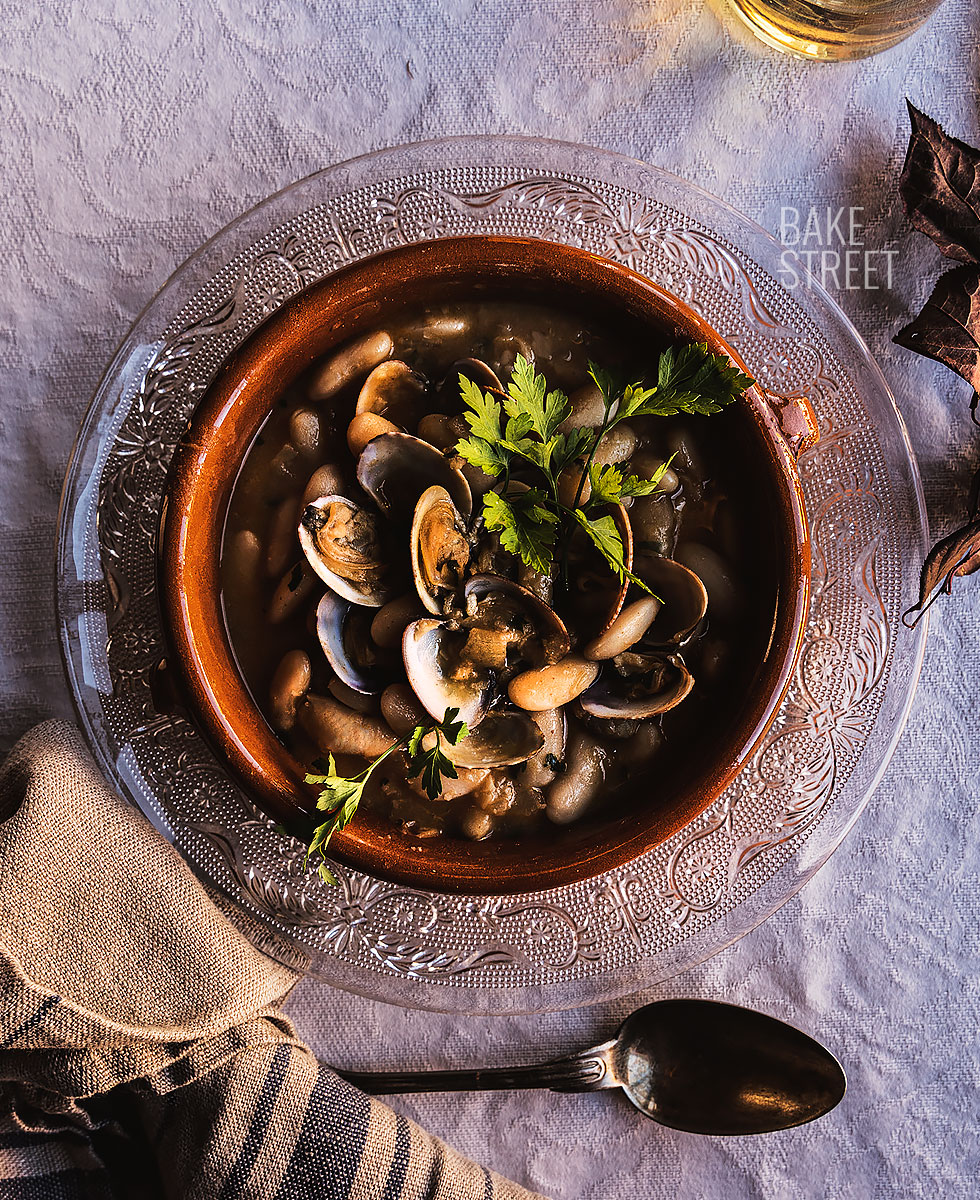 Recipe Fabes con almejas
Ingredients for4 serves
LES FABES:
500 g  fabes de La Granja Asturiana or a good quality white bean
1 sweet onion
1 leek, large
3 carrot, medium size and peeled
4 garlic cloves, peeled
4 bay leaves
a dash of olive oil
water or fish and seafood broth or fumet
salt
FOR THE CLAMS:
700 g clams
1 sweet onion, cut into small squares
3 garlic cloves, finely chopped
1 teaspoon, generous, sweet paprika or a few strands of saffron (4-5 units)
1 tablespoon wheat flour
125 g white wine
olive oil
1 cayenne pepper, large (if you like it spicy, add 2 cayennas)
chopped fresh parsley, to taste
salt
Instructions
PREVIOUS EVENING
Soak the beans (les fabes).
Wash the beans with cold water.
In a large bowl, add the beans and fill with cold water. Make sure there is enough water so that they do not run out, as they absorb a lot of water.
Leave to soak for 12-18 hours.
NEXT DAY
Cook the beans.
Drain the beans and put them in a large pot.
Add enough water to cover them and top with about two fingers of water above them.
Place the pot on high heat and bring to boil.
Once it comes to a boil, reduce to low heat. Add the onion together with the carrot, the garlic, the leek, a dash of olive oil and the bay leaves.
Cook over low heat for approximately 2 hours. When the beans have been cooking for 45 minutes, add salt to taste.
During this time, check the beans from time to time and remove the foam that forms on the surface. If necessary, add warm water and stir, always holding the pot by the handles and making a "back and forth" movement.
After the first two hours, take a bean and taste it to check its tenderness. It should be soft and not have any hard parts. This will be the ideal cooking point for them.
Taste the broth and correct the salt if necessary.
Remove the vegetables (onion, carrot, garlic and leek).
Turn off the heat and remove from the stove. Set aside.
Prepare the clams.
When we start cooking the beans (the moment we incorporate them into the pot along with the water), begin to prepare the clams.
Place them in a colander and wash them very well in cold water. If there are any broken ones, discard them.
Introduce the colander in a bowl with very cold water and salt. Let them soak for 2 hours. With this step, we encourage the clams to release the sand they may contain inside. Try not to move the bowl while they are soaking to avoid that, with the movement, they get scared and close.
Just before preparing sofrito (stir-fry), remove the colander from the bowl, discard salted water, rinse the clams again with cold water and set aside.
Once the beans are cooked, prepare sofrito (stir-fry) and the clams.
In a wide pan, pour a thin layer of olive oil. Enough to cover the entire base of the pot.
Placanover medium-low heat and let it get warm, but without smoking.
Add the garlic together with the onion and poach for 5-7 minutes. They should acquire a slightly translucent texture, but we must prevent them from browning.
At that moment, add the clams (previously drained) together with white wine and salt to taste. Shake the pan gently and cover with a lid.
Cook over medium heat until all the clams open. It will take only 2-3 minutes.
Add saffron or sweet paprika together with crushed cayenne, mix with the help of a wooden spoon.
Add the flour together with the chopped parsley, cook at medium heat while mixing so that all the ingredients are perfectly integrated.
Finishing les fabescon almejas.
Remove a few ladles of broth from the beans to a bowl and set aside. Add it back to the stew if necessary.
Add the clams, together with the sauce in which they were cooked, to the beans. We will do it carefully.
Observe the amount of broth and, if necessary, add more of the reserved one. We do not want them to be too watery.
Place on low heat and cook for 3-4 minutes. If it is necessary to move the stew, we will do it, always, moving the pot while we hold it by the handles.
Remove from the heat and let it rest for 15 minutes.
Serve in earthenware dishes or casseroles. Garnish with some fresh parsley leaves.
Accompany with good bread and cider, of course!
Notes
Fabas (les fabes) we should always soak them if they are dry. The reason why we should do this is to rehydrate them and thus shorten their final cooking time.
It is recommended that the soaking time should not be less than 12 hours. There are recipes that even allow a 24-hour soaking time.
The beans can be cooked in water or with a good fish and seafood fumetor broth. Or, if we wish, we can add fumet and reduce it with a little water. In this way we will achieve fabes with clams with a much more marked and powerful flavor.
We will cook with soft/low heat, never to strong/high heat because of the boiling, we will break the beans, besides not carrying out the cooking in a suitable way. We will not be able to create the flavor that develops with slow cooking.
Never move the stew with a wooden spoon because we can damage the beans and break them. Whenever we need to move it, we will do it by moving the pot. Very carefully, of course.
When removing the vegetables, if we wish, we can blend them very well together with some broth from the beans and add it back into the pot. It will add flavor and texture to the broth.
It is very important to use fresh clams and, if possible, bought on the same day that we are going to prepare the beans. Do not omit the step of submerging them in salted water because, in this way, we get them to open and release the sand inside. If it is very hot, we can leave them submerged in water and refrigerated to prevent them from spoiling.
After cooking the clams, before mixing them with the beans, remove the ones that have not opened.
We can reserve some clams to, once we have served the beans in the casseroles, place them on the surface.
If you have never dared to prepare Fabes con almejas - Beans with clams, maybe today is the day when you have to throw yourself into it. There are recipes that can give us a little respect, not because of the process itself, but because we think beforehand that they are not going to be good... Nothing could be further from the truth.
We must try to make this type of recipes and, in case they do not turn out as we expect, eat them, enjoy them and observe what we should improve. This is the only way to lose the fear of preparing traditional dishes and enjoy them at home.
I wish you a wonderful day!
Lots of love,
Eva
source: El Esbardu
Archivado en