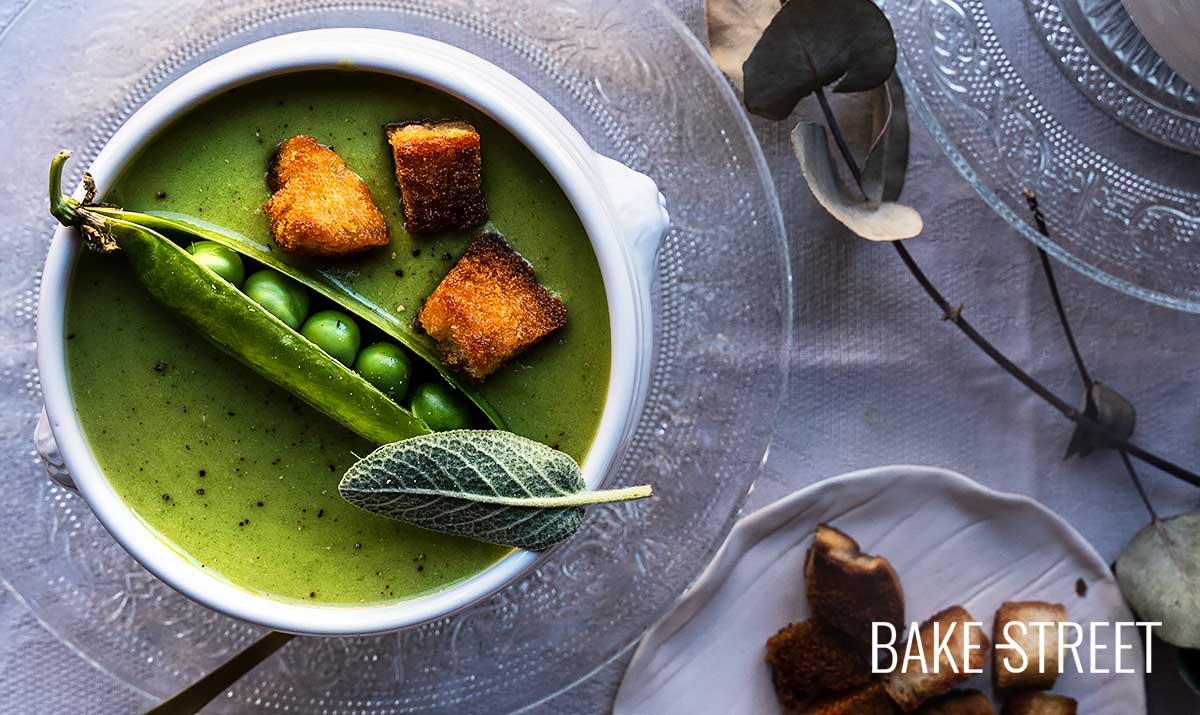 Dashi Pea Soup with Bread Croutons
Este post también está disponible en Spanish
I can't believe it's been a little over a month since my last publication. I've really missed you guys, a lot! Holly Molly, happy New Year to you all! I hope you are very well and have had the best time possible. The reason I had to stop the blog posts was because I had to finish preparing an online workshop for Roscón de Reyes available in English too (which, by the way, the no supervised option will be available all year long!) I had to have it ready for a specific date and I had to dedicate many hours to it… All of them in the world. And then it was time to rest a bit. But, I'm back here now, ready to give you a lot of war! And how do I get back? With a very light option to reduce all roscones, pastries and sweets we have eaten. Dashi pea soup with bread croutons.
You'll think, fried bread croutons? how light! Let's see, we are not going to submit ourselves to an era of chastity either… Eating well does not mean suffering with lettuce and tuna. By keeping "evil" at bay (a lot of sugar that a little bit doesn't hurt either… ultraprocessed food from hell and gas station bread) you can have a very healthy diet. A homemade bread, a little fried in olive oil… Hey, that gives life to a soup or cream.
Everything that has to do with soups and creams, drives me crazy. I had a time where I shared many recipes on the blog, but for some strange reason, I stopped publishing them. Not to make them at home. I guess sweets and breads won me over! But this Christmas I've been making a lot of soups, creams and "spoon dishes" at home, of which I decided to take pictures so I could leave them here too. And now, with this cold weather that we have, I really want to have a wide range of these types of recipes.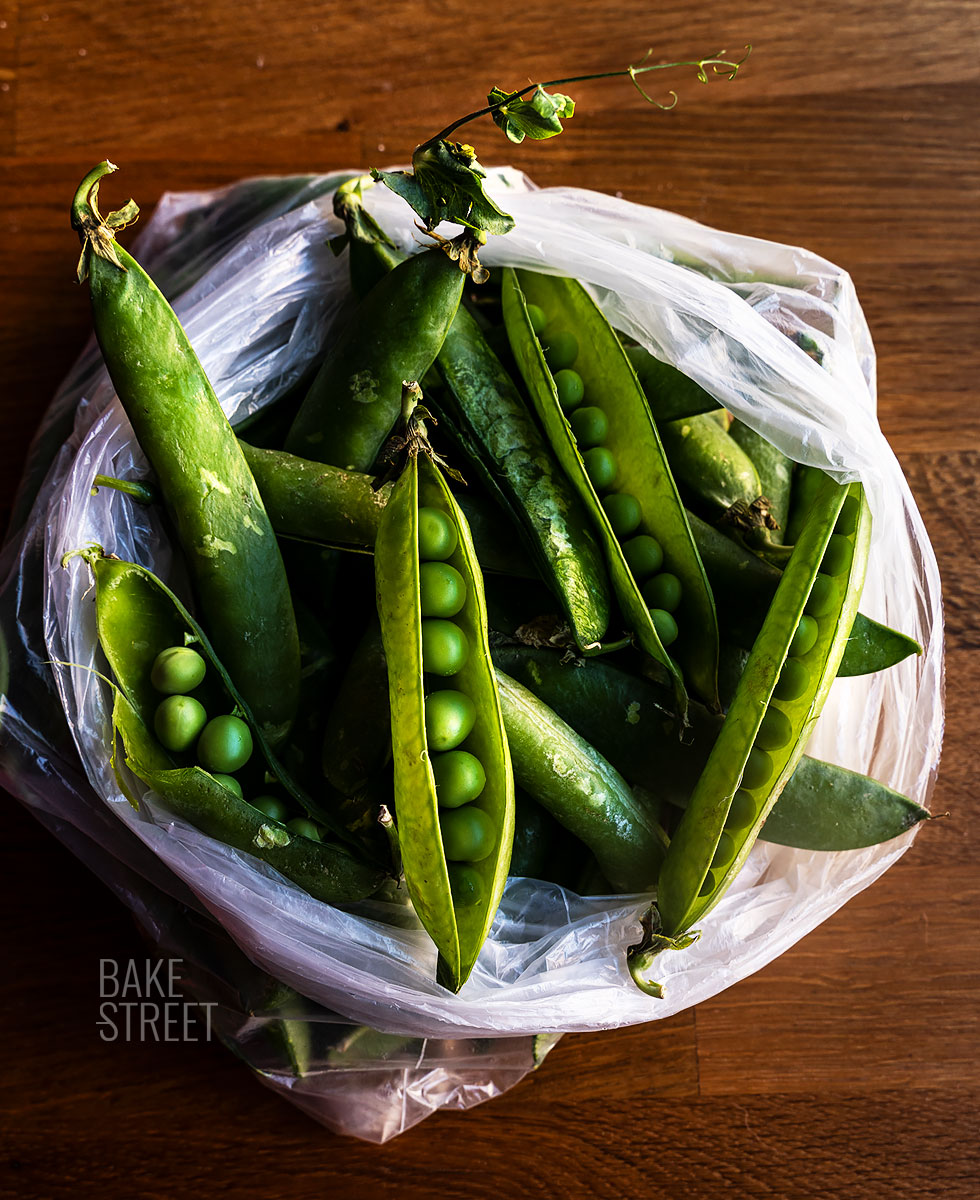 Dashi Pea Soup with Bread Croutons
This soup has a main ingredient, peas. So this recipe will not be suitable for those who do not like this legume.
The flavor of this soup has a very marked and present shade by the peas, that's why I tell you that you must like them, but they are also accompanied by spicy, fresh and sweet flavors. Texture is very smooth, silky, resulting in a fresh, creamy and highly addictive whole. The combination of fried, crispy and warm bread croutons and soup in the same spoonful is a complete delicacy.
I like oriental flavors and recipes very much. That is why the base of many of my soups or creams is usually a dashi broth. I really like the different point that it brings, something that shocks when eating it, but it is very pleasant and surprising. In case you don't like this broth or can't access it or its ingredients easily, you can opt for a vegetable or even chicken broth. Of course, I always recommend you to make it homemade, I consider that the result of a broth made with fresh ingredients at home, has nothing to do with a packaged one.
Musical break.
How could I come back after so long without sharing some music? Impossible. So I'll leave you with something to brighten up your Monday afternoon while you enjoy a hot coffee or tea, or you're back from work. A song by Ray Charles, "I've got a woman".
Making the soup.
It is an elaboration that does not require much time in the kitchen, in about 40 minutes we can have it ready. It also allows us to do other things because we do not have to be all the time pending on it. Only at certain moments.
Taking out the dashi broth, which I recognize does have its elaboration process, the rest is as simple as poaching, frying, cooking a few minutes and processing. The result is a soup that, I assure you, will make you fall in love.
To serve it I have chosen individual porcelain soup tureens, but it can be served in bowls or soup plates perfectly. The top decoration is totally optional. In my case some sage leaves, a pod of steamed peas and some bread croutons. But you can adapt it to what you like best or throw it away by the easy way; soup on the plate and croutons on top 😉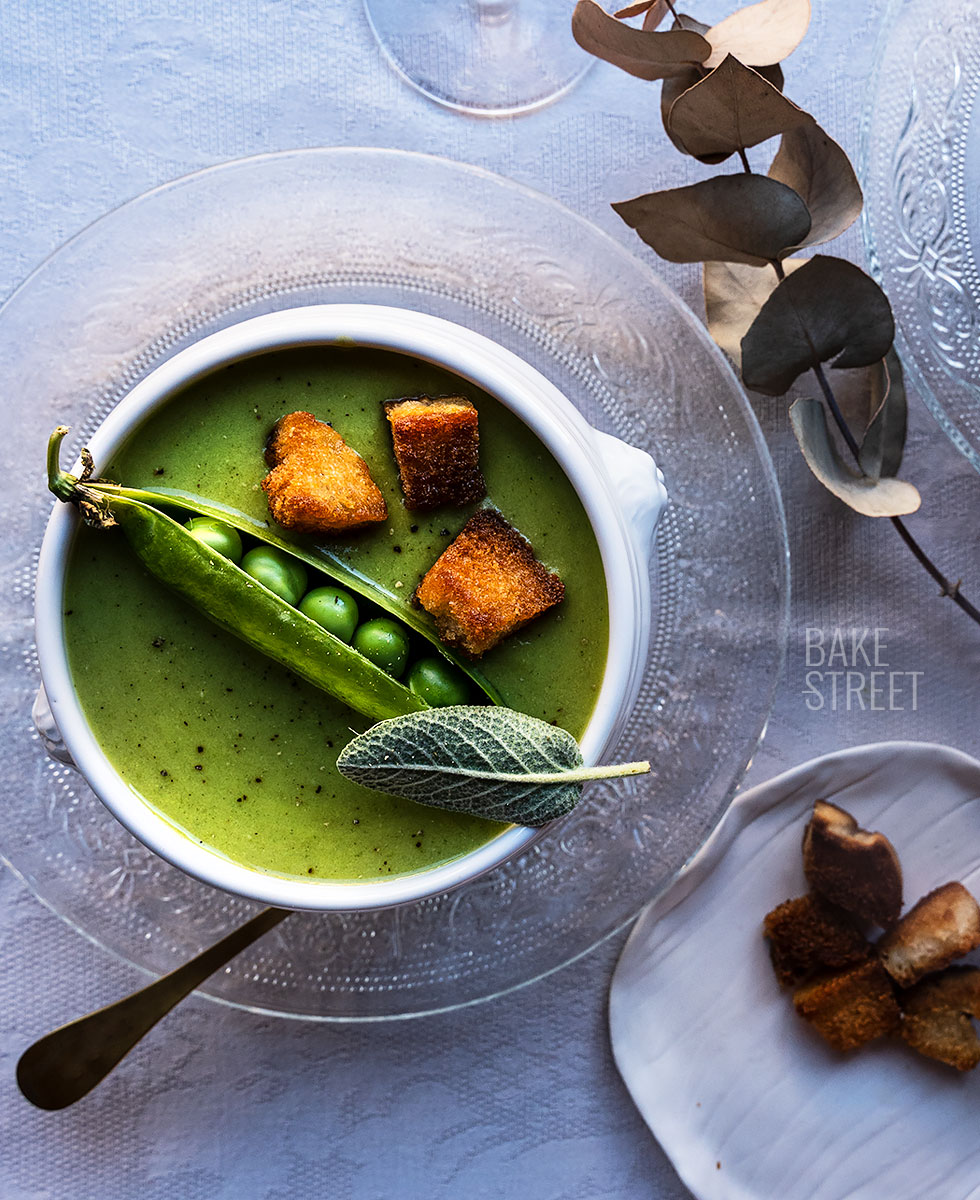 Recipe Dashi pea soup with bread croutons
Ingredients for 4 serves
FOR THE SOUP:
500 g peas, if we use fresh peas the weight is without the pod
190 g potato, peeled
135 g sweet onion
25 g fresh ginger, peeled
1 large garlic clove
16 g fresh cilantro, only the leaves
4 Tbsp olive oil
800 g Konbu Dashi broth (link recipe), you can use vegetable broth instead
400 g coconut milk, high fat content (thick)
salt and black pepper to taste
GARNISH:
sage leaves
pea pods, steamed
bread croutons
olive or sesame oil
fresh black pepper
Instructions
Make dashi pea soup.
In a large pot add the olive oil and place at medium-low heat.
Once it is warm, add the potato cut in cubes and cook for 10 minutes. Stir from time to time.
Add the chopped onion and cook for 5-7 minutes more, stirring from time to time and taking care that the onion does not brown, we should soften it, but not brown it. During this time the potato should have acquired a soft texture.
Add the laminated garlic together with the chopped ginger, salt and pepper to taste. Sauté for 1-2 minutes.
Pour in the broth and turn up the heat. Once it is boiling, add the peas and reduce to medium-low heat. Simmer for 4-5 minutes. We will test peas texture when it takes 4 minutes, in case they are not tender, we will leave a little more until reaching 5 minutes.
Two minutes before finishing cooking, add the coriander leaves to the soup.
Remove from heat, add the coconut milk and stir slightly.
With the help of a hand blender, process all the ingredients until a smooth, creamy and homogeneous soup is obtained.
While the soup is cooking, prepare the fried bread croutons.
Pour enough olive oil in a small pan to fry bread croutons. Place at medium-high heat.
Cut the bread, preferably from the day before, into squares.
Once the oil has reached a certain temperature, but never smokes, add the bread in pieces.
Fry it until it acquires a nice golden color all over the surface.
Remove, drain and place on kitchen paper to remove excess oil.
Set aside.
Serve.
Serve the pea soup in individual tureens.
Decorate with a sage leaf, steamed pea pod, a dash of oil, freshly ground black pepper and accompany with fried bread croutons.
Serve immediately..
Notes
To make Dashi pea soup, we can use fresh or frozen peas. The better the quality of these, the better the taste and texture we will get in our soup.
It is important not to exceed the cooking time of the peas, otherwise we will not get a bright green soup, but a darker and duller color.
Olive oil can be replaced by grape seed or sunflower oil.
Konbu Dashi broth can be made at home, as I show you in the elaboration, or use a dehydrated preparation. I leave it to your choice.
Dashi broth can be replaced by a homemade vegetable broth or even a soft chicken broth.
The coconut milk I have used is dense and creamy, not a liquid milk. It will give us a very smooth and creamy texture.
If you don't like coconut milk, you can substitute it with crème fraîche or sour cream.
To cook the pea pods, we can do it in a steamer. The cooking time will be about 3-4 minutes, although it will depend on the size of the peas.
If we don't want to serve it with bread croutons, something I recommend you not to omit, we can serve it with chopped aromatic herbs, crudités or even some crackers.
It can be kept refrigerated in an airtight container for 3-4 days. When carrying potatoes, I do not recommend freezing them as they change their texture a lot.
This dashi pea soup with bread croutons is undoubtedly a wonderful option for both first and single dishes, if we take it at dinner. A different way to eat a comforting soup and to cheer up our palate.
That does not mean that a simple soup is not good, because I have to admit that it is one of the things I like most in winter for dinner. Although many times it is good to enjoy new, different and out of the ordinary flavors to be able to enjoy, even more if possible, both cooking and eating.
I wish you a wonderful start to the week!
Big hugs,
Eva
Archivado en