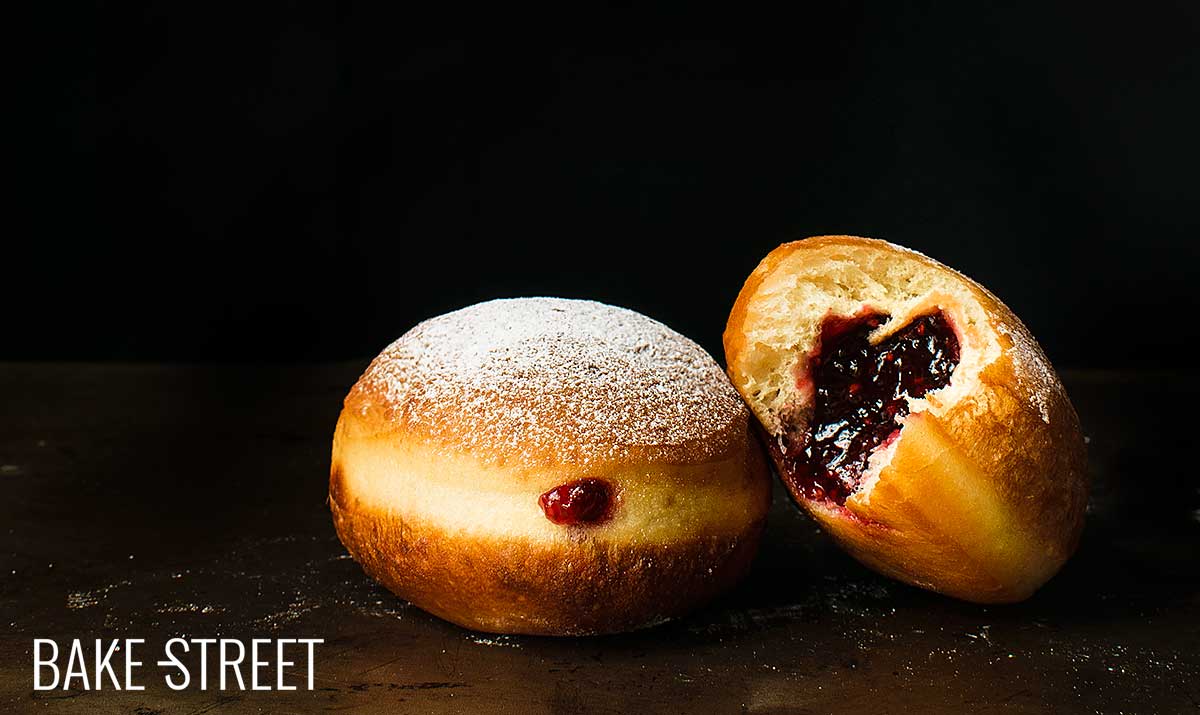 Krapfen, strawberry-filled doughnuts
Este post también está disponible en Spanish
I think there are few things that can make me happier than a doughnut. Well, I'm sure there are, but the satisfaction of biting on a super tender, sweet, soft and stuffed bun… It's hard to beat. If you enjoy doughnuts and all kinds of dough, fried and stuffed, you should certainly not miss today's recipe. Krapfen, doughnuts made with an enriched dough, infinitely spongy and usually filled with jam and sprinkled with icing sugar.
These sweets are typical of German and Austrian pastries, very popular in southern Germany and especially in Bavaria. In northern Germany they are known as berliner pfannkuchen and in the Bavarian area they are called Krapfen.
A sweet pastry with tradition.
Krapfen are traditionally eaten in winter, although they are particularly popular during Carnival "Fasching" (in German) and "Faschingsdienstag"– "Fat Tuesday", on this day fatty foods are usually eaten before the ash Wednesday fast begins.  Nowadays the tradition of fasting is not usually carried out, but they do enjoy the traditions of carnival. It's normal, I insist. Who can say no to a stuffed doughnut?
On Carnival Tuesday, people usually dress elegantly to celebrate this day. It is the time when most krapfen is consumed. The children dress up and enjoy the traditions of this day and its sweets.
In spite of being a sweet with a specific date, from the end of Christmas to Carnival, nowadays they can be found in many bakeries and consumed all year round.
Making homemade krapfen.
To make this recipe you will find an infinite number of variants and ingredients. The most important thing of all is that you like the result. For my part I will share with you a dough enriched with eggs and butter, which will give our doughnuts a wonderful texture and flavor.
As you can imagine, it will be a dough that will require intensive kneading. The reason for this is the amount of fat that we will incorporate to hydrate it and, consequently, a long process to obtain a developed mass. So arm yourselves with patience.
Once we have our dough ready, we'll let it stand for 12 hours. This will make our dough get a much more intense flavor and aroma, come on, when we serve our krapfen our family are going to make us the wave for 37 hours.
Then the process will be very simple. Stretch our dough to a thickness of 1 cm, cut and let it rise. Finally, fry, leave to cool, fill and sprinkle with icing sugar.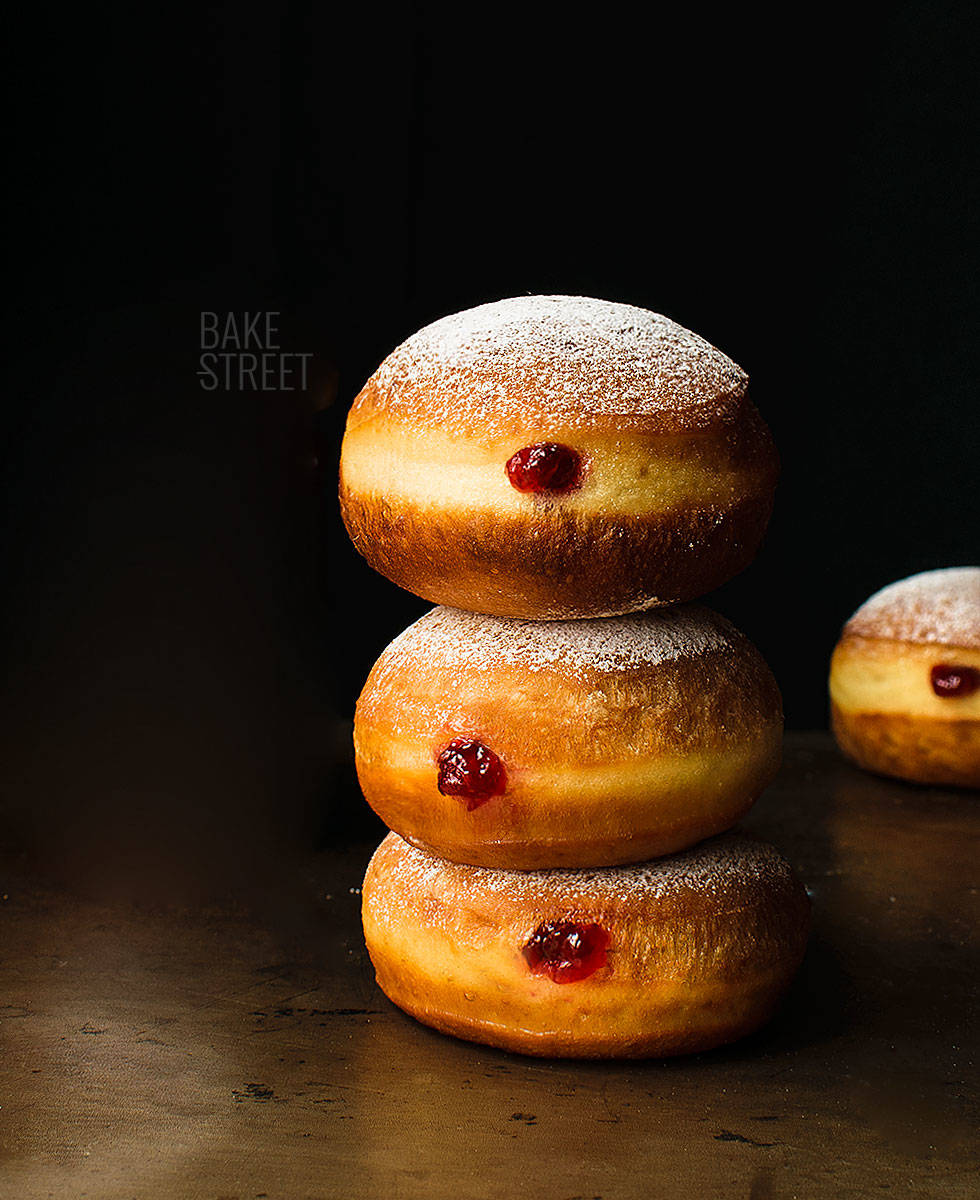 Ingredients for 20 pieces
FOR THE DOUGH:
400 g T45 flour
170 g egg
50 g unsalted butter at room temperature
100 g sugar
85 g whole milk
3,5 g dried yeast
6,5 g salt
FOR THE FILLING AND DUSTING:
strawberry jam
icing sugar
Instructions
Make the dough.
In the bowl of the dough mixer add the flour together with the egg, milk, dried yeast, salt and sugar. Knead at low speed for about 15 minutes. We'll get a semi-developed dough.
We stop the kneader and start adding the butter little by little. It must be fully integrated into the dough before adding more.
Knead until get a good gluten development. The dough must be elastic, smooth and not cracked.
Make bulk fermentation.
Once we have a perfect gluten development, make a ball with the dough.
Grease an hermetic container, place the dough inside and let it rise until it grows 1/3 of its volume. In my case it took 1 1/2 hours at 74ºF (24ºC).
Place it in the fridge until the next day.
The next day...
Take the dough out of the cold and let it temper, in my case I left it for 2 1/2 hours.
Stretch the dough.
Dump the dough on a clean work surface and stretch the dough to a thickness of 0,4 inch (1 cm).
Using a 3,1 inch (8 cm) diameter round cutter, cut the pieces.
Make a ball with the remains of dough, let stand for 30 minutes covered with film and then stretch and cut again to get more pieces.
Place each piece of dough on a piece of baking paper (a square) and place it on a tray. Cover with film and leave to rise until they double in size. In my case it was 2 hours and 15 minutes.
Fry.
Fill a medium saucepan with sunflower oil, enough to fry the krapfen without touching the bottom. They must float.
Place at medium heat and allow the oil to reach 345ºF (175ºC). We'll use a digital thermometer.
Fry the krapfen 2 by 2. Take the dough piece, without removing the paper, and place it in the oil. The paper must face upwards.
After about 30 seconds or so, we turn the krapfen over. The paper will only come off the piece after a few seconds, we remove it. Finish frying until it has a nice golden color.
Remove and drain on absorbent paper. Repeat with the rest of the pieces.
Fill.
Put jam, in my case strawberry, in a pastry bag with a filling tip.
Puncture one side and fill with some jam. Repeat with the rest of the pieces.
Sprinkle with icing sugar and serve.
Notes
Respect all the steps, resting and rising times to obtain a good result both in taste and texture.
The diameter we give them can be our choice, but remember that we must flatten the dough to 1 cm thick. Otherwise they will be too thick and we run the risk that, after frying them, they will be uncooked.
Do not fry krapfen at a higher temperature. Make sure that it is always maintained, otherwise the doughnuts will burn on the outside and the inside will be uncooked. Check the oil all the time with a digital thermometer.
The filling can be totally at your choice; jam, chocolate, pastry cream...
You can sprinkle them with icing sugar or cover them with normal sugar as we finish frying them. That way the sugar will stay on the outside of the doughnut.
Krapfen are preserved in perfect condition only on the day they are made. From then on, they start to get hard.
Perfect late breakfasts for the weekend? I'd say these krapfen filled with strawberry jam. Soft, fluffy.... You won't be able to eat just one, it will be impossible ;)
If we want to enjoy them first thing in the morning, we will have to get up early.... To think that the dough has to be tempered after the night is cold. Then we will have to shape them, let them proof and fry. If you like mid-morning breakfasts, they'll be ideal. Of course, no snack can be better than with these doughnuts....
I hope you enjoy them a lot and have a great weekend. See you Monday ;)
Big hugs,
Eva
Sources: Lilviena, Muniqueando
Archivado en